A person's skin forms the basis of self-confidence and boosts self-esteem. A youthful appearance can allow you to feel amazing and absolutely radiant. In fact, flawless skin can also help encourage you to chase new heights of success.
Aging usually results in skin issues that affect a person's confidence to a great extent. Studies have proven that most women in the aging process, which affects the skin, tend to lose grip of their lives. Moreover, their success rate is also highly effective due to the loss of self-esteem.
For most people, including both men and women, skin plays a vital part in their lives. In fact, people also believe that their skin defines their personality, and glowing skin is sometimes all they need to get going.
Hitting your 30's is when you start noticing the effects of aging, as they start showing on your skin. Even though this is an unavoidable process, the modern era has evolved over such a large scale that this problem can easily be overcome.
The market is already full of expensive beauty products, some are beneficial while others yield poor results. Moreover, many treatments have also surfaced that are either extremely invasive or have major side effects. These methods are just temporary ways to restore your skin and may sometimes leave unintended damage.
Reflecting on these problems and their drastic effects on one's life, Sylfirm X was introduced. The process is safe, produces visible results, and is minimally invasive. Sylfirm X provides another viable treatment option for those looking to combat signs of aging.
Effects Of Aging On The Skin
Aging is a common process where your skin undergoes majorly visible changes. They become visible on both the face and the body. Turning 30 results in a loss of collagen, which makes your skin visibly loose in texture. Additionally, the skin also loses its elasticity.
Apart from this, loss of collagen in the skin results in the appearance of wrinkles on the skin and, the skin becomes comparatively looser and drier. Furthermore, you may experience fragility due to weakened blood vessels within the skin, along with increased chances of bruising.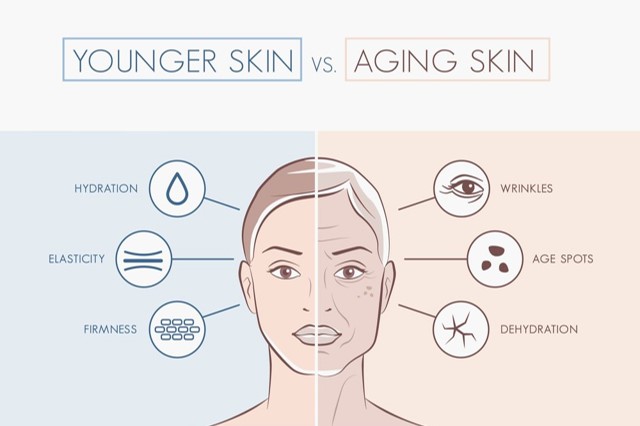 Moreover, aging also causes skin pigmentation and makes it worse for Asian skins, which are already prone to pigmentation. In light of skin fragility, the skin also takes longer to recover and heal from external damage to the cells.
In addition to all this, the sebaceous glands release lesser amounts of natural oils, which cause dry, scaly skin and may also result in various skin problems, i.e., eczema.
Nine Common Signs of Aging
The signs of aging that are frequently found are as follows:
Fine lines
Wrinkles
Dullness
Pigmentation
Skin dryness
Textured Rough skin
Visible pores
Age Spots
Blotchiness
Common Factors That Can Speed Up the Process of Aging
Smoking (even occasional)
Sun exposure
Not using sunscreen
Caffeine
Alcohol
Awkward sitting and sleeping positions
Junk food
Lack of exercise
Cosmetics
Harmful and chemically treated skin products
What Is Sylfirm X?
Sylfirm X is a micro-needle system that delivers radio frequency energy to the deeper layers of the skin, leaving the surface unharmed. Depending on the skin concern, radio frequency waves can be emitted at precise depths of the skin with the help of gold microneedles.
The device can efficiently reach the target skin region at the root level with the help of a highly precise robotic system that offers 8 built-in settings. Sylfirm X is great for skin rejuvenation. Apart from that, it can also be used to address an array of skin concerns such as pigmentation, acne scar, lifting and more.
The radiation is able to target deeper layers of skin cells and produce effective results. Moreover, the treatment is highly customizable, allowing it to cater to various skin issues, skin types, skin tones and sensitivity levels.
What Makes Sylfirm X Unique?
Pink areas: cellular rejuvenation activity when targeted with different waves.
It comes with a special "Cell Mode" that helps stimulate the synthesis of collagen and elastin by selectively targeting cells in the dermal layer of the skin. Furthermore, the eight distinct varieties of Continuous Wave (CW) Mode and Pulsed Wave (PW) Mode can be used to treat various concerns including loose skin, scars, and hyperpigmentation.
Sylfirm X works in a specific and precise linear motion that is immensely gentle on the skin, reducing the risk of bleeding and bruising. The needles are inserted into the skin with precision and in a smooth manner, reducing unnecessary trauma.
Why Is Sylfirm X Recommended For Skin Rejuvenation?
Sylfirm X is currently an effective treatment to achieve youthful and rejuvenated skin. It is comparatively much safer and less painful than some of the non-invasive treatments available in the market. It ensures that the skin structure is strengthened after each treatment. Moreover, collagen remodeling that follows after each treatment allows the face to appear more lifted while the skin looks and feels much healthier.
Sylfirm X plays a pivotal role in increasing the synthesis of collagen and elastin proteins to help combat loose skin issues. It helps to tighten skin while simultaneously improving skin elasticity. Furthermore, the procedure strengthens the skin structure, preserving the foundation of healthy-looking skin.
Sylfirm X is now becoming a key player in skin tightening and rejuvenation given its versatile application. Multiple skin improvements can be achieve through a minimally invasive, painless and safe process. The procedure can even help eliminate common skin conditions like stretch marks.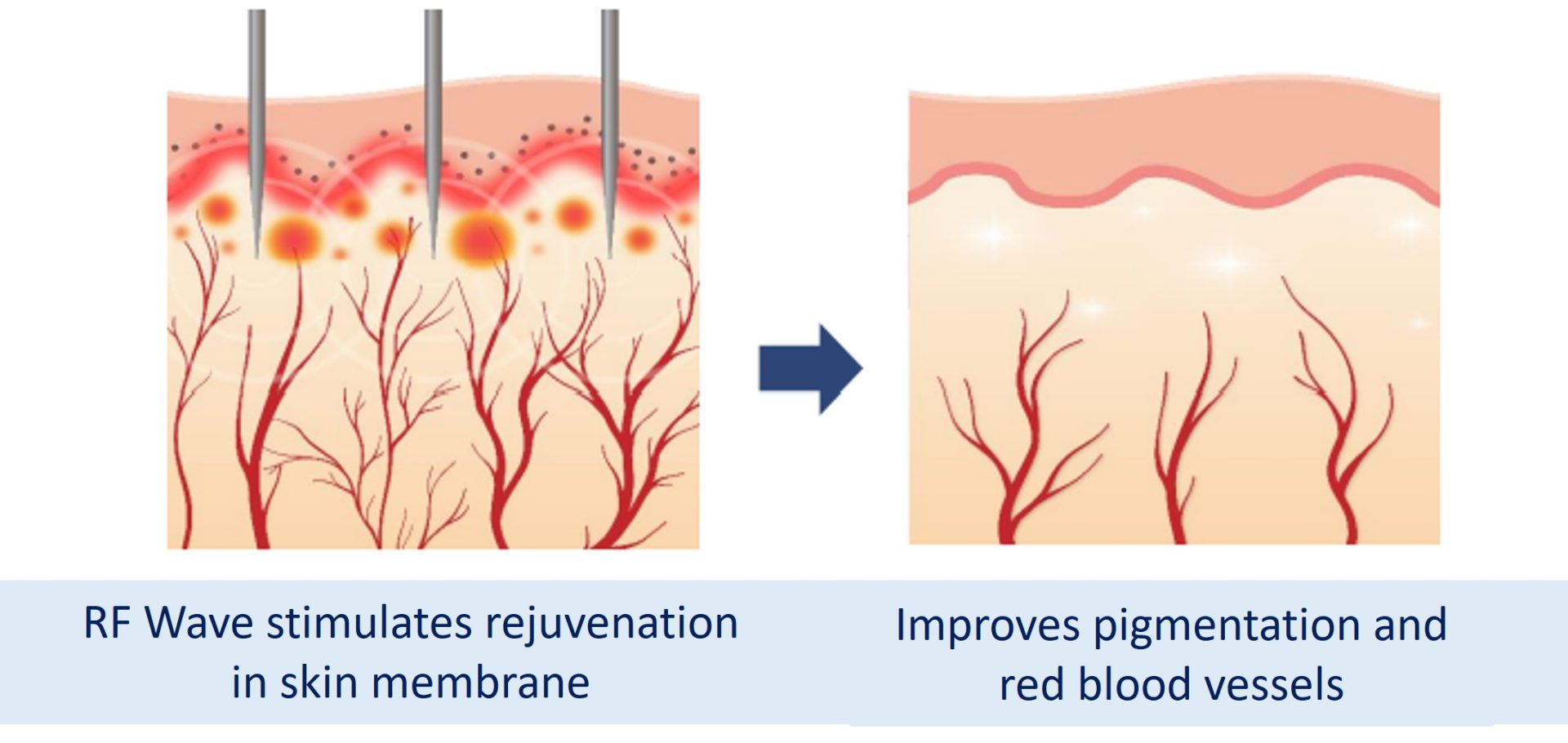 Apart from common aging concerns, it also helps with post-inflammatory hyper-pigmentation, hypo-pigmentation, excessive sweating, redness, scarring, stretch marks, large pore, rosacea and red facial veins. After sequential treatments, it truly allows your skin to appear rejuvenated, healthy, and refreshed.
Is Sylfirm X Better Than Laser?
Technological advancements opted by Sylfirm X contribute to making it safer and comparatively much more efficient than laser treatments.
Laser treatments usually tend to leave burns over the skin. Moreover, Laser probes have the potential to harm nearby cells, including epidermal melanosomes. However, Sylfirm X does not. It is gentle on the skin, and the heat targets only specific cells which prevents skin burning, peeling, and scarring.
Sylfirm X eliminates aberrant vessels, strengthens the basement membrane, and encourages the creation of healthy and fresh components for the skin. Laser treatments, on the other hand, may damage the skin's tone owing to unsuitable treatment settings.
Furthermore, because Sylfirm X addresses the underlying cause of the skin issue without damaging the epidermal layer of the skin, it is able to treat the root cause of the skin issues at the dermis level, leaving the top most layer of the skin unharmed.
Lastly, lasers may have limitations when it comes to treating different skin types. Sylfirm X is suitable for all skin types and tones, benefiting more people looking for treatments for their skin concerns.
Frequently Asked Questions Regarding Sylfirm X
How Long Do the Results Last?
Sylfirm X results are typically long lasting. However, some patients may require maintenance sessions after a year or two.
What Is the Recovery Time for Sylfirm X?
There is no downtime with Sylfirm X because there are no severe side effects other than moderate redness and swelling that subside within a few hours after treatment.
How Long Does One Session Take?
The entire procedure of Sylfirm X takes a maximum of 30 – 60 minutes to provide the end results.
What Are the Most Noticeable Instant Results?
After a Sylfirm X session, improvement in skin tightness and firmness are noticeable. Moreover, lines and wrinkles also appear less obvious.
Pricing Sylfirm X Treatment
Sylfirm X Treatment Price in Singapore starts from $800-$1200 per session, and 2 to 3 sessions are often recommended to achieve the best results.
Conclusion
Sylfirm X is a safe and efficient way to combat all these common skin issues that have been tampering with a person's self-confidence. Moreover, minimal invasion and zero side effects prove that Sylfirm X is currently one of the superior skin tightening treatments in terms of safety and results.
About Dream Aesthetics and Plastic Surgery
Bespoke surgical for cosmetic or medical reasons is what Dream covers to bring out the beauty in every individual. Going beyond the aesthetics and working on physical anomalies are what we value the most in leading our patients to cherish self-improvement and confident lifestyles.
Derived from Associate Professor Vincent Yeow's long-standing experience performing plastic surgery in Singapore, our treatment plans deliver physical remodelling in our patients' favour. One of the notable remodellings is droopy eyelid correction. The ptosis surgery used for treatment eventually fixes drooping eyelids, improves vision and enhances appearance.
Most importantly, as a trustworthy plastic surgery and aesthetic clinic, we treasure positive and natural outcomes for each individual. We will ensure to deliver the beauty refinement of your dream without compromising your safety and privacy.
References:
1.Sylfirm X rf Microneedling System: Xcite Technologies. XCITE TECH. (2021, August 2). https://xcitetech.com/sylfirm-x/.