Facial slimming and v-line enhancement

Procedure Time
1 – 1.5 Hours

Anaesthesia
Local Anaesthesia or Sedation

Recovery Period

7 – 10 Days

Stitch Removal
No Stitches
What is Facial Laser Lipolysis?
Facial Laser Lipolysis, also referred to as Korean Laser Sculpting Treatment at Dream features a list of applications that helps with facial slimming and contouring. They include V-line enhancement, double chin removal, facial slimming, eye bag removal, smoothening of expression lines and wrinkles, lightening of the laugh lines (nasolabial folds), and mini brow lift.
The Korean Laser Sculpting Treatment achieves results by applying a non-surgical approach that does not require using a scalpel or placing stitches. It is also a technique that does not leave any scar because it uses a 0.6-milimeter laser through an unnoticeable entry point. This laser has been designed with a specific wavelength that promotes facial fat removal after a process of melting down. That is why it is referred to as facial liposuction and serves as a solution to sculpt and tighten the skin without surgery.
Who Needs Korean Laser Sculpting Treatment?
This Korean Laser Sculpting treatment is recommended for:

People with chubby cheeks who want to opt for facial fat removal

Those who wish to get rid of a double chin

Anyone who is interested in achieving a slimmer face

Those who want to remove smile lines and other expression lines
Areas Suitable For Korean Laser Sculpting Treatment
Fat melting and Cheek Sculpting: Unwanted facial fat removal for a sculpted and slim facial contour

Fat melting and V-Line enhancement: Unwanted jowl fat removal for a defined and slim V-line

Nasolabial Fold Lightening: Regeneration of collagen fibres to plump and firm the skin

Double Chin Removal: Unwanted fat removal and skin tightening benefits for double chin correction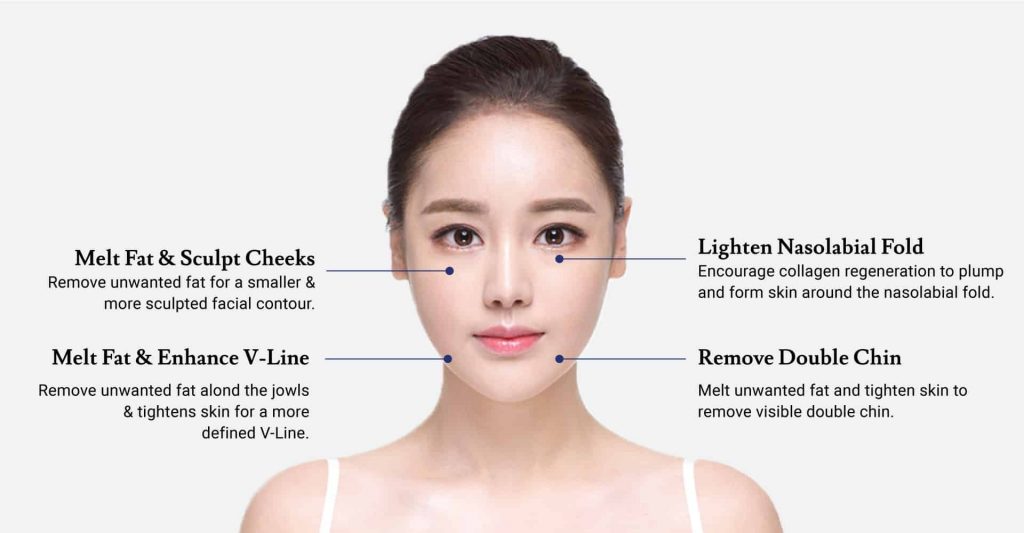 Benefits of Korean Facial Sculpting Treatment
Some of the benefits of laser lipolysis used on our Korean Laser Sculpting Treatment include:
Uses an ultra-fine laser to increase precision and prevent scars in sensitive areas of the face.

Heat application is controlled and precise to prevent damage to surrounding tissues. Thus, recovery time is significantly reduced compared to other procedures.

After a facial slimming procedure, the only mark left is similar to that of an injection. Thus, the burden of scarring is significantly reduced.
Through this procedure, the deep layers of the skin become stimulated to produce more collagen, which adds to the tightening and firming effect.