RF Skin Tightening Treatment
RF Skin Tightening Treatment In Singapore
RF skin tightening treatment is a non-invasive, non-surgical skin tightening treatment that helps you rejuvenate your skin and eliminate ageing signs. We offer a personalized solution aimed to achieve your beauty goals and boost your confidence.
What is RF Skin Tightening Treatment ?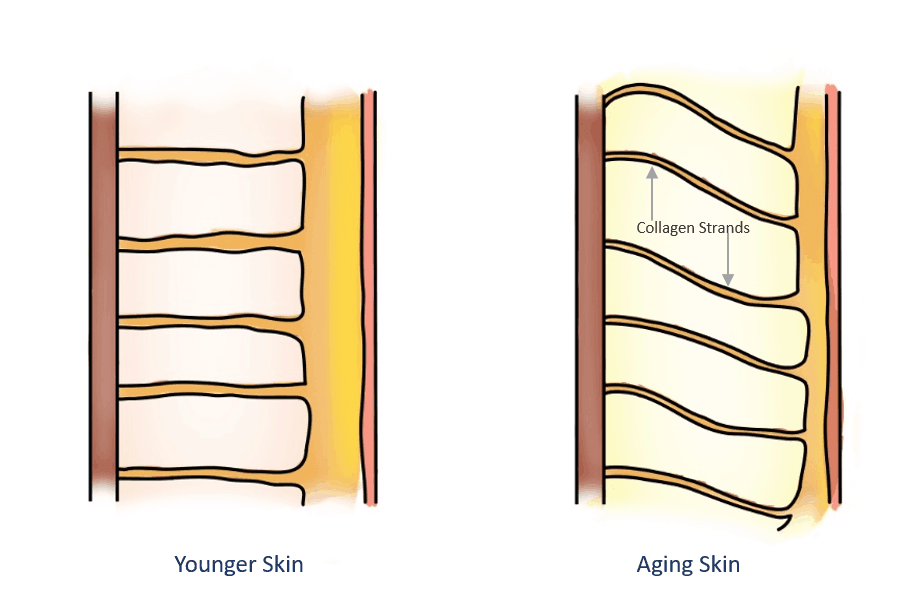 RF skin tightening treatment is a type of non-invasive cosmetic treatment for facelifting that uses monopolar radiofrequency (RF) energy to tighten and lift the skin on the face. This procedure is designed to help reduce the appearance of fine lines, wrinkles, and sagging skin, and to create a more youthful, rejuvenated appearance.
How Does Monopolar Capacitive Radiofrequency (RF) Work ?
Treatment tip is placed against the skin. It Begins with a cooling effect on the skin For comfort and protecting the skin surface

Radiofrequency energy penetrates deep into skin's tissues and remodels the collagen




Final delivery of cryogen to cool the skin surface
During the treatment, a handheld device is used to deliver radiofrequency energy into the deeper layers of the skin. The device has a surface tip that heats the skin and underlying tissue, stimulating the production of collagen, and causing the existing collagen fibers to contract, leading to a tightening effect. Over time, the new collagen production helps to maintain the results and improve the overall quality of the skin.
The process is designed to heat and treat your skin without causing any damage. The treatment does not involve incisions and cuts on the face.
What Are The Suitable Treatment Areas For RF Skin Tightening?
RF skin tightening treatment is a non-invasive cosmetic treatment that can be used to tighten and lift the skin on various areas of the body. The procedure uses radiofrequency energy to stimulate collagen production and tighten the skin, leading to a more youthful and rejuvenated appearance.
The Most Commonly Treated Areas Include: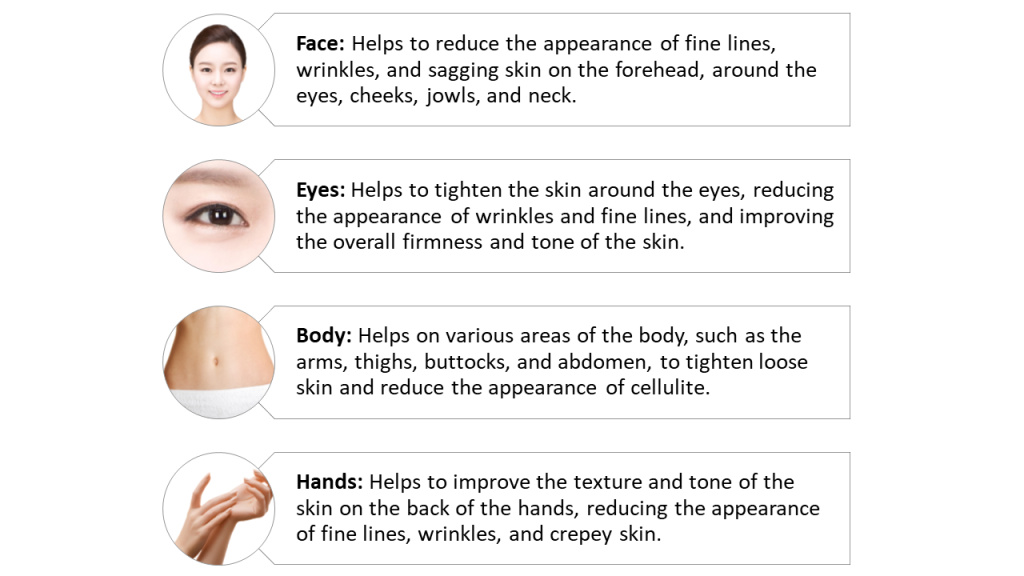 RF skin tightening treatment is considered safe and effective, with minimal downtime and few side effects. Results may vary depending on the individual, but many patients report a noticeable improvement in the appearance of their skin after just one treatment, with results lasting for up to two years.
Who Is A Good Candidate For RF Skin Tightening Treatment?
The fact is that RF skin tightening treatment is recommended for persons with mild to medium skin laxity. It is most effective for individuals who have started noticing some sagging and wrinkles and wish to eliminate them and delay ageing signs. It may not be effective for individuals with more severe skin laxity.
Generally, Good Candidates For RF Skin Tightening Treatment Include:
Individuals with healthy skin: The RF skin tightening treatment works best on individuals with healthy skin that is free of major damage or scarring.
Individuals with realistic expectations: While RF skin tightening treatment can produce noticeable improvements in the appearance of the skin, it is not a replacement for a facelift or other surgical procedures. Good candidates understand the limitations of the treatment and have realistic expectations for the results.
Individuals who are not pregnant or breastfeeding: The safety of RF skin tightening treatment during pregnancy or breastfeeding has not been established, so it's generally recommended to avoid the treatment during these times.
Individuals who are in good overall health: As with any cosmetic treatment, it's important to be in good overall health before undergoing RF skin tightening treatment.
Frequently Asked Questions (FAQ) about RF Skin Tightening Treatment