Non-Surgical Eye Bag Removal Treatment
Treat eye bags and dark eye circles without surgery for clearer & brighter-looking eyes.
Non-Surgical Eye Bag Removal
Mild eye bag concerns can be treated with non-surgical treatment solutions such as Dermal Filler Injection or Scarless Eye Bag Removal Treatment. Individuals with more severe eye bag condition may require eye bag removal surgery for better rejuvenation results.
This eye bag removal treatment is recommended for individuals with:
Good skin elasticity

Experience mild bulging on the lower eyelids

If you wish to improve dark eye circles

If you prefer non-surgical treatment solutions
Types Of Non-surgical Eye Bag Removal Treatments
At Dream, we offer two non-surgical eye bag removal treatments. While both treatments help to improve the appearance of the eye bags, they produce slightly different results. The doctor will understand your expected results before recommending a treatment that is suitable for you.
Dermal Filler For Eye Bag Removal
A quick and popular method to conceal the appearance of eye bags and improve dark circles is to plump and smooth our any hollowness and groves using Hyaluronic Acid dermal fillers.
Placing fillers under eyes helps hydrate and stretch out the skin gently to reduce wrinkles. The plumping effect also greatly reduces dark shadows or dark circles by filling up the hollow areas around the eyes.
The results from filler would last between 9 months to a year.
Scarless Eye Bag Removal Treatment
The Scarless Eye Bag Removal treats eye bag condition by removing fat tissues permanently from the under eye area. It uses a 600 micrometer (0.6 millimeter) needle-size laser to remove fat and water through an entry point that is almost invisible. This treatment takes around 30 minutes and requires a shorter recovery time as compared to surgical eye bag removal procedures.
Advantages Of Scarless Eye Bag Removal Treatment:
Non-surgical eye bag solution. No knives, no stitches, no scars

Removed excess fat permanently

Fine laser probe allows for greater precision on small and delicate areas such as the lower eyelids

Technique causes minimal bruising and swelling, as well as less trauma to the skin

Faster recovery as compared to surgical eye bag removal techniques

Fast and safe procedure

Can be combined with facial fat grafting for optimal results
Scarless Eye Bag Treatment Method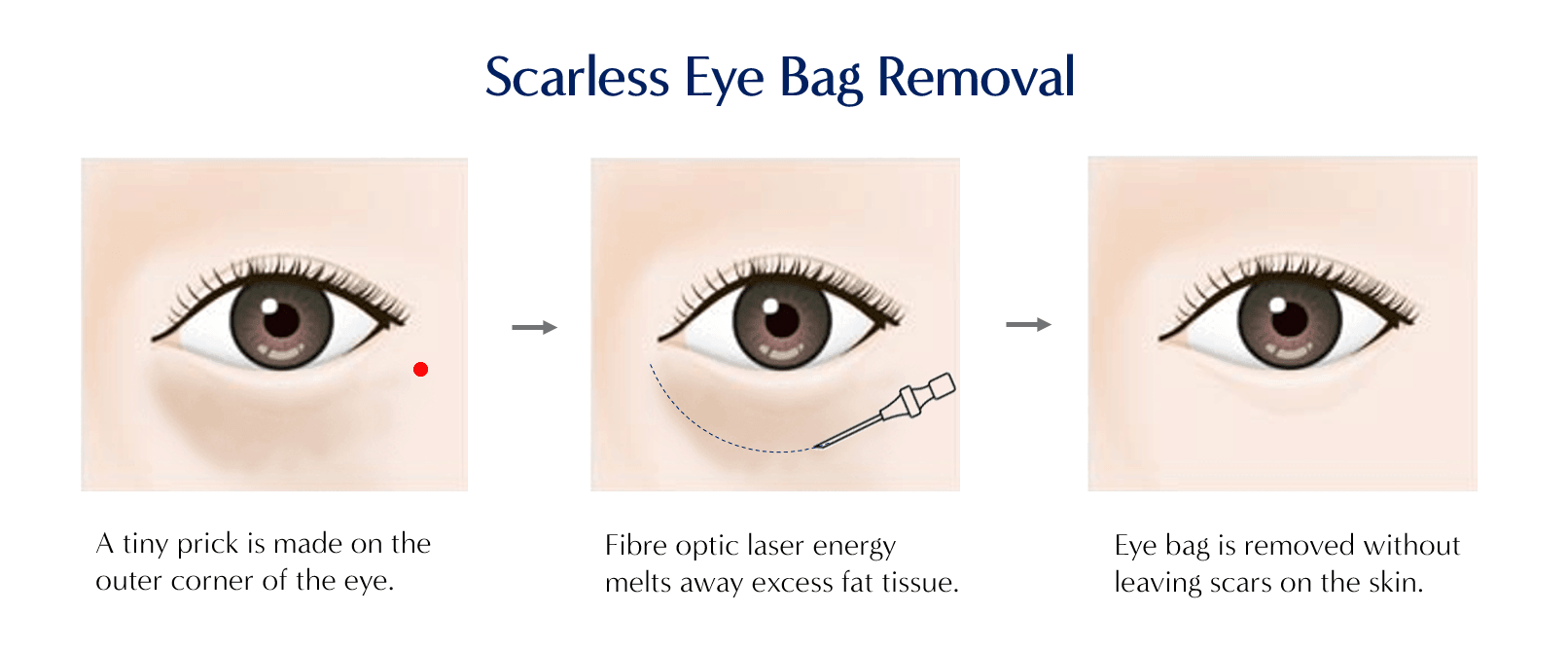 Preparing For Your Consultation At Dream
A proper consultation with the doctor is crucial for us to understand your expectations and concerns before recommending an appropriate eye bag removal treatment solution for you. Do allocate a little more time for your first consult as we go through the following steps with you.
Understand your concerns and expectations

Personal assessment of your eyebag condition

Recommending appropriate procedures and discuss potential outcomes from the treatment

Address any other concerns you may have regarding the treatment plan

Explain the pre- and post-treatment requirements you should be aware of
Contact Our Clinic In Singapore To Learn More About Non-Surgical Eye Bag Removal Treatments
If you would like to view some before & after pictures or find out if our scarless eye bag removal treatment is right for you, contact us at 65 6871 8888 or fill in our enquiry form below and we will get in touch with you as soon as possible.
Frequently Asked Questions (FAQ) about Non-surgical Eye Bag Removal Treatment in Singapore
Our beauty mavens are here to share our knowledge on how you can look better.
You ask and we will share!