Procedure Time
1 – 3 Hours

Anaesthesia
General Anaesthesia

Recovery Period
10 – 14 Days

Stitch Removal
7 Days After Procedure
What is Chin Augmentation?
Chin augmentation is meant to enhance the shape of the chin. This procedure can help with improving the projection of a receding chin or reduce an over prominent chin to make the v-line appear shapelier. In both cases, it is used to give a nice-looking proportion to the lower half of the face.
Some individuals also need improvements of certain chin abnormalities. It can be done by different methods, including genioplasty and chin implant which are both available in Dream Singapore.
Who Needs Chin Augmentation?
Chin augmentation is appropriate for individuals with a receding or protruding chin, under the following conditions:
Receding chin
Individuals with a lack of chin who look round-faced or has a shorter face

Anyone who wants to have a more noticeable jawline and chin

When a receding chin make the upper lips or mouth look exaggeratedly prominent
Protruding chin
Where the chin protrudes outwards 

Where the chin is proportionately too long as compared to the rest of the face

Anyone with a squarish-looking chin

Those with an uneven or asymmetry chin 
When planning for chin augmentation, an in-depth assessment of the facial proportions and contours will help us select the most suitable technique to achieve your ideal chin.
Types of Chin Augmentation
At Dream Singapore, chin augmentation can be performed through 3 methods.
1. Chin Implant
For a receding chin
Chin implant uses soft silicon materials to improve projection and support. After surgery, chin implant looks natural, and since it is made with a soft silicone, it is not hard on the bones and recovery time is fast, with fewer adverse side effects.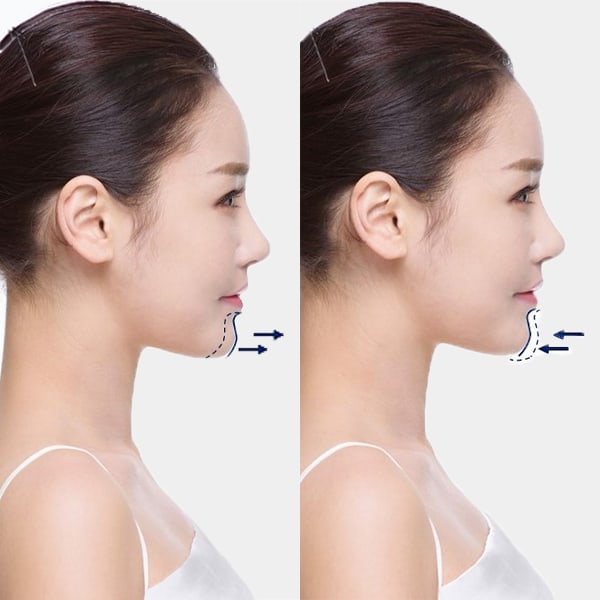 2. Chin Implant
For a receding /protruding chin
Genioplasty is an alternative surgical procedure where we can push back a protruded chin or bring forward a receding chin by repositioning the bones. This procedure does not require any implants, and it is ideal for individuals who do not agree on using artificial materials and implants in the body.
3. Micrognathia Correction
For a receding chin
In micrognathia, individuals experience malocclusion where the lower jaw and the chin are both receded and smaller than normal, and it can result in poor jaw line definition and contour between the chin and neck. This facial contour can enhanced by transplanting bone that is previously taken out during surgery. As a result, the lower jaw increases in length and size, and improves its proportion to the rest of the face.
3. Comparison of Surgical Methods