Droopy Eyelid Surgery In Singapore – Ptosis Correction
Correct tired looking eyes.

Procedure Time
1 – 2 Hours


Recovery Period

10 – 14 Days

Stitch Removal
Not Required or
7 Days Post-op
What Is Droopy Eyelid Surgery For Ptosis Correction?
When an individual has droopy eyelids (also known by its medical term, Ptosis), their sagging eyelids start covering the pupils and they look tired or sleepy all the time. Droopy Eye Surgery, also known as Ptosis Eyelid Correction, is a surgical procedure used to lift droopy eyelids. 
What Causes Droopy Eyelids?
The levator muscles are responsible for raising the eyelids and controlling their movement when opening the eye. Eyelids start sagging when the levator muscles get relaxed and begin to lengthen. Our Korean non-incisional droopy eyelid surgery can effectively fix the problem by tightening the muscles and will also create double eyelids in the process. In the event that the ptosis condition is more severe, incisional droopy eyelid surgery technique may be recommended.
Who Is Suitable For Droopy Eyelids Surgery?
Droopy Eyelid Correction Surgery is for anyone with:
Sagging eyelids that cover more than 20% of their pupil

Sagging eyelids that have excess skin

Eyes that look tired regardless of any amount of rest

Frequent headaches due to overworking of their brows and the forehead muscles to maintain their eyes open

Those who want bigger and more awake looking eyes
Which Ptosis Eyelid Surgery Techniques Work The Best For Droopy Eyelids?
The choice of ptosis correction method depends on how severe the condition of the eyelids are.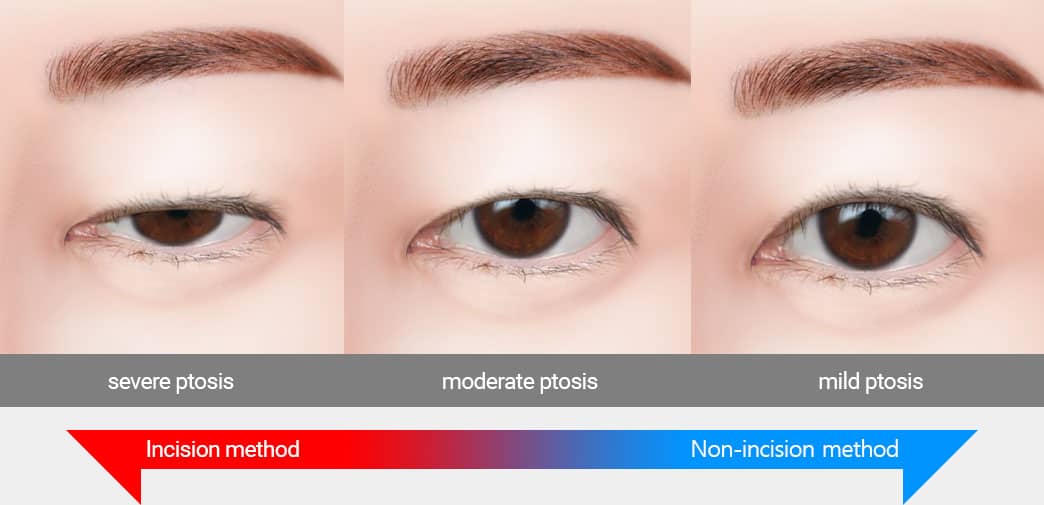 Types of Droopy Eyelid Surgery Methods
There are two types of surgery methods used for droopy eyelid surgery Singapore. These include the following. 
1. Non-incisional Method
During the droopy eyelid correction procedure, muscle length is reduced by tying a portion of the eyelid muscles using a suture. The reduction in the length of these muscles creates a tightening effect and allows the eyelids to raise higher when opened.
2. Incisional Method
This method is normally used for severe conditions where extensively stretched and lengthened eyelid muscles are trimmed short and pinned upwards. As a result, the eyelids lift higher whenever they are opened. 

Comparing Droopy Eyelid Surgery Techniques
Here is a quick comparison of both the ptosis eyelid surgery techniques used for correcting droopy eyelids.
Non-incisional Droopy Eyelid Correction
Candidate: Mild to moderate droopy eyelids
Surgical Method: Tighten eyelid muscles, redefine double eyelids
Procedure time: 40 – 60 minutes
Anaesthesia: Local anaesthesia or light sedation
Recovery period: 7 days
Stitch removal: Not required
Incisional Droopy Eyelid Correction
Candidate: Moderate to severe droopy eyelids
Surgical Method: Tighten muscles, get rid of excess skin and fat, and redefine double eyelids
Procedure time: 60 – 90 minutes
Anaesthesia: Light sedation
Recovery period: 10 – 14 days
Stitch Removal: 7 days after procedure
Considering Droopy Eyelid Surgery at Dream Singapore? Get in touch today and our medical staff will help you understand the procedure right from the start to end. We will also guide you in selecting the appropriate Ptosis eyelid surgery techniques for you.
Frequently Asked Questions (FAQ) about Droopy Eyelid Surgery (Ptosis)