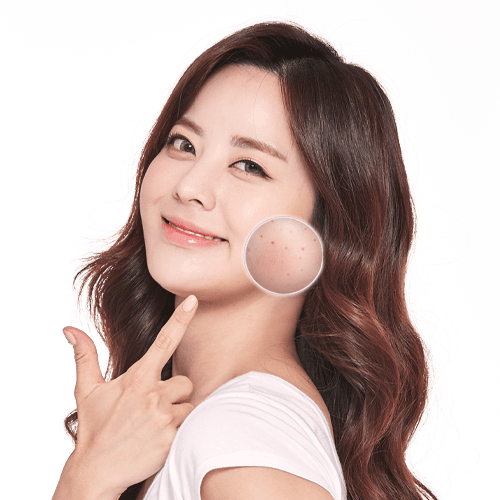 Treat active acne and achieve clearer skin.

Acne skin condition is treatable, and we will help you treat yours.
Dream Acne & Scars Programme is a personalized treatment solution that will help you clear your skin problem and regain your confidence.
As cited by the Journal of Clinical and Aesthetic Dermatology in 2019, "In a community-based study in Singapore, acne was found in about 88 percent of adolescents aged 13 to 19 years. In another study, 41 percent of adults treated at the National Skin Centre in Singapore had experienced acne since adolescence, although the majority presented with adult-onset acne. Acne is also likely to be a significant contributor to psychological distress, particularly in adolescents. About half of patients reported that they are "rarely" or "never" comfortable with their acne. Twenty-eight percent of these patients reported self-esteem concerns related to their acne, while more than 25 percent reported that they felt "depressed." A majority (60%) shared feelings of concern due to scarring caused by acne. These statistics highlight the importance of effective and timely treatment of acne."
This excerpt from the Journal of Clinical and Aesthetic Dermatology shows often acne occurs in our society and how deep it hurts those suffering from it. This makes it crucial for acne patients to treat the condition as quickly and effectively as possible.
Dream Clinic has been treating those suffering from acne for years and can help you.
Acne is a common skin problem that usually appears when the pores are clogged with dead skin, oil secretion, and bacteria. Hot and humid weather conditions can cause pores to clog more easily if cleansing is not done properly. Sometimes, acne may heal on its own if you do not pinch or disturb unless there is a severe outbreak in a large area of the skin.
Regardless of the cause of acne, the skin condition can be troublesome and bring a person extensive physical and psychosocial negative effects. It can damage a person's surface and underlying skin layers leading to flat discolored scars, thick visible scars, and indented skin. People suffering from the condition feel bad walking around in public with the skin discolouration. Waking up with several large, red, and tender skin lumps can make someone feel shy and can result to low self-confidence.
This condition is linked to numerous negative psychosocial behaviours like social isolation, reduced employment prospects, low self-esteem, anxiety, and depression.
Acne can impact a person negatively in other ways. Seek treatment early.
Are you suffering from acne and thinking of ignoring it?
It is recommended that you seek professional help early as scarring and other effects of acne are best prevented with timely and effective treatment in Singapore.
Key benefits from treating acne condition early
Will help to eliminate the blemishes at an early stage before it spreads and develop into acne cysts.
Timely treatment decreases the likelihood of aggravating into chronic acne which may result to the need for stronger and more extensive treatment regime.
Effectively prevents acne scars from developing.
Improve individual skin's condition physically as well as psychosocial effects.
Understanding Your Grade of Acne
The treatment of acne is dependent on the grade of your condition.
There are four major grades of acne
Grade one characterized by comedones and few papules
Grade two characterised by papules and few pustules
Grade three characterized by papules, pustules, and few nodules
Grade four characterized by nodules and cysts
Knowing the grade of your acne will determine the treatment required.
If you are not sure of your acne grade, contact us for an evaluation and treatment recommendation.
Complete Solutions to Treat Acne
Each grade of acne has a treatment regime that may consist of one or more of the following acne treatment options;
Medical Grade Topical Skincare Products
Used in the treatment of mild acne, these are clinically proven skincare products backed up with scientific research and compounded with ingredients to treat and prevent acne.
Oral Medications
Oral medications are usually recommended when you have moderate to severe acne. The medication is to reduce bacteria and control the production of sebum. The medicines are usually antibiotics, or isotretinoin.
Medi-facials
Medifacials are paramedical strength facial treatments designed for all skin types and to treat skin conditions like acne.

This technique not only treats acne from the root (dermis) but also leaves your skin feeling refined, invigorated, and brightened. The beautiful thing about this technique is that it is customized according to your personal needs and goals.
Laser Treatment
(Carbon Laser Peel)
The Carbon Laser Peel is a non-invasive, non-surgical deep cleansing and rejuvenating acne treatment. This is effective for controlling acne, exfoliating and rejuvenating the skin. It also helps with eliminating blackheads and whiteheads to clean up pores.

The therapy works through the application of carbon powder, which penetrates deep into the pores and absorbs dirt with the help of laser light.

This process exfoliates the skin and vacuums any debris in the pores. It reduces inflammatory acne, acne marks, superficial acne scars, and stimulates collagen growth for radiant skin.
At Dream Clinic, all our acne treatment solutions help to achieve optimal results. We start by controlling your existing acne issue, followed by treatment for the acne scars left behind.
Not sure which treatment is right for you?
Experienced medical doctors in Dream combines our industry-based experience and research-based treatment strategies with available technologies to create an effective, cost-effective, and personalized acne treatment plan for you.
Our holistic approach to acne management include:
Acne prevention
Treatment of active acne
Reduction and elimination of scars and post-inflammatory red marks
Solving problems associated with deep acne scarring, pigmented acne scars, and purple acne scars.
Dream Clinic offers you the complete acne treatment solution
Speak to our medical team at (65) 6871 8888 to find out how we can help you get rid of your pimples.
Past acne condition may have left unsightly scars on the skin. These scars may be raised, depressed or look like red or purplish spots. However, there are a variety of acne scar treatments that can help to lighten and improve your scar concerns. 
MOH Accredited
Medical Doctor
Our medical doctors are board certified and licensed to deliver acne treatment solutions in Singapore.
Personalised
Acne Treatment Plan
We provide a personalized acne treatment plan that considers every factor, including your skin type, age, and acne grade, amongst others. The solution we deliver is designed specifically for you.
Safe and Effective
Evidence-Based Treatments
Our treatment options are safe, effective and are evidence-based treatments that have been helping those struggling to get rid of acne condition.