A nose thread lift is a non-surgical, minimally invasive cosmetic treatment to enhance the nose bridge and tip. This technique was first introduced in Seoul, Korea, with the name 'Hiko Nose Thread Lift'. 'Hiko' is a blend of two Korean words i.e. Hi and Ko which means 'High' and 'nose', respectively.
As Asians tend to have shorter, wider, and less-defined noses, many consider non-surgical nose augmentation treatment solutions. As such, this procedure has gained much popularity in Asian countries Singapore, Korea, Malaysia, the Philippines, etc.
In contrast to rhinoplasty, Hiko nose thread lift does not involve incisions, general anesthesia, and grafting of skin and cartilage. The risks of side effects and downtime are reduced significantly. Hence, you can walk out of the doctor's clinic with a natural-looking nose shortly after the treatment.
Before booking your appointment, make sure you are equipped with everything you need to know about the nose thread lift treatment.
Who Needs Nose Thread Lift Treatment?
Nose thread lift is a good treatment of choice for those who have;
Low nose bridge
A broad-looking nose bridge
A slanted nose
Nose with a rounded, bulbous, or poorly defined nose tip
How Is Nose Thread Lift Procedure Done?
Hiko nose thread lift is systemically done in the following steps;
Discussion – You will have an initial one-to-one meeting with your doctor. In this meeting, the doctor will discuss what improvements are required to enhance the appearance of your nose, and what kind of results you can expect after the nose thread lift treatment.
Initial Assessment – A thorough assessment of your nose will be done. This will help your doctor to determine the number of threads needed for the procedure.
Position – On the treatment day, your doctor will ask you to lie down such that your face is tilted up. The doctor will check the nose proportion and structure once more and plan the position of the threads.
Markings – The doctor will draw markings on your face after doing precise measurements.
Skin Disinfection – To mitigate the risk of infection, the skin of your nose will be disinfected, especially, on the areas where entry points will be created for the insertion of Hiko threads.
Local Anesthesia – The nose will be numbed to make this procedure painless. For this purpose, a numbing cream will be topically applied. After 15 minutes wait, a local anesthetic will be injected into your nose.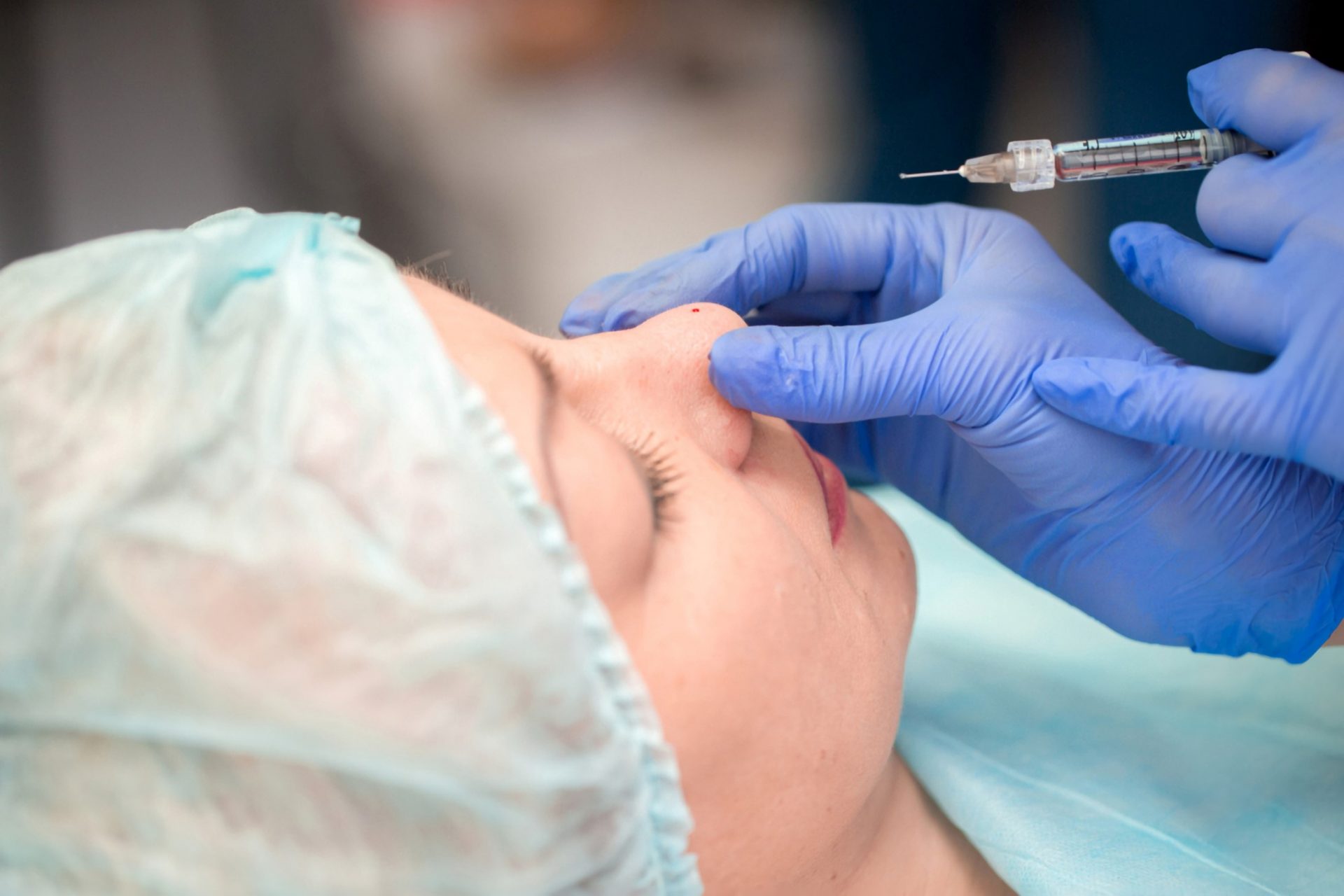 Creation Of Entry Points – A small needle will be used to create a small entry point on the tip of the nose for the threads.
Threads Insertion – The last step is the insertion of Hiko threads along the nose bridge and into the nose tip. A blunt cannula will be used to direct the threads for their correct placements. Once the threads have been placed, the cannula is removed.
How Does Nose Thread Lift Treatment Work?
The basic mechanism behind the Korean thread lift technique is due to the properties of threads used in this treatment.
The threads act as a mechanical scaffold as they provide support and lift the bridge and tip of the nose. They are inserted in the midline along the nasal septum and bridge, and into the tip of the nose. This provides height and projection as a result of which your nose appears taller, slimmer, and sharper.
Moreover, the threads induce triggers in the skin to produce collagen. Collagen provides additional support to the nose. Therefore, a continuous improvement is observed after the treatment.
What Type Of Threads Are Used For Nose Thread Lift?
The threads used in the Hiko nose thread lift are made up of Polydioxanone (PDO). These PDO threads have been in use in medical procedures for a very long time. As they are non-allergic and non-antigenic, PDO threads are safe to use. Also, they are biodegradable, which means they can get absorbed naturally in the body over time.
They come in different lengths and thicknesses. Moreover, the type of thread used determines the quality, tensile strength, effectiveness, and price of the treatment.
What Is The Cost Of Nose Thread Lift In Singapore?
The nose thread lift price in Singapore generally ranges from $600 to $1000. The cost depends on multiple things, including;
The type of your nasal profile
The number and type of threads used
The brand and quality of the thread
The skills and experience of the doctor
Also Read: How Much Does Nose Thread Lift Cost in Singapore
How Many Sessions Of Treatment Are Needed?
It requires only one session of treatment to see visible improvements. Both the nose bridge and tip can be enhanced in the same session.
How Much Time Does The Procedure Require For Completion?
Nose thread lift is a quick cosmetic treatment for nose enhancement. The whole procedure takes only 20 to 30 minutes to complete. You can get this treatment done during your lunchtime break. That's why; it is also termed as 'Lunchtime Nose Lift'.
What Benefits Do You Get From Nose Thread Lift?
You can expect the following improvements from this treatment;
Taller and straighter nose bridge
Slimmer nasal bridge
Reduction in the width of the nose
Sharper nose tip
Overall improvement of nose shape and contour
Improvements in the appearance of nose defects like a deviated nasal bridge, depressed nose, and retracted columella (the soft portion between the two nostrils)
How Long Do The Results Last?
It takes 6 months for the PDO threads to get dissolved in the body. However, most people usually observe longer sustained results because the collagen produced by the tissues of the nose in response to threads stays for some time even after the complete dissolution of PDO threads. Therefore, the results last for approximately 9 months to 1 year.
Nevertheless, it is advised that a maintenance procedure should be carried out after every 9 to 12 months. This will maintain the shape and contour of the nose and prolong the effects of the Hiko nose thread lift.
What Is The Downtime And Recovery Period?
A nose thread lift is known for producing immediate results with little to no downtime. You can get back to your daily routine shortly after the treatment. The cogs and barbs present on the threads hold them in their position so they do not get easily displaced from their position; however, pressure should not be applied over the nose until the completion of the healing process.
The swelling is usually observed along the nose bridge and at the wound site. It will subside within few days. Similarly, spot bruises, if present, will get resolved in a few days.
24- 48 Hours
In the first 24- 48 hours of your Hiko nose thread lift, there will be some swelling and bruising over the injection sites and areas where threads are inserted. Patients may experience minor pain or headache and are advised to take analgesics like paracetamol to manage the discomfort. Fortunately, this discomfort will not last too long. However, if the pain persists for more than two days, patients must contact the doctor. If any antibiotics were prescribed, patients should take them as instructed. Another important thing to keep in mind is to avoid applying anything over the entry points to prevent unwanted infections.
First Week
During the first week, it is not uncommon that patients find it challenging to smile widely or to keep their mouths open for long without feeling a tugging sensation around the nose. Again, this sensation will resolve with time. It is important to refrain from taking blood-thinning vitamins A, E, and C and anticoagulants like aspirin as they can cause bleeding. Avoiding alcohol and vigorous exercise is also vital until a week after your treatment. Patients should not massage their nose or sleep on their face as it can displace the threads and compromise results. The good news is the patient can now apply makeup over the tip of the nose!
Two Weeks Later
At this point, the irritation and the tugging sensation that was experienced will start to die down. Any swelling or bruising should have subsided by now and one can see the results of the nose thread lift treatment.
What Is The Aftercare Of Hiko Nose Thread Lift?
Proper aftercare not only minimizes the risks of side effects but also ensures optimal results.
Things To Do
You should:
Apply antibiotic cream gently over the entry point or nose tip
Take oral anti-inflammatory, anti-bruising, and antibiotics as prescribed by your doctor
Attend a follow-up appointment with your doctor a couple of weeks after treatment
Things To Avoid
You should avoid all those things which put unnecessary pressure on your face or increase your blood pressure. This is because they can displace the threads, and slows down the healing process. Similarly, you should also avoid any kind of aesthetic products that may irritate your facial skin.
Read More: What You Should Avoid After A Nose Thread Lift
The things to avoid after nose thread lift include:
Makeup, particularly, at the wound sites
Facials and facial massage
Extreme facial expressions like laughing, cringing or showing anger
Sleeping on your belly or side
Smoking
Alcohol consumption
Fish oil supplements
Intense physical exercise e.g. running, weightlifting, cycling, etc
Excessive heat exposure
Swimming
Are There Any Side Effects Of Hiko Nose Thread Lift?
If the nose thread lift procedure is executed correctly and proper aftercare is done, there will be no side effects except for slight swelling, redness, tenderness, and spot bruising at the site of treatment. These are common with almost all types of cosmetic treatments involving needles.
However, wrong technique, not following the standard procedure steps, erroneous selection of type and number of threads, incorrect placement of threads, lack of doctors' skills and knowledge about the anatomy and morphology of the nose, etc, can potentiate several side effects.
Possible side effects may include:
Infection of nose skin
Deviation of the nose bridge
Inability to achieve the optimal height of the nose
Disproportionate nose with respect to the face
Extrusion of threads out from the skin
Success Rate
Generally, Nose Thread Lift Treatment has a high success rate. A study found that more than 90% of patients who got this treatment were happy and satisfied in the end, and they observed significant improvements in their nose appearance without any serious complications. [2]
Bottom Line
Nose thread lift is a minimally invasive aesthetic treatment available to improve the appearance of the nose. People who have a big and wide nose, depressed nose bridges, or bulbous nasal tips should get this treatment. The whole procedure requires less than an hour for completion and has a very short downtime. Results are not permanent but are persistent for several months or even up to a year. If proper aftercare is done, the risks of side effects are minimal.
About Dream Aesthetics and Plastic Surgery
Bespoke surgical for cosmetic or medical reasons is what Dream covers to bring out the beauty in every individual. Going beyond the aesthetics and working on physical anomalies are what we value the most in leading our patients to cherish self-improvement and confident lifestyles.
Derived from Associate Professor Vincent Yeow's long-standing experience performing plastic surgery in Singapore, our treatment plans deliver physical remodelling in our patients' favour. One of the notable remodellings is droopy eyelid correction. The ptosis surgery used for treatment eventually fixes drooping eyelids, improves vision and enhances appearance.
Most importantly, as a trustworthy plastic surgery and aesthetic clinic, we treasure positive and natural outcomes for each individual. We will ensure to deliver the beauty refinement of your dream without compromising your safety and privacy.
References: