When individuals meet for the first time, the nose is likely to be the first feature they notice. Many people are uncomfortable with the shape of their nose, which may include a short or low nasal bridge, an overly large tip, a short nasal tip, or an insufficient extension of the columella.
In the last decades, individuals are increasingly looking for non-surgical solutions to augment the nose safely and conveniently with shorter or no downtime so one can achieve their aesthetic goals without having to sacrifice time for recovery. Non-surgical options also carries lesser risk and the idea of no scalpel or stitches is much more acceptable in general.
Nose thread lifts, also known as the HIKO "lunch-time" nose lift, have grown in popularity since its introduction, particularly in Asia. For example, the nose tip can be remodeled to look sharper without requiring surgery. This article will discuss what a Nose Thread Lift entails, its advantages and cost, as well as how to recuperate following treatment.
What Is Nose Thread Lift?
The nose thread lift is a non-surgical, minimally invasive technique that can be considered instead of surgical Rhinoplasty and Nose Fillers. Because of the noticeable outcomes with little invasiveness, this procedure is ideal for sculpting a narrower nose bridge and without major side effects and its gaining popularity in Korea and Singapore.
How Does Nose Thread Lift Work?
Threads are inserted through an entry point on the nose tip. The thread inserted along the nose bridge provides an instant mechanical support, helping to raise the nasal bridge. As the nose threads gradually dissolve, they promote collagen formation and tissue fibroblasts, providing continuous support and volume to the treated areas. With a thread lift, you will not face broadening of Nose Bridge or migration or volume as reported in some nasal filler treatments.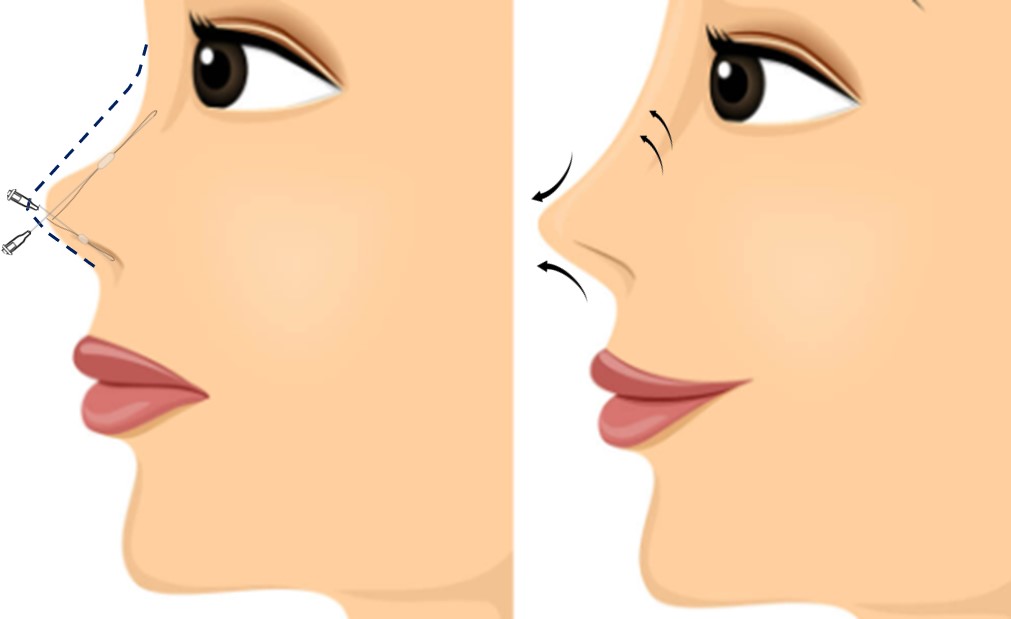 Many doctors choose Nose thread lift over nose fillers and Rhinoplasty due to the overall nose definition it provides, safety, and minimal risk of complications. Furthermore, it is an excellent non-surgical and low-cost alternative for a more defined nose profile. In general, a nose thread lift is a relatively painless since local anesthetic is administered to numb your nose and make the treatment more comfortable. Furthermore, it is said to be one of the quickest nose augmentation technique.
What Are The Different Types Of Thread Lift?
Polycaprolactone and polydioxanone (PDO) are commonly used threads for the non-surgical process. However, PDO is a preferable option as it a 100 % bio-absorbable and bio-compatible substance that is inserted into the nose to improve the nose's height, straightness, and sharpness.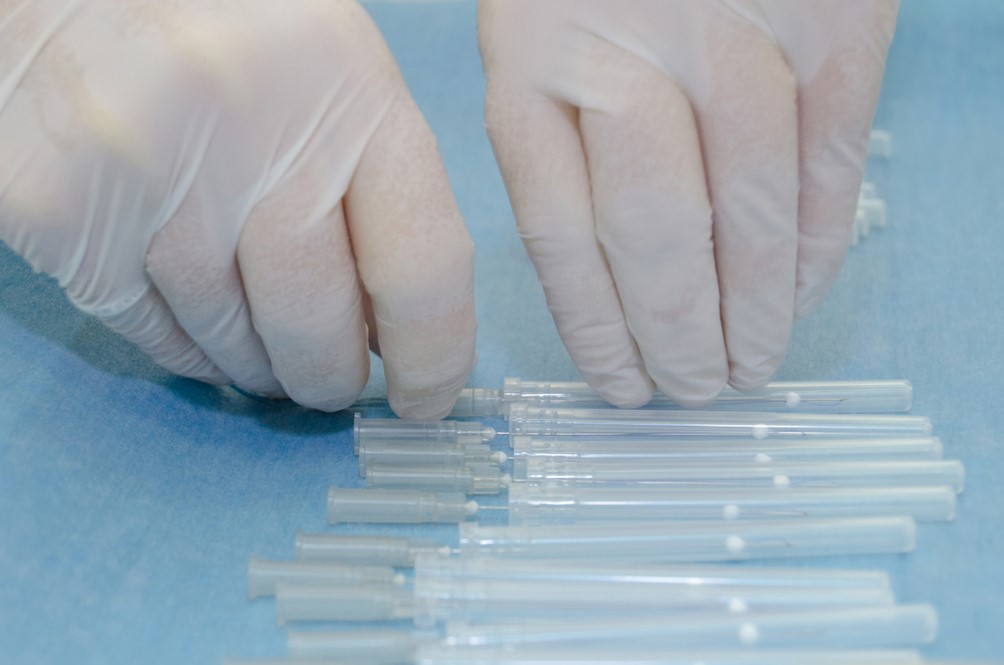 Who Is Ideal Candidate For Thread Lift?
Every person wishing to carry out this procedure must have reasonable expectations and, before taking this step, address any concerns with the doctor. Nose thread lift is recommended for individuals who wish to:
Make their nose bridge thinner and sleeker
Enhance the height of a low nasal bridge
Enhance the projection of the nose tip
Elongate the columella (area between the nostril)
Cannot afford long downtime
Is It A Safe Procedure?
Some argue that nose thread lifts are a safer option to nose fillers since they do not have the associated possible adverse effects of fillers, such as lumpiness, or migration of filler. Furthermore, a medical specialist should only conduct this highly skilled technique, so you can be confident that you will be in safe hands if you look for a certified medical practitioner.
Recent Studies
In 2020, a retrospective study was conducted on Korean patients who had rhinoplasty with PDO threads and fillers. All individuals were subjected to a single treatment session. A total of 31 patients were tested, and 93.5 percent of them were satisfied with the outcomes. At the 6-month follow-up, consensus ratings were mostly classified as very much improved (38.7 percent), much improved (35.5 percent), and improved (25.8 percent). The were few side effects, and those that did occur were minimal.[1]
Benefits Of The Hiko Nose Thread Lift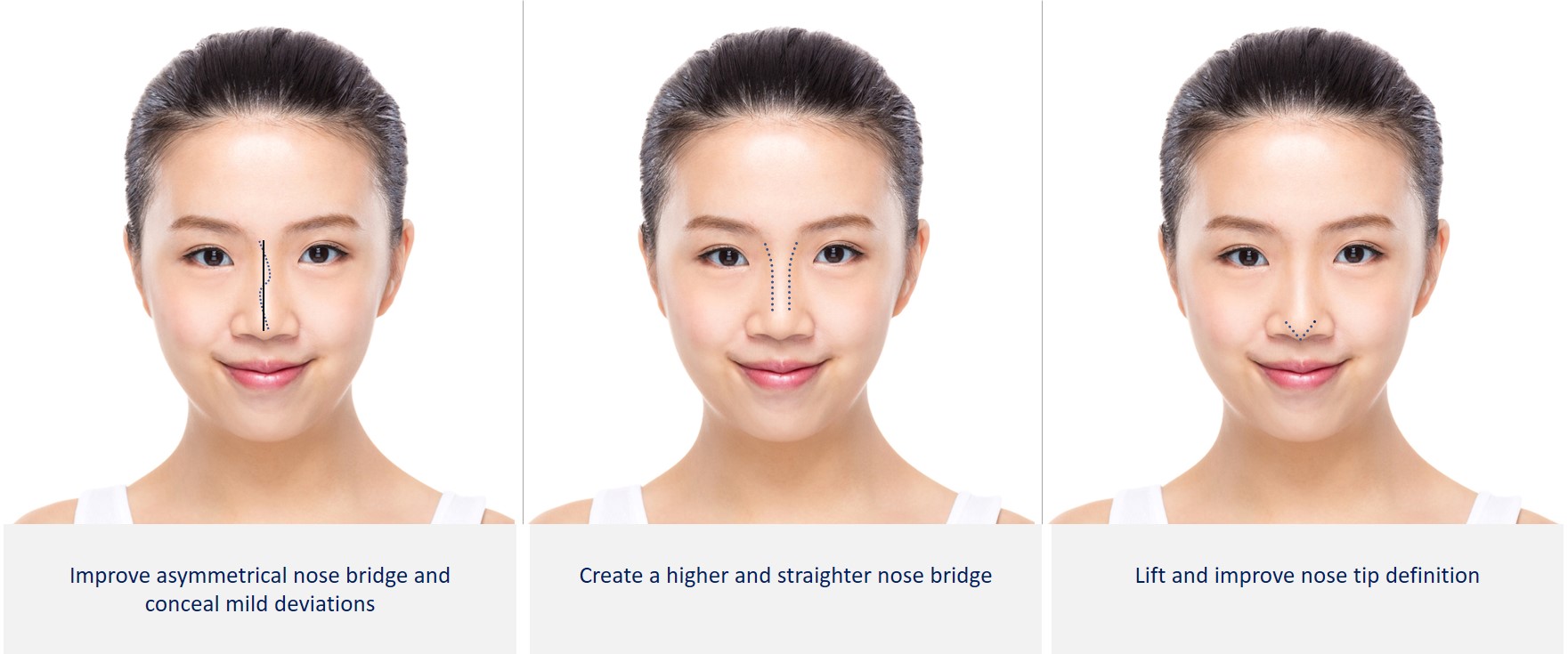 This aesthetic treatment efficiently contours the general base of the nose as well as augments the nose bridge, nose tip and columella-labial angle for a more defined shape contributing to a more harmonious and pleasing nasal appearance. Other principal benefits of the nasal thread lift technique include:
Restoring symmetry of crooked nose
Straighter an higher nose bridge
Longer Nose Bridge
Straighter Nose Bridge for deviated noses
Improved tip definition
Quick with little to no downtime
The Cost
Overall, the cost of HIKO nose lift treatment in Singapore is between $600 and $1100, which is much cheaper than a traditional rhinoplasty. However, several factors influence the cost of a Nose Thread Lift, including the kind of nasal profile, the complexity of treatment, the brand of thread used, the number of threads required and the doctor's experience.
The Results
Depending on the complexities, the entire nose thread lift procedure will take 15 to 30 minutes. You could witness the benefits of your nose augmentation right away after the first treatment, with a higher, more prominent nasal bridge and a sharper, more projected nose.
Both the nasal ridge and the tip of the nose can be treated in the same session. The procedure will be completed after the required height and form of the nose has been achieved.
The results of nose thread lift will last between 9 to 12 months, therefore they are not permanent. Following that, the threads will dissolve naturally in your body, and you will need to repeat the procedure for maintenance.
Following the treatment, you will experience tightness, mild swelling, redness, potential bruising, and irritation. These sensations are usual whenever a foreign material is threaded into your skin. The tightness and swelling will subside over the next week as the tissue heals and adapt to its new addition.
The Recovery
Recovery is usually quick and you may feel well enough to go back to work and resume normal light activity immediately or after a few hours. If the recommendations are followed, the treatment site will heal quickly and the threads will not be displace.
There are a few things to avoid after nose thread lift treatment. It is recommended to stay away from strenuous activity, face massaging or putting excessive pressure on the nose. Avoid, for instance, anything that has the potential to move the position of the threads before they have a chance to properly embed in your tissue. It's critical to obtain advice from your doctor on what activities to avoid as the tissue heals to aid your recovery. The physician may recommend the following in the days and weeks following the procedure:
To alleviate discomfort, analgesics may be administered.
If there is a possibility of infection, prophylactic antibiotics may be given.
Apply ice packs to the area affected.
For the next 24 hours, avoid wearing makeup.
Sleep on your back in an elevated posture.
Avoid excessive exposure to direct sunlight.
Conclusion
Non-surgical nose thread lifts, especially those using PDO, are safe and effective, with immediate visible results to achieve desired nose shape with a higher and straighter nasal bridge that lasts around one year after the procedure. It also comes with fewer risks of medical complications. If you are considering nose thread lift treatment in Singapore, always look for a trusted and reputable medical doctor for advice so you can achieve a good understanding of the results you can achieve with this treatment.
References:
1.Kang, S. H., Moon, S. H., & Kim, H. S. (2020). Nonsurgical Rhinoplasty With Polydioxanone Threads and Fillers. Dermatologic Surgery, 46(5), 664-670.‏
2.Adam, A., Karypidis, D., & Ghanem, A. (2020). Thread Lifts: A Critical Analysis of Treatment Modalities. Journal of drugs in dermatology: JDD, 19(4), 413-417.‏
3.Lee, H. Y., & Yang, H. J. (2018). Rhinoplasty with barbed threads. Plastic and Reconstructive Surgery Global Open, 6(11)