A push-up bra can only do so much. If you are looking forward to getting bigger or shapelier breasts, breast augmentation can be a viable option. Breast implant surgery is among the most popular and sought-for cosmetic procedures at the time. It is not only meant for women with smaller breasts but also for those whose breast size has changed over time due to pregnancy or weight loss.
The idea of undergoing a cosmetic procedure to get larger breasts may seem quite enticing, but you shouldn't make hasty decisions without preparing yourself with adequate information on the matter.
Reviewing the merits and demerits of the surgical procedure can help you decipher and weigh-in on how prepared you actually are to take the next step towards or away from breast augmentation procedure.
Although breast augmentation procedures are not very complicated and are typically completed smoothly – evaluating the pros and cons of the procedure will help you make an informed decision and minimize the risk of unknown potential complications later.
Here, we will discuss some of the pros and cons of breast implant surgery in detail.
Some Of The Pros Of Breast Augmentation
1. Breast Augmentation Can Enhance Your Figure
Breast augmentation is the cosmetic procedure targeted at transforming your breasts from saggy, loose, and deflated to a firm, voluminous, and expanded state. This results in an overall improvement of your body's contour, elevating your figure to the next level!
2. Boost Your Confidence And Self-Assurance
An augmented breast can offer a tremendous amount of boost to self-esteem and confidence, especially to those women who suffer from anxiety and depression just because of their body. This procedure helps people with body insecurity issues and enables them to have a better social life. When combined, these perks can really enhance the performance of the person and improve her quality of life.
3. Implants Last A Long Time
Unlike fat transfer breast augmentation, breast implant surgery is not focused on providing a short-term solution to add extra volume to your breasts. It is a long-lasting cosmetic procedure that does not require maintenance or repeat-sessions for optimal results for as long as 10 to 15 years or more.
4. Surgery Can Be Optimized According To Your Needs
Every woman's body is different from the other. Thus, there is no definite procedure for breast augmentation, and surgeons may optimize the process to best suit your individual case.
You can also direct the cosmetic procedure (to a limited extent) according to your desire by discussing critical details with your surgeon prior to the surgery during the consultation. However, your surgeon will make the final decision that is best suited for your body and doesn't compromise the integrity of your overall health in any way.
5. Breast Implants Are Relatively Inexpensive
With all the benefits breast augmentation offers, it is generally considered a cost-effective procedure at a relatively reasonable price. The total cost of your surgery depends on the type of breast implant you have chosen, the expertise of the plastic surgeon as well as the facilities at the cosmetic care center of your choice.
The average breast implant in Singapore cost for the procedure ranges between $12,000 and $17,000. Why is breast augmentation worth the price? It is because of the drastic improvement in your appearance and the long-lasting results if offered – making it feasible and worthwhile.
6. Breast Augmentation Can Help In Certain Careers
One reason why most women go for breast implant surgery is that it opens new doors of opportunity for them. Women with a more refined body and prominent curves tend to secure jobs in the fashion and entertainment industry more easily.
They feel that if their bodies, especially breasts, don't appear as what society thinks as the gold standard, they miss out on a wide array of jobs and careers.
7. Look Better In Clothes
After breast implant surgery, you will have a plethora of dress choices to pick from. You will now be able to rock all sorts of fancy dresses with confidence. All types of outfits will seemingly fit you just right. This will mean the world to someone who is crazy about clothes and wants to try a diverse range of wardrobe.
A Few Of The Cons Of Breast Augmentation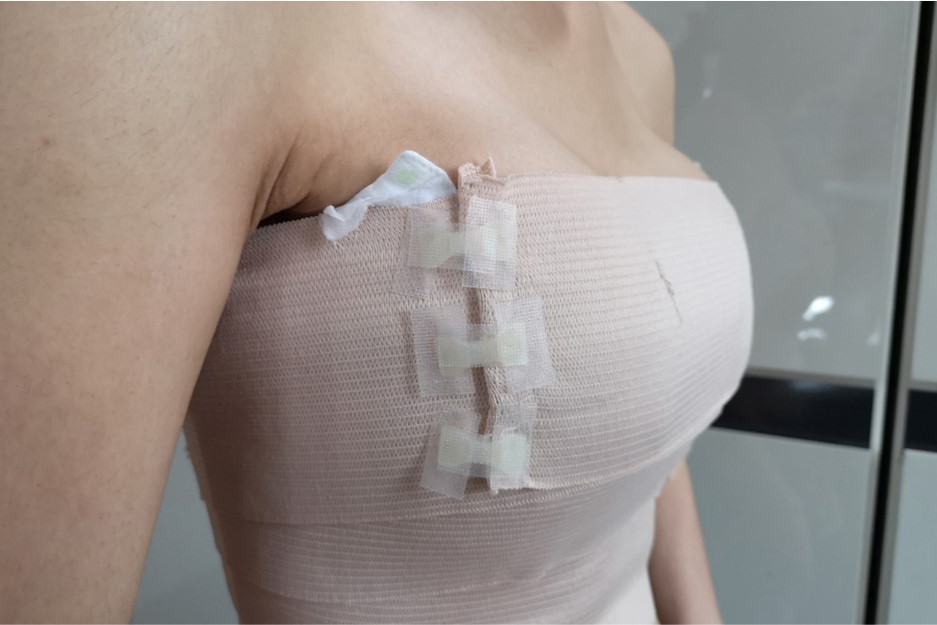 The common side effects include swelling, bruising, soreness, and decreased sensitivity. The swelling will persist for a few weeks before it eventually fades away. Some of the cons related to breast implant surgery are as follows.
1. It Is A Surgery And Isn't Meant For Everyone
Breast implant surgery is considered a safe procedure in general. However, like any other surgical procedure, it is associated with some risk of complications and side effects. If you are suffering from a medical condition that compromises your immune system – the risk of post-surgical infection is critical for you compared to other healthy individuals.
Moreover, if you are a smoker or have any sort of bleeding disorder, there is a high chance that your plastic surgeon will recommend against this cosmetic procedure. So, it really boils down to the health of the person undergoing surgery – as this may be a serious problem for some, but it is completely fine for others.
2. Breast Augmentation Involves A Longer Recovery Time
Unlike other minimally invasive procedures, breast augmentation is a surgical procedure that needs more time to heal. You will feel some discomfort and tightness in the treated area for the first few days.
But your surgeon will prescribe some painkillers for postop pain and discomfort. You cannot return to your regular routine or work until at least a week after the surgery. Even if you return to work after a week, you still cannot resume strenuous physical activity and exercise for about 4 to 6 more weeks.
3. Wrong Choice Of The Implants Can Risk Repeat Surgery
Because every woman has a different body type and facade, it is important to make the right choice of implant size, shape, and type – something that will best suit your body. A wrong choice for the type of implant can be risky as it may cause irregularities and deformities in your breasts. It will also predispose you to a revision-surgery.
4. Rupture In The Implant Leads To Deflation
Although they are meant for long-term use, these implants are rated for a lifetime. The breast implants need regular observation and possible replacement after ten years or more.
On the other hand, if you are tired of your implants, want to change their size or replace them because of a rupture, you will need to undergo the same surgery again for implant removal or replacement.
5. Affects Mammogram Results For Cancer Screenings
With breast implants, it will be more difficult for you to get a clear mammogram imaging. This happens because of the shadow created by the implants, which makes it very difficult for detecting cancer in underlying tissues. If you have breast implants or are considering getting them done, choose an accredited cancer imaging center and inform the operator about them.
6. Risk Of Complications
Instantaneous or short-term complications are rare and include:
Wound healing issues
Infection
Hematoma
Long-term complications include:
Formation of capsule contracture, i.e., scar tissue around the implant
Loss of sensation on the breasts
Implant sagging within the breast and resulting in drooping breasts or asymmetry.
Transposition of the implant towards the middle of the chest called Symmastia, giving the form of one continuous breast
Accumulation of the fluid around the implant (seroma).
Breast implant-associated anaplastic large cell lymphomais a very uncommon type of cancer which affects the immune system, but in women who have had breast implants with textured surfaces. It presents with symptoms, such as alteration in breast size, lumps, or swelling, which might develop 2-8 years after the surgery.
It is very important to discuss your future plans regarding pregnancy and breastfeeding with your surgeons prior to undergoing a procedure for breast augmentation.
Are You The Right Candidate?
Breast implant surgery is suitable for you if :
You want the right proportions for your figure.
You have small-sized breasts
You have saggy or less firm breasts due to pregnancy, weight loss, or aging
Have asymmetrical breasts.
Have good health and realistic expectations from the procedure
Schedule A Consultation With Our Breast Augmentation Plastic Surgeon
Although breast augmentation procedure is done on thousands of women each year worldwide, it has its pros and cons. Whether you want to get breast augmentation because of small breast size or sagging breasts after pregnancy, you should be well-informed about all the relevant pros and cons of the procedure.
To learn more about the merits and demerits of breast augmentation in your particular case, contact Dream Plastic Surgery, and book your appointment with Dr. Vincent Yeow. Dr. Yeow is a firm advocate of providing essential information and educating the patients regarding the process. This not only results in better outcomes but helps with the satisfaction of the clients. During the consultation, he will discuss your goals and tailor the procedure to best suit your needs.
Contact us at 6871 8888 to schedule your appointment at Dream Plastic Surgery, located at 290 Orchard Road #17-03/04 Paragon Singapore 238859.
About Dream Aesthetics and Plastic Surgery
Bespoke surgical for cosmetic or medical reasons is what Dream covers to bring out the beauty in every individual. Going beyond the aesthetics and working on physical anomalies are what we value the most in leading our patients to cherish self-improvement and confident lifestyles.
Derived from Associate Professor Vincent Yeow's long-standing experience performing plastic surgery in Singapore, our treatment plans deliver physical remodelling in our patients' favour. One of the notable remodellings is droopy eyelid correction. The ptosis surgery used for treatment eventually fixes drooping eyelids, improves vision and enhances appearance.
Most importantly, as a trustworthy plastic surgery and aesthetic clinic, we treasure positive and natural outcomes for each individual. We will ensure to deliver the beauty refinement of your dream without compromising your safety and privacy.
References: