Eye bags, puffiness, and dark circles under the eyes are always unwanted guests. Most people consider them as just one entity; however, depending on the underlying cause – eye bags can be further classified into different types. Most of these types pop up secondary to senile (aging) changes some caused by chronic allergies, and can be even pathological. The following are the common types of eye bags.
Type-1 Eye Bags
Mainly caused by genetics and aging, and usually identified among younger people, this type is the least prominent one and only contains a small amount of fat under the eyes. This type of eye deformity is often less noticeable because it is in early stages and can only be seen at certain angles. Type-1 eye bags can be easily treated with non-surgical methods such as fillers and laser therapy.
Type-2 Eye Bags
Puffy eyes are more prominent than type 1 eye bags and can be easily seen. One of the most common causes of type-2 eye bags is the temporary swelling due to seasonal allergies. Dehydration, lack of sleep (sleep deprivation), hormonal imbalance and stress can also cause type-2 eye bags.
The accumulated fat and fluid under the eyes cause small swelling that can be initially treated with specific therapies and home remedies. Chronic cases can be best managed through surgical interventions like lower blepharoplasty.
Type-3 Eye Bags
Type-3 eye bags are the distinct under-eye pouches that cause the formation of large semi circles and greatly lower the person's self-esteem. This eye puffiness is caused by protrusion of under eye fatty tissue (accumulation of large fat deposits) and skin laxity. Simple home remedies and non-surgical methods often don't produce desirable results. Surgical removal of excess fat and skin is the only effective option.
Treatments For Eye Bag Removal
The first step in choosing a safe and effective remedy is the identification of the type and underlying cause of the eye bags. For example, if your eye bags are due to lack of sleep, dehydration, or stress, and belong to type-1 type – non-surgical methods such as simple home remedies, fillers, or laser therapy would be best.
If you have prominent eye bags or caused by senile changes, getting a cosmetic procedure will produce the best possible outcome.
Non-Surgical Eye Bag Removal Methods
Some non-surgical treatment options such as topical creams, lotions, specific diets, lifestyle modifications, and specific remedies can help treat type-1 and to certain extent type-2 eye bags. Here the most popular options;
Creams
Specific eye bag removal creams are developed by different companies and widely available in the market. Most of these topical solutions contain hyaluroninc acid, collagen, and other compounds that help tighten the skin and reduce the size of eye bags.
Hyaluronic Fillers
Hyaluronic acid filler is a popular and a quick method to improve dark circles, reduce eye puffiness, and conceal the appearance of eye bags. Dermal fillers plump up the saggy skin as smooth grooves and hollowness under the eyes. However, this non-surgical method is temporary and results often last between 9 months to a year.
Rejuran Fillers
Rejuran skin boosters contain a Salmon DNA called PDRN. It is an anti-aging injection that helps reduce the eye bags by stimulating collagen production and helping repair damaged tissues.
Infini
This treatment option uses micro-needle and radiofrequency – one of the most effective rejuvenating techniques to treat eye bags. This device improves fine lines and saggy skin and stimulates collagen production by delivering heat deep into the skin.
HIFU (High-Intensity Focused Ultrasound)
HIFU treatments use high intensity ultrasound rays to reach deep into the skin tissue and target dermis and superficial muscles. It delivers heat to stimulate the production of collagen and elastin, which further leads to a lifting, tightening, and rejuvenating effect.
Scarless Eye Bag Removal
This procedure is also popular for reducing eye bags. It uses a 0.6 millimeter (600 micrometer) laser to remove the fatty tissues, accumulated fluid and excess skin permanently from the under eye area.
Compared to surgical interventions, the non-surgical eye bag removal treatment is non-invasive and takes around 30 minutes to produce the results. Furthermore, it also requires a shorter recovery time and has less documented side effects.
The doctor will examine a person's overall health, the amount of fat under the eyes, and sagginess of the skin and help the patient determine what procedure will be the most effective.
Which Type Of Eye Bag Requires Surgical Removal Methods
Depending on the age, under eye fat or fluid, and sagging of the skin, your doctor may recommend getting an eye bag removal surgery. Type-3 eye bags are mostly corrected by surgical removal of the fat and skin.
Types of surgical eye bag removal
Mild eye puffiness and sagging of under eye skin can be treated through home remedies and non-surgical procedures. However, more complex eye bags with a lot of fat and decreased skin elasticity are always preferred to be treated through surgical interventions. These include;
Transconjunctival Eye Bag Removal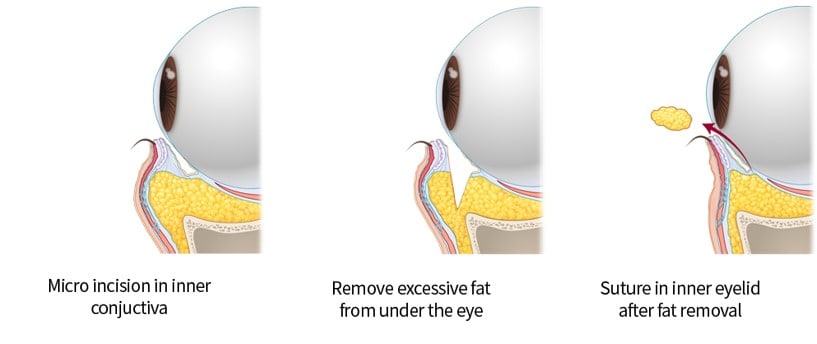 This procedure involves a small incision inside the lower eyelid. In this method, the surgeon uses an electrocautery to make the cut and remove the fat. This technique is more popular because it leaves no visible scars on the outside of the eye.
This technique is the best choice for individuals who are young and have good skin elasticity. The procedure provides best results to individuals with mild to moderate eye puffiness and less skin under the eyes.
Incisional Eye Bag Removal

This technique involves making a small incision along the lower lashline to remove stubborn fat and fluid. Incisional eye bag removal is shown to produce best results for individuals with moderate puffiness, excessive skin under the eyes, and dark circles which need skin tightening to remove them.
Fat Repositioning
As its name suggests, eye bag surgery with fat repositioning involves surgical intervention to remove and reposition fatty tissue under the eyes to smooth out wrinkles and reduce eye bags. The procedure also corrects any outward bulge and fills up the sunken area to create a smooth and taut contour.
How To Go About Choosing The Right Treatment?
How Severe Is The Eye Bag Condition
The severity of the eye bag condition directly influences the treatment option one has to choose. For example, if a person has slight bulging of eyes with less amount of fat and fluid, non-surgical treatment options such as creams, dermal fillers, and laser treatment. Surgical interventions like blepharoplasty and fat repositioning would be better for more severe eye bag conditions with a lot of fat and sagginess of the skin.
Your Preference For Surgical Or Non-Surgical Options
In general, plastic surgeons recommend trying non-surgical treatment options such as creams, laser removal, or dermal fillers to reduce mild  to moderate eye bags. However, if the condition is severe or you are not satisfied with the non-surgical remedies, surgical procedure would likely give better results.
Speak To Us About Your Eyebag Concerns
Eye bags are of different types and classified according to the severity of the condition. Young people often experience type-1 eye bags or occasionally type-2 eye bags secondary to several dietary or environmental factors.
The treatment also depends on the type and severity of the eye bags. Type-1 and type-2 eye bags can be managed non-surgically with remedies like dermal fillers and scarless laser removal. More complicated cases of eye bags – those with pockets of excess fat and skin – are better managed through surgical interventions, such as transconjunctival eye bag removal, incisional eye bag removal and fat repositioning.