Breast augmentation is among the finest and more advanced cosmetic procedures in medical science. People undergo this procedure for several reasons, like enhancing their self-confidence, eliminating insecurity, or after a mastectomy in case of breast cancer. Breast augmentation is performed using breast implants to increase breast size, i.e., restore symmetry and enhance curves.
There are many types of breast implants out there and selecting the best one can be challenging. This article will discuss everything about breast implant surgery and compare different types of breast implants to help you choose a procedure for your specific breast issues.
What Is Breast Augmentation and Breast Implants?
Breast augmentation is a cosmetic surgical procedure that uses implants under the breast tissue for enhancing breast size and shape. Breast augmentation is also used for reconstructive purposes, such as after mastectomy for breast cancer.
Breast implants are medical prostheses planted inside the breast tissue or chest muscle to achieve breast aesthetic goals, including contouring the breast, augmenting the breast's physical appearance, and making breasts bigger and fuller.
The only difference between breast augmentation and implants is that breast augmentation is a surgical procedure for breast enhancement and implants are the mechanisms used for breast augmentation. The most common types of breast implant surgery are:
Saline breast implants
Silicone implants
Between these two types, silicone implants are more preferred than saline implants.
Silicone Breast Implants
Cohesive silicone breast implants are FDA-approved implants filled with silicone gel, which resembles natural breast tissue. Women aged 21 years or older can go for breast augmentation using cohesive silicone breast implants. The advantage of using breast implants is that they do not collapse even if the implant leaks and the implant interior looks similar to that of a gummy bear. In cases where the implant shell ruptures, the gel remains within the inner shell of silicone and will not leak to other areas of the body.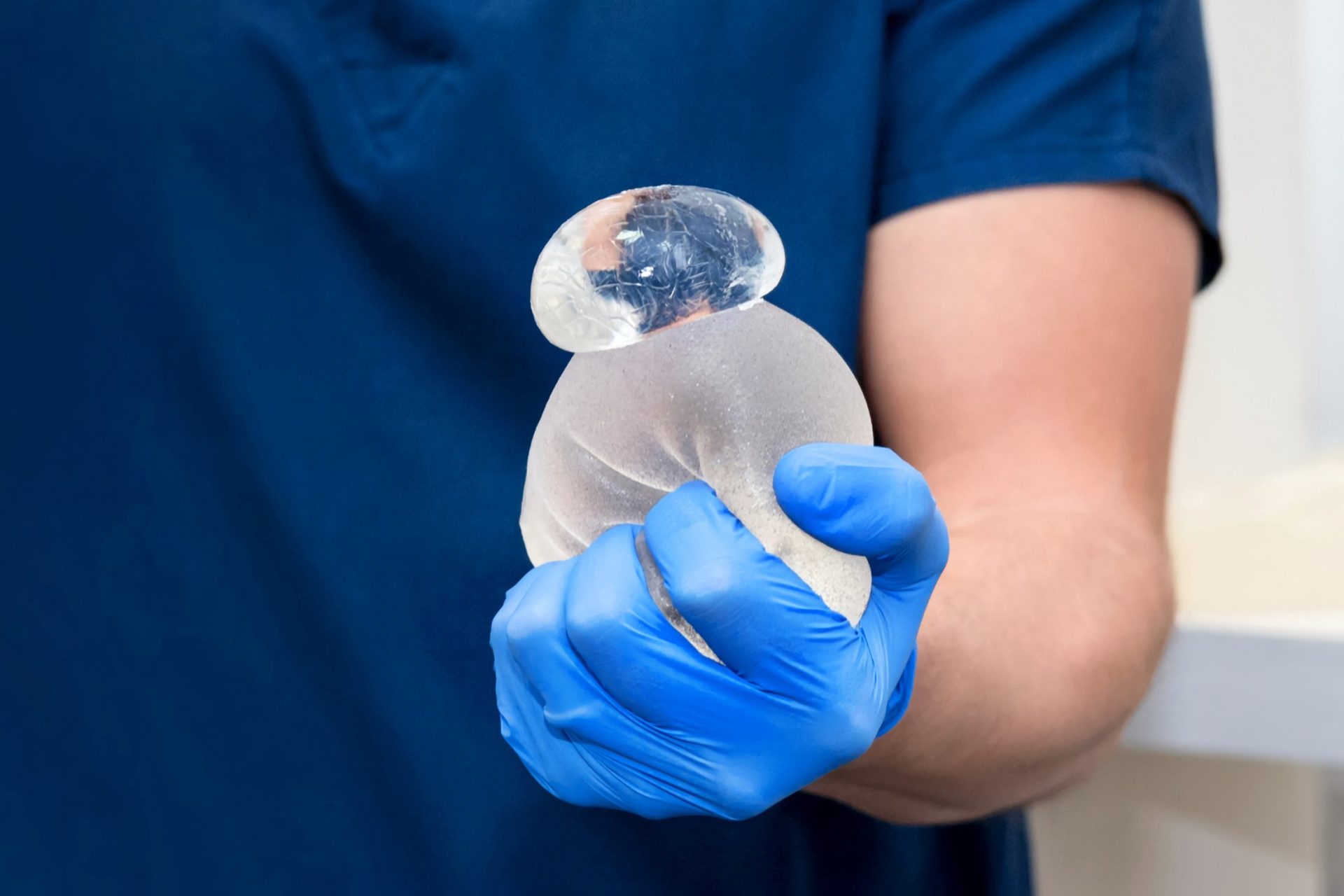 Women with silicone implants, one needs to have yearly visit to their plastic surgeon or undergo ultrasound scans to ensure the health of the breast after the procedure.
Types of Silicone Breast Implants
In this section, we're going to cover the different types of silicone breast implants available and what makes them unique for particular cases:
1. Round and Anatomical Breast Implants
Not every woman has round breasts by nature. Round implants provide a characteristic rounded appearance of the upper breast for those women who want to achieve more fullness and volume.
Who is the best candidate for round implants?
Women with "tight" skin envelopes and want the fullness of the upper breast.
Women who want a naturally rounded breast appearance.
Anatomical breast implants are generally micro-textured and shaped like a "tear drop." These implants come with a firmer gel to "fill" the breast tissue and address shape issues and laxity concerns. These implants improve projection below the mid-portion of the breast.
Who is the best candidate for anatomical implants?
Women who needs lifting of the breast
Women who have a low nipple-areola
Women who want a fuller lower breast
Women who prefer a more natural look
2. Gummy Bear Implants VS Ergonomic Gummy Bear Implants
Gummy bear implants act differently in one's body than ergonomic implants. Ergonomic implants appear to look like tear drop shape when the body is upright and transforms to a rounded shape when the body is in a horizontal position. Gummy bear implants shape stays fixed regardless of how the body moves.
Both these implants vary in terms of results. The ergonomic gummy bear implants add more volume to both the upper and lower portion of the chest. Whereas the gummy bear implants give a kind of "natural look."
3. Breast Implant Projection
Implant projection refers to how far the implant is extended forward from your chest tissues, based on your breast profile. There are numerous breast profiles such as:
Moderate Profile Breast Implants: These implants are an excellent option for women with broader chest regions. They enhance your breast volume but to a natural extent. The projection, in this case, is very minimum. These implants are the best choice if you prefer minimum cleavage and a more natural look.
High Profile Breast Implants: These implants add more forward projection as compared to moderate implants. These implants are perfect for women who desire more enhanced and fuller breasts. High-profile implants are a good option for women with narrower chest regions. If you are someone who wishes for a balanced cleavage and volume, a natural look, and a prominent change in breast shape, then this breast implant profile is best suited for you.
Ultra-High Breast Implants: These implants are the most projected from the chest and are best suited for women desiring fuller breast with some lifting benefits.
4. Textured Breast Implants
Textured implants exhibit a rough surface, which better adheres to the tissue that surrounds them. The benefit of having breast augmentation with textured implants is that they reduce the risk of scarring, are less likely to move, and hold their position better in the breast tissue.
Nanotextured Implants: Recently, conventional textured implants have been replaced with nanotextured implants that use nanotechnology to manipulate the surface for minimizing inflammation and maximizing tissue growth. Nanotextured implants have surfaces that are developed specifically to minimize breast implant-associated (BIA-ALCL) anaplastic large cell lymphoma and capsular contracture.
Selection of Breast Implants:
The following are some factors that must be considered before selecting the right breast implant for you:
Size: The foremost factor determining the final result of your breast augmentation is the use of the correct size of the breast implant. You can gauge the size of the breast implant in CCs, ranging from 200cc to 600cc. Moreover, it is essential to discuss how a breast implant can change your unique physique with your surgeon. Skin Elasticity is also a key factor when it comes to choosing implants. It helps in determining the size of the implants. Those with better skin elasticity may be able to take on bigger implants than those with tight skin.
Shape: The shape of your breasts as well as the results you wish to achieve will determine if a rounded or tear drop implant is more suitable for you. Those looking to achieve a more natural breast shape can look at tear drop implants. However, if one prefers more cleavage and a rounded look, round implants will be a better option.
Surgical Incision: The following are the incision sites for breast augmentation:
Inframammary (beneath the breast)
Transaxillary (armpit region)
Periareolar (nipple region)
Each of these incision sites has its own merits and demerits. Generally, the inframammary site is preferred the most as the aesthetician has more exposure to your breasts for the augmentation.
Breast Feeding In Future: Breasts implant surgery only alters the shape of the breasts. It is a very common misconception that breast implants will have a negative impact on breastfeeding. Breasts implants usually do not affect the supply of milk. It is vital to consult the doctor and ask about their recommendation on which type of implants and incision you should go for if you have to breastfeed in the future.
Age: Another deciding factor in selecting the right implant is your age. Older women exhibit diminished breast tissue and thinner breast skin so there is less padding to hide the existence of an implant. For such cases, smaller implants can give them a more natural result. Young women have more resilient breast tissue; they can opt for larger implants.
Cost of Breast Augmentation Surgery With Implants In Singapore:
The cost of breast augmentation in Singapore varies based on the type of implants, incision, procedure, and the surgeon you are opting for. It is essential to go for a well-experienced qualified surgeon whose surgery center is MOH-approved when it comes to breast augmentation.
The broad range of this procedure in Singapore is from $14000 to about $19000. This price range constitutes the type of implants, the fee of an aesthetician, surgery charges, facility charges, and, lastly, medication charges. The post-surgery care and appointments are not included in this range and are charged separately.
Conclusion
A breast implant surgery produces long lasting or permanent results. Therefore, you should take all the factors, risks, reality-checks, and cost into account before making a final decision. Thorough and detailed research should be done before making a decision.
Secondly, you should always prioritize your health and wellness over anything. That's why a well-qualified and experienced aesthetician should be your choice for this procedure to avoid any complications or infection post-operation.
About Dream Aesthetics and Plastic Surgery
Bespoke surgical for cosmetic or medical reasons is what Dream covers to bring out the beauty in every individual. Going beyond the aesthetics and working on physical anomalies are what we value the most in leading our patients to cherish self-improvement and confident lifestyles.
Derived from Associate Professor Vincent Yeow's long-standing experience performing plastic surgery in Singapore, our treatment plans deliver physical remodelling in our patients' favour. One of the notable remodellings is droopy eyelid correction. The ptosis surgery used for treatment eventually fixes drooping eyelids, improves vision and enhances appearance.
Most importantly, as a trustworthy plastic surgery and aesthetic clinic, we treasure positive and natural outcomes for each individual. We will ensure to deliver the beauty refinement of your dream without compromising your safety and privacy.