You can start to notice early signs of aging on the surface of your skin at around the age of 25. Aging signs can widely differ from person to person because of varying hormonal changes, lifestyle habits, and genetics. If you're in your late twenties or thirties, then creases across your cheeks, age spots, wrinkles, and dark circles are on their way!
A lot of people find it difficult to source for "natural" anti-aging alternative that offers youthful, dewy, and glowy skin. If you're struggling with anti-aging solutions and tired of trying out new skincare products, it's time to start looking for professional aesthetic treatments.
This article explains early signs of aging and how each one of them can be treated with different aesthetic treatments. So, let's fight back against aging signs with the best aesthetic treatments in Singapore to prevent them from becoming more substantial.
A Little About the Skin Aging Process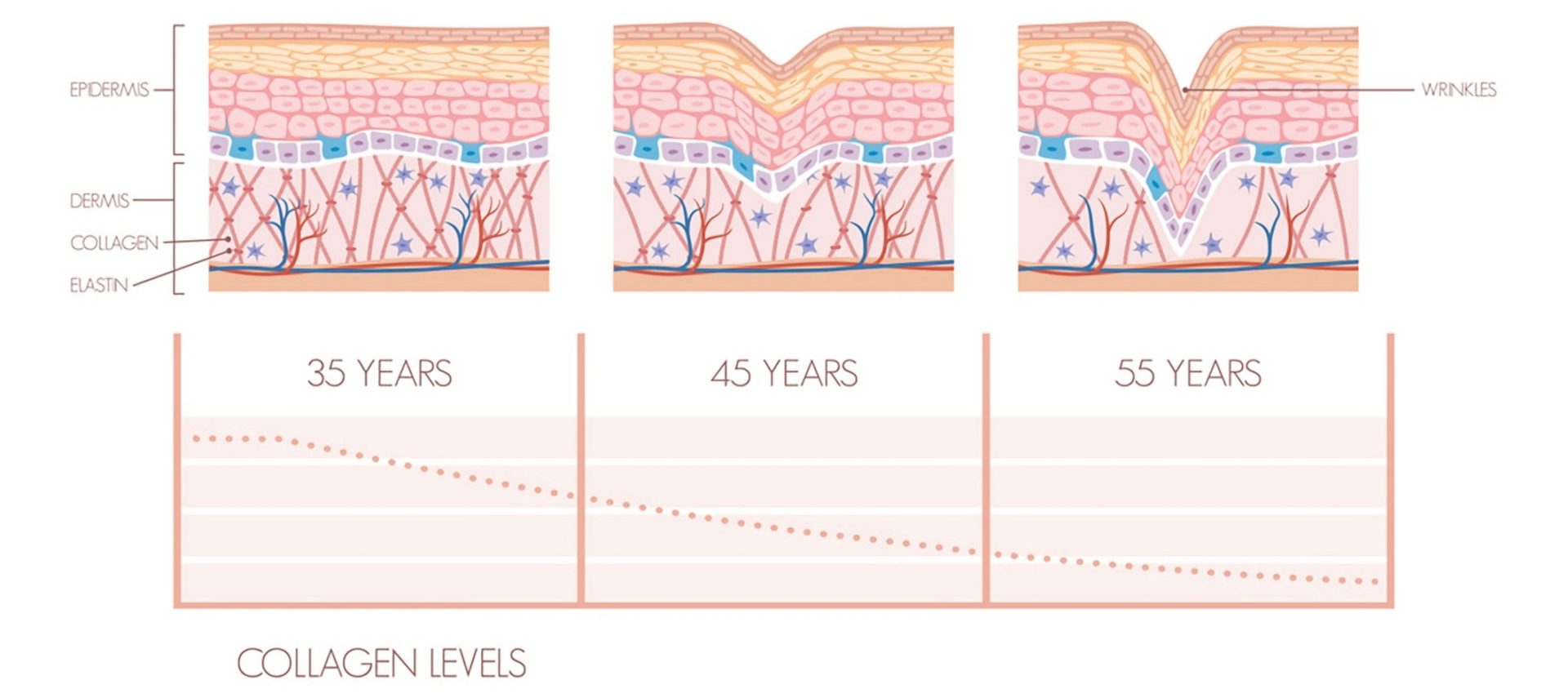 This is how skin aging changes every layer of your skin, making signs more visible on the surface:
1. The Epidermis
The epidermal layer of the skin happens to be more sensitive to the sun's harmful radiations. This results in reduced sebum production, slower cell turnover, and loss of hyaluronic acid. With aging, the epidermis gets thinner and loses the ability to heal itself.
2. The Dermis
As soon as you hit 25, collagen levels in the skin starts decreasing every year. The dermis, which is responsible for the production of elastin and collagen, gets exhausted with age. As a result, fine lines and wrinkles become more prominent on the skin. The aging process also causes diminished micro-circulation that decreases the radiance and youthfulness of the skin.
3. The Deeper Subcutaneous Tissue
The deep subcutaneous skin tissue produces lipid-storing cells that plump your skin. The number of these fat cells continue to drop due to aging, causing the skin to appear saggy and droopy overtime. This leads to the appearance of hollow temples and deep wrinkles on your cheeks.
Early Signs of Aging and Treatment Options for Them
The following list contains some of the early signs of aging and relevant cosmetic treatment options:
1. Fine Lines and Wrinkles
Appearance of wrinkles and fine lines are among the first noticeable signs of skin aging. Fine lines usually appear as small, shallow wrinkles on the outer corner of eyes and are typically known as crow's feet or laughter lines. Wrinkles become more prominent with skin movement due to facial expressions. These types of wrinkles are known as dynamic wrinkles.
Your naturally firm and taut skin starts losing its elasticity as the aging process breaks down elastin and collagen fibers. This leads to subsequent wrinkles and the skin appearing less firm.
Suitable Aesthetic Treatment Options for Wrinkles and Fine Lines:
Wrinkles and fine lines can be effectively countered with "neurotoxin" treatments like Botox and Sylfirm X. Let's have a look at what these treatments offer to smooth out fine lines and wrinkles.
(i) Botox: It is among the most popular and FDA-approved treatments for facial lines and wrinkles. Botox is an injectable liquid of purifying botulinum neurotoxin obtained from bacteria.
Botox is also called the muscle relaxer or neuromodulator. It relaxes the facial muscles, thereby reducing wrinkles. The working mechanism of Botox is the blockage of nerve signals in facial muscles, as a result of which muscle fibers are less active. Botox injections take up to a few minutes to relax your muscles, showing noticeable results in just 7 to 10 days.
(ii) Sylfirm X: Sylfirm X is an FDA-approved micro-needle system that is being used to treat numerous skin conditions, including wrinkles and fine lines, with the help of dual wave technology. The best thing about this particular treatment is that it doesn't damage the surrounding tissue when working on target cells.
The Sylfirm X's cell mode boosts the production of elastin and collagen and reduces fine lines and wrinkles, resulting in smoother and taut skin. It can take 30-60 minutes for the procedure to complete. Patients can notice significant Improvement in their fine lines and wrinkles with sequential treatment sessions.
2. Dull Skin
Your skin becomes dull and starts losing its natural glow due to a reduced cell-turnover rate. Depleted moisture levels in the epidermis cause a dull and faded complexion. With aging, the skin cell regeneration rate slows down (every four to six weeks compared to three to four weeks for younger skin).
Suitable Aesthetic Treatment for Dull Skin:
(i) Rejuran Skin Booster: Skin boosters are injectable polynucleotides (PN) that give your skin the glow and radiance you are looking for. Rejuvan Skin Booster uses polynucleotides to stimulate skin regeneration, enhance collagen production, and improve the thickness of the dermis and epidermis to rejuvenate the skin.
The following are some benefits of the Rejuran Skin Booster:
Improved skin complexion
Hydrated skin
Skin repair and regeneration
Balanced oil and moisture of the skin
 3. Dry Skin
Your skin is forced to constantly battle numerous harsh environmental factors all day long, barely managing to keep itself hydrated. Aging strips the skin of its natural oils and depletes its moisture. Dryness and dehydration cause the skin to appear "broken down."
Suitable Aesthetic Treatment for Dry Skin:
(i) Profhilo: Profhilo is a popular skin remodeling treatment containing hyaluronic acid (HA) for plumping dehydrated and dry skin. Profhilo serves as a hydrator that slowly releases hyaluronic acid (HA) into the skin, giving it a more plumped and luminous appearance.
The benefits of hyaluronic acid in Profhilo injectable treatment include:
Increased elasticity and firmness of the skin
Retained moisture in the skin, resulting in hydrated skin.
Improved skin tone, texture, early signs of aging.
It also provides subtle lifting effects
4. Less Defined V-Line
Collagen and elastin proteins are responsible for the natural tight and firm skin appearance. Aging causes your skin to appear saggy and droopy, typically around your jawline and cheeks. This results in a turkey neck and a less defined v-shape of the face. Every woman desire to slim her facial profile to achieve a well-defined V-line of the shape. A well-defined V-shaped jawline not only accentuates facial features but gives you a more radiant and feminine appearance.
Suitable Aesthetic Treatment for Achieving a Well-Defined V-Shape:
(i) Doublo Gold HIFU Treatment: It targets different depths of your skin to tighten it by delivering thermal energy. The thermal energy released by the Doublo Gold HIFU (High intensity focused ultrasound) penetrates 3 different layers of the skin, at 1.5mm, 3mm and 4.5mm respectively, eliciting tightening action from the superficial layers of the skin till the SMAS and the dermis. As a result, the Doublo Gold treatment lifts the sagging skin tissue, removes the double chin, and provides a well-defined v-line.
Conditions that can be treated with Doublo Gold HIFU treatment include:
Deep nasolabial lines
Sagging cheeks and jawlines
Sagging skin on the neck
5. Enlarged Pores
Aging causes your skin to appear thicker and drawn down. As a result, the skin loses its elasticity and becomes saggy. This sagginess causes pores to become enlarged and clogged. Enlarged pores can also develop due to decreased desquamation process – the natural exfoliation process of the skin. Clogged pores are typically as prominent on the nose as blackheads.
Suitable Aesthetic Treatment for Shrinking Pores:
Carbon Laser Skin Rejuvenation: Carbon laser peels are equally suitable for men and women having enlarged pores, acne, and oily skin. Shrinking pores with carbon laser peels is a completely painless procedure. By using the conductive qualities of carbon, the treatment painlessly exfoliates and cleanses your skin, uncovering a new glow to your skin. Carbon that conducts laser energy within the pores also help to stimulate a tightening effect, resulting in smaller looking pores. The procedure is minimally invasive, and there is no downtime from this procedure.
6. Pigmentation
Premature aging and years of unprotected exposure to the sun can cause dark spots, also known as hyperpigmentation. As a result of hyperpigmentation, the skin's pigment-producing cells convert into dark spots and brown patches which become highly prominent on the facial skin.
Suitable Aesthetic Treatment for Hyperpigmentation:
(i) Pico Laser Rejuvenation: Pico Laser skin rejuvenation is a non-invasive treatment for removing dark spots, stubborn sun spots, and signs of melasma. The treatment uses laser energy to generate gentle pressure. The pressure then stimulates collagen production, reducing dark patches and sunspots.
(ii) Oral Medication: The World Health Organization (WHO) has prescribed Tranexamic acid as a treatment for hyperpigmentation. Tranexamic acid can be applied as topical medication and taken as a pill.
(iii) Spot Lightening Cream – Cyspera: Another treatment option for improving stubborn discoloration is the pigment corrector Cyspera. This spot-lightening cream is free of hydroquinone and contains cysteamine.
Bottom Line: "Never Too Late"
You're never too late to start looking after your skin. People who already have developed prominent signs of premature aging can make changes to their lifestyle and yield positive results. It is essential to protect your skin from sun rays – this gives your skin tissue a fair chance to repair some of the damage. Avoid smoking and follow a healthy diet to provide essential nutrients for maintain a healthy skin.
If you are concerned with your appearance and are looking for a more potent treatment options, you might want to consult a dermatologist for professional medical advice. With the various treatment and procedure options, achieving a tighter and younger-looking skin is more convenient than ever before!
About Dream Aesthetics and Plastic Surgery
Bespoke surgical for cosmetic or medical reasons is what Dream covers to bring out the beauty in every individual. Going beyond the aesthetics and working on physical anomalies are what we value the most in leading our patients to cherish self-improvement and confident lifestyles.
Derived from Associate Professor Vincent Yeow's long-standing experience performing plastic surgery in Singapore, our treatment plans deliver physical remodelling in our patients' favour. One of the notable remodellings is droopy eyelid correction. The ptosis surgery used for treatment eventually fixes drooping eyelids, improves vision and enhances appearance.
Most importantly, as a trustworthy plastic surgery and aesthetic clinic, we treasure positive and natural outcomes for each individual. We will ensure to deliver the beauty refinement of your dream without compromising your safety and privacy.