Are you frequently embarrassed in front of friends who laugh it off when it comes to your bust size? Do you feel a lack of confidence due to immature-looking breast size? Well, breast enlargement is what can be your potential solution. Read on to know more about whether you are the right candidate.
What is Breast Enlargement?
Breast enlargement, also frequently known as breast augmentation and or boob job, is a cosmetic procedure for volumizing the breasts. It is generally associated with fat grafting (fat transfer) or breast implants that aim to increase the size of breasts and redefine their shape, contour, and symmetry.
It can also be performed in combination with mastopexy, which is a breast-lifting surgical technique intended to modulate sagging breasts due to the aging process, breastfeeding, or weight loss.
What Can Breast Enlargement Achieve?
Breast enlargement in Singapore can help you accomplish the following benefits:
Enhance the breast appearance and fullness
Expand inherently small-sized or underdeveloped breasts
Reconstruct breast shape and contour
Correction of breast asymmetry or unevenness
Lifting drooping breasts
Improvement in the overall stature
Breast Enlargement Procedure
1. Consultation
First, you will have a detailed consultation with your doctor, during which several milestones will be achieved. These include:
Your doctor will obtain your detailed history
A physical examination will be done
The specialist will determine any screening and tests needed, including a blood test, ultrasound, or mammogram.
Breast enlargement procedure explained
Pre-operative implant size determination by trying different sized implants for simulation of outcomes.
Appointment for surgery
The consultation with the doctor is your time to communicate all your desires and expectations. You can also discuss in detail and clarify any queries that you have.
2. Anesthesia
Breast enlargement procedure involves the use of general anesthesia (GA) for better patient comfort as well as safety. The procedure can be done under deep sedation; however, it will compromise the patient's breathing. Thus, most surgeons prefer GA as it ensures a constant oxygen supply during the surgery. A professional anesthetist will be present throughout your entire procedure to ensure your comfort and safety.
3. Incisions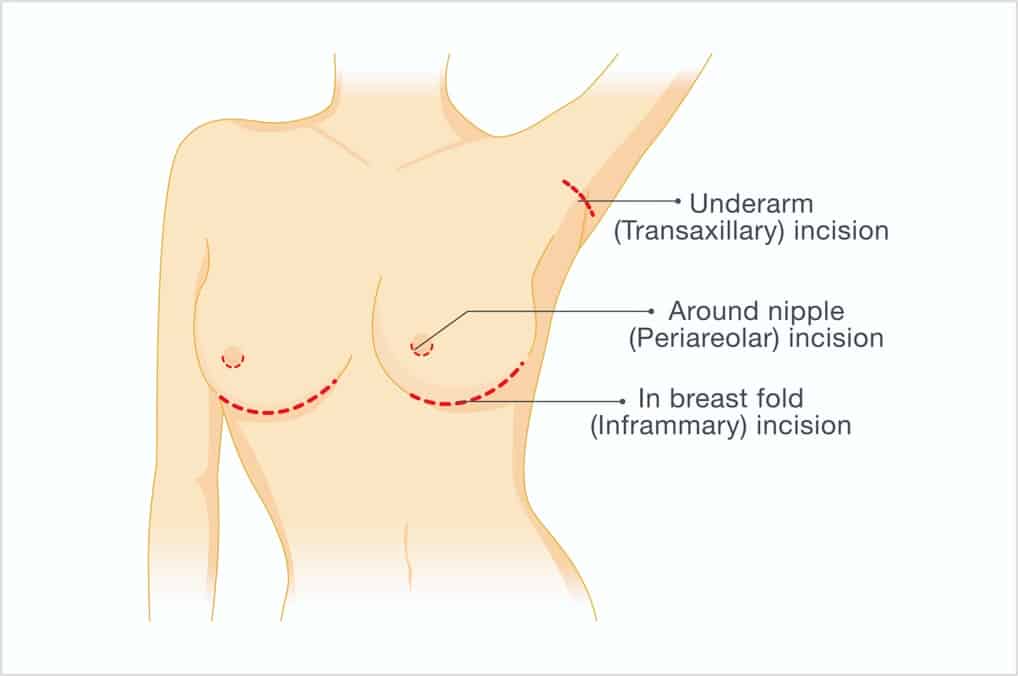 There are two procedures one can go for; breast implant placement or fat grafting (fat transfer breast augmentation). Those women who do not want implant insertion can go for autologous fat transfer in which fat from another body area such as tummy or thighs is obtained, processed, and injected into the breasts via a 4-mm incision made underneath the breasts. This takes about 2 – 4 hours to complete.
As for breast implants, incisions can be made for up to 3 cm in one of the following areas:
Inframammary Incision – under the breast
Transaxillary Incision – within the armpit
Periareolar Incision – around the areola
4. Placement Of Breast Implants
The type of implant to be used is discussed and decided between you and your doctor. They are inserted in the two locations as determined by your doctor; posterior to the breast tissue (subglandular) or underneath the chest pectoralis muscle (sub-pectoral).
Type Of Breast Implants
The types of breast implants include:
1. Silicone Implants
These implants are more natural and popular. The volume of these implants is fixed, shrinkage is rare, and they adjust slowly to the change in body temperature. With the new generation gummy bear implants, there is less worry for implant leakages as they stay in shape even if the outer shell has been damaged.
2. Saline Implants
While the saline implants are less natural and not very popular in comparison to silicone implants, their implant volume is adjustable, and they adjust quickly to the body temperature changes. Their contracture rate is low, and in case of leakage, saline implants deflate entirely.
Ideal Candidate For Breast Implant
The most common motivations for getting breast implants can include one or more of the following:
Small-sized breasts
Asymmetrical breasts, in which one breast is smaller than the other.
Sagging or drooping breasts
Loss in breast mass after pregnancy, breastfeeding, or weight loss
Change in shape after breast mastectomy
While women undergo breast enlargement surgery for several reasons, it is important to determine whether they are ideal candidates for the surgery. People who are the perfect candidates should meet most or all of the following features.
1. Have A Clear Understanding Of The Procedure
The right candidate will have an evident appreciation of what a breast enlargement procedure is, its aims, the risk associated with the procedure, how much it costs, and what benefits it can have.
Also Read: Breast Implants Surgery in Singapore Cost
2. Do Not Have Any Pre-Existing Health Condition
An ideal candidate is a woman who does not have any underlying health conditions such as diabetes, hypertension, and blood disorders.
3. Follow A Healthy Lifestyle
The ideal candidates have a decent health condition and are habitual of practicing good lifestyle practices. Following a regular exercise routine and eating a nutritious diet can support faster healing. Having a balanced weight is also crucial. In case you smoke, first quit smoking before going for the surgery because smoking can impede the healing process
4. Have Realistic Expectations From The Procedure
Having a practical approach and realistic expectations from your surgery is essential. Breast enlargement surgery can enhance the shape and size of breasts, can add firmness and correct asymmetry. It can give you a more youthful look. However, one should not go overboard in anticipating the outcomes as there is no magic stick to transform all aspects of life.
Who Is Not A Good Candidate?
Besides checking all the boxes of an ideal candidate, you should also be aware of some conditions which may affect your suitability for breast enhancement in Singapore.
Girls below 18 years of age. While some girls mature physically at an early age, teenagers are still under the growing age bracket, and there is a chance their breasts will continue to develop. This may continue well into their 20s. Thus, girls of this age group should wait until their breasts are fully developed before considering enlargement surgery. Going for the surgery before full breast development may lead to deformation as growth continues.
Pregnant or breastfeeding women. Breast enlargement is a cosmetic procedure that does not have any health urgency. At the same time, pregnant women should avoid any elective procedures and refrain from unnecessary surgeries. Breast enlargement procedure makes changes to the active milk-secreting tissues of the breasts and may affect milk production. Thus, breastfeeding women should wait for six to eight weeks after they wean off their babies before going for the surgery.
Those who have an infection. Although categorized as cosmetic surgery, breast enlargement is yet a major surgery. Thus, the patient must be in good health for healing to go well, as an active infection can obscure the process of healing.
Women with unrealistic expectations. As mentioned earlier, you must have a practical approach towards your procedure and have realistic expectations about the outcomes for complete satisfaction. Your purpose of undergoing the knife should be clear for you as unrealistic expectations and confusion about the results can have poor psychological health consequences.
Lack of knowledge about the surgery. As with any other major surgery, breast augmentation also needs a recovery period and has its risks and side effects. It is essential to have full knowledge and awareness about the procedure and its outcomes for a smooth recovery as poor understanding can lead to negative impacts later.
What Are The Risks Associated With Breast Enlargement Surgery?
The potential risks of breast enlargement procedure include:
Bleeding
Breast pain
Infection (rare)
External scarring
Alterations in breast and nipple sensation
Implant rupture or leakage – uncommon with modern-day implants
Capsular contracture – formation of internal scar tissue that makes breasts feel hard.
Seroma
Implant displacement
Symmastia – merging of both breast tissues transversely because of over dissection.
Breast-implant associated anaplastic large cell lymphoma (BIA-ALCL)
The risk of side effects, as mentioned earlier, is minimal if you go for an experienced and skilled plastic surgeon who has board certification. As for BIA-ALCL, choosing the right quality implants can lessen its risk.
What Is The Recovery Time After Breast Augmentation?
The duration of the recovery period after a breast enlargement procedure varies from patient to patient, depending upon the procedure's type and complexity. The sooner your body heals, the sooner you can get back to your routine. Most women return to their work after four to six days. For both breast enlargement procedures, implants, and fat transfer breast augmentation, the results are immediate and noticeable, although they take a few months to achieve their final state.
Is Breast Enlargement Right For You?
Whatever your reason for undergoing breast enlargement in Singapore, you need to consider the criteria discussed above for being the ideal candidate. Run yourself through the right and wrong candidates' checklist for the procedure and analyze where you fall.
Nevertheless, the aforementioned criteria are the guidelines you can use to consider breast augmentation surgery for yourself. The final call will be made from the board-certified plastic surgeon, who will determine whether you are the right candidate or not. Your specialist will also help you paint an accurate and appropriate picture of the outcomes you can achieve from the procedure.
Subsequently, breast enlargement is a procedure that can help you to unleash the more contented and confident side of you. Book a consultation with a qualified plastic surgeon at Dream Plastic Surgery to find out more.
About Dream Aesthetics and Plastic Surgery
Bespoke surgical for cosmetic or medical reasons is what Dream covers to bring out the beauty in every individual. Going beyond the aesthetics and working on physical anomalies are what we value the most in leading our patients to cherish self-improvement and confident lifestyles.
Derived from Associate Professor Vincent Yeow's long-standing experience performing plastic surgery in Singapore, our treatment plans deliver physical remodelling in our patients' favour. One of the notable remodellings is droopy eyelid correction. The ptosis surgery used for treatment eventually fixes drooping eyelids, improves vision and enhances appearance.
Most importantly, as a trustworthy plastic surgery and aesthetic clinic, we treasure positive and natural outcomes for each individual. We will ensure to deliver the beauty refinement of your dream without compromising your safety and privacy.
References:
1.Breast augmentation surgery. Medline. https://medlineplus.gov/ency/article/002984.htm