Be it fortune or fate, all of us are born with a certain face shape and size. Some have well-contoured face features that come from our parents naturally. In contrast, others don't have a perfect, slim jawline and are born with a broader and shorter facade.
However, what most of us desire is to have a slim face with a pointed chin. It is a general belief in Singapore that a V-shaped face is more attractive, empowers personality, and makes you feel more confident about yourself.
Most people try to achieve sharper facial features on their own by adopting different ways like exercising, decreasing salt intake for reduced bloating and water retention, dieting, having enough sleep, getting a facial massage, etc. However, these measures have long awaited and limited results.
The demand for face slimming treatments is progressively increasing and done widely in Asia by both men and women. These treatments include Botox, thread lift, radiofrequency therapy, focused ultrasound, and fillers.
In this article, we will explore each of these treatments. But first, let's classify the factors affecting the facial features and their relevant changes.
What Factors Affect Facial Contour Or Lead To Changes In Facial Contour?
A 2016 twin study has stated that both genetic and lifestyle factors influence facial contours.
Genetic Factors
The phenotypic features of parents are transferred from parents to offspring. This means that if any of your parents have a broader and shorter face or if this façade runs in your family, you are also likely to have the face type. This cannot be altered or modified. But you might still be eligible to enjoy the benefits of face slimming treatments and bring you closer to achieving a more V-shaped face.
Lifestyle Factors
Several lifestyle factors can influence the way your face shape changes over time. Some of these factors include:
Smoking and alcohol may lead to premature aging of the face
Weight fluctuations
Frequency of engaging in anti-aging treatments and skincare routine
A healthy diet and active lifestyle
V Shape Face Treatments In Singapore
Comprehensive coverage on how the treatment work, downtime, results to expect from the treatment, the longevity of results, and treatment price range.
1. Botox
How does it work?
Botox is a special protein that targets muscles and relaxes wrinkles. The medicine is injected into the masseter muscle to attain a V-shaped face. Masseter's bulk and size are reduced, resulting in a slimming of the face's lower portion. Typically, this is recommended for people who have bulky, noticeable masseter muscles.
Downtime and results
There is usually no downtime, and the result of botox injections might not be evident instantly. It takes approximately two weeks for face slimming to show and continue to advance for a month. The results are dramatic though not permanent. They start to fade away after about four to six months, and the masseter muscles gradually recover to their original shape and size. Thus, regular sessions are to be taken every 4 to 6 months to maintain the slimming effect.
Cost
The cost of jaw Botox injection treatment starts from $500-750. However, it may be more or less, depending upon the severity and needs of each case.
2. Fillers
How does it work?
Dermal filler therapy is not fundamentally a face slimming procedure. It helps to redefine your jawline, giving your face an illusion of being slimmer. This is accomplished by an experienced plastic surgeon or medical doctor who injects a soluble dermal filler at specific areas over your face. Chin fillers are that are injected into the chin can help to give that area a more projected and prominent appearance, transforming a short chin or squarish chin into a more feminine v-line
The results
The treatment outcome of dermal fillers is a slim and well-defined V shape face Singapore. However, its effects are not permanent, and the results wear off with time, needing a repeated treatment session every 9 to 12 months to maintain the results. This 15-minute doctor's office treatment usually involves minimal to no downtime.
Cost 
The price of dermal filler treatment in Singapore starts from $800 per syringe but can vary from case to case depending upon their individual needs, cosmetic center, and clinician's expertise.
3. Radio Frequency Treatment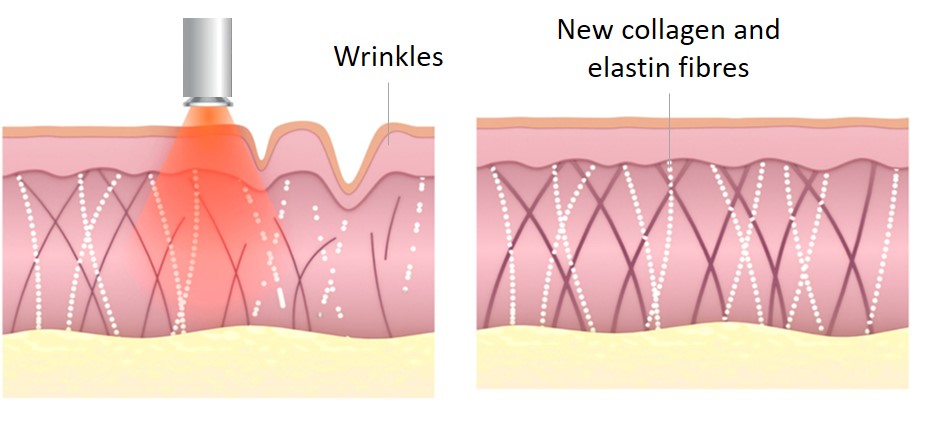 How does it work?
Radiofrequency treatment works by penetrating energy waves into the deeper layers of the skin.
The penetrative ability of the radio frequency waves helps create a heating effect that aids in kickstarting the collagen renewal process in your skin. With each delivered pulse of energy, the skin is cooled down with a cryogenic effect, eliminating heat from the surface of the skin where it is not needed. This makes the whole procedure more comfortable.
Downtime
This treatment is safe and shows immediate results with no downtime. Hospital stays are not needed, and you can return to your daily activities immediately after the session.
Results
Radiofrequency therapy is ideal for individuals who do not wish to go under the knife for complex procedures but prefer techniques with natural and progressive results. You will feel the changes in your skin even after the first treatment session, with your skin being tighter, firmer, and smoother. You can enjoy the taut and youthful look of your skin with lesser wrinkles. Radiofrequency therapy can also be done in combination with other cosmetic treatments for better results as per your needs.
Cost
The cost of radiofrequency treatments generally ranges from $1000 to $6500, depending on the size of the treatment area.
4. Focused Ultrasound Treatment
How does it work?
High-Intensity Focused Ultrasound (HIFU) treatment makes use of an ultrasound device to transmit ultrasonic waves. These waves heat tissues in the deeper skin layer leading to the stimulation of collagen. The advanced HIFU treatment is able to target three specific depths of the skin to effectively tighten loose skin. By making the skin more 'compact' in a quick and safe manner, this procedure gives the treated area a more sculpted appearance.
Results 
HIFU treatment can give you the slim, V-shaped face that you desire. Facial and buccal fat reduction can be obtained from the therapy alongside instant facial skin tightening, giving you firmer and lifted facial skin with lifted nasolabial folds. HIFU can be utilized to fix complex and sensitive areas and conditions such as eyelid lifts, brow lifts, eye wrinkles and lines, and forehead lines.
Cost
The cost of HIFU varies slightly from person to person, but it starts from $1500.
5. Threadlift
How does it work?
Threadlift is a procedure used for lifting sagging skin with the help of absorbable surgical threads. With age, several physiological changes take place in your body, including the skin. The loss of bony structure and collagen loosens your skin and soft tissue to give you wrinkles and saggy cheeks.
In the threadlift procedure, the dissolvable threads are placed in the deeper skin layers at the targeted sites, lifting the displaced soft tissues. As a result, the jawline becomes sharp, and the outcome is a more sculpted and lifted V shape face. The threads offer dual benefits; the first is the mechanical lift brought about by the threads themselves, and the second is the stimulation of collagen they cause.
Results
While the results of the thread lift treatment are not permanent, they can last for one to two years.
Cost
The price of the procedure begins at $1000 in Singapore.
[H2] How Frequent Face Slimming Treatments Are Needed For A V-Shaped Face?
As mentioned earlier, the results of most non-invasive face slimming treatments are effective yet not permanent. They have to be repeated in order to maintain the V-shaped face. In general, most treatment procedures need a revisit to the surgeon after every six months or at yearly intervals.
For example, Botox injectable treatment lasts only around six months and needs a repeated session at regular intervals.
Similarly, masseter muscles need Botox re-injection due to progressive build-up of the masseters, but the results from each treatment last longer and need lesser visits with time.
As for HIFU treatment, a repeat session is needed every 12 to 18 months to sustain the treatment results. However, the dermal filler procedure needs to be repeated after every year's duration.
In case you delay or miss your session, there is nothing to fret about, as your face will not lose its shape instantaneously in most cases. If you wish to maintain optimal results, seek advice from your doctor for a retreatment session and not delay your scheduled visits for too long.
Do V-Shaped Face Treatments Have Side Effects?
Typically, the non-invasive face slimming treatments are considered safe and have minimal downtime. However, like any other procedure, V shape face treatments may have some side effects. These can come from the heat generated from the devices and include mild swelling and redness after the procedure. But such issues will fade away on their own.
Likewise, bruising and some swelling can occur with injectables post-treatment but will subside in about 2 to 3 days.
Bottom-line
Whether you go for V shape face in Singapore for boosting your confidence or any other reasons, it is largely a personal choice. However, what you should ensure is that you choose a reliable cosmetic center with experienced, board-certified plastic surgeons or medical doctors for your treatment.
This article is a simple guide to non-invasive treatment options. However, for more personalized information and detailed discussion, you should book an appointment with our doctors so that you can make a well-informed decision.
About Dream Aesthetics and Plastic Surgery
Bespoke surgical for cosmetic or medical reasons is what Dream covers to bring out the beauty in every individual. Going beyond the aesthetics and working on physical anomalies are what we value the most in leading our patients to cherish self-improvement and confident lifestyles.
Derived from Associate Professor Vincent Yeow's long-standing experience performing plastic surgery in Singapore, our treatment plans deliver physical remodelling in our patients' favour. One of the notable remodellings is droopy eyelid correction. The ptosis surgery used for treatment eventually fixes drooping eyelids, improves vision and enhances appearance.
Most importantly, as a trustworthy plastic surgery and aesthetic clinic, we treasure positive and natural outcomes for each individual. We will ensure to deliver the beauty refinement of your dream without compromising your safety and privacy.
References:
1.Padmaja Sharma, Ankit Arora, Ashima Valiathan, "Age Changes of Jaws and Soft Tissue Profile", The Scientific World Journal, vol. 2014, Article ID 301501, 7 pages, 2014. https://doi.org/10.1155/2014/301501
2.Djordjevic J, Zhurov AI, Richmond S; Visigen Consortium. Genetic and Environmental Contributions to Facial Morphological Variation: A 3D Population-Based Twin Study [published correction appears in PLoS One. 2016 Oct 12;11(10 ):e0164961]. PLoS One. 2016;11(9):e0162250. Published 2016 Sep 1. doi:10.1371/journal.pone.0162250