If you don't like that shape of your nose and want to fix it, yet don't want to go under the knife, there are ways other than plastic surgery to enhance your nose shape. You can now achieve a refined nose without surgery through non-surgical nose filler injection in Singapore.
What Are Nose Dermal Fillers?
You might have heard of terms like a 15-minute nose job or a liquid nose job. The nose job is actually done using dermal fillers for augmenting the nose bridge and tip to enhance the contour or projection without the need for surgery. Due to its minimally-invasive nature, many who are fearful of surgery would consider this treatment to enhance their looks.
The FDA-approved ingredient, Hyaluronic acid, is the base ingredient in dermal filler that is used for transforming looks. In the right hands, you can achieve the similar outcomes as those of a surgical procedure.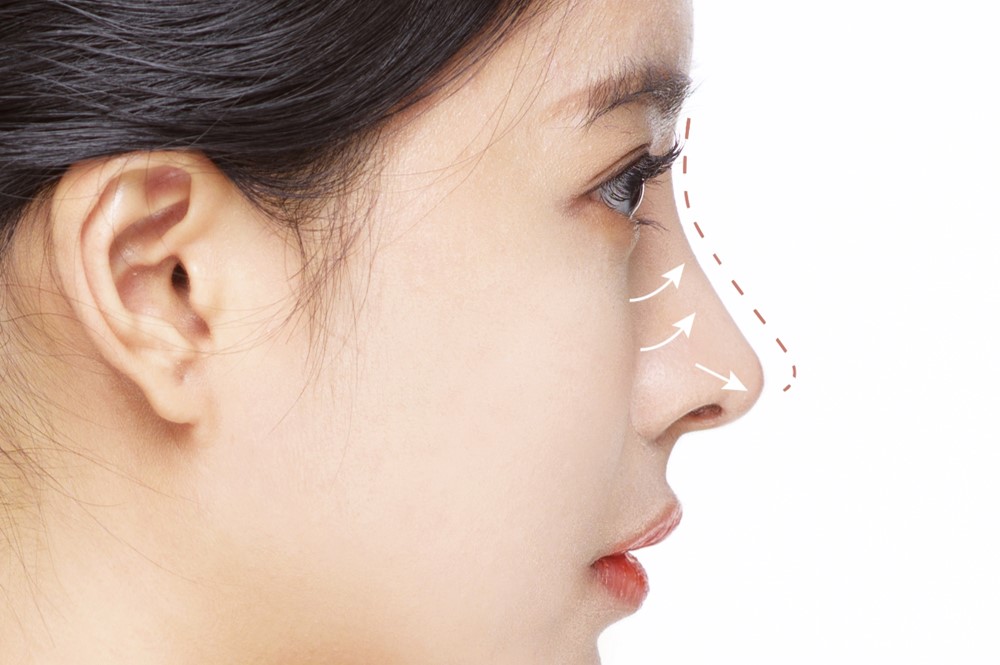 How Does It Work?
Dermal fillers are used to redefine your nose through a series of injections. A gel-like filler, usually hyaluronic acid based, is injected under your skin surface in areas where additional volume is needed to contour and sculpt the nose.
The dermal filler settles at the site of injection within the deeper layers of the skin to hold its new shape, lasting from several months or up to a year before dissolving completely.
The Procedure
Nose filler injection is a relatively simple procedure as opposed to surgical rhinoplasty.
A consultation is necessary to discuss the expectations and results one wish to achieve, and also allow the doctor to assess the placement of the fillers. Once the treatment plan is agreed upon, topical numb cream of icing may be applied to the target areas.
The filler is then administered through injection into the desired area over the nose. During the sessions, the doctor may pinch or massage the injected fillers to mold the fillers accordingly.
The entire procedure takes about 15 to 45 minutes, after which you can resume your daily activities.
Target Areas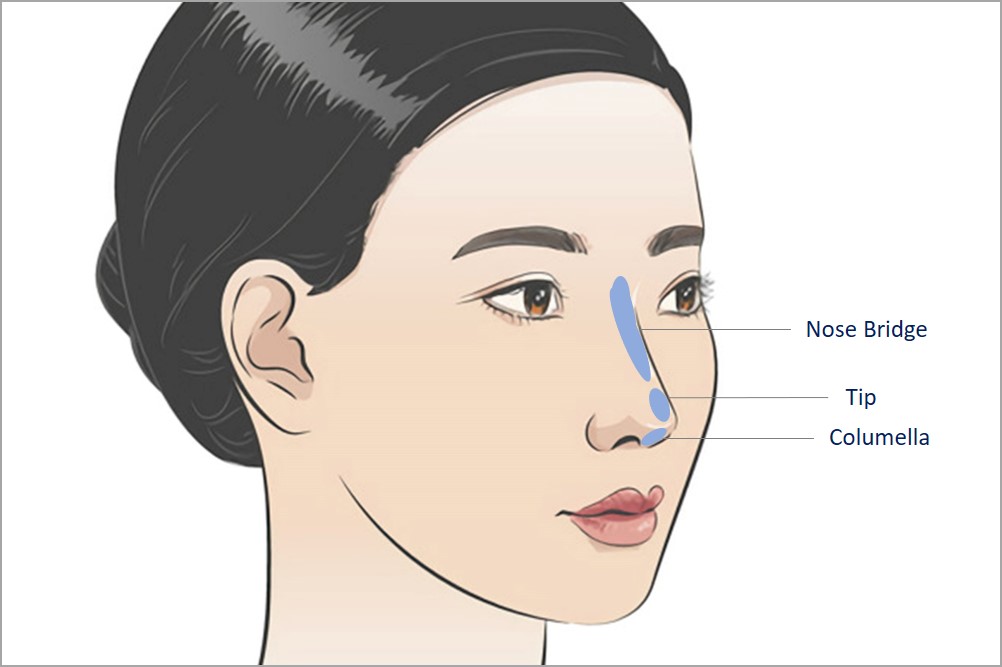 Areas that can be treated with non-surgical rhinoplasty include:
Dermal filler injections can be administered into any of the aforementioned areas to modify the shape or contour your nose.
Nose filler Singapore can achieve the following purposes:
Smoothen small bumps on your nose
Enhance your nose's tip
Increase the height if your nose bridge
Lift your nose's tip
Elongate your columella
You should remember that if you desire your nose to become smaller or smoothen prominent nasal bumps, then liquid rhinoplasty won't be the ideal procedure.
Risks And Side Effects
Like any other medical procedure, the liquid rhinoplasty or non-surgical nose job may also carry some side effects. As with any injection, these may show up right after nose fillers are administered due to the needle's pricking. Common side effects include tenderness, redness, bruising, and swelling. It is normal to experience these side effects and they will usually diminish in a few days after treatment.
Another potential side effect if filler migration – transfer of the injected filler to areas on your nose other than the injection site or the under-eye area, leading to an overfilled appearance. Hence, injection technique and placement of dermal fillers in the right layer of the skin is crucial to prevent filler migration.
Although the adverse effects of the treatment procedure are generally minor, there may be some associated risk of severe complications, particularly when not in the hands of an experienced doctor. Serious side effects might occur if the filler is mistakenly inserted into a blood vessel. Hence, choosing a reputable and experienced plastic surgeon or medical doctor who has in depth understanding of the skin and nasal anatomy will decrease the risk of unwanted side effects.
Some severe complications can include:
Vision loss
Tissue necrosis
Vascular complications
Immediately consult your practitioner if you experience one or more of the following symptoms.
Blurred visions
Fever
Progressive bruising or redness
Allergic reaction symptoms such as hives
What To Expect After The Treatment Procedure?
After undergoing nose filler injection, you may experience some pain, redness, and swelling at the injection site. However, it will start to fade away in a couple of hours. Icing the area gently can help to bring down swelling and redness more quickly. Generally, it takes two weeks for the results to show after the complete recession of redness or bruising.
People generally swear by this procedure because there is almost zero or minimal downtime, allowing them to get back to their chores right after the treatment.
Most of the fillers gets broken down naturally and dissolve from the skin layers around six to nine months after treatment. The point to note is that however amazing the results of the nose job, they are not permanent and would need to be repeated after a specific time.
How Long Do They Last?
The duration of the results for the nose fillers using hyaluronic acid as an ingredient may last from 9 – 12 months. At Dream Plastic Surgery, only reputable dermal filler brands that are approved by the US FDA, CE, are used for treatments. These brands include Juvederm, and Restylane dermal fillers.
Hyaluronic acid can be found in your body naturally. There are enzymes in your body that can gradually break down hyaluronic acid filler, leading to its disappearance with time. In order for the results to sustain, it is advised that you take the repeat procedure before the absorption of all the fillers.
There is no exact time for your fillers to last, and their duration would vary between people. Some factors influence the period of the fillers in your body. These include your lifestyle, exercise habits, smoking, the kind of food you eat, and the natural metabolic rate of your body.
The quality of the filler is also a key factor that will determine how long they last in your skin. From the assortment of brands and manufacturers available, it is recommended that you choose the reputable ones for hyaluronic acid-based fillers that use better quality fillers. This will allow your nose fillers to last a bit longer than others.
Treatment Cost For Dermal Fillers
The total price of your treatment is influenced by
The type of filler
Your surgeon's or doctor's expertise
The need for post-treatment consultations
Reputation and status of your cosmetic clinic
However, nose fillers price in Singapore can generally range between $700 and $1200 per syringe.
Conclusion
The nose fillers in Singapore is considered a safe and comfortable procedure to undertake. However, what's crucial is to choose the right hands for your treatment. You can consider a board-certified plastic surgeon or reputable medical doctor who is trained in administering dermal filler injection to carry out your treatment.
Consult a doctor at Dream Aesthetics & Plastic Surgery for a detailed and personalized assessment for your nose job and get a proper understanding of the risk and side effects before making your final decision.
About Dream Aesthetics and Plastic Surgery
Bespoke surgical for cosmetic or medical reasons is what Dream covers to bring out the beauty in every individual. Going beyond the aesthetics and working on physical anomalies are what we value the most in leading our patients to cherish self-improvement and confident lifestyles.
Derived from Associate Professor Vincent Yeow's long-standing experience performing plastic surgery in Singapore, our treatment plans deliver physical remodelling in our patients' favour. One of the notable remodellings is droopy eyelid correction. The ptosis surgery used for treatment eventually fixes drooping eyelids, improves vision and enhances appearance.
Most importantly, as a trustworthy plastic surgery and aesthetic clinic, we treasure positive and natural outcomes for each individual. We will ensure to deliver the beauty refinement of your dream without compromising your safety and privacy.
References:
2.Hannan C. What Is Liquid Rhinoplasty? Healthline. Mar, 2020. https://www.healthline.com/health/cosmetic-surgery/liquid-rhinoplasty
3.Edgar J. Nonsurgical Rhinoplasty Is Everywhere These Days — But Are "Liquid Nose Jobs" Safe? Allure. Aug, 2018. https://www.allure.com/story/non-surgical-nose-job