Do you want to correct your aging face lines? If yes, you may want to explore Botox and dermal fillers treatment to correct them. These are minimally invasive methods, which means that they do not involve surgery. Injectable fillers and Botox in Singapore are the popular treatments used to treat wrinkles and fine lines that are caused by movements of your facial muscles or simply present when your face is at rest. They help in smoothing out facial lines by filling certain areas and relaxing certain muscles present in your face. These treatments can make you look younger and beautiful.
What Is Botox?
Botox is a purified form of a botulinum toxin that is attained from bacteria. Botox blocks the nerve signals in the muscles where it is injected. When the nerve signals are blocked, the muscle becomes relaxed or paralyzed for a short time.  The reduced muscle contraction with facial expression lessens wrinkle and line formation when you smile.
Treatments that use botulinum toxins such as Botox are also known as neurotoxins or neuromodulators.
What Are The Uses Of Botox?
Botox is used to correct wrinkles that present themselves with the movement of your facial muscles. These wrinkles are also known as dynamic wrinkles and are often known as expression lines. The common dynamic wrinkles, which are corrected by Botox, are the lines present on your upper face like the crow's feet found around your eyes, the lines between your eyebrows, and the horizontal lines present on your forehead. These wrinkle lines are commonly seen during frowning, smiling, squinting, or when you make other facial expressions.
Each Botox vial contains 100 units of clostridium botulinum type A. It is available in a vacuum-dried form and usually, mixed with sterile saline before using it for injection. Botox will not correct wrinkles that are caused by loss of plumpness on your face or sagging. These wrinkles are commonly called static wrinkles that include lines on your cheeks, jowl areas, and neck.
Your medical doctor or plastic surgeon will inject Botox into the muscles that contribute to specific wrinkles you want to treat. This process takes a few minutes and results are visible within two weeks. It is not a permanent treatment to reduce wrinkles on your face. Usually, people observe that the properties of Botox to relax facial muscles remain for four to six months.
Botox Considerations And Side Effects
According to the American Society of Plastic Surgeons (ASPS), Botox is safe, and in 2015, 6 million Botox procedures were performed. Botox wears off with time and common side effects are not permanent.
Some of them are:
Falling of the eyebrows or eyelids if Botox is given near the eyes
Dry mouth
Nausea
Blurry vision
Headache
Itching or rashes
The ASPS mentions not to massage or rub the area of injection after having a Botox treatment. It may extend the toxin to the surrounding skin, leading to muscle drooping and many unwanted outcomes.
In 2016, statistics of the ASPS revealed that the average price of Botox injection in Singapore is between $200-1000.
What Are Dermal Fillers?
Dermal fillers, also called soft tissue fillers, are substances that are made to be injected under your skin to add fullness and volume. They can also be used for reducing the appearance of scars. Dermal fillers are generally used for facial areas and are not approved for plumping up other parts of your body like breasts.
Substances and their benefits that are used in dermal fillers are:
Polyalkylimide, a semi-permanent filler that produces long-lasting results.
Calcium hydroxyapatite, which is a mineral-like compound found naturally in your bones.
Polylactic acid stimulates your skin in making more collagen.
Hyaluronic acid is present in tissues and fluids of your body, which adds plumpness to your skin.
Polymethyl-methacrylate microspheres (PMMA) are semi-permanent fillers.
All these substances are made to correct various aging signs and other cosmetic problems. How long they last after each treatment also differs. Some filler lasts for six months, while others remain for two years or even longer.
Remember to talk about your expectations and needs with your medical doctor or plastic surgeon to find which filler suits you the best.
What Are The Uses Of Dermal Fillers?
Different forms of dermal fillers are used for different purposes. According to the selected filler, they may:
Fill or enhance sunken areas
Soften, reduce or fill static wrinkles
Soften or fill the look of sunken scars
Remove or decrease the lines and shadows present under your eyes
For plumping up thin lips
Augment or sculpt facial features
Static wrinkles are present around your cheeks and mouth is usually occurring due to less production of collagen and loss of elasticity in your skin and fillers can help to improve those concerns.
What Are The Considerations And Risks For Dermal Fillers?
Dermal fillers are safe, but they can also have side effects. Some of them include:
Swelling, redness, bleeding and bruising
Blindness and other vision problems
Risk of cell death because of low blood flow to the area
Skin damage leading to infections, scarring, and wounds
Undesirable skin appearances like a lump, overcorrection of wrinkles, and asymmetry
The pimple-like eruption, itching, and skin rashes
In some cases, severe swelling of the face might occur. In this situation, ice packs may help to relieve temporary numbness and swelling. Health experts suggest doing an allergy test before getting a dermal filler to prevent these negative effects. Fillers are safe if performed under the right hands, hence, choosing the right medical professional is paramount and can help to decrease the risk associated with the treatment.
Can Dermal Filler And Botox Be Combined?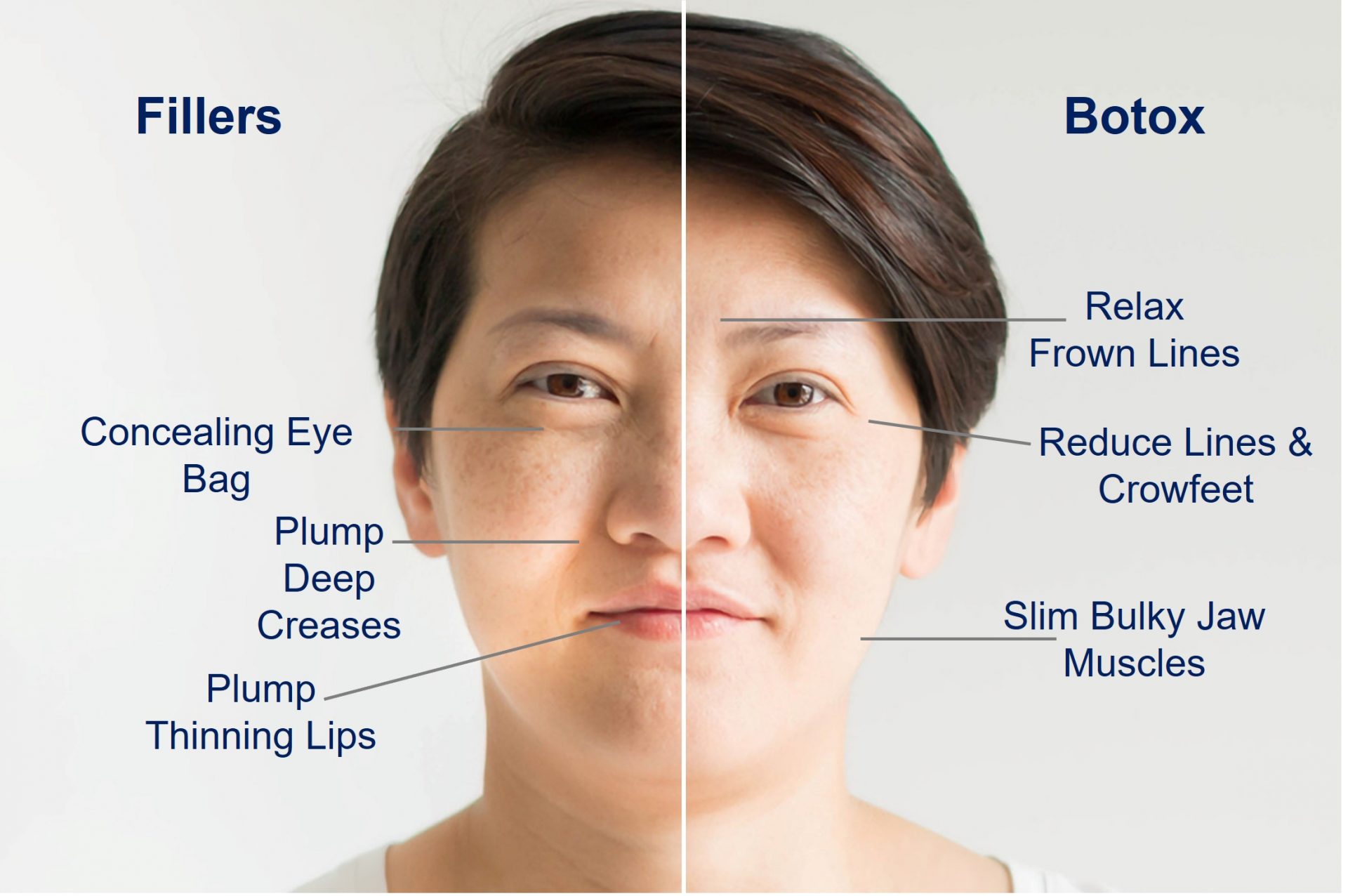 Yes, dermal fillers and Botox can be combined in the same treatments and used in different areas of the face. Dermal fillers and Botox give different results and are not mutually exclusive. If you want to have a sharper and slimmer face, Botox treatment to your jaws (masseter muscles) can slim down the sides of your face and dermal filler treatment to the chin can lengthen your chin or add definition (if our chin is shorter).
Combining Botox and dermal fillers is ideal for addressing aging concerns. In an anti-aging treatment known as Liquid Facelift, Botox is given on the upperparts and sides of the face to tighten the skin and reduce wrinkles. And dermal fillers are given to the lower and middle parts of the face to restore your face profile and replace areas of the face that looks slim and flat.
When dermal fillers and Botox treatments are combined, the results are much better and nicer. This combination also gives a more natural look to your face.
The research published in JAMA Dermatology has revealed that filler and Botox procedures have a low risk of side effects when performed by a certified medical doctor. Negative outcomes occur in less than 1 percent of people, and most of them are minor.
Take Away
Botox and dermal fillers in Singapore are the common aesthetic treatments. These treatments are performed every day, and all have a worthy safety profile. Both are minimally invasive but still have some side effects. You should know all possible side effects before having a treatment. Botox and fillers injections are not safe for pregnant and lactating mothers because they may affect the milk composition and growth of the unborn baby. So, it is important to consult your medical professional before having any treatment. After a consultation session, your doctor will determine which treatment suits you the best.
About Dream Aesthetics and Plastic Surgery
Bespoke surgical for cosmetic or medical reasons is what Dream covers to bring out the beauty in every individual. Going beyond the aesthetics and working on physical anomalies are what we value the most in leading our patients to cherish self-improvement and confident lifestyles.
Derived from Associate Professor Vincent Yeow's long-standing experience performing plastic surgery in Singapore, our treatment plans deliver physical remodelling in our patients' favour. One of the notable remodellings is droopy eyelid correction. The ptosis surgery used for treatment eventually fixes drooping eyelids, improves vision and enhances appearance.
Most importantly, as a trustworthy plastic surgery and aesthetic clinic, we treasure positive and natural outcomes for each individual. We will ensure to deliver the beauty refinement of your dream without compromising your safety and privacy.
References
3.Satriyasa, B.K., 2019. Botulinum toxin (Botox) A for reducing the appearance of facial wrinkles: a literature review of clinical use and pharmacological aspect. Clinical, cosmetic and investigational dermatology, 12, p.223.
4.Nobile, V., Buonocore, D., Michelotti, A. and Marzatico, F., 2014. Anti‐aging and filling efficacy of six types hyaluronic acid based dermo‐cosmetic treatment: double blind, randomized clinical trial of efficacy and safety. Journal of cosmetic dermatology, 13(4), pp.277-287.