Dermal fillers are aesthetic products for soft tissue augmentation that offer rejuvenation and invigorating properties to the skin. They have been widely acclaimed owing to the ease of administration of facial filler injection, lower cost, and zero-to-minimum recovery period as compared to surgery. The data from the American Society for Aesthetic Plastic Surgery in 2011, mentions that more than 1.6 million dermal filler treatments were done in the US. The facial filler is used as an age-defying cosmetic procedure to minimize the appearance of wrinkles, fine lines, sagging, uneven texture, and other visible signs of aging.
What Is Facial Volume Loss And How Does It Make The Face Look Aged?
Facial volume loss, as the name implies, is the depletion of bouncy tissues and skin vitality. This is also related to the loss of collagen and elastin as well; the proteins that empower you with youthful radiance and smooth vibrant skin.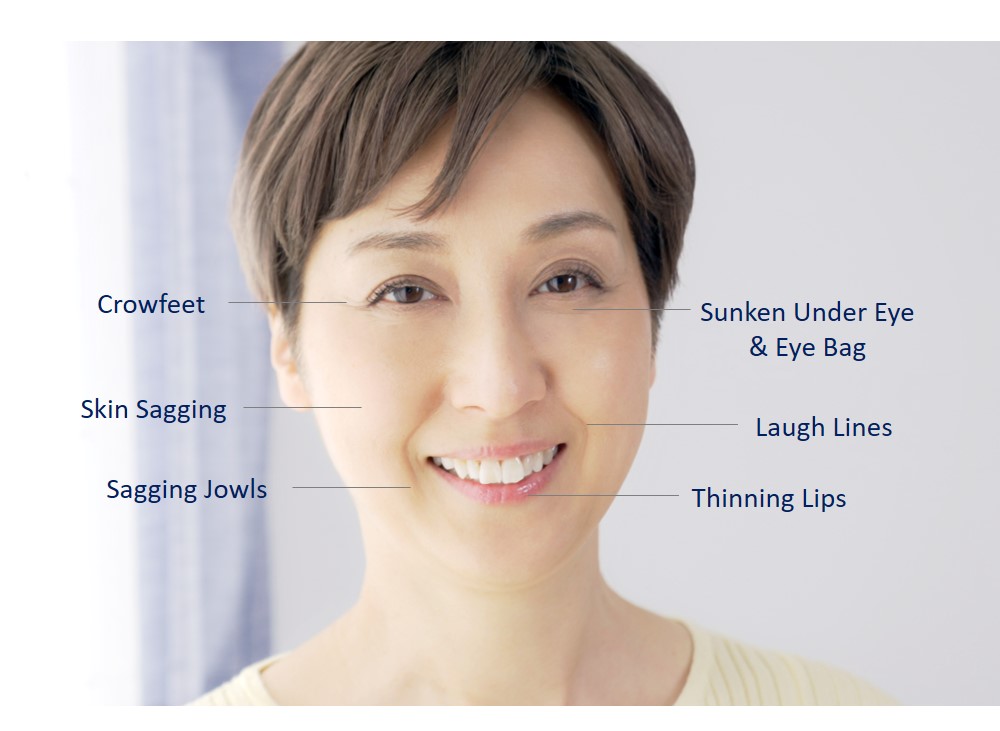 Facial volume loss can be due to the loss of muscle mass as a normal aging process or the unequal distribution of fat deposits in different regions of the face. In addition, the stressful lifestyle, unhygienic skin habits, unprotected exposure to ultraviolet rays from the sun, and environmental stressors can cause the skin to age prematurely, due to the loss of elastin and hyaluronic acid. The latter mentioned components are natural protectants of moisture, buoyancy, and plumpness.
Facial volume loss is the biggest enemy of the natural skin aging process as that leads to the development of skin creases, wrinkles, and skin sagging induced by the force of gravity. Generally, it starts emerging in one's late thirties, and peaks in fifties and onwards. With advanced cosmetic procedures, age reversal has been made possible without the need for surgery.
What Are Dermal Fillers? What This Hype Is About?
Dermal filler treatment is a minimally invasive and safe soft-tissue augmentation procedure that can be used to address different aging-related skin concerns. They can be used for different parts of the face – cheeks, mouth, jawline, lips, forehead, or for the area around the eyes.
The facial filler is primarily composed of a substance known as hyaluronic acid, a natural element found in various body regions including eyeballs, joints, and the skin. It is administered with a syringe and is used to fill in specific areas of the face which may look sunken due to volume loss. It rejuvenates and revivifies the face to impart a younger look. As fillers replenish the plumpness that was lost with time, it creates a lifting effect and also helps to smooth out wrinkles and fine lines.
Depending on the type of filler used and the injection technique, they can help with cheek augmentation, chin lift, tear-trough correction, nose reshaping, mid-facial volumization, lip shaping, hand rejuvenation, improving facial asymmetry, and skin rejuvenation.
How Do Fillers Help To Counter Volume Loss?
As we get older, our bodies stop producing collagen and elastin both of which contribute to maintaining a youthful sprightly look. Also, the skin loses its hydration and appears dry and dull. The common facial filler, hyaluronic acid can hold 1000 times its weight in water that makes it superior in holding and maintaining bulk and stoutness. Dermal fillers restore lost facial volume which makes the skin appear plump, smooth, and even. Also, by restoring the skin's natural proteins they stimulate intrinsic mechanisms of protection, maintaining hydration and regeneration that reverse skin defects and smoothen the deep-set lines.
What Are The Different Types Of Facial Fillers?
Based on their composition, the dermal fillers can be made of hyaluronic acid, Poly-L-lactic acid, collagen, polymethylmethacrylates, polyacrylamide gels, and few other substances. Facial fillers can produce results that are temporary, semi-permanent, or permanent, depending on the substance in the syringe for how long the dermal filler remains beneath the skin. Below are the two most commonly used fillers.
Hyaluronic Acid Fillers
Hyaluronic facial fillers are becoming the cosmetic treatment of choice for use in aesthetic soft tissue and dermal correction, due to their convenient application, a substantial profile of desired results obtained, and the safety factor. They help to enhance the skin texture, even out hollows and depressions, and mitigate laxity. Their mechanism lies in maintaining the optimum hydration level of the skin which energizes dull and tired skin as well as restoring youthful facial contours.
Depending on the viscosity of the hyaluronic acid gel filler, it can be used to infuse hydration into the skin, fill in sunken areas of the face, or provide structural support to enhance facial features and contours. When used for skin rejuvenation, hyaluronic acid helps to hold and lock in moisture into the skin, the scarcity of which leads to skin cell dehydration, reduced elasticity, and dull complexion. The results from hyaluronic acid fillers generally last for 6 to 12 months.
Poly-L-lactic Acid Fillers
These fillers are made of Poly-L-Lactic Acid; a biodegradable, synthetic substance that helps to enhance dermal volume by boosting collagen production. It is commonly used to treat deeper facial wrinkles or creases. The results can last for more than two years. It is mostly prescribed for improving skin texture affected by acne scarring.
How Long Does The Dermal Filler Last?
It has been postulated that hyaluronic acid injected into facial tissues can reduce the appearance of wrinkles for up to one year. In terms of suppleness and facial plumping, dermal fillers can work for 6 – 18 months, depending upon the bodily reactions for metabolizing the hyaluronic acid.
What Side Effects Dermal Fillers Can Cause?
Though the side effects of dermal fillers vary based on their type, almost all have the potential to cause undesired effects. However, most of them are avoidable under the safe hands of a board-certified plastic surgeon or experienced medical doctor who is well-versed in filler injection techniques. Common side effects are usually mild and manageable. Some are self-limiting such as rash, swelling, redness, or minor bruising and they disappear in few days after facial filler injection, while others are solvable with anti-inflammatory remedies. Serious kind of adverse events have been rarely reported.
How Much Does The Dermal Filler Treatment Cost?
The following is the average cost (per syringe) of common dermal fillers in Singapore. Depending on the size of the treatment area, candidates usually need one or multiple syringes to achieve the desired outcome.
Hyaluronic acid filler: $700 – $900
Polylactic acid filler: $800 – $1000
In general, the cost of dermal filler injections varies based on the expertise of the professional person administering the treatment, the type of filler used, and other factors.
Where Should You Go To Get Dermal Fillers?
If you are considering getting dermal fillers, you should always consult an expert aesthetician or certified plastic surgeon. It is always good to check on their level of expertise and previous experience with filler injections. The optimal outcome depends on their knowledge, injection technique, and right handling of the procedure.
Final Takeaway
Using facial fillers for soft-tissue augmentation is a minimally invasive method that offers enduring results with minimal to no downtime. It is a great option for those looking to improve their skin condition, fine lines, wrinkles, and facial contours to look more youthful. Various types of dermal fillers exist and of all the options hyaluronic acid fillers are most commonly used, since their effectiveness and safety records have been widely evaluated.
About Dream Aesthetics and Plastic Surgery
Bespoke surgical for cosmetic or medical reasons is what Dream covers to bring out the beauty in every individual. Going beyond the aesthetics and working on physical anomalies are what we value the most in leading our patients to cherish self-improvement and confident lifestyles.
Derived from Associate Professor Vincent Yeow's long-standing experience performing plastic surgery in Singapore, our treatment plans deliver physical remodelling in our patients' favour. One of the notable remodellings is droopy eyelid correction. The ptosis surgery used for treatment eventually fixes drooping eyelids, improves vision and enhances appearance.
Most importantly, as a trustworthy plastic surgery and aesthetic clinic, we treasure positive and natural outcomes for each individual. We will ensure to deliver the beauty refinement of your dream without compromising your safety and privacy.
References:
1.Sánchez-Carpintero, I., D. Candelas, and R. Ruiz-Rodríguez. "Dermal fillers: types, indications, and complications." Actas Dermo-Sifiliográficas (English Edition) 101.5 (2010): 381-393.
2.Funt, David, and Tatjana Pavicic. "Dermal fillers in aesthetics: an overview of adverse events and treatment approaches." Clinical, cosmetic and investigational dermatology 6 (2013): 295.
3.Joseph L. Lin, MD, Jane J. Olson, MD, Norwalk, Conn. "How to Use Fillers for Facial Rejuvenation." Review of Opthalmology (2010). https://www.reviewofophthalmology.com/article/how-to-use-fillers-for-facial-rejuvenation
4.Sadove, Richard. "Injectable poly-L-lactic acid: a novel sculpting agent for the treatment of dermal fat atrophy after severe acne." Aesthetic plastic surgery 33.1 (2009): 113-116.
5.Smith, Kevin C. "Repair of acne scars with Dermicol-P35." Aesthetic surgery journal 29.3_Supplement (2009): S16-S18.
6.Kablik, Jeffrey, et al. "Comparative physical properties of hyaluronic acid dermal fillers." Dermatologic Surgery 35 (2009): 302-312.
7.Buck II, Donald W., Murad Alam, and John YS Kim. "Injectable fillers for facial rejuvenation: a review." Journal of Plastic, Reconstructive & Aesthetic Surgery 62.1 (2009): 11-18.
8.Bray, Dominic, Claire Hopkins, and David N. Roberts. "A review of dermal fillers in facial plastic surgery." Current opinion in otolaryngology & head and neck surgery 18.4 (2010): 295-302.
9.Tezel, Ahmet, and Glenn H. Fredrickson. "The science of hyaluronic acid dermal fillers." Journal of Cosmetic and Laser Therapy 10.1 (2008): 35-42.