As we grow older, aging signs start showing up. They are the most obvious on our skin causing it to lose its definition. This primarily happens because of our body's ability to produce collagen reduces as we age, and the skin starts to sag as a result. There are many solutions available for this problem today but most of them are invasive or costly. However, Thermage treatment in Singapore is a non-invasive way to reverse the effects of aging and get tighter, better-toned skin gently. So, in cases where the skin has started showing any of the aging signs like sagging skin, fine lines around the eyes, reduced definition to the cheeks and the jawline, Thermage might be the possible solution you'd like to consider.
What Is Thermage Singapore?
Thermage is a famous skin tightening treatment used worldwide today, and especially in Singapore. It uses radiofrequency waves for producing effective skin tightening and firming results.
This non-invasive anti-aging treatment has been effectively used for tightening the skin around the body, especially the neck and face areas. It's quite a versatile treatment option and can help tone almost every part of the body giving patients a full-body makeover. In addition, it produces long-lasting results and one can expect their skin to remain tight and toned for up to one year after getting the thermage treatment.
How Thermage Works?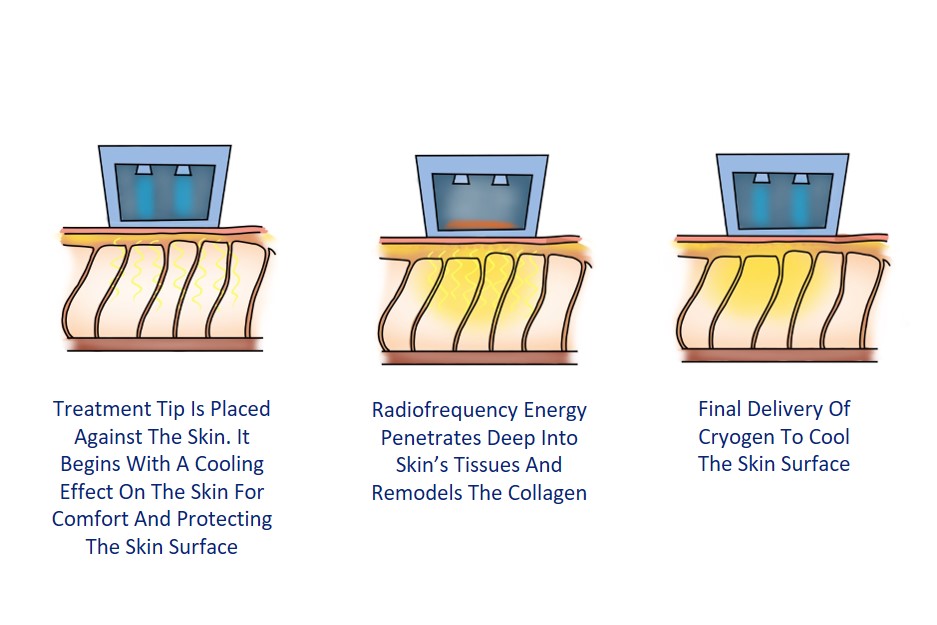 Thermage uses low amplitude, focused radiofrequency waves for tightening all the problem areas on the skin. During the treatment, a skilled professional uses the Thermage device across all the areas of the body with sagging or ill-toned skin. It penetrates deep into the dermis uniformly and stimulates the production of collagen. As a result, not only new collagen production gets a boost, but the existing collagen is tightened too for achieving smooth and well-toned skin right after the treatment.
It uses the Thermage CPT technology for delivering radio frequencies into the skin while adding a tender vibrating sensation. The patients are also comforted through periodic cooling bursts in between. The gentle treatment keeps alternating between heating/cooling of the area being treated through every pulse the device produces.
The uniqueness of this treatment lies in the fact that it penetrates deep into the patient's skin layers for stimulating the production of collagen. Most other surface-level treatments can't achieve that and, therefore, aren't as effective as Thermage Singapore.
5 Reasons Why Thermage Is So Popular?
Now, let's have a look at some major reasons why Thermage is enjoying all the popularity in Singapore.
1. It's A Non-Surgical Procedure And Is Quite Effective
Most of the facial rejuvenation procedures in practice today are surgical in nature. They usually require incisions for lifting the skin so that it could be laid more tightly after trimming away anything in excess. Such procedures also require weeks of downtime after the surgery and still they don't deliver permanent results. Aging, gravity, and time keep on affecting the skin while deteriorating the natural elasticity of the skin tissue. This cycle continues regardless of how many times the surgical procedure is performed.
On the contrary, Thermage is non-surgical and it involves very little downtime while producing long-lasting results. It uses radiofrequency waves for improving the appearance of the skin and boosting skin elasticity. The procedure doesn't involve any incisions whatsoever and doesn't require any skin to be trimmed away. There isn't any lengthy recovery period involved either.
2. Thermage Doesn't Require Any Downtime
Almost all the procedures used for skin rejuvenation today require some time for recovery after the treatment. However, that's not the case with Thermage as it doesn't have any downtime. A major reason why it is getting traction in Singapore is that one doesn't have to take leave from work or disturb their existing schedule at all. The treatment is designed in a way that it fits one's everyday routine. The patients can easily see the doctor and then get back to work or continue their day as planned. Remember, however, that a little discomfort after the procedure is normal but it's mild enough that it doesn't affect one's daily schedule.
3. Thermage Is A Versatile Procedure
Facial surgeries are often performed for very specific reasons, but Thermage Singapore is appropriate to treat just about any facial area using the same approach while giving a more subtly noticeable kind of results. Individuals with skin loosening concerns can go with Thermage to treat their:
Eyes: The procedure is safe for eyes and can help fix hooded eyes, crow's feet or fine lines, frown lines, and the upper/lower eyelid.
Face: Thermage allows surgeons to target just about any area with sagging skin including the jowls, neck, etc.
Body: While our focus is on the face, our body starts to age too. The skin can start sagging in different areas of the body such as decolletage, thighs and arms. Thermage is equally effective in those areas too and can, sometimes, temporarily improve the cellulite appearance as well.
4. Thermage Only Takes One Treatment To Produce Results
Many technology-based procedures used today for skin rejuvenation require a couple of sessions, at least, for producing true results that last longer. On the contrary, Thermage can produce desired results in a single treatment. While different areas might have to be treated on different days, you don't often need to perform multiple treatments in a single area within a short time.
5. Thermage Singapore Is Proven To Be Safe And Effective
Finally, there are no concerns whatsoever regarding the safety of this procedure. It is fully approved by the FDA and has been used already for treating hundreds of thousands of individuals effectively. In fact, the results have been documented as well and the treatment has been declared to be effective in skin rejuvenation.
Do I Make A Good Candidate For Thermage Singapore?
Thermage has been proven to be an effective treatment for individuals with sagging, aged or wrinkled skin that requires some toning and tightening. Ideal candidates for Thermage should also have good overall health conditions, and is looking to get rid of their skin's problem areas through a non-invasive, comfortable treatment makes an ideal candidate to undergo this procedure.
Some Popular Uses Of Thermage
As mentioned earlier, Thermage can be used effectively for treating a wide range of problem areas anywhere on the body. In particular, it helps address the following issues effectively:
Loose and drooping jowls
Facial creases formed around one's mouth
Sagging skin and fine lines on the eyelids
Double chins to achieve better-defined jawline
Drooping skin on the face
Love handles that need toning
Cellulite accumulation on the buttocks, stomach, and thighs
Dimples and wrinkles on top of the knees
Conclusion
If facial wrinkles and sagging skin are becoming a major concern for you, Thermage Singapore can be an effective option to treat them. It's a non-invasive procedure that gives great results and doesn't have much downtime involved. So, schedule your appointment today and beat the effects of aging.
About Dream Aesthetics and Plastic Surgery
Bespoke surgical for cosmetic or medical reasons is what Dream covers to bring out the beauty in every individual. Going beyond the aesthetics and working on physical anomalies are what we value the most in leading our patients to cherish self-improvement and confident lifestyles.
Derived from Associate Professor Vincent Yeow's long-standing experience performing plastic surgery in Singapore, our treatment plans deliver physical remodelling in our patients' favour. One of the notable remodellings is droopy eyelid correction. The ptosis surgery used for treatment eventually fixes drooping eyelids, improves vision and enhances appearance.
Most importantly, as a trustworthy plastic surgery and aesthetic clinic, we treasure positive and natural outcomes for each individual. We will ensure to deliver the beauty refinement of your dream without compromising your safety and privacy.