A dermal filler treatment is used to reduce wrinkles and facial lines to restore your youthful look. It fills up the areas of your face that are prone to sagging to bring back its fullness and volume. Although this treatment does not give permanent results, it offers a safe, cheap, and fast way to look younger.
What Are Dermal Fillers? What Can It Do?
Dermal fillers are injectable gels, which contain a naturally occurring hyaluronic acid (HA). These fillers give volume to sunken areas of the face and initiate the production of collagen or it can also be used to improve facial features.
Fillers help to rejuvenate the face in two ways. First, the filler gently plumps ups the skin to improve the appearance of deep crease, wrinkles or lift sagging skin. Secondly, dermal fillers stimulate your body to produce collagen.
Who Is It For?
A dermal filler treatment is good for those who have the following signs of aging:
Wrinkles and lines
Deep facial creases
Sunken cheeks
Dark eye circles
Eye bags and tear trough deformity
Facial sagging due to general volume loss on the face
Dermal filler treatments address your skin flaws temporarily. The longevity of the results may vary depending on the type of fillers used, the location of the treatment area as well as the body's natural metabolism rate for breaking down fillers. There is generally little to no downtime associated with the treatment and one can return to their daily activities right after treatment.
Types Of Dermal Fillers
There are numerous types of dermal fillers. The most common are hyaluronic acid (HA), calcium hydroxyapatite, polylactic acid, and polyalkylimide.
Hyaluronic Acid
Injectable hyaluronic acid (HA) is the most commonly used dermal filler. This acid is naturally present in your body, especially in the skin, joints, and eyes. In the skin, HA attracts water, holds moisture and makes it more hydrated. As one ages, the bones, muscles, fat, and skin in your face begin to thin. This loss of volume leads to face lines, wrinkles, thin lips, and gives a sagging appearance to your face. Injectable HA is used to reduce facial folds, fine lines, and create framework and volume to your lips and face.
A wide range of injectable HA fillers are FDA approved and some of the brands include Juvéderm, Restylane, and Belotero. Each of these dermal fillers has different properties, which influence how they should be used, which location they should be injected, and their longevity after injection.
Different Viscosity, Hardness, Particle Size, And Its Different Functions
Each dermal filler has different viscosity, particle size, and function. Fillers with thicker viscosity tend to be harder in texture and is best used for augmenting facial features such as raising nose bridge, enhancing cheek definition and shaping the v-line. On the other hand, fillers that has lower viscosity are softer and more fluid. Those fillers can be used to plump lines and wrinkles, lips or even enhance the hydration to the skin.
Which Areas Of The Face Can Fillers Rejuvenate?
Here is the list of the common areas where fillers can be used!
Volumize your lips
Fill the forehead lines
Plump up your cheeks
Reshape your nose and cheeks
Eliminate nasolabial folds
Shape and define the chin
Conceal eye bags and dark circles
How Injection Is Done Varies From Each Individual
No two face ages the same way and hence dermal filler treatment plan varies from person to person. Your certified medical doctor makes an assessment on your facial proportion, skin condition and areas of concerns before recommending the placements of the fillers to achieve the results you want.
A dermal filler treatment plan also changes according to your age. For example, when you are young, the focus may be more targeted to augmenting facial features such as lip shaping and v-line enhancement. However, in old age, the priority of dermal filler treatment is to correct age-related volume loss and add structural support to cheekbones.
What Ticks The Boxes Of A Good Filler Treatment?
Fillers Remain Well Concealed Under The Skin & Results Are Natural
Good filler results remain undetected from most eyes. On the other hand, pillow-face and irregularities, and duck lips are the signs of too much fillers or a result of poor injection technique. When the treatment is done by a certified medical doctor, the results look natural and the risk for such outcomes are lower.
Even And No Bumpiness On The Skin
In some cases, people notice mild bumps or lumps on their skin after a dermal filler treatment. That could be due to poor injection technique, placing fillers in the wrong layer of the skin. Sometimes, these bumps are temporary and may dissolve on their own. However, if it does not, it will require additional injection to dissolve any excess fillers beneath the skin.
Minimal Side Effects
Always look for a certified medical doctor for having a dermal filler treatment. Good understanding of the facial anatomy, major blood vessels and skin structure is key to reducing the risk of side effects including, swelling, bruising, redness, and tenderness.
How Do I Ensure The Best Outcome From My Filler Treatment?
Here are some points, which you can keep in mind to get the best results from your dermal filler treatment: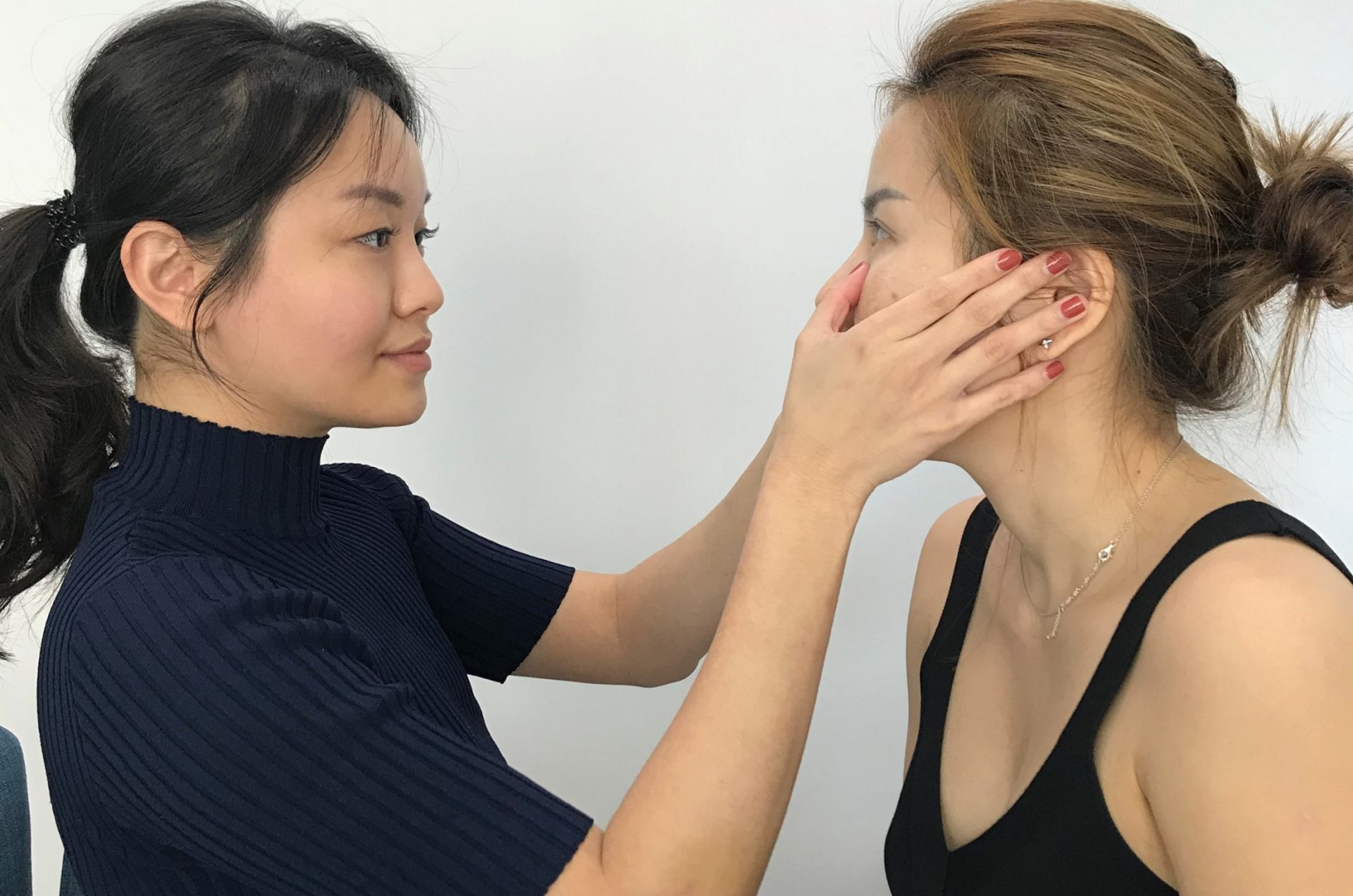 Doctor Matters
Every certified medical doctor has a different preference for injection technique, different level of experience, and eye for beauty. How to select the right one? Be sure your doctor properly understands your expectations and concerns. Your doctor must communicate with you about real results. And do not afraid about asking to view before and after results to get a feel of their work.
Choosing The Right Dermal Fillers For The Right Area
Your doctor will help you in finding the right dermal filler for the right area. Among dermal fillers, there are several types of textures and they are meant for different purposes. For example, soft hyaluronic acid (HA) fillers are preferred for volumizing the lips, whereas harder textured fillers are better for giving fullness to your cheeks.
Making Sure Only Approved Products Are Used
Several filler brands are used in Singapore. But to ensure peace of mind and safety, always select a filler product from a HSA-approved brand. Some of the HSA-approved brands include:
Teosyal
Restylane
Juvederm
Belotero
Price Of Dermal Fillers In Singapore
In Singapore, the price of filler injection comes in the range of $700 to $900. Price can go higher depending on the amount of filler required to achieve your desired results. Always make sure that you are paying for original filler products and your treatment is done by a reputable and experienced doctor.
What If I Don't Like The Results From My Dermal Filler Treatment?
If you are not happy with your results, it is possible to reverse it. The benefit of using hyaluronic acid dermal fillers is that, unlike Botox, the results from filler treatment can be dissolved by hylase enzyme. After the hylase injection, it takes around a week for the fillers to dissolve totally.
Conclusion
A dermal filler treatment is the most effective way to get facial rejuvenation. These fillers contain hyaluronic acid (HA), which gives volume to face and it also initiates the production of collagen. There are several types of fillers but the injectable hyaluronic acid (HA) is the most commonly used dermal filler. To get the best results, it is important to choose a certified medical doctor. Make sure you always use only HSA-approved products. If you are not satisfied with the outcome, the results can be simply reversible with the help of a hylase injection.
About Dream Aesthetics and Plastic Surgery
Bespoke surgical for cosmetic or medical reasons is what Dream covers to bring out the beauty in every individual. Going beyond the aesthetics and working on physical anomalies are what we value the most in leading our patients to cherish self-improvement and confident lifestyles.
Derived from Associate Professor Vincent Yeow's long-standing experience performing plastic surgery in Singapore, our treatment plans deliver physical remodelling in our patients' favour. One of the notable remodellings is droopy eyelid correction. The ptosis surgery used for treatment eventually fixes drooping eyelids, improves vision and enhances appearance.
Most importantly, as a trustworthy plastic surgery and aesthetic clinic, we treasure positive and natural outcomes for each individual. We will ensure to deliver the beauty refinement of your dream without compromising your safety and privacy.
References
1.Funt, D. and Pavicic, T., 2013. Dermal fillers in aesthetics: an overview of adverse events and treatment approaches. Clinical, cosmetic and investigational dermatology, 6, p.295.
2.Bailey, S.H., Cohen, J.L. and Kenkel, J.M., 2011. Etiology, prevention, and treatment of dermal filler complications. Aesthetic surgery journal, 31(1), pp.110-121.