Eye bags are mild puffiness under the eyes that are usually formed as one age. They can be effectively removed by surgery, but every procedure that involves incision always carries a small risk of scarring. and some individuals may not be comfortable with that. Long downtime and recovery period were associated with surgery, and there were high chances of side effects. So, patients were required to observe strict aftercare of the wound site.
Recent advancements in medical technology have led to the development of various non-surgical eye bag removal treatments. They have excelled in the surgical treatments in every aspect whether we are talking about downtime, recovery period and side effects, or comparing them in terms of the final appearance of the face.
So, if you are worried about the weary and older look on your face rendered by the big, visible eye bags under your eyes but are hesitant towards surgery, the non-surgical eye bag removal treatment might be the right choice for you.
The following discussion presents a brief overview of the different non-surgical options available in this regard, and also gives information about everything you need to know about these treatments.
How Eye Bags Are Formed? What Are The Causes?
Before getting into the non-surgical treatment interventions, it is important to know how eye bags are formed. They are generally caused by;
Thinning of skin adjacent to the eyes
Sagging of skin due to increased laxity and collagen loss
Weakening of muscles and tissue structures supporting the eyelids
Shifting of periorbital fat into the area below the eye
Reduction of fatty tissue in the face
Resorption of cheekbones – etc
It is usually an ageing phenomenon but certain things like lack of inadequate sleep, smoking, allergies, etc, can exacerbate the formation of eye bags.
What Types Of Non-Surgical Eye Bag Treatments Available And How Do They Work?
There are several non-surgical eye bag treatments available. The important and effective non-surgical treatment options available in this regard, along with their working mechanism, are described below;
Radio Frequency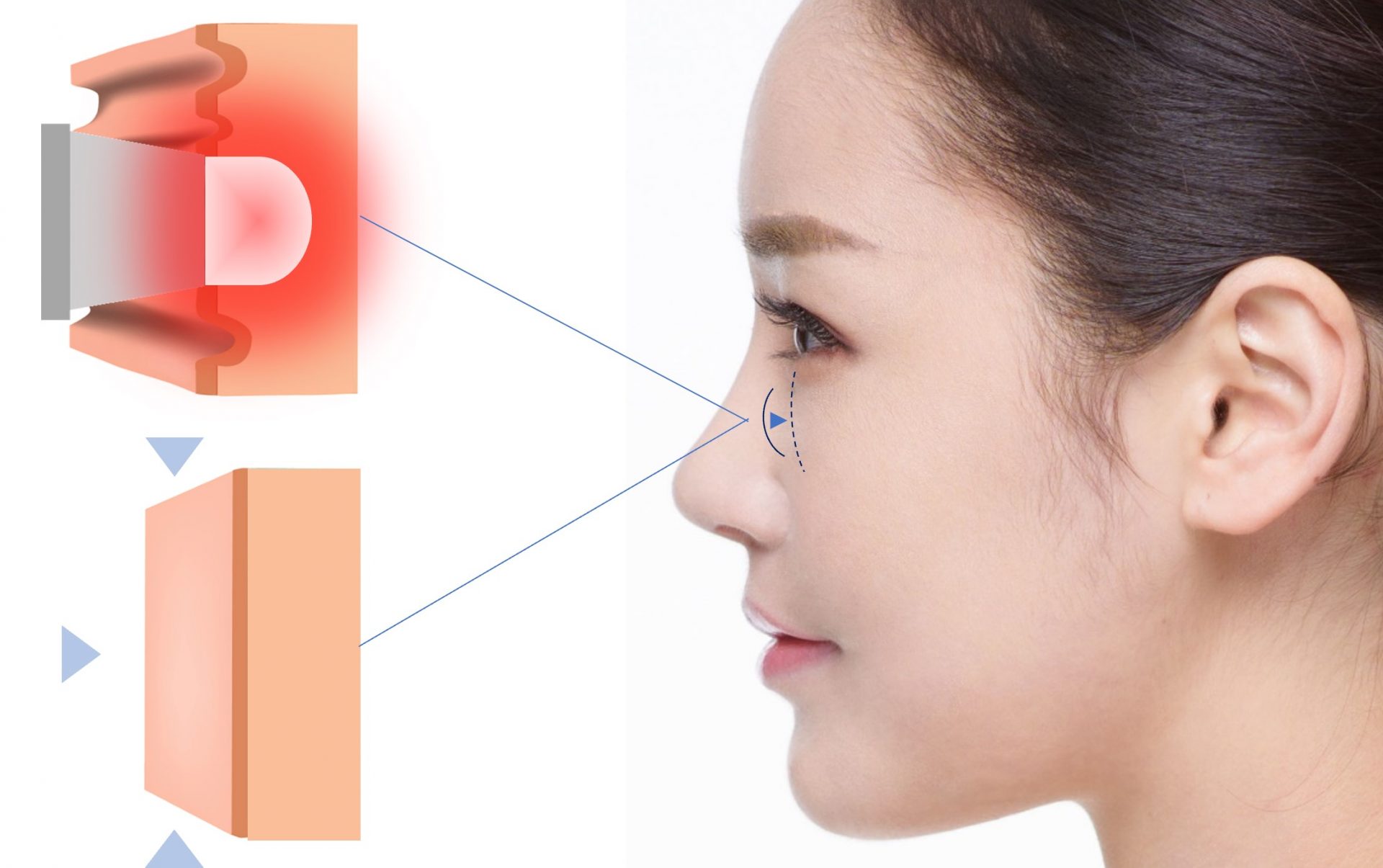 Radio Frequency treatment is a safe and non-invasive cosmetic procedure for eye bags. It works by addressing two major causative factors of eye bag formation i.e. collection of fats under the eyes and skin laxity.
In this treatment, a radiofrequency needle is inserted into the area of the eye bag. The radiofrequency waves break down the fatty tissue that is causing puffiness under the eyes thus decreasing the size of the eye bag.
Further, the heat generated by the radiofrequency energy helps in tightening the existing collagen and also induces the production of new collagen. As collagen is one of the structural proteins that provide support and firmness to the skin, radiofrequency treatment lessens skin laxity by making it firm and tight.
Filler Injection
Eye filler injection is a swift and efficacious way to diminish eye bags and under-eye shadows. It immediately lifts and rejuvenates the skin, and plumps up the deficient areas under the eye.
There are several eye fillers available, hyaluronic acid being the most popular one. It works by triggering the synthesis of collagen in dermal tissues, and also adds up the volume to the tissues, thus, filling up the hollow areas around the eye.
Therefore, eye bags that are formed by the loss of collagen and supporting tissues can be quickly improved by the correct choice of fillers and injection techniques.
Scarless Eye Bag Removal With Laser Lipolysis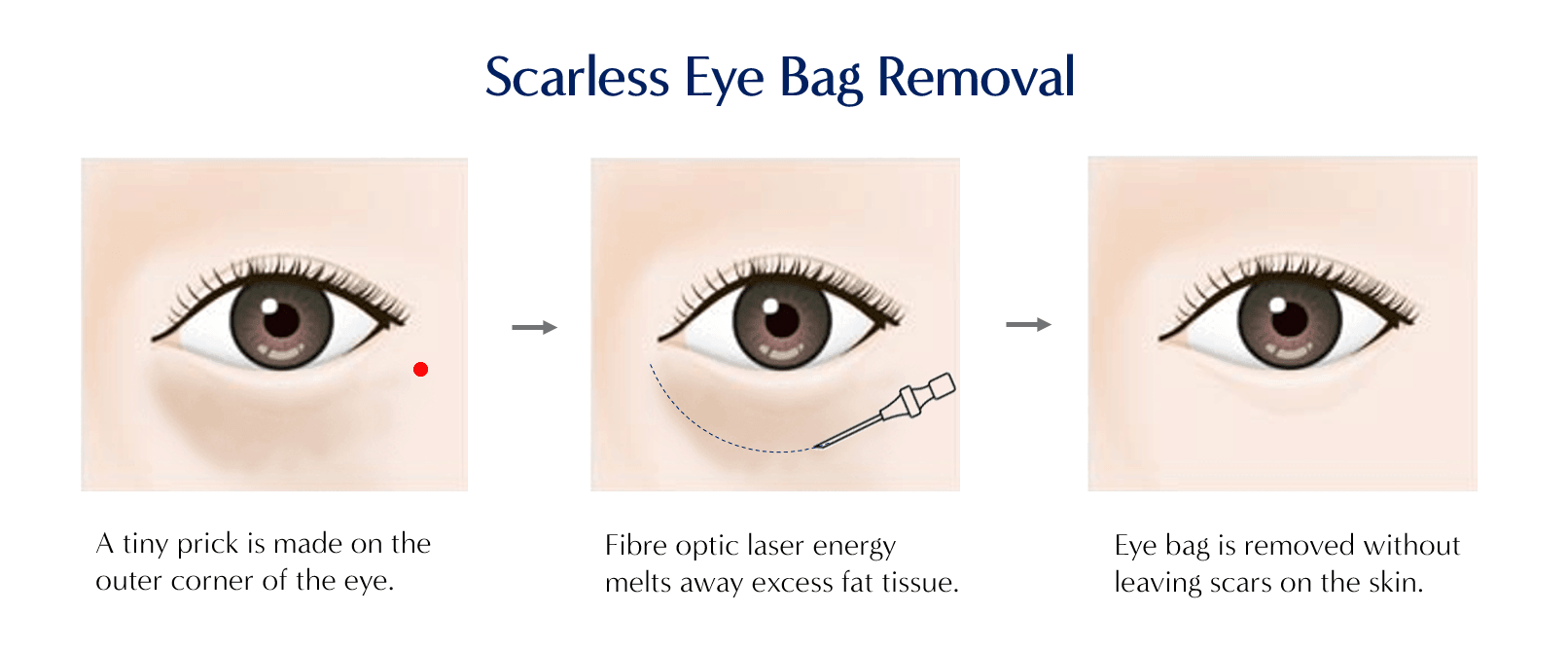 Scarless eye bag removal is another good treatment option available. It is used to treat those eye bags which are formed by the collection of fatty tissue under the eye area.
In this treatment procedure, a 600 micrometer (0.6 millimeters) needle-sized laser is used to cause lipolysis i.e. breakdown of fat. As a result, water and fat are permanently removed from the area through an entry point that is as small as a painful prick.
No knives or stitches are there, while the fine laser probe utilized during the procedure gives great precision even on small and delicate regions like lower eyelids. Therefore, it effectively removes eye bags without causing any scar marks, and you get a natural-looking appearance in the end.
Agnes RF Eye Bag Removal
Agnes RF is a minimally invasive treatment comprised of a radiofrequency micro-insulated needle system. Those patients who are not suitable for laser treatments can choose Agnes RF eye bag removal because RF energy is delivered directly into the fatty tissue while superficial layers of skin are spared in this procedure.
During this treatment, a fixed-depth needle having high radiofrequency energy concentrated at its tip is directly inserted into the fat pads. Once the needle is inserted, it transmits precise and focused RF energy into the targeted area. This causes melting of the fatty tissue, present in the eye bags, which later is drained naturally by the circulatory system (blood).
Moreover, it also causes dermal remodeling and induces the production of collagen. Thus, it also helps in tightening the lax skin of the eye bags. As multiple causes may be involved in the formation of eye bags, a multifaceted approach may be used to cure them by combining two different non-surgical eye bag removal treatments.
What To Expect During The Treatment?
The following things can be expected during the non-surgical eye bag removal treatment, but steps may vary a little depending on the treatment technique;
Before the procedure begins, a local anaesthetic agent may be injected into the targeted region to make the process painless.
Entry points will be created with the aid of needle pricks.
In case of scarless eye bag removal treatment, a needle-sized optic fibre laser will be inserted through the entry point to liquefy the fatty tissue, while in thermage and Agnes RF eye bag removal treatments, needles of the radiofrequency emitting instruments will be introduced through the holes.
On the other hand, dermal fillers will be injected under the skin with the help of injection needles.
How Long Does The Treatment Session Take?
Apart from the pre-procedural numbing and aftercare, the treatment sessions generally take 15 to 45 minutes to complete.
How Many Sessions Of Non-Surgical Eye Bag Removal Singapore Do I Need?
It depends upon the condition and severity of your eye bags and the recommended treatment options. Although you may observe significant improvement after just one treatment session, the doctor may advise you to undergo more sessions to ensure better and long-lasting effects.
Here's a guide on the frequency or number of treatment sessions required.
Filler Injection – recommended once every 6 to 8 months
Radiofrequency treatments – recommended once every year
Scarless Eye Bag Removal – 1 to 2 sessions for optimal results
Agnes RF Eye Bag Removal – 1 to 3 sessions for optimal results
What Are The Benefits Of Non-Surgical Eye Bag Removal?
You can expect the following benefits from the non-surgical eye bag removal treatment;
It removes eye bags and puffy eyes
It gives a natural and younger-looking appearance
It can be done without general anaesthesia
Downtime is almost negligible as no surgical cuts or incisions are involved
Faster recovery
No permanent scar marks are left at the end
How Long Do The Results Last?
The duration for which the effects will remain depends upon the type of treatment and the aftercare. Certain non-surgical eye bag removal treatments may confer lasting effects. For instance, scarless eye bag treatment with a laser causes the permanent removal of the fatty tissue. So, results are quite long-lasting and may not require maintenance procedures unless the periorbital fat gets deposited again.
On the other hand, the effects of certain treatments fade away after some time. For example, the collagen levels increased by radiofrequency or filler injections will, ultimately, fall again due to its natural degradation with ageing. Therefore, you may require undergoing repeated procedures to maintain the results.
What Is The Price Of Non-Surgical Eye Bag Removal In Singapore?
The total price may vary depending upon the following factors;
Number of treatment sessions required
Experience of the doctor
Type of non-surgical eye bag removal treatment
Condition of eye bags and skin laxity
Size of the area to be treated
Type and amount of filler used (in case of filler injection treatment)
The average costs of different non-surgical treatments are given below;

What Is The Downtime And Recovery Period Of Non-Surgical Eye Bag Removal?
Due to the absence of any kind of surgical intervention, the non-surgical eye bag removal Singapore has almost negligible downtime or a short recovery period of 4 to 5 days. You can leave the clinic and return to your daily routine work soon after getting this treatment.
There is no need for complex aftercare and post-procedural management except for some general prohibitions which your doctor will tell you after the treatment.
Are There Any Side Effects Of Non-Surgical Eye Bag Removal Singapore?
As there are no cuts or incisions involved, the risks of side effects are minimal. No scar marks will be present in the end.
You may only observe some mild swelling, redness, pain, and micro-bruises at the treatment site after the procedure. This occurs due to the insertion of micro-needles and the reaction of the skin towards the local anaesthetic. These side effects remain evident for 4 to 5 days and can resolve, completely, on their own. Post-treatment medications can help in pacing this recovery process.
Take Away
Non-surgical eye bag removal has revolutionized the field of aesthetic medicine. Gone are the days when patients had to make compromises for surgical removal of their eye bags.  Minimally invasive techniques like radio frequency, dermal filler injections, Agnes RF, and scarless eye bag removal with laser lipolysis can help you get rid of this condition without any surgical intervention. They have minimal downtime and a short recovery period. No scars will be there in the end, and your eyes give a natural-looking appearance.
About Dream Aesthetics and Plastic Surgery
Bespoke surgical for cosmetic or medical reasons is what Dream covers to bring out the beauty in every individual. Going beyond the aesthetics and working on physical anomalies are what we value the most in leading our patients to cherish self-improvement and confident lifestyles.
Derived from Associate Professor Vincent Yeow's long-standing experience performing plastic surgery in Singapore, our treatment plans deliver physical remodelling in our patients' favour. One of the notable remodellings is droopy eyelid correction. The ptosis surgery used for treatment eventually fixes drooping eyelids, improves vision and enhances appearance.
Most importantly, as a trustworthy plastic surgery and aesthetic clinic, we treasure positive and natural outcomes for each individual. We will ensure to deliver the beauty refinement of your dream without compromising your safety and privacy.