Skin booster treatment is very popular in Southeast Asian countries like South Korea, Taiwan, etc. It is a highly effective non-surgical treatment that gives glow and baby-smooth texture to the skin. People who have dry, inelastic, saggy, wrinkled, or tired-looking skin, can benefit from this treatment.
If you are also planning to undergo skin booster treatment but do not know which skin booster is best suitable for your skin, this article will help you decide. It contains everything you need to know about the most popular skin booster treatments in Singapore, including Nucleofill, Rejuran, and Profhilo.
What Is A Skin Booster?
Skin boosters are like revitalizing dermal fillers that boost up your skin by providing hydration, brightening, and rejuvenation effects to the skin. Unlike other dermal fillers, skin boosters do not play a role in shaping or contouring the facial structures.
How Does It Work?
There are different types of skin boosters (discussed later), and each type has its specific ingredients which make it suitable for certain skin goals. Although the rest of the composition is different, all skin boosters have hyaluronic acid in common.
Hyaluronic acid is a glycosaminoglycan, naturally found in the skin. It can hold water 1000 times more than its molecular weight. When injected in the form of a skin booster, it not only provides moisture to the skin but also helps to retain it, thus, improving the overall hydration levels of the skin.
Besides, studies have shown that hyaluronic acid also induces fibroblasts to produce collagen, therefore, enhance the strength and elasticity of the skin. It also possesses anti-oxidative, anti-inflammatory, and wound healing properties.
What Are The Different Types Of Skin Booster Treatments Available?
The details, benefits, and suitability of various types of skin booster treatments are discussed below;
Rejuran Healer
Rejuran Healer contains PolyNucleotides (PNs) that are derived from the DNA fragments of salmon. It is administered slightly more superficially in the skin. It provides less hydrating benefits instead it has more repairing functions. It repairs the cellular and DNA damages of the skin caused by external (pollution, UV rays), as well as internal factors (aging, scarring, etc).
Benefits
The PolyNucleotides of Rejuran activate the skin fibroblasts, and its DNA fragments induce the skin cells to self-repair. Besides, Rejuran also acts as a free radical scavenger and reduces oxidative stress in our skin. All these actions make our skin cells younger which, in turn, directly or indirectly improves the tone, texture, glow, and hydration of the skin. As a result, it softens lines, lightens scar marks, and brightens up the skin.
Methods Of Administration
There are two ways to administer Rejuran Healer in the skin i.e. Needleless and Hand-Injected Rejuran Healer. Although both methods provide unparalleled results, there are a few minor differences that make them distinct from each other. Your skin condition determines which option is better for you.
A brief comparison between the two methods is given below;
| | | |
| --- | --- | --- |
| | Needleless Rejuran Healer | Hand-Injected Rejuran Healer |
| Invasiveness | Non-invasive | Minimally invasive |
| Pain/Discomfort | Only minute pricking sensation caused by the electric pulses used to deliver Rejuran into the skin dermis | Mild discomfort of the injection. The pain can be reduced by using numbing cream |
| Side Effects | None | Redness, swelling, and minute skin bumps |
| Downtime | Negligible | 2 to 5 days |
| Results | 1 to 2 months | 2 to 6 months |
Suitability
Rejuran healer is suitable for those having;
Inelastic skin
Wrinkles and lines
Damaged skin
Acne scars
Open pores
Nucleofill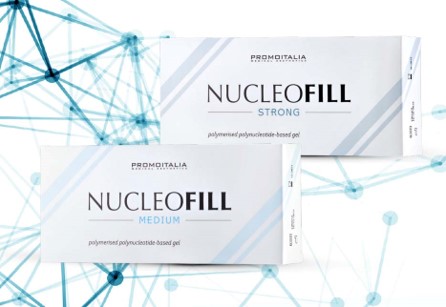 Nucleofill is a sterile, absorbable skin booster made up of natural long-chain polynucleotide polymers (PDRNs). These polymers act on the cellular level to impart three effects i.e. skin lifting, anti-oxidant, and hydration.
Benefits
By using nucleofill, you get the following benefits;
Skin regeneration and rejuvenation
Provides deep moisturizing effect
Imparts antioxidant action by scavenging free radicals
Stimulates fibroblasts to produce collagen and elastin; and therefore, has a moderate lifting effect
Improves skin firmness
Suitability
Nucleofill is suitable for;
Sagging skin
Lax skin
Flabby and dehydrated skin
Wrinkled skin
Damaged skin due to oxidative stress (air pollution, sun exposure, smoking, etc)
Profhilo
Profhilo is the latest type of skin booster made up of complex hyaluronic acid molecules. It is an amalgamation of high molecular weight and low molecular weight Hyaluronic acid (HA). This combination enables Profhilo to penetrate the epidermal and dermal layers of the skin, and impart its beneficial effects. This is also one of the few skin booster treatments that only require 5-points injection on each side of the face, far less than conventional skin booster treatments.
Benefits
The various benefits of Profhilo on the skin are rendered by the presence of hyaluronic acid in its composition, and include;
Provides hydration to the skin
Causes tissue bio-remodeling
Increases collagen and elastin production
Mildly lifts the saggy skin
Plumps up the skin
Removes lines and wrinkles
Smoothens skin
Suitability
Profhilo is recommended for;
Dry skins
Eczema-prone skin
Saggy or loose skin
Wrinkled skin
Plumping sunken areas on the face
How Is The Skin Booster Injected Into The Skin?
Before the procedure, an anesthetic cream is applied over the skin to minimize the discomfort during the treatment. After that, a predetermined amount of skin booster is administered into the skin by manual injection.
While injecting Profhilo and Nucleofill, the Bio-aesthetic point (BAP) 5 point technique is used. It is a sequence of injections at 5 different sites on each side of your face. It ensures the most effective and even spread of skin boosters giving optimum results.
Which Body Areas Can Be Treated With Skin Boosters?
Skin boosters can be used to treat the following areas of the body;
Face
Neck
Decollatage
Back of hands
What Is The Downtime?
Skin boosters have a downtime of around 2 to 3 days. There may be slight bumps seen after the procedure but that will subside in the next 1 to 2 days. Small red dots may be present for a longer period of time, but they will subside after 4 to 5 days.
How Many Treatment Sessions Are Required?
Here is the brief detail regarding the number of treatment sessions required for various skin boosters;
Rejuran healer treatment is done in 2 to 3 sessions. Each treatment session is carried out once a month. The results last for 6 months to 1 year.
For Nucleofill, 4 treatment sessions, performed at an interval of 15 to 30 days, are recommended. The results last for 6 months to 1 year.
In the case of Profhilo, 2 treatment sessions with a 1-month interval are needed to get the maximum results. After that, you will need to undergo the treatment once after every 6 months to maintain the results.
When Will I See The Results?
It varies from person to person. Usually, it takes 1 to 2 weeks for the results of a non-cross-linked skin booster to become apparent. On the other hand, skin boosters with healing, repairing, and skin rejuvenating properties, like Rejuran, show results after 2 to 3 weeks.
Are There Any Side Effects?
Although the risks of side effects are minimal, here are some common side effects you can encounter after getting skin booster treatment;
Small, slightly raised bumps
Mild redness
Swelling
Bruising
Pain or tenderness
Itching – etc
Proper aftercare of the treatment site not only minimizes the risks of side effects but also helps in quick recovery.
What Is The Cost Of Skin Booster Treatment In Singapore?
The cost of skin booster treatment in Singapore varies from $600 to $1200 per treatment session. The various factors that determine the final price include;
Area being treated
Type of skin booster treatment
Amount of skin booster required
Number of treatment sessions required
Skills and expertise of the doctor
Locality and facilities offered by the treatment center
Follow-up
Bottom Line
Skin boosters are like revitalizing dermal fillers that boost up your skin by providing hydration, brightening, and rejuvenation effects to the skin. There are various types of skin booster treatments available including Nucleofill, Rejuran, and Porfhilo. Each type has its unique composition, benefits, and applications. Which type of skin booster is best suitable for you depends upon your skin condition.
About Dream Aesthetics and Plastic Surgery
Bespoke surgical for cosmetic or medical reasons is what Dream covers to bring out the beauty in every individual. Going beyond the aesthetics and working on physical anomalies are what we value the most in leading our patients to cherish self-improvement and confident lifestyles.
Derived from Associate Professor Vincent Yeow's long-standing experience performing plastic surgery in Singapore, our treatment plans deliver physical remodelling in our patients' favour. One of the notable remodellings is droopy eyelid correction. The ptosis surgery used for treatment eventually fixes drooping eyelids, improves vision and enhances appearance.
Most importantly, as a trustworthy plastic surgery and aesthetic clinic, we treasure positive and natural outcomes for each individual. We will ensure to deliver the beauty refinement of your dream without compromising your safety and privacy.