Are you looking to fix your pointed nose and look your best? However, do you feel set back because of the fear of going under the knife, yet you're not sure about the results of nose thread lift and fillers?
Rhinoplasty, also commonly known as a nose job, is the surgical procedure used for redefining the shape of the nose. But, naturally, more people have inclined towards a less invasive procedure for nose threadlift in Singapore.
Hiko thread nose lift and nose filler are non-surgical options that has gained popularity in recent years. It does recontour the nose, enhance definition, but it has temporary effects with a short recovery time.
Since these procedures offer solution to achieve a better looking nose, this article aims to clarify some questions you have in mind about both non-surgical Nose Job and Rhinoplasty surgery procedure.
Nose Augmentation Options
So what are the choices that you have for your nose job? Read on to know.
Non-Surgical Procedures
The perk of the non-surgical procedure is that it eliminates the use of knives and scalpels on you while giving visible results.
I. Fillers – What Is It, Pros And Cons Limitations
Nose fillers, also called liquid rhinoplasty, can transiently address nose problems, including
Dorsal hump
Drooping nasal tip
Asymmetry
In this procedure, the nose fillers are injected into the patient's nose to smooth the nose bumps and redefine their shape. It is commonly done using hyaluronic acid (HA) fillers. With time, HA has earned a reputation for its safety and efficacy, serving as a great alternative to surgery. Its popular brands include Juvéderm and Restylane.
It has been reported in a 2016 study that HA gel can potentially fix even such nasal issues that were not addressed by traditional rhinoplasty. Also, nose fillers can address the minor issue that occurs post rhinoplasty treatment.
The pros and cons of nose fillers are tabulated below.
Pros
It only takes from 15 to 20 minutes to complete the procedure. This sets you free much quicker than the surgical rhinoplasty, which takes 1 to 4 hours to complete.
The results of fillers are instant, with a short recovery time. Daily chores can be resumed the very same day as that of the procedure.
No anaesthesia is needed so you can witness your procedure. Your surgeon may also give you a mirror to have a look.
The outcomes of the hyaluronic acid fillers are reversible. In case you don't like them, you can ask your doctor to reverse them, and they will inject hyaluronidase injections to dissolve them.
Cons
Since the results of fillers are temporary, you would need repeated sessions to maintain them.
A 2018 study reported some serious vascular complications, including a blood vessel blockage that may occur due to the filler being injected into an artery in the nose or it causes its compression, blocking the blood supply.
A blocked or compressed artery can lead to necrosis of the skin cells or blindness if it's related to the eye's retina. Nonetheless, the risk of such complications is extremely rare and negligible in the hands of an experienced and trained board-certified plastic surgeon.
II. Nose Threadlift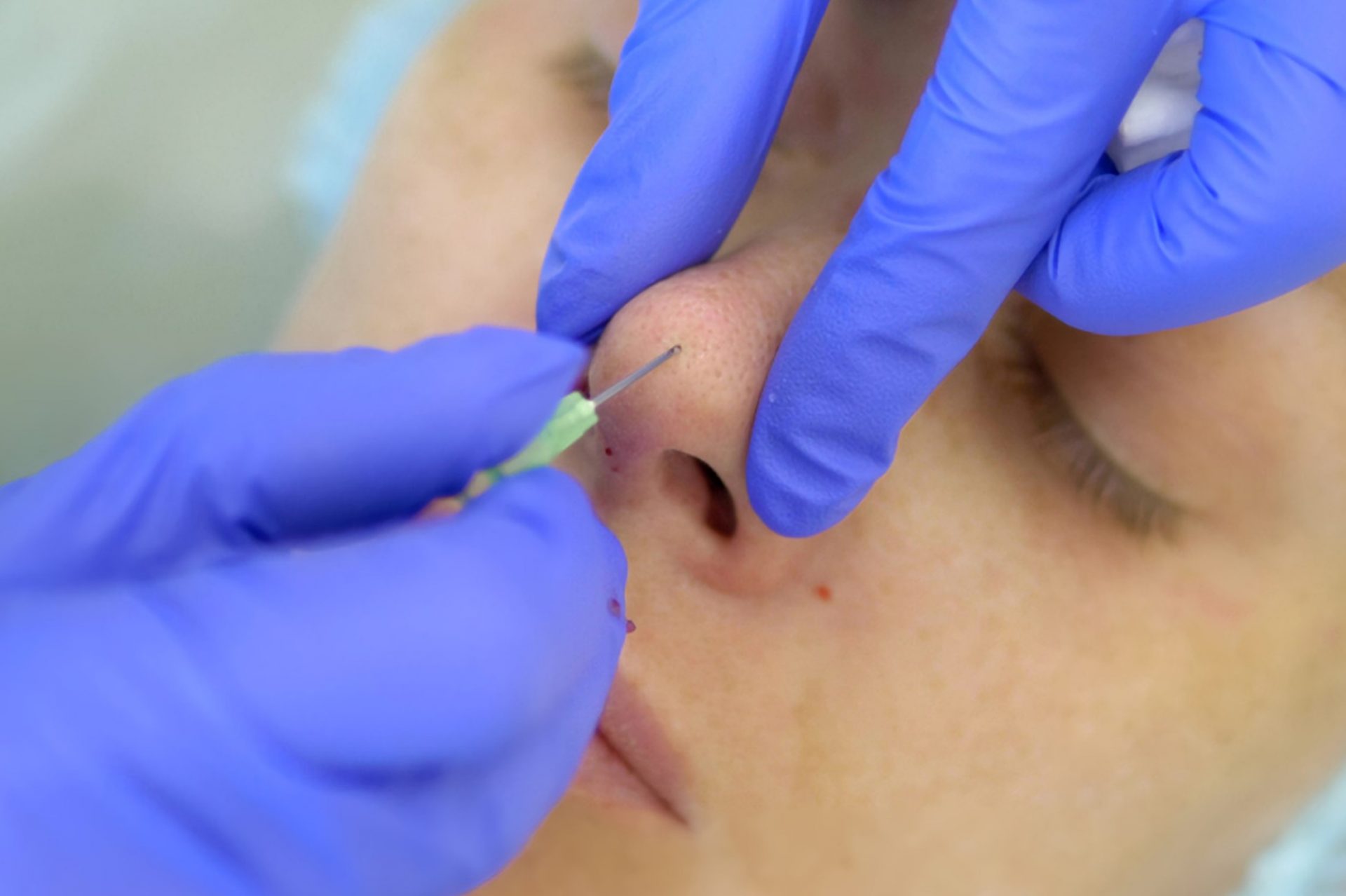 Nose threadlift Singapore originated in Korea and is also called Hiko thread nose lift. HIKO in Hiko thread nose lift stands for "high nose" (hi-high and ko- nose in Korean), which makes the name self-explanatory for what it does. It makes use of fine threads that are absorbable and lift the nose mechanically to it is a higher and sharper look.
The type of thread used largely depends on the surgeon and your case. Some surgeons use polydioxanone (PDO), a 3D thread that increases natural collagen production within the body and gives noticeable results immediately after the procedure.
The FDA-approved threads dissolve on their own within a few months without producing any major side effects. The increased collagen content in the nose skin aids in contouring the nose and moulding it to the perfect shape.
The pros and cons of thread lift are as follows.
Pros
The results are immediately observed
The nose lift lasts longer than that of nose fillers
It defines the structure of the nose without surgery
It makes a broad nose look more narrow
Shapes the nose forward
There are few medical side effects associated
Restore the proportion of the nose
Augments a flat nose bridge
No risk of vascular complications
Cons
The results of thread lift are longer than fillers but are yet not permanent, and you'd need recurrent sessions.
If this procedure is not performed by an experienced professional under proper guidelines, it can cause serious side effects.
Not keeping in mind the hygiene conditions, sterility of equipment, type of thread used, and inadequate insertion of the thread, the side effects may be pronounced. These include excessive pain and bruising, swelling and redness, erosion of thread outside the skin, scaring
Inexperienced hands may also cause disturbed symmetry of the nose, nasal deviation, and an unnatural look of the nose.
Surgical option
I. Rhinoplasty Surgery
The surgical method to getting your nose job done is known as rhinoplasty. It helps to recontour your nose by amending the bone and cartilage. It is among the most common plastic surgery types performed. It is also done to accomplish both functional and cosmetic improvements, including nose repair after injury, correction of breathing problems, or fixing a birth defect.
Pros
The results produced are permanent; thus, they generally do not need repeated surgery.
Able to produce more dramatic changes to the appearance of the nose
Able to fix functional issues such as a deviated septum or breathing difficulties
Reduce unwanted tissue from bulbous nose
Changing the angles of nose tip
Straightening crooked nose bridge
Reshaping the tip of the nose
Narrowing the nostrils
Address nasal bumps
Cons
Downtime associated with surgery is longer and will take between 10 to 14 days
Anaesthesia is required for the procedure
Surgery comes with risks
Procedure fees are much more expensive
Non-Surgical Versus Surgical Rhinoplasty – Which Is Better?
If you are considering going for a nose job but aren't sure whether you should choose non-surgical over the surgical procedure or vice versa, answering the following points may help you make a better decision.
Every nose is different, and every person's body responds differently to different stimuli. Your decision for the procedure would depend on your individual condition.
First off, determine your main goal for the procedure – whether it is to recontour your nose or you want to fix any functional issues such as deviated nose after an injury. Functional corrections may necessitate surgery, while just reshaping the nose may be achieved non-surgically.
Another thing that you should evaluate is how many aesthetical changes are you looking at and if it is achievable without surgery? Non-surgical treatment can only achieve limited results, and if you want nose correction closer to your ideal results, you might need to consider a rhinoplasty instead.
Apart from these, other factors that need to be assessed include:
Longevity of results – non-surgical treatments show their results for a limited time as compared to the almost permanent results of surgical rhinoplasty. If you are someone who do not wish to go for repeated treatments, nose surgery is what you should consider.
Fit for surgery – one huge factor that your doctor would assess is whether you are fit for the surgical procedure in terms of health. Any pre-existing health conditions such as hypertension and diabetes would lower your rank for surgery.
What level of invasiveness are you comfortable with? – this is another question that needs to be answered. Ask yourself if you are fine with going under the knife and are prepared to take the challenge for an invasive procedure. If you wish to achieve the maximum outcomes and fix your nose perfectly, you can consider surgery, while if you are ok with adequate results but absolutely cannot bear the scalpel, then a non-surgical nose job can be the suitable option for you
Risk associated with the procedure – before deciphering which procedure you want, dive in and understand what each procedure is about. Evaluate the pros with cons of each procedure before making your final decision.
Budget – one of the foremost factors includes your budget. Whether a procedure is suitable for you goes down to whether you can afford it or not.
Associated downtime – you also need to evaluate if your work and life needs allow you to take a few days to weeks off. Since surgical procedure would mean you are taking a gap from everything else, you should see if you can spare that much time –otherwise, non-surgical can always be your option.
Bottom-line
You can evaluate all the factors on your end and discuss them with a board-certified plastic surgeon. At the end of the day, your doctor will guide you to the right decision, hopefully turning out to be the most suitable choice for you.
About Dream Aesthetics and Plastic Surgery
Bespoke surgical for cosmetic or medical reasons is what Dream covers to bring out the beauty in every individual. Going beyond the aesthetics and working on physical anomalies are what we value the most in leading our patients to cherish self-improvement and confident lifestyles.
Derived from Associate Professor Vincent Yeow's long-standing experience performing plastic surgery in Singapore, our treatment plans deliver physical remodelling in our patients' favour. One of the notable remodellings is droopy eyelid correction. The ptosis surgery used for treatment eventually fixes drooping eyelids, improves vision and enhances appearance.
Most importantly, as a trustworthy plastic surgery and aesthetic clinic, we treasure positive and natural outcomes for each individual. We will ensure to deliver the beauty refinement of your dream without compromising your safety and privacy.
References