Whether it is for beauty or success, humans have had a specific set of standards and beliefs through history. Those set standards then define your success level, and the more you deviate from it, the less accepted you are in society. One such beauty standard is the presence of double eyelids. Having big, round creased eyes is considered a benchmark of beauty, and people are judged on these standards of looks.
However, not everyone has double eyelids. Most people in East Asia have monolid eyes, meaning that their eyelid shape is devoid of a natural crease.
People tend to undergo procedures to get double eyelids for various reasons. Double eyelid surgery in Singapore tends to be the most popular cosmetic procedure in East Asia, where millions of people undergo surgery to create a supratarsal crease. As reported by the international society of aesthetic plastic surgery, about one and a half million individuals opted for the procedure in 2014 in Korea.
Are Double Eyelids More Beautiful Than Monolids?
People resort to double eyelid techniques because of several reasons. For some, it can be a desire to fit in and get accepted among peers, while for others, it may range from finding better jobs to the opportunities of working in the entertainment industry. Whatever the reason, opting for a double eyelid procedure is entirely a personal choice.
Whether you choose to get double eyelids or decide to keep monolids doesn't make you any less of a person. Monolid eyes are also beautiful in their own unique way. However, most people are driven by personal motivation to look better, thereby, they settle for double eyelid surgery.
You are not just left with the surgical options; there are several methods that you can opt for in order to achieve double eyelids.
Non-Surgical Methods Of Getting Double Eyelids
If you fear going under the knife or don't think you are suitable for the surgical procedures, you can always try the non-surgical methods. These include:
 1. Eyelid Tape Or Glue
You can use eyelid tape or glue to create a double eyelid look. Eyelid tape is a clear, fine strip that can be taped on the eyelid to create a crease temporarily. Similarly, eyelid glue can also be used to produce a crease in the eyelid giving a double eyelid appearance.
Both of these ways will make your eyes look bigger, making you look more awake. However, eyelid glue gives a more natural look than eyelid tape.
2. Plexr Blepharoplasty
Plexr is a non-invasive device that utilizes the ionization potential of gases present in the air to form plasma. Plasma produces a small electric arc that has enough energy to treat several problem areas without disseminating unnecessary heat to the surrounding skin.
This results in minimal collateral skin damage, and this device can be used on all skin types to treat sagging upper eyelids. It doesn't involve the use of a laser or scalpel to remove extra skin. During this method, the clinician may ask patients to open and close their eyes intraoperatively.
Also, no incision for removing excess fat or skin is made, and no modification to the eyelid muscles occurs. Before the procedure, topical anesthesia is applied on the upper eyelids and left for 30 minutes applied on the upper eyelids and left for at least 30 minutes.
After that, the Plexr device is placed at a certain distance from the eyelid to create 500-micron pots that sublimate the skin of the eyelids without damaging the basement membrane and the surrounding tissues. As a result, immediate contraction of the excessive skin occurs, resulting in a lifting effect.
Patients may require more than one session over a couple of weeks, according to the amount of excess skin you have, to see noticeable results. The effects of the treatment last for about 9 to 12 months. You may experience minor swelling on the treated skin after the treatment that will fade away within seven days postoperatively.
Surgical Methods Of Getting Double Eyelids
Even though non-surgical methods are effective and instant ways to create double eyelids, these methods are not permanent or semi-permanent. These methods have to be repeated daily or sometimes even twice a day before going to college, work, or a party. This can be time-consuming and also tiring to adopt as a norm.
Thus, if you are someone who would prefer more long-term results and don't think would feel like repeating the process every single day, surgical methods can be the right option for you.
I. Non-Incisional Double Eyelid Surgery
Non-incisional double eyelid surgery is a procedure in which scalpels are not used to cut the upper eyelid. It is mostly demanded by people for its cosmetic purposes rather than for functionality.
Also called suture double eyelids surgery, this procedure utilized sutures to tauten the skin and muscles over your eyelids to form a crease, resulting in double eyelids. The procedure is quick, and a board-certified surgeon takes about 30 minutes to complete it.
This is a less invasive procedure compared to incisional surgery, is associated with fewer scars and swelling, and has a shorter recovery time of about 5-7 days.
With the upper eyelid muscle functioning continuously, it is natural for your eyelids to change form as you age. The results are not permanent but last for a long period of time, which for some is up to 10 years.
II. Incisional Double Eyelid Surgery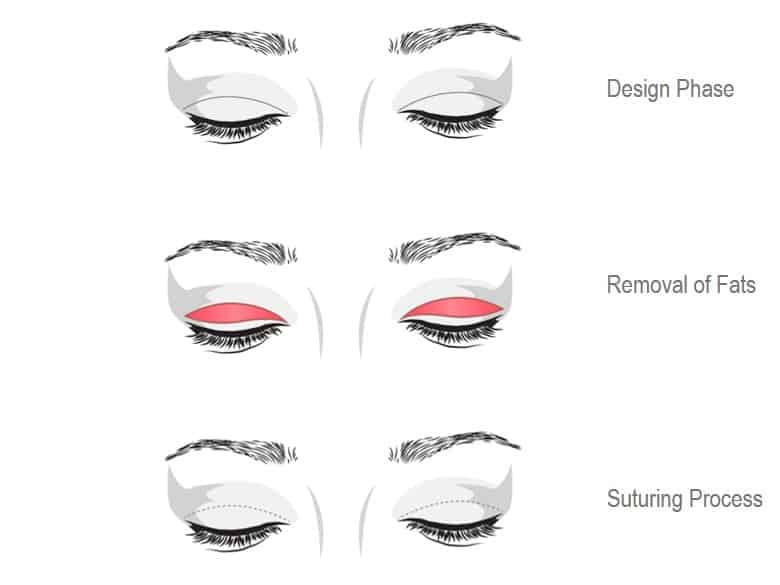 Incisional double eyelid surgery is performed if a well-defined crease line is preferred, also if there are signs of droopy eyelids. It is performed on cases that are on moderate to severe levels. In this surgical procedure, an incision is made over the upper eyelid, and the extensively overstretched and lengthened eye muscle is trimmed off.
These muscles are later pinned upwards and then sutured in place. The results produced are tightening of the muscles, elimination of excess skin and fat, and redefined upper eyelids, which lift higher when opened.
This method requires around 60 – 90 minutes to complete and is performed under light sedation. It generally takes 14 days for recovery, and stitches are removed seven days postoperatively. The results of this surgery are permanent.
The additional advantage of incisional double eyelid surgery Singapore is that it also corrects drooping upper eyelids, clears vision by eliminating sagging skin, and redefines the eyes, making you look more awake.
Cost Of Non-Surgical And Surgical Double Eyelid Procedures In Singapore
Costs of non-surgical therapies vary from individual to individual depending upon factors such as the severity of your condition, the location of your cosmetic center, the expertise of your clinician.
On average, the price for non-surgical procedures ranges from $3000 to $3900. As for the surgical procedures, their costs range from $4000-$6000.
Are There Any Chances Of Failure?
The risk of failure of the double eyelid procedures is minimal. However, the surgical methods are more at risk of failure if:
You do not go for a board-certified plastic surgeon who is an expert in his field.
You are not the right candidate for the surgery and have thick and heavy eyelids.
Scar tissue does not form adequately in the non-incisional suture method as your eyelid is not attached to the eyelid muscle.
How To Get The Best Results Of Double Eyelid Surgery?
How well your surgery will perform and what kind of results it exhibits depends upon factors like the actual shape and size of your eyes, the size of contact lenses that you wear (if you wear any), the amount of makeup that you use, and the shape and form of your eyebrow before the procedure.
In order for you to have the best results out of your double eyelid surgery, you have to ensure the following things.
1. Go For The Treatment Option That Best Suits You
Discuss all the problems and your final needs with your doctor. This will help your doctor to guide you towards the best treatment option.
 2. Discuss Your Expected Outcomes
Make sure to communicate what you want with your doctor so that you are properly guided, and there is minimal risk of miscommunication.
3. Choose An Accredited, Experienced Surgeon
Your surgeon's expertise and training play a crucial role in your surgery outcomes, as their experience allows them to carry the procedure confidently and handle any unusual situation diligently.
4. Get The Right Aftercare
The right post-operative care is imperative for achieving successful results. If the staff of your cosmetic center is professional and trained, you are likely to get optimal aftercare, sufficient for a quick recovery.
Looking For Double Eyelid Surgery?
Keeping in mind all the above considerations for your surgery, opting for the right and authentic cosmetic clinic is critical for ensuring maximum success of your double eyelid treatment procedure. Thus, verify your options cautiously and go for an experienced and accredited surgeon as well as a reliable clinic.
About Dream Aesthetics and Plastic Surgery
Bespoke surgical for cosmetic or medical reasons is what Dream covers to bring out the beauty in every individual. Going beyond the aesthetics and working on physical anomalies are what we value the most in leading our patients to cherish self-improvement and confident lifestyles.
Derived from Associate Professor Vincent Yeow's long-standing experience performing plastic surgery in Singapore, our treatment plans deliver physical remodelling in our patients' favour. One of the notable remodellings is droopy eyelid correction. The ptosis surgery used for treatment eventually fixes drooping eyelids, improves vision and enhances appearance.
Most importantly, as a trustworthy plastic surgery and aesthetic clinic, we treasure positive and natural outcomes for each individual. We will ensure to deliver the beauty refinement of your dream without compromising your safety and privacy.
References:
4.Chen CC, Tai HC, Huang CL. Chen's Double Eyelid Fold Ratio. Plast Reconstr Surg Glob Open. 2016;4(4):e681. Published 2016 Apr 20. doi:10.1097/GOX.0000000000000655