Lips are one of the most prominent features of an individual's face, they have been highlighted for a long time, and various beauty products work on enhancing the beauty of the lips.
Lipsticks, lip gloss, and lip liners are a few of the names of products that help the lips stand out and grab attention. They amplify facial beauty and boost a person's self-esteem. You can also sense the confidence in their speech when they know how well and presentable they look.
Not everyone, especially among Asians, is blessed with naturally volumized lips. Having fuller, plumper lips was just a dream in previous days, but now this wish can come true with Lip Filler in Singapore which offers a safe and efficient treatment to enhance lip volume with dermal filler injections.
Popularity Of Lip Fillers
Lip Filler in Singapore is not just a trend, but they are here to stay forever and help people fulfill their demands. Dermal filler lip augmentation gained popularity once it was accepted and used by many celebrities and stars. In the past five years, it made to the Instagram stories of various social media influencers as they flaunted their pouty lips and have not looked back since.
By 2016, the American Society of Plastic Surgeons reported lip fillers to be the most popular non-surgical cosmetic treatment, showing a 50% increase in lip augmentation amongst people aged 18 – 55 since 2000.
What Is Lip Augmentation Using Dermal Fillers?
Dermal fillers grab the attention of women and men who want to have fuller, defined, and pouty lips. The minimally invasive surgical procedure is the best treatment option for those who want to avoid going under the knife to fulfill their desire.
It is considered a safer choice compared to the use of collagen, fat injections, and implants for lip shaping as they have higher chances of complications and risks associated. Though the results of fillers are temporary and last for 4 – 6 months, you can always go for another session, and in case you do not like the results, there is nothing to worry about. Results from filler injection can be reversed with the help of an enzyme injection.
Lip augmentation with dermal fillers requires an experienced and certified professional who conducts the procedure in an appropriate setting to ensure you achieve the best results. Boosted lip volume, enhanced lip shape, and smoothed vertical lines are some of the benefits you can enjoy after a successful filler treatment.
Despite the availability of different types of Lip Filler in Singapore, the most recommended one is Hyaluronic Acid. It is a compound that also occurs in our body naturally in the skin. Some of the fillers that contain Hyaluronic acid and are approved by the FDA for treatment include Juvederm, Restylane, and Belotero, etc.
What Are The Benefits Of Hyaluronic Acid Fillers?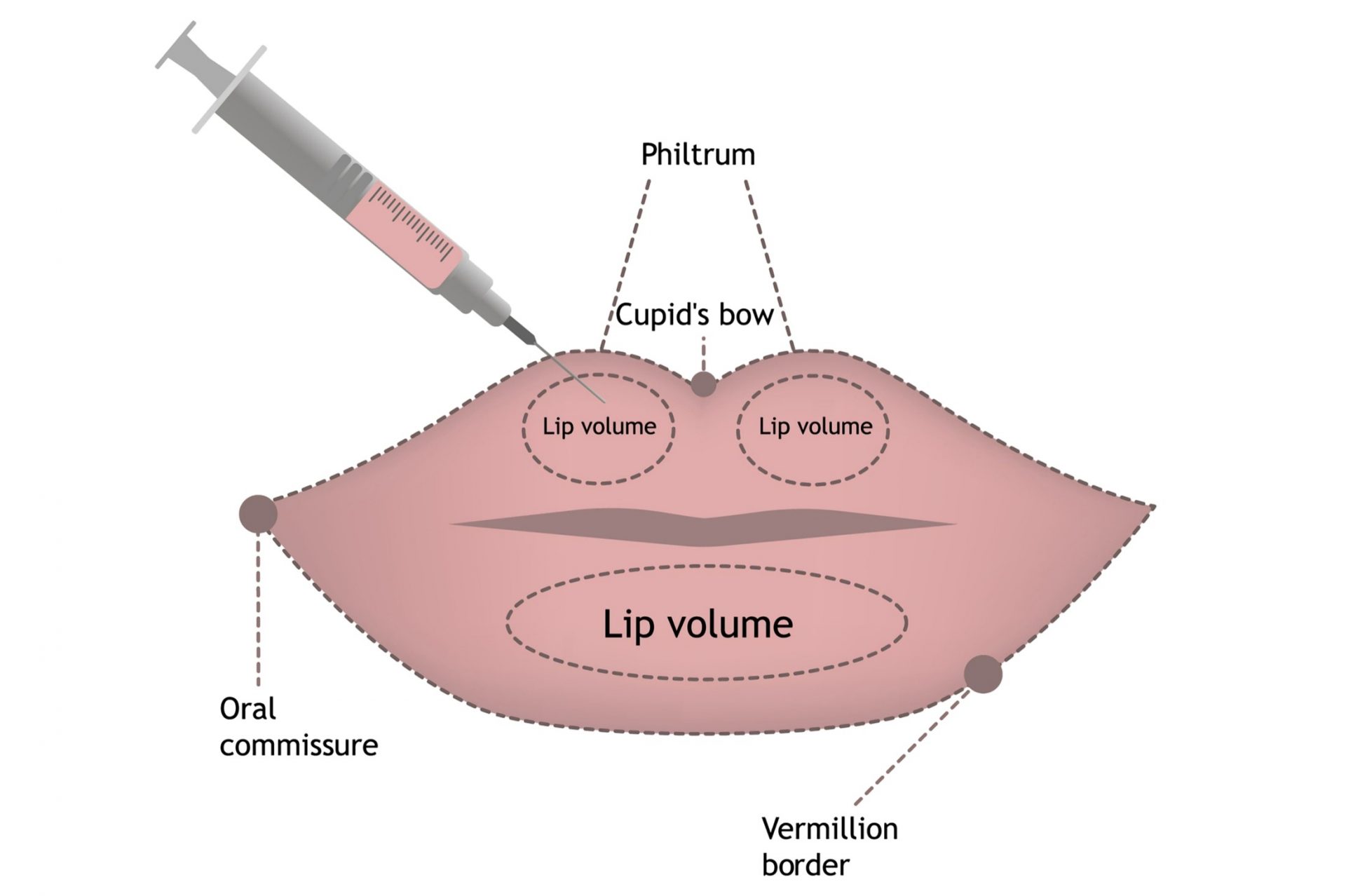 Hyaluronic acid Lip Filler in Singapore works around three core areas as it improves;
The use of Hyaluronic acid filler is preferred over other filler types for lip augmentation as it offers the following benefits;
There is less bruising and swelling as compared to other fillers
The amount of filler can be injected gradually until the desired results are achieved
The lumps and bumps due to filler injection can be avoided or dissolved easily
As hyaluronic acid can be naturally found in the body, the chances of having an allergic reaction are considerably reduced
It provides quick results which can be observed as soon as the session is over
How Does Filler Enhance The Shape Of The Lips?
Lip Filler in Singapore works around different areas of concern and helps achieve the enhanced shape of lips. The results of lip fillers are as the following;
A. Enhance Cupid's Bow
To highlight the peak of the upper lip or what we call the "Cupid's Bow," a little amount of filler can be injected into the midsection of the upper lip. It gives a more defined, structured look, which makes the smile look poutier and youthful. As the filler supports the philtrum, it gives an extra lift to the lips.
B. Define Border Of The Lips
As we age, our lips lose pigmentation, which is especially observed at the upper lip border known as the vermillion border. It no more has any definition or support left and makes our smile look shabby. Injecting filler into both the border and the lip help provide support and define the border of the lips further.
C. Improve Vertical Lines
Lip fillers provide temporary removal of the vertical lip lines as it replaces the lost volume of the skin and smooth them out. The tiny wrinkles that we also call "smoker lines" result from continuous lip contraction and decreased amount of collagen. Lip fillers replenish the collagen content, which makes the lip smooth and soft.
D. Improve Asymmetry
Lip Filler in Singapore readjusts the symmetry of the lips as it helps match both sides. It gives your smile the correct proportion and a shapely look. Injecting a small amount of filler makes minor adjustments on both sides to make them similar.
E. Improve The Overall Proportion Of Upper And Lower Lip
Either due to age or genetics, the lips start losing the lift and support. They downturn with time and give an appearance as if you are frowning or feeling upset. The lips have a major impact on how old your face looks, and out of proportion, lips add years to your actual age. Dermal fillers reestablish the shape and balance of the upper and lower lips while giving them the lift and support they need.
F. Plump And Fill Up Lips That Have Lost Their Volume Due To Aging
Due to aging and exposure to the sun's harmful UV rays, the lips lose their volume but filler injected into the soft tissues of the lips replaces that volume. The Hyaluronic fillers are hydrophilic, which attracts water from the surrounding and has a plumping effect which makes lips fuller and volumized.
How Many Fillers Are Needed?
On average, a person may require 1 – 2 cc syringes per side for lip augmentation. However, the amount of filler needed differs for every individual as it is important to make sure that the results look natural and not overdone. This amount depends on certain factors and conditions, which are;
The area it is going to be injected into
The method of injecting filler
The brand and type of filler used
The metabolization of an individual determines how quickly they dissolve
The results that are required
What Is Filler Lip Augmentation Process?
Lip Filler in Singapore is a safe and effective treatment with no downtime, and you may continue with your day to day chores right after the treatment. Once you make an appointment with the doctor, he calls you for a consultation session before making an appropriate treatment plan keeping in mind the natural structure of your lips and the desired goals.
Before the procedure begins, local anesthesia or numbing cream is applied to make the process pain-free. The doctor then marks the targeted area to avoid any mistake as the procedure involves extreme care and precision. The needle is inserted into the superficial or deeper layers of skin depending on the condition that is to be treated, and a small amount of Hyaluronic acid is then injected gradually until the desired volume is achieved.
You can notice the results right after the treatment and continue with routine work but should avoid extreme facial movements and the use of lipsticks or makeup around the lips.
What Are The Side Effects?
Like any other procedure, there are a few side effects and risk associated with lip fillers, such as;
Extreme pain on moving lips
Bruising
Bleeding from the injection site
Redness
Cold sores or fever blisters on lips and surrounding skin
Lips asymmetry
Infection or inflammation
Itching
Dryness and patchy skin of the lips
Irregularities or raised skin
Scarring
Ulceration
Blockage of a blood vessel leading to tissue death
What Is The Cost Of Filler Lip Augmentation?
The Lip Filler in Singapore Price is different for every clinic and physician. It also depends on the type and brand of filler that is going to be used. Typically it ranges between $600 – 1200.
Conclusion
This article serves the purpose of guiding all those people who wish to get Lip Fillers in Singapore. It covers all queries and information a person needs before choosing it as an appropriate treatment for them.
About Dream Aesthetics and Plastic Surgery
Bespoke surgical for cosmetic or medical reasons is what Dream covers to bring out the beauty in every individual. Going beyond the aesthetics and working on physical anomalies are what we value the most in leading our patients to cherish self-improvement and confident lifestyles.
Derived from Associate Professor Vincent Yeow's long-standing experience performing plastic surgery in Singapore, our treatment plans deliver physical remodelling in our patients' favour. One of the notable remodellings is droopy eyelid correction. The ptosis surgery used for treatment eventually fixes drooping eyelids, improves vision and enhances appearance.
Most importantly, as a trustworthy plastic surgery and aesthetic clinic, we treasure positive and natural outcomes for each individual. We will ensure to deliver the beauty refinement of your dream without compromising your safety and privacy.
 References
 1.Luthra A. (2015). Shaping Lips with Fillers. Journal of cutaneous and aesthetic surgery, 8(3), 139–142. https://doi.org/10.4103/0974-2077.167269