While different types of plastic surgery procedures have been devised to treat problems and concerns that arise due to aging, most people usually think that only treatments like Botox are meant to enhance beauty and youthfulness. However, several other surgeries like facelift, eye bag plastic surgery, etc., can give you a younger look and a rejuvenated appearance.
Eye bag plastic surgery involves the surgical removal of excess fat and skin from the under-eye area. This helps to improve the appearance of your eyes and gets rid of the signs of aging. The commonly known problematic eye area, known as crow's feet, is also removed by smoothing out wrinkles. Alongside, if you want to get rid of puffy eyes and droopy eyelids. Eye bag plastic surgery can be the treatment of choice for you.
How Do the Eyes Show the First Signs of Aging & How It Affects the Under Eye Area?
The early signs of aging initially occur usually around the delicate skin over your eyes. Regardless of the amount of money you spend on cosmetics, eye creams, and pillow covers, wrinkles cannot be prevented, and a puffy appearance over the eyes is inevitable. As a matter of fact, your eyes can reveal the signs of aging as early as your 30s.
What happens is that as you age, your skin cells produce less amount of hyaluronic acid, which gives your skin most of its volume. This occurs throughout your face, including around your lips, cheekbones, and eyes. With low quantities of hyaluronic acid in your skin, it starts to sag with time, leading to excessive amounts of skin gathered at the corners of your eyes.
Furthermore, the process of aging is not only limited to increasing age itself. Premature cell aging can also occur due to other factors such as pollution, disease, and lifestyle. Your skin cells become exhausted due to these aggressors and result in a dried, dull, and lax appearance.
[H2] Motivations For Choosing To Undergo Eye Bag Surgery
So, why should you opt for eye bag removal surgery in Singapore? There are a few reasons jotted down below:
It Deals With The Earliest Signs Of Aging: Although most people think that expensive creams can get them their youthful skin back, these creams can only rehydrate the skin but cannot tighten the excessively sagging skin. Noticeable results can be achieved by a surgical approach that can eliminate the excess skin and bear long-term results of restoring firm skin.
It Will Give You A More Awake And Vigilant Look: If you are tired of people asking you about your personal problems and have been getting enough sleep because of your dull, sagging eyes, eye bag removal surgery can resolve your issue.
Eye Bag Removal Surgery Can Get You Rid Of Puffy Eyes And Dark Circles: Too much eyelid puffiness can cast a shadow under your eyes, resulting in eye bags and dark circles. Eye bag removal surgery can be the best choice to consider to eliminate dark circles.
Eyelid Surgery Among The Top-Ranked Cosmetic Surgeries Globally: Eyelid surgery is the most sought after surgery globally because of its short duration. It effectively removes the initial signs of aging and restoring the patient's youthful appearance.
Eye Bag Removal Surgery Produces Long-Lasting Results: Although results might not be permanent and differ between one person to another, eye bag surgery can last longer and does not need frequent repetitions.
Surgery Is Customized: The eye bag removal surgery is customized for individual patients according to their own specific needs.
The Surgery Is Performed As A Day Surgery Procedure: Eye bag removal surgery is performed as an outpatient procedure performed in the clinic. The procedure is completed in 1-2 hours and does not generally need an overnight stay.
There Is A Low Risk Of Complications: While all surgeries are associated with some side effects, eyelid surgery has a very low risk of complications, and those who may rarely occur are not very serious.
The Recovery Period Is Short: Most patients feel almost normal immediately after the procedure and feel minimal pain and discomfort. You can return to work after a few days and resume heavy physical activity ten days after the surgery. Most patients return to work within a couple of days. Doctors may prescribe pain killers to prevent pain postoperatively.
The Results Of The Procedure Are Natural-Looking: The eye bag removal surgery outcomes are natural-looking, provided that you choose a board-certified plastic surgeon who is trained and experienced in his field.
Eye Bag Removal Procedure Options
A. Scarless Eye Bag Removal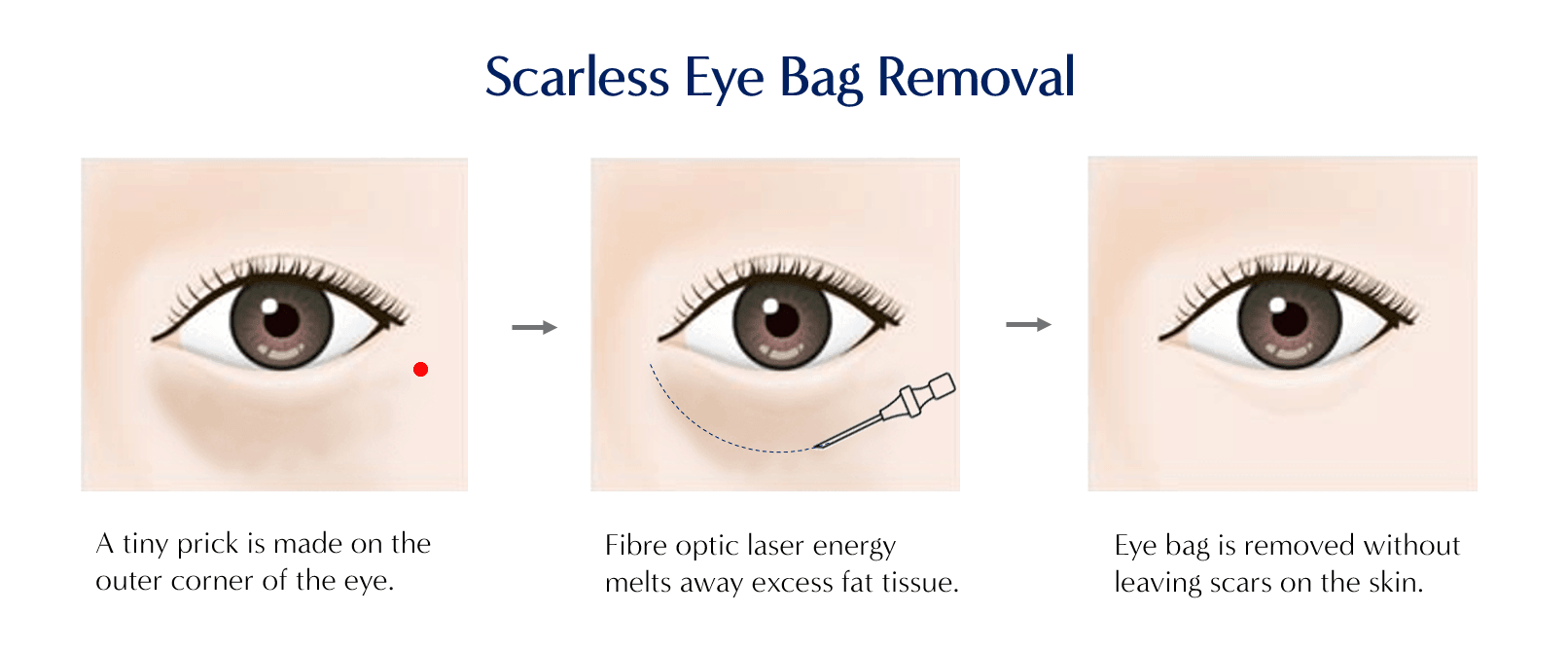 The Scarless Eye Bag Removal Singapore is a procedure done to exterminate the under-eye bags. It works by eradicating fat tissues from under your eyes permanently. It makes use of the needle-sized laser of 600 micrometers (0.6 millimeters) diameter to eliminate fat and water with an almost invisible access point. The procedure takes about 30 minutes to complete and needs a shorter recovery time than eye bag removal surgeries.
The benefits of Scarless Eye Bag Removal Treatment include:
No use of knives and stitches
Minimal to no scars
Permanent removal of excess fat
Greater precision with a fine laser probe
Less trauma to the skin
Minimal bruising and swelling
Quicker recovery than surgical techniques
Fast and safe procedure
Produces optimal results if combined with facial fat grafting
Non-surgical eye bag removal Singapore is suitable for individuals with
Good skin elasticity
A mild protuberance on the lower eyelids
Dark circles under the eyes
Fear of surgical treatment procedures
B. Transconjunctival Eye Bag Removal Surgery
During this procedure, an electrocautery device is used to burn the excess tissue through electrical heating. A micro-incision in the inner eyelid (conjunctiva) is made by the surgeon, instead of an incision outside; this is meant to prevent external scarring. The excess fat is eliminated, and the incision is sutured back from the inside.
The duration of the transconjunctival procedure is from 1 to 2 hours, and it is done under light sedation. The stitch is removed after seven days postoperatively. It has a recovery period of 10 to14 days.
Transconjunctival Eye Bag Removal can be the choice of treatment for individuals who:
Show initial signs of aging
Have mild to moderate eye bags
Do not have excessive skin under their eyes
Have good skin elasticity
The benefits of Transconjunctival Eye Bag Removal are as follows:
No scars visible
Maintains the patient's eye shape
Involves quicker recovery with less downtime
It is a minimally invasive technique
Produces minimal swelling
C. Incisional Eye Bag Surgery
Incisional eye bag surgery, also known as blepharoplasty, is a cosmetic procedure for lower eyelids that help treat wrinkles, remove loose skin, and excess fat. The surgery is generally performed under general or local anesthesia, depending on the particular case and the candidate. Your surgeon will make cuts in your lower eyelid, remove excess fat and skin, and suture the skin back together. The procedure takes 90-120 minutes to complete and has a downtime of 2 weeks. You can expect the stitches to be removed one week after the surgery. The incisional eye bag surgery is an ideal option for individuals with a moderate lower eyelid puffiness and suffering from skin laxity problems.
D. Eye Bag Surgery With Fat Repositioning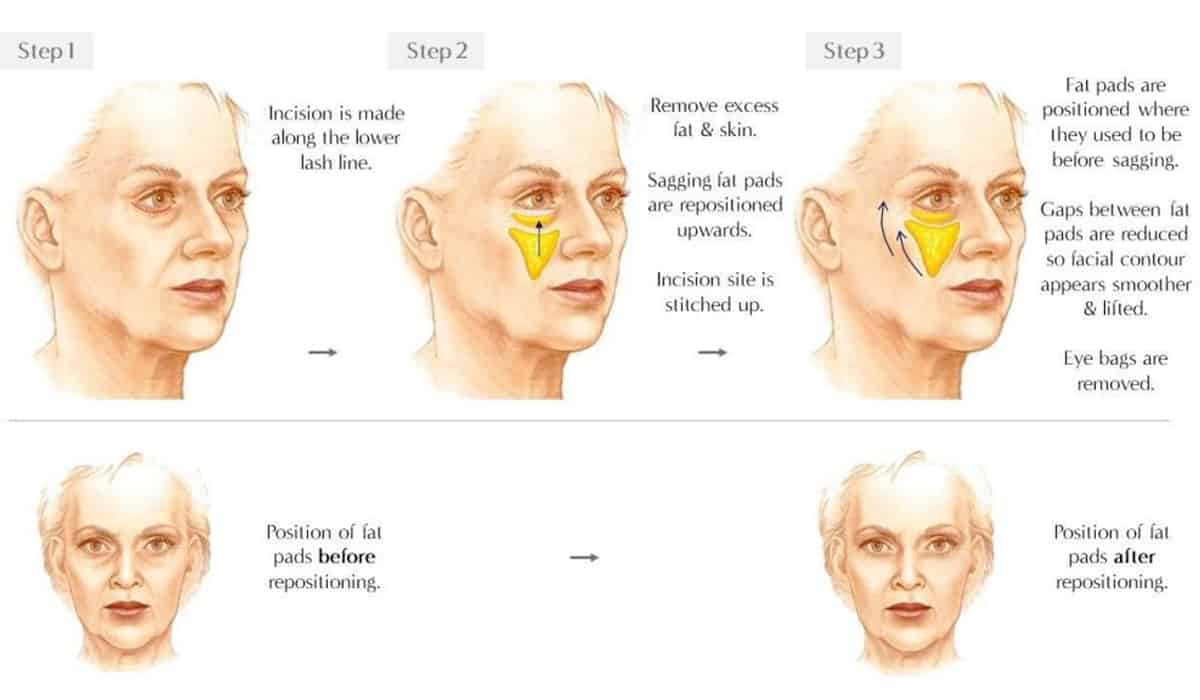 Eye bag removal surgery with fat repositioning is a surgical procedure during which eye bags are removed and flabby tissue corrected in the under-eye area. It also smoothes wrinkles, giving you a younger and fresher look. This procedure involves both removal of excess fat and repositioning for the correction of the groove under the eye bag. Any excess skin is eliminated, and the lower eyelid is tightened to create a smoother outline. The surgery takes approximately 1.5 – 2 hours and is performed under sedation. Stitch removal takes place seven days after the procedure, with a recovery period of 10-14 days.
The merits of Eye Bag Removal with fat repositioning include:
Correction of skin aging issues (loose skin, under-eye bulge, etc.)
Elimination of wrinkles and fine lines
Removal of dark circles
Tightening of the skin in the under-eye area
Longer lasting results when compared to other eye bag removal techniques
Eye Bag Removal Procedure Prices
Eye bag removal price will differ for every individual depending upon several factors, including the severity of wrinkles, the amount of skin and fat to be removed, the surgeon's expertise, and the location and facilities of the cosmetic center. However, the typical prices in Singapore range between $2,500 to $6,500.
Get your eye bags assessed by a board certified plastic surgeon
Whether you go for eye bag removal surgery for cosmetic concerns or functional improvement can vary from one person to another. However, you must spend time choosing the right surgeon and clinic for the best outcomes of your surgical procedure.
About Dream Aesthetics and Plastic Surgery
Bespoke surgical for cosmetic or medical reasons is what Dream covers to bring out the beauty in every individual. Going beyond the aesthetics and working on physical anomalies are what we value the most in leading our patients to cherish self-improvement and confident lifestyles.
Derived from Associate Professor Vincent Yeow's long-standing experience performing plastic surgery in Singapore, our treatment plans deliver physical remodelling in our patients' favour. One of the notable remodellings is droopy eyelid correction. The ptosis surgery used for treatment eventually fixes drooping eyelids, improves vision and enhances appearance.
Most importantly, as a trustworthy plastic surgery and aesthetic clinic, we treasure positive and natural outcomes for each individual. We will ensure to deliver the beauty refinement of your dream without compromising your safety and privacy.
References:
1.Nall R. Eye Bag Surgery: What You Need to Know If You're Considering This Cosmetic Surgery. Healthline. March, 2019. https://www.healthline.com/health/eye-bag-surgery