Double eyelid surgery or Asian blepharoplasty has become a popular aesthetic procedure in Singapore and around the globe for several good reasons [1]. The trend for suture blepharoplasty is on the rise, followed by the incisional blepharoplasty – due to minimal downtime, cheaper cost, and minimum to no side effects.
Having natural-looking and perfectly symmetrical double eyelids are a dream for many Asians – increasing one's confidence, correcting eye symmetry, removing wrinkles and fine lines, and imparting a youthful appearance. You can enjoy these perks after simple double eyelid surgery.
However, many people interested in achieving natural-looking double eyelids may have particular concerns about the procedure, such as the risk of bleeding, scarring, infection, asymmetry, healing,  recovery time, and any potential damage to the vision.
In general, blepharoplasty in Singapore is considerably safe and cost-effective – especially if you put your time as well as energy into searching and doing it with a board-certified and experienced plastic surgeon.
Like any surgery, the surgical skills, know-how of handling different facial features and ethnicities, and clinical experience of your plastic surgeon are paramount.
So before making a final decision, make sure you search for different plastic surgeons, explore their before and after results, and pick an experienced surgeon to do the aesthetic procedure for you.
Infrequently, double eyelid surgery can result in mild to moderate medical and cosmetic complications, most of which are largely avoidable if it was handled by an experienced and skilled plastic surgeon.
In this article, we hope to address or clear some negative thoughts and thoroughly answer a few of the frequently asked questions about Asian blepharoplasty in Singapore.
Does double eyelid surgery affect one's vision?
Double eyelid surgery is most likely to cause blurred vision or double vision during your recovery. These are the most common vision problems you will experience after the surgery and occur due to the eyelid's swelling. Following the procedure, this usually will resolve on its own after the first few days of recovery.
There is another possibility for developing blurry vision. Certain plastic surgeons may prescribe antibiotic eye drops after surgery. The eye drops when in contact with the eyes can cause blurry vision after application. It is usually temporary and vision will clear up after the medication is stopped.
Will there be any noticeable scarring?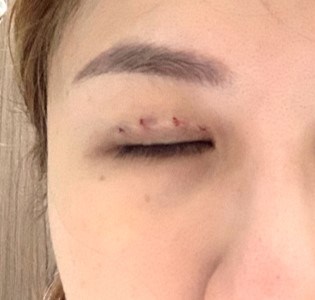 There will be no scarring following the suture method. The suture mark will disappear entirely depending on the suture technique used and how diligently you apply the scar gel during the recovery.
There will be a faint scar following the incision method which is hidden along the double eyelid crease, but it's not permanent. The scar will blend in with the skin and heal within 4 to 6 months.
What if the double eyelid surgery procedure goes wrong?
Blepharoplasty in Singapore is a standard and safe procedure. However, there is a possibility that the procedure did not go exactly as planned, and the aesthetic results may not be according to your expectation. It is possible to observe the following in cases that are not done well.
Uneven contour on the upper eyelid
Uneven removal of the eyelid muscle
Asymmetrical-looking double eyelid
Weakened eyelid muscle strength
These may sound intimidating to many. Even though it highlights some of the risk that is associated with double eyelid surgery procedure, it hardy happens under the hands of a skilled plastic surgeon.
If you have had double eyelid surgery and are not satisfied with the procedure outcome or think it was not done correctly, you should consult the surgeon who treated you. Some shape and height adjustments can be made, depending on your skin condition and age. Alternatively, you can choose another experienced surgeon for a second opinion.
Can I Reverse the results from my double eyelid surgery If I don't like it?
If you opted for the stitching method, you could easily reverse the results by asking your plastic surgeon to remove the sutures. However, it will be extremely difficult and challenging to reverse the effects of cutting or incisional blepharoplasty as the results are permanent. That is because your surgeon has removed excess skin and fat in your eyelids to create more shapely eyes. However, if you have had incisional double eyelid surgery and the results do not match up to your expectations, it is still possible to have revisional procedures done to further enhance the results.
If I've done double eyelid surgery before, would a repeat procedure be harmful to my eyelids?
The result of cutting blepharoplasty is permanent, whereas the outcome for a non-incisional procedure is temporary or semi-permanent (because it can last up to 10 years).
As you age, your eyelid muscle loses its strength, and your skin its elasticity. So if you have done double eyelid surgery before, it is natural for your double eyelids to change over time. In some cases, a repeat procedure or revision blepharoplasty [3] can help tighten the skin, correct the complications, and rejuvenate the eyelid. Based on physical examination, your surgeon will be able to help you decide whether the repeat procedure will be fruitful for you or not.
Is there anything I should do to prevent a bad outcome or recovery? What to prepare before surgery?
You can take several precautionary measures to ensure that the procedure's outcome is the best possible. You should:
Stop smoking and consuming alcohol at least four to six weeks before the surgery to build a robust immune system and speed up the recovery time.
Keep yourself adequately hydrated and regularly apply moisturizer for an optimum outcome.
Avoid taking homeopathic medicine, aspirin or OTC anti-inflammatory medication, or multivitamins. They can increase the risk of bleeding.
Avoid wearing makeup, lenses, false eyelashes or any other cosmetic on the surgery day.
To gain clarity about the procedure, you can ask the surgeon several questions, such as the scars' visibility, the recommended anesthesia, healing time, and realistic results. It will also help boost your confidence in your surgeon.
How to care for my eyelids after surgery to ensure the best outcome?
Post-surgical care of the scar is important for healing and optimal recovery. Here's how you should take care of your eyelids following blepharoplasty to ensure the best outcome.
Wear a hat or sunglasses and use sunscreen when you are outdoors. This protection is necessary to prevent the UV rays from damaging the area, increasing the swelling, and slowing the healing process.
Avoid activities that increase pressure in your eyes, such as lifting heavy objects and doing strenuous exercise.
Do cold compressing of the eyelids. It helps reduce the swelling and discomfort significantly.
Avoid smiling or yawning excessively. This can cause stitches to open by applying unnecessary strain on the eyelid muscles.
Keep your head elevated while sleeping. Maintaining an upright position is also important. You can use extra pillows to keep the head elevated and to maintain the proper position.
If you experience pain, take OTC painkiller drugs such as Tylenol or any other prescription medication. Avoid taking aspirin, Aleve, or Motrin to reduce the chances of bleeding and post-surgical hematoma formation.
Conclusion
According to a recently published report by the International Society of Aesthetic Plastic Surgery, it is estimated that 1.3 million people[4] underwent double eyelid surgery worldwide in 2017 alone. It is safe, and thousands of people visit Singapore each year for the procedure.
However, just like any other surgical intervention, mild to moderate complications can happen, but they are also largely avoidable if you are under the care of the right plastic surgeon. With that being said, you should invest your time and energy in searching for a certified and experienced plastic surgeon.
While looking for a plastic surgeon, consider whether he/she is skilled and experienced, keeping in mind the differences in age, facial features, eye structure, and ethnicity of the patient does affect surgical outcomes.
Don't forget to ask and compare before and after blepharoplasty photos. Focus on the post-surgical results of the individuals who share common age and ethnicity.
About Dream Aesthetics and Plastic Surgery
Bespoke surgical for cosmetic or medical reasons is what Dream covers to bring out the beauty in every individual. Going beyond the aesthetics and working on physical anomalies are what we value the most in leading our patients to cherish self-improvement and confident lifestyles.
Derived from Associate Professor Vincent Yeow's long-standing experience performing plastic surgery in Singapore, our treatment plans deliver physical remodelling in our patients' favour. One of the notable remodellings is droopy eyelid correction. The ptosis surgery used for treatment eventually fixes drooping eyelids, improves vision and enhances appearance.
Most importantly, as a trustworthy plastic surgery and aesthetic clinic, we treasure positive and natural outcomes for each individual. We will ensure to deliver the beauty refinement of your dream without compromising your safety and privacy.
References
1. Nguyen, Marilyn Q et al. "Asian blepharoplasty." Seminars in plastic surgery vol. 23,3 (2009): 185-97. doi:10.1055/s-0029-1224798
2. A. N. Hass, R. B. Penne, M. A. Stefanyszyn, and J. C. Flanagan, "Incidence of postblepharoplasty orbital hemorrhage and associated visual loss," Ophthalmic Plastic and Reconstructive Surgery, vol. 20, no. 6, pp. 426–432, 2004.
3. Cho, In Chang. "Revision Upper Blepharoplasty." Seminars in plastic surgery vol. 29,3 (2015): 201-8. doi:10.1055/s-0035-1556844
4. https://www.isaps.org/wp-content/uploads/2018/10/ISAPS_2017_International_Study_Cosmetic_Procedures.pdf