The medical aesthetics industry is evolving fast. There has been a steady rise in non-invasive procedures. Amongst other merits, these non-surgical procedures are often less painful, less expensive and require short recovery times. This has consequently changed people's views and reduced skepticism towards accepting facelift treatments.
Patients in Singapore are not left out in this trend towards the adoption of non-surgical face lifting treatments. The thread lift procedure is one of the newest approaches to non-invasive facial tightening and has been widely accepted.
Thread lift in Singapore has been gaining steady popularity; however, one question is inevitable.
Is Face Thread Lift Worth It?
Besides this question, some other concerns regarding thread lift in Singapore include;
Am I a good candidate for a face thread lift?
What is really involved in the face thread lift in Singapore?
Does thread lift prices in Singapore worth it?
Is face thread lift safe?
What are the risks and complications of face thread lift?
This article addresses these concerns and the information required to decide whether face thread lift is worth it.
Before proceeding, it's appropriate to highlight what thread lift is all about briefly.
What Is Thread Lift?
Thread lift is a non-surgical, minimally invasive skin lifting treatment using sutures, commonly called threads. The threads are inserted beneath the surface to reposition sagging skin or plump up wrinkles and lines.
The primary objectives of this non-surgical facelift using threads include maintaining and delaying signs of ageing, skin tightening, lifting and overall improvements of the skin tone and quality.
The treatment has been around for over two decades E1, but recent upgrades in the material used for thread lifts has increased the procedure's popularity in recent times.
Candidates For Face Thread Lift?
Before thread lifts became popular, traditional face lifting treatments were majorly surgical and were usually used by older persons looking for facial rejuvenation.
The treatments were more of procedures to 'fix' rather than maintain the skin, which is why they were popular amongst older people with advanced ageing problems and saggy skin.
A face thread lift is, however, different.
The procedure is a non-surgical thread lift treatment aimed at maintaining and delaying the signs of ageing. Consequently, the typical candidates for thread lifts are individuals in their late 30s to early 50s – generally every healthy person looking for solutions to address noticeable signs of ageing.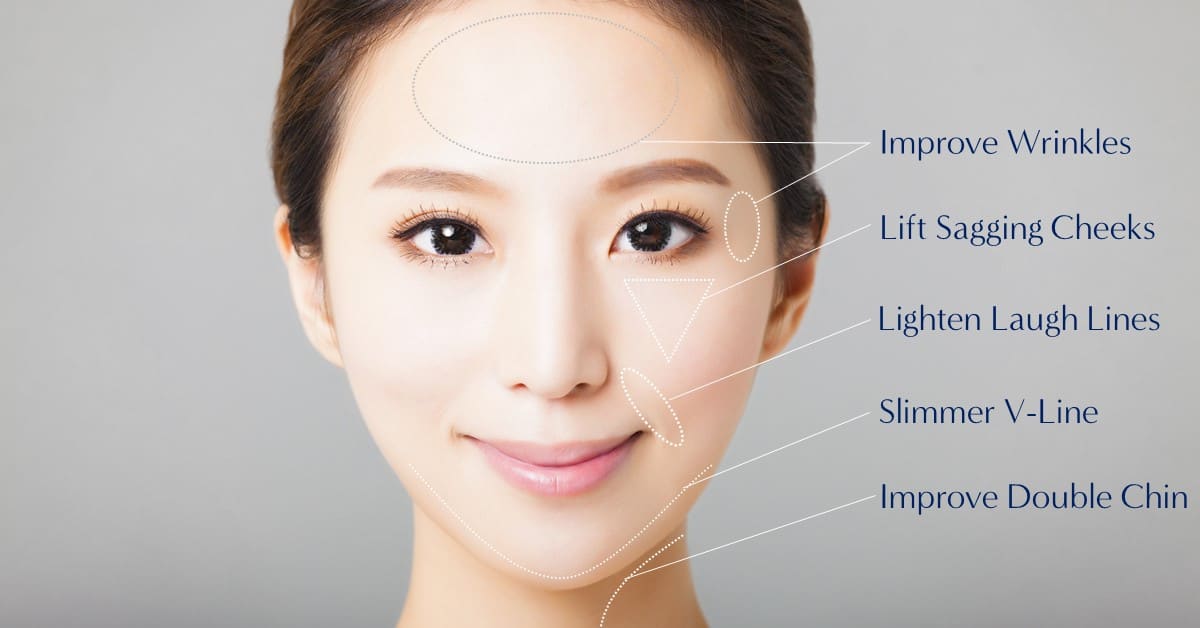 Ideal candidates for the procedure include;
Individuals that wish to achieve slimmer V-line without surgery.
Persons that want to reduce lines and wrinkles around the eyes, nasolabial, and forehead.
Persons that wish to have lifting effects for the cheeks, lower face and double chin.
Individuals that want a tighter, firmer, and younger-looking skin.
Persons with minor to moderate skin laxity issues.
Individuals who are concerned with scarring.
What Is Involved In A Face Thread Lift Procedure In Singapore?
The face thread lift procedure is simple, and the recovery time is minimal. The procedure, which involves 4 simple steps, is a "lunch break" procedure that anyone can undergo under an hour.
Patients are given local anesthesia to prepare them for the procedure. After that, the threads are inserted underneath the surface using a thin needle or cannula.
Following that, the threads are adjusted to create the lifting effect and the person may feel light pressure or tightening under the skin. Within a few minutes of the needles being taken out, the procedure is completed, and the patient will be free to return home.
After That, What Next? – Face Thread Lift Treatment Results
The recovery period after a successful thread lift is usually minimal. Sometimes, there may be visible swellings and bruising. It usually disappears after a few days. Results of the procedure may start showing immediately after treatment.
Nonetheless, note that it is normal to experience improvements or natural adjustments in the days and weeks following the face thread lift treatment.
The results of thread lift treatment are not meant to be permanent, still, results from a successful procedure can last between 1 to 3 years.
Where do the threads disappear to?
The tissue underneath the skin absorbs the threads used in the treatment after a while. These threads are made with biocompatible substances, which means they are not harmful to the body.
Is Face Thread Lift In Singapore Safe? – Risks And Complications
The thread lift treatment is generally considered a low-risk procedure, but there are few side effects and possible complications if the procedure is not administered well.
The chances of complications are lower than 20% E2 and are minor which can be corrected. These complications can range from allergic reactions to bleeding, pain, site infection, etc.
One thing is, however, sure. The thread lift does as promised, it tightens facial skin and offers a more youthful appearance. The treatment remains a new generation innovative treatment and techniques are still being developed. Though results vary in different patients, outcomes continue to improve with time.
It is recommended that the patient speak with the practitioner to discuss the procedure details and determine what will work best.
Which Threads Are Used, And What Are The Threads Made Of?
Other types of threads have been used in the past. However, those threads were replaced with more developed dissolvable threads, which were introduced in an effort to improve on the results of the procedure.
Depending on the level of lift required, the surgeon will recommend one of the two types of threads available to achieve your desired results.
Mild Thread Lift
This dissolvable thread lift uses FDA-approved PDO threads that will be broken down naturally by the body's enzymes. Commonly used to regenerate collagen and elastin fibers vital for anti-ageing, it also helps to improve wrinkles, firms and lifts the skin for a slimmer V-line effect. PDO thread lift results can last for approximately 1 year or more depending on the individual's lifestyle and habits.
Moderate Thread Lift – Mega V-Lift
The dissolvable threads for a moderate lift come with mini barbs for better grip and also allow skin tissues to adhere better. It produces better lifting results and is a good option for those who want more dramatic facelift results without the downtime.
The body's enzymes will eventually break down both thread and barbs, and new collagen and elastin fibers will fill in. Results? The skin feels tighter and more lifted. Moderate thread lifts can be used to achieve similar effects to brow lift, facelift and neck lift surgeries.
Depending on one's expectations, the surgeon will recommend the number of threads to achieve the desired results. A moderate lift can last for approximately 2 years or more depending on the individual's lifestyle and habits.
Is Thread Lift In Singapore Price Worth It?
The price for Thread lift in Singapore is affordable compared to traditional facelift surgery. While the average cost for a facelift in Singapore is about $ 12,000 to $15,000, the average price of a thread lift in Singapore is between $4,500-$7,000.
However, the price for thread lift non-surgical procedure depends on the number of threads needed, amongst other factors.
Thread Lift Treatment Faqs
Will The Thread Lift Treatment Be Painful?
The treatment is not usually painful because of the local anesthesia administered before the procedure.
Does The Person Look The Same?
No. Although there is no drastic feature change, the skin will look firmer and lifted and have an overall youthful look.
How Long Does A Thread Lift Last?
A typical thread lift lasts one to three years. The results may vary in different persons.
So, Is Face Thread Lift Worth It?
The answer to the question, "is face thread lift worth it?" can be different things to different persons. The general aim of the procedure is to serve as a far less invasive procedure than a regular surgical facelift. This reason makes it more available and safe.
If one is not a candidate for facelift surgery but is looking to enjoy the benefits of maintaining youthful skin and delaying ageing, a thread lift might be the way to go. Furthermore, the treatment is one that can be done, undone, and adjusted if necessary as one ages.
Most of all, face thread lift creates a much more youthful look without the need for surgery and its concerns, and cost. The face thread lift can be worth it for men and women alike – results are natural-looking, and the procedure is less invasive.
About Dream Aesthetics and Plastic Surgery
Bespoke surgical for cosmetic or medical reasons is what Dream covers to bring out the beauty in every individual. Going beyond the aesthetics and working on physical anomalies are what we value the most in leading our patients to cherish self-improvement and confident lifestyles.
Derived from Associate Professor Vincent Yeow's long-standing experience performing plastic surgery in Singapore, our treatment plans deliver physical remodelling in our patients' favour. One of the notable remodellings is droopy eyelid correction. The ptosis surgery used for treatment eventually fixes drooping eyelids, improves vision and enhances appearance.
Most importantly, as a trustworthy plastic surgery and aesthetic clinic, we treasure positive and natural outcomes for each individual. We will ensure to deliver the beauty refinement of your dream without compromising your safety and privacy.
References: