Ageing is an eventuality that we all have to make our peace with sooner or later. The focus should be on ageing gracefully rather than trying to look young forever.
Under-eye bags are one of the most visible signs of ageing considering they are situated right under your eye and are hard to miss. This explains why eye bag removal is a common practice in Singapore and elsewhere.
People often end up with eye bags even in their youth due to sleep deprivation and long work hours, but they are temporary. As we age, our skin and muscles start to sag and the loss of facial fats may aggravate the eye bag condition. They become a permanent feature making one look old, haggard and tired.
The permanent eye bags require professional help and can be removed via cosmetic surgery or undergoing eye bag treatment without surgery. Let us take a look at everything that has to do with under eye bag removal in Singapore.
What Causes Under-Eye Bags?
Under-eye bags refers to the slight puffiness or mild swelling under the eyes which can occur due to several reasons, some of which are lack of sleep, excessive crying, allergies, trauma, and fluid retention that can occur due to increased intake of salt.
Another major reason for under-eye bags is ageing. Precisely it happens due to the weakening of the tissue and muscle under our eyes over time because of which the fat that supports our eye then shifts into the lower eyelid thus making it look puffy due to excess fat.
Under-eye bags are not a serious threat to health, but they can make one look older than they are. One can get rid of temporary eye bags with a cold compress or applying ice at home. However, permanent eye bags need professional help to be removed.
Ways To Remove Eye Bags
There are both surgical as well as non-surgical methods available for eye bag removal in Singapore and abroad. However, the same method might yield different results on different people as their conditions, genes, skin etc. might vary. Each method has its pros and cons. Here is a glance at them.
Eye Bar Removal Surgical Methods

Also known as blepharoplasty, incisional eye bag removal surgery is one of the ways to remove eye bags by making an incision on the lower eyelids to remove the excess fat.
It is recommended for people who have:
Prominent dark circles
Moderate to severely puffed eye bags
Loose skin and wrinkles
It is not recommended for:
Chain smokers and heavy drinkers as they have an increased risk of bleeding.
People with conditions such as Glaucoma, Dry Eye Syndrome, Detached Retina or Hypothyroidism.
The elderly with certain underlying health conditions such as heart problems, diabetes etc.
Method:
The patient may be recommended to undergo sedation or general anesthesia depending on the severity and requirement.
After being sedated or anaesthetized an incision is made just underneath the lash line of the patient and a measured amount of excess fat and skin is removed from the lower eyelid.
The incision is then closed with either stitches or medical grade skin glue. In the case stitched are used, they would have to be removed after a week.
Recovery:
The patient is discharged the same day most often and would be able to recover in around 10 to 14 days.
Post-surgery, it is expected to experience bruises, irritation, dryness, and swelling around the eye which mostly recedes in a week with the help of medication and cold compress.
Pros:
Removes swelling and wrinkles under the eyes
Results in smooth and taut skin
The results are more long-lasting and prominent in comparison to non-surgical methods
Extreme side effects may include surgical complications.
Cons:
It may or may not cause post-operative bleeding or even infection.
It can cause dry eyes.
Recovery time tends to be longer for the elderly
The results cannot be reversed after the surgery is performed.
Health concerns for the elderly
Ironically, while eye bag removal becomes a requirement in old age, the surgical procedure options also bears more risk for the elderly.
Certain conditions that come with old age such as increased blood pressure or heart and lung conditions increase the risk of complications and side effects post-surgery.
Old age patients are more vulnerable to the side effects of anesthesia as it can lead to repercussions ranging from mild to moderate postoperative delirium to postoperative cognitive dysfunction (POCD).
To avoid these complications, one must make full disclosure of their health and medical history to their physician. Getting pre-surgery health checks would also help you assess the risks you might be taking in opting for surgery.
If the physician suggests that surgery would entail too many risks for you, there are several non-surgical eye bag removal methods that you can choose from.
Non-Surgical Methods
Several non-surgical methods for eye bag removal are also available for those who do not wish to go under the knife. Some of them are as follows:
Accusculpt Scarless Eye bag Removal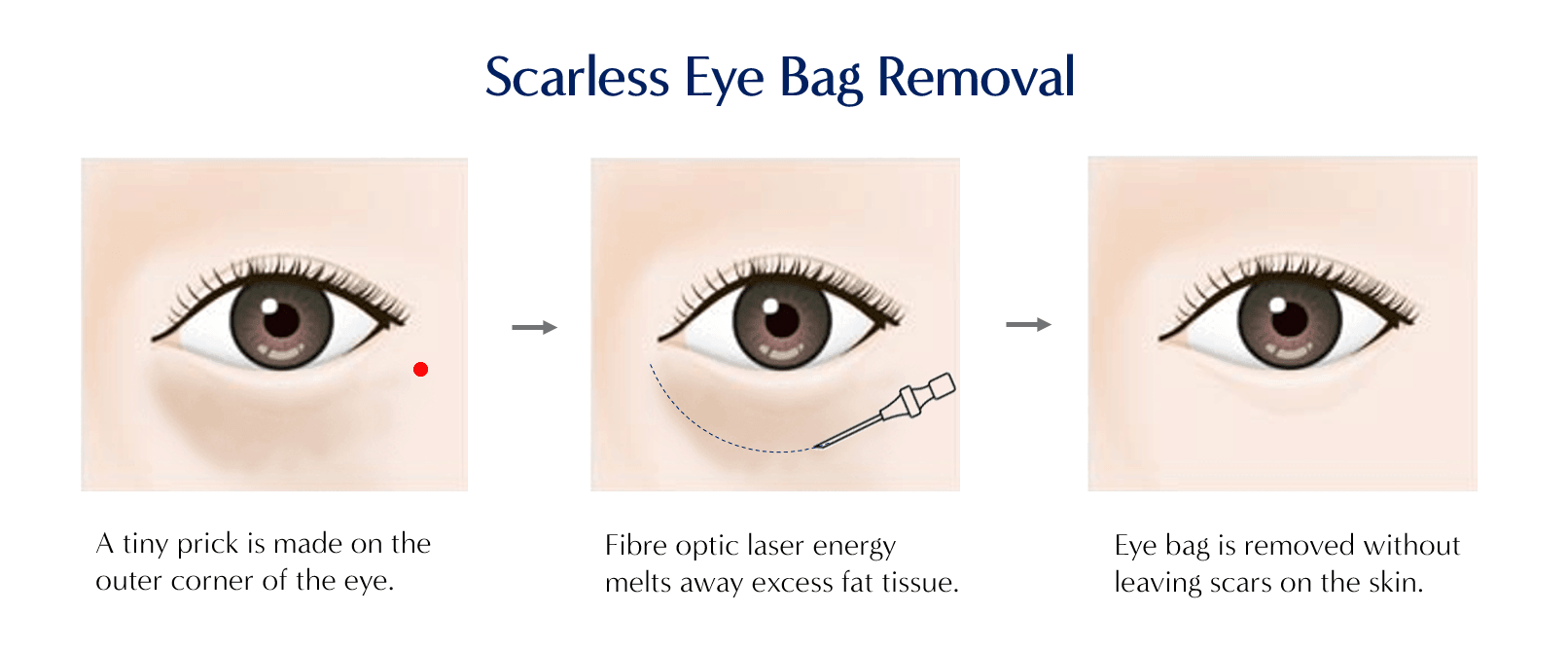 Also referred to as the Non-Invasive Laser Eyebag Rejuvenation, is an eye bag treatment without surgery using a 600-micron 1444nm wavelength fiber optic handpiece laser.
Method: After administering local anesthesia in the eye bag area, a laser fiber is inserted after making a needle entry point. The laser is then used to create a fat emulsification effect resulting in a smoother and tighter surface.
Pros:
Less discomfort and inconvenience in comparison to the surgical method
Minimal bleeding
It can be performed in a single session in just under fifteen minutes at max
Cons:
It is not meant for those with very pronounced and saggy eye bags and only shows results on mild to moderate eye bags.
A laser is not suitable for highly pigmented skin as it can cause discoloration
Agnes Eye Bag Removal
This method of eye bag removal without surgery uses microneedle radio frequency to remove eye bags by melting the excess fat.
Method: After using a numbing cream and local anesthesia injections, Agnes RF laser is penetrated at multiple controlled places in the eye. After the thirty-minute procedure, ice packs are rubbed on to reduce the swelling.
Pros:
Gets rid of eye bags non-invasively
Does not require hospitalization
Cons:
The results are not as good as when eye bag removal is done surgically.
It requires multiple treatment sessions.
Dermal Fillers
In this non-surgical eye bag removal method, dermal filler is planted under the lower eyelid thus lifting the otherwise sagging area upwards and yielding results similar to surgery.
Method:
A hyaluronic acid dermal filler, which is a gel-like substance, is placed under the droopy eye bags with the help of a thin needle. Multiple punctures and threading techniques are then used to fill the trough or dropping loose skin eventually tightening and lifting the under-eye area.
Pros:
If a person is not happy with the results, the filler can be melted away by injecting an enzyme called Hyalase. Since the filler is made of hyaluronic acid that is already present in our skin, there is no harm in its dissolving.
Rarely any allergies or infections occur.
Cons:
The results are not as long-lasting as the ones achieved with surgical removal methods.
The procedure of injection might seem uneasy and uncomfortable.
Recovery:
Non-surgical eye bag removal methods have minimal downtime and the patients recover in about a week.
Speak With Our Doctor To Discuss Your Eye Bag Concerns
Eye bag removal methods can help to get rid of or reduce saggy eye bags, under-eye wrinkling, and asymmetrical lower eyelids. If performed by a board-certified plastic surgeon, eye bag removal surgery can alter your appearance for the better and make you look youthful and fresh. Therefore, they are recommended for the elderly but only for those without severe or chronic health conditions. Getting tested before opting for a surgery would be a very wise decision.
Both surgical and non-surgical eye bag removal methods vary not just in their techniques but also their results. None of them can give you a drastic makeover but they can make a difference. While non-surgical eye bag removal methods may work out perfectly for some people with minor to moderate eye bags. They may not bring about as visible and prominent results for those with severe and permanent eye bags. Where surgical eye bag removal removes the root cause of the problem, which is excess fat, non-surgical methods manage it which is why the results of the latter are not as long running.
There is no definite answer as to which method is best as different methods may suit different people depending on their age, the severity of eye bags, personal preferences and health history etc. The best approach is to be aware of one's requirements, expectations, health limitations, and consult a professional before zeroing in on a procedure.
About Dream Aesthetics and Plastic Surgery
Bespoke surgical for cosmetic or medical reasons is what Dream covers to bring out the beauty in every individual. Going beyond the aesthetics and working on physical anomalies are what we value the most in leading our patients to cherish self-improvement and confident lifestyles.
Derived from Associate Professor Vincent Yeow's long-standing experience performing plastic surgery in Singapore, our treatment plans deliver physical remodelling in our patients' favour. One of the notable remodellings is droopy eyelid correction. The ptosis surgery used for treatment eventually fixes drooping eyelids, improves vision and enhances appearance.
Most importantly, as a trustworthy plastic surgery and aesthetic clinic, we treasure positive and natural outcomes for each individual. We will ensure to deliver the beauty refinement of your dream without compromising your safety and privacy.