Breast enlargement in Singapore has significantly evolved as a cosmetic procedure aimed at enhancing the aesthetic appeal of breasts, thereby bolstering women's self-esteem and confidence. The realm of breast implants now offers a plethora of options, encompassing size, profile (shape/projection), filling material (saline or silicone), shape (such as round or teardrop), and texture (smooth or textured).
Determining the appropriate size for breast implants can pose a challenge, as one must consider whether to opt for a more discreet augmentation or a bolder, bosomy enhancement. Given the extensive array of choices available, individuals may find it perplexing to ascertain the optimal size for their desired breast implants. It is crucial to approach breast implant surgery as a momentous decision, as a lack of meticulous pre-planning can lead to consequences affecting one's physique and appearance.
This article provides insight into consideration factors for individuals who may find themselves grappling with the daunting task of selecting an appropriate size for their breast implants. Within the following points, we have listed some practical tips to aid you in making an informed decision regarding the ideal breast implant size that aligns with your specific requirements.
Tip For Choosing The Right Size For Your Breast Implants:
If you are uncertain about determining the appropriate implant size independently, it is advisable to visit a licensed medical plastic surgery clinic in Singapore to consult a board certified plastic surgeon. They can evaluate your desired results and chest measurements in order to provide guidance on selecting the appropriate size. 
To facilitate this process, the following factors should be taken into consideration, enabling you to make an informed decision regarding your breast augmentation:
1. Take Your Body Frame Into Consideration.
When selecting breast implants, did you know that your body type, proportion, and shape all matter? If you want your breast implants to look more natural and subtle, make sure the implants are proportional to your body frame. Small breast implant sizes can achieve a fuller and more natural look for women with a petite body frame. Large breast implants will give the desired results for tall women of bigger body frames. 
Furthermore, a thin woman undergoing breast enlargement will be more likely to achieve dramatic results than a larger body frame patient with the same breast enlargement. Therefore, it is crucial to choose a size integral to your body frame – it can save you from shoulder and back pain linked with large breasts.
2. Consider Your Lifestyle.
For individuals who engage in intense physical activities such as regular exercise, running, or sports, it is important to be mindful of the potential impact of larger breast implants. Research has indicated that women with larger breasts may experience increased breast motion, which can pose challenges when participating in physical activities. In light of this, it is advisable to consider smaller-sized breast implants if you lead a highly physically active lifestyle.
3. Don't Measure Implant Size According To Your Cup Size.
Your cup size cannot be used as a unit of measurement for your breast implants. Your bra size isn't always accurate because they vary among different brands and styles (what is 38C in one brand could be a 36D in another!). The size of breast implants is measured in CCs (cubic centimeters), which starts from 130 CC and goes up to 1200 CC. If you want a bigger implant size, add on 250 CC.
4. Choose The Right Profile And Shape Of Implant.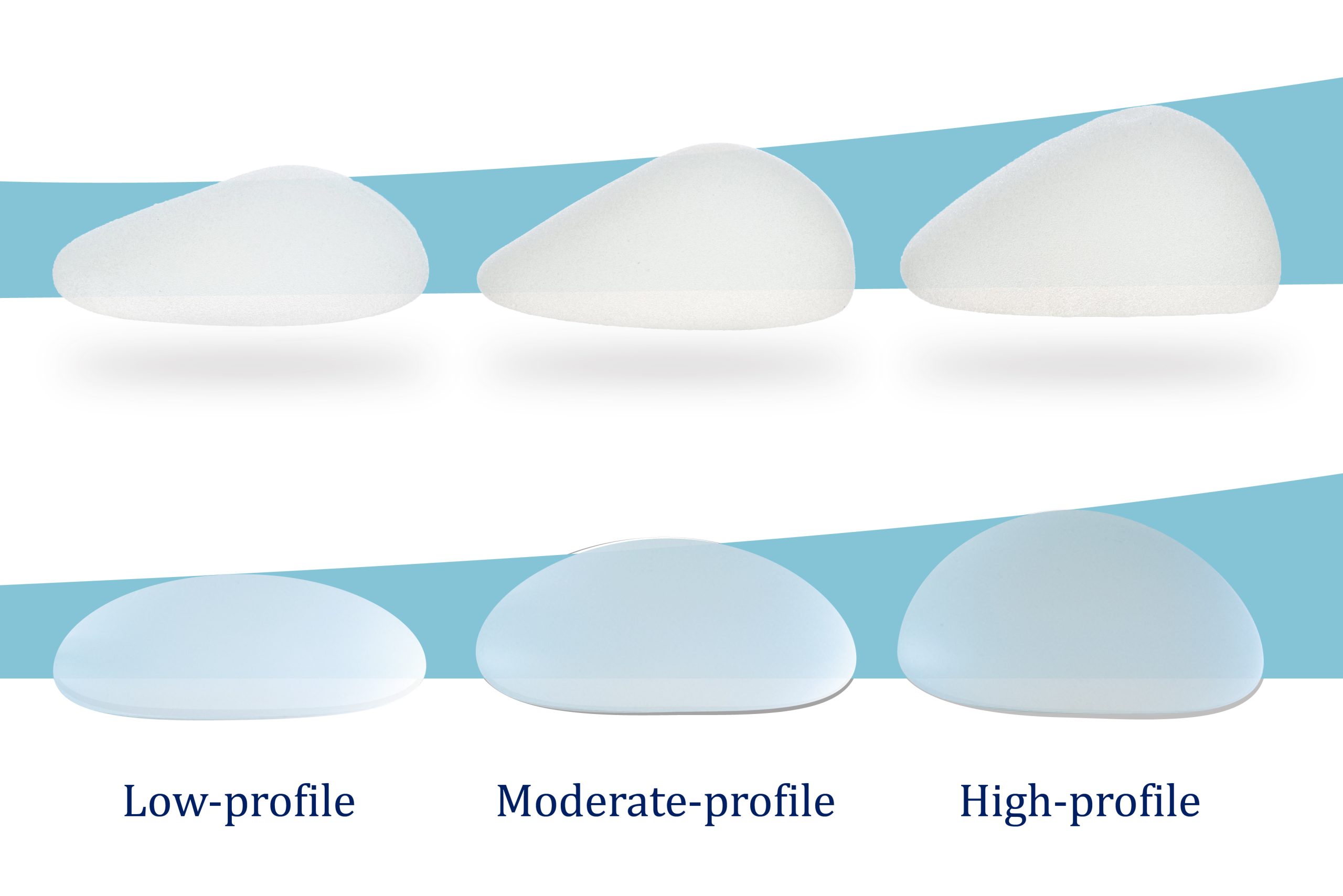 You'll be surprised to discover that breast implants don't come in just one size; you must research different profiles and shapes to meet your goals. In terms of breast enhancement, the profile of an implant indicates how fat breast implants extend from the chest surface. Breast implants are available in low, moderate, and high profiles. 
Low-profile implants provide the least projection and most subtle enhancement of breasts. Moderate-profile implants are ideal for achieving more volume and fullness in breasts. High-profile implants provide breast enlargement by providing significant projection. 
Similarly, implants are available in many shapes, such as round or teardrop. Round implants are designed to provide fullness at the top and bottom of the breast, while teardrop implants add more fullness at the bottom.
5. Look At Before & After Photos.
To better understand what size of breast implants will look best on you, you can request to look at breast enlargement before and after photos of women with the same body type as yours. The before and after photos can be helpful through your consultation with the plastic surgeon to achieve your breast enhancement goals. But it is important to remember that your breast implant results may differ from the photos because every woman has a unique body shape.
6. Think About Your Long-Term Goals.
Once you get breast implants, they will last 10-20 years before replacement. Therefore, when picking the right size for your breast implant, you should think about your life in the next 10-20 years. 
If you plan to start a family, it is essential to consider the timing of your breast implant surgery carefully. Given that the recovery period for breast augmentation typically lasts about six to eight weeks, it is important to plan the surgery accordingly in order to allow for an adequate healing process before attempting to conceive. 
By taking this factor into account, women can ensure that their breast enlargement surgery aligns with their family planning goals.
7. Be True To Yourself.
Breast augmentation is not something that you should choose based on an actress or a celebrity. Each person has a unique body type of their own. You should select the right breast implant size according to your lifestyle, preference and aesthetic needs. 
Taking The Next Step: Final Thoughts
Breast implants have the potential to enhance your body's contours and shape, thereby elevating your self-confidence. Once you have determined the size for your breast implant surgery, your next crucial step is to seek a board-certified and experienced plastic surgeon at a medical plastic surgery clinic in Singapore. You should schedule multiple consultation sessions with your plastic surgeon to discuss your specific breast augmentation goals and needs. A competent plastic surgeon will comprehensively explain various implant profiles, sizes, and shapes, guiding you toward selecting the optimal implant size.