What Are Eye Bags?
Eye bags are a major cosmetic problem for people worldwide as the loose skin under the eyes and dark circles can make people appear tired, unattractive, and older than they actually are. The puffy and drooping skin appearance of eye bags is mostly due to weakened muscles and accumulation of fat in the eyelids which usually happens as the person ages.
However, eye bags can form due to a variety of reasons which may be present concomitantly. Although this sagging of skin under the eyes doesn't cause pain or impair vision, eyebags are still an inconvenience as they affect the overall appearance of a person's face and more and more people are opting for eye bag surgery.
Although the most common cause of eye bags is ageing, it can still affect people in their 20s. Other common causes of eye bags that usually lead to people opting for eye bag surgery or non-surgical eye bag removal include the following:
Heredity
Sudden facial fat loss
Changes in skin pigmentation
Thin skin and less fat under the eyelid (tear trough deformity)
Lack of proper sleep
Other factors that often cause temporary rather than permanent eye bags include allergies, skin infections, cigarette smoking, fluid retention, changes in weather, and even the use of too many skincare items. Due to the many factors, finding out the exact cause of eye bags is essential in determining the type of eye bag surgery compatible with the patient. Fortunately, many options are available for people looking to get rid of their eye bags such as home-based remedies, non-surgical eye bag removal, and eye bag surgery.
Weight Loss And Its Effect On Eye Bags
One of the common causes of eye bags these days is weight loss, specifically facial fat loss known as "hollowing" which mainly focuses on the loss of fat in the cheeks. This leads to a hollowing effect on the eyes, making the lower eyelid more noticeable and bulging and giving the appearance of eye bags or dark circles. In other cases, dieting and other weight loss methods lead to an initial loss of fat in the face which can sometimes be dramatic enough for the blood vessels underneath the skin to become more pronounced. In such cases, the skin appears transparent giving the appearance of sagging eye bags.
Types Of Eye Bags
Type 1
Type 1 eyebags are the least noticeable type of eye bags and are caused by a little amount of fat under the eyelid skin. These eye bags are only prominent at certain angles and are the easiest to get rid of. The treatment of such eye bags is with simple fillers which can hide the mild swelling. Home-based remedies may help but alone are not effective in treating this type of eye bags.
Type 2
Type 2 are more noticeable than the first type with sagging of skin enough to form small semi-circles under the eyes which leads to an unpleasant appearance of the face. Simple home remedies have only a little effect on such eye bags and they require other non-surgical and surgical methods of removal.
Type 3
The last type is the one for which people mostly seek surgical removal of the eye bags as it greatly affects the self-confidence of a person. This is due to the accumulation of a large amount of fat under the eyes giving a tired, older, and sagging appearance to the face. Unfortunately, home remedies will not affect this type of eye bag as the swelling is too much.
Non-Surgical Treatment Options For Eye Bags
For people afraid of surgery or who want to avoid a scar, several non-surgical and home-based methods are available. Each method had its advantages and disadvantages with variations in cost as well. The different methods are described below:
Home Remedies
Home-based remedies are usually the first thing people try when they notice bags under their eyes since these methods are both easy to do and inexpensive. Home-based treatments include the application of creams, tea bags, cold compresses, incorporating collagen-rich foods in the diet, and using antihistamines if the cause is allergy. Unfortunately, home-based methods are also the least effective and are only helpful in mild puffiness and type 1 eye bags.
Non-Surgical Eye Bag Removal
Despite the many creams available for reducing and smoothening eye bags, opting for a non-surgical eye bag treatments may result in better and longer-lasting effects than other home-based remedies.
Non-invasive procedures such as laser resurfacing, radiofrequency, and facial fillers, etc help reduce eye bags and achieve a rejuvenated and youthful appearance.
The principle of such methods is to melt the fat under the eyes with heat, laser, and other non-invasive modalities due to which such institutions claim scarless removal of eye bags. This method is also appealing to people since it does not involve the risks of surgery or incisions on the skin.
Indications to opt for non-surgical removal of eye bags are for those with healthy skin with good elasticity, those experiencing mild swelling on the lower eyelids, dark circles and finally for those who do not want surgery.
The cons of non-surgical eye bag removal include burns, pigmentation, and sometimes permanent scarring of the area involved. Hence, it is recommended that you look for an experienced aesthetic doctor or plastic surgeon for such treatments to reduce the risk of such complications.
The common methods of non-surgical eye bag removal and their average costs (which may vary depending on location, institute, aesthetic doctor's experience, etc) are as follows: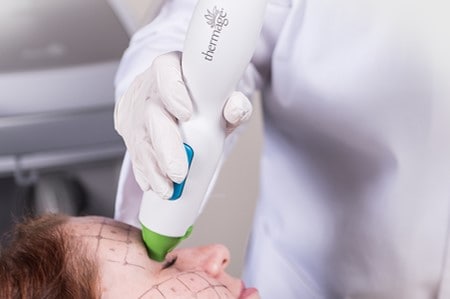 Thermage- This is an FDA approved method which is usually prescribed for those with mild to moderate sagging of skin under the eyes. It involves the use of focused radiofrequency modalities to reinforce the skin underneath the eyes and give a youthful appearance to the face. The cost of the thermage procedure costs around $1000 to $1,800.
HIFU (High-Intensity Focused Ultrasound)- This method is based on the application of ultrasound waves on the skin around the eyes. This distributes heat in the affected area and stimulates the synthesis of collagen and elastin which are essential for the health and functioning of the skin. The starting expense for a HIFU procedure is around $450.
Dermal Filler Injection- With age, loss of under-eye fat and bone can also lead to sunken eyes. Hyaluronic acid dermal fillers can help people suffering from such eye bags as they help fill the space and make the sagging less prominent. The average price of filler injections costs $800.
Rejuran treatment- PDRN is proprietary and registered DNA derived drug obtained for Salmon DNA that is utilized to decrease the pigmentation or dark circles under the eyes. This is achieved by increasing collagen and repairing damaged cells and costs around $500.
Pico laser- also known as Fractional Pico Laser Resurfacing uses a focused laser to destroy pigmented cells while keeping the surrounded tissues safe. This creates small cavities in the deep layers of the skin to boost production of collagen and elastic fibres as well as reduce dark circles. The average price of laser resurfacing costs $450.
Scarless eye bag removal- This is a method of extracting excess fat from the eyelids through a small incision on the inside of the lower eyelid so that there is no visible scar on the face. This non-surgical eye bag removal costs around $3,026 on average.
Eye Bag Surgery Options, Suitable For What Kind Of Eye Bags
Surgery is a good option for those with moderate to severe eye bags, bulging eye bags, tear trough depression, and for dark circles that are visible even with make-up. The cost of eye bag surgery ranges from $2,000 to $5,000 depending on the type, location, plastic surgeon's experience, etc The two common eye bag surgery methods used for eye bag removal include the following:
Transconjunctival Eye Bag Removal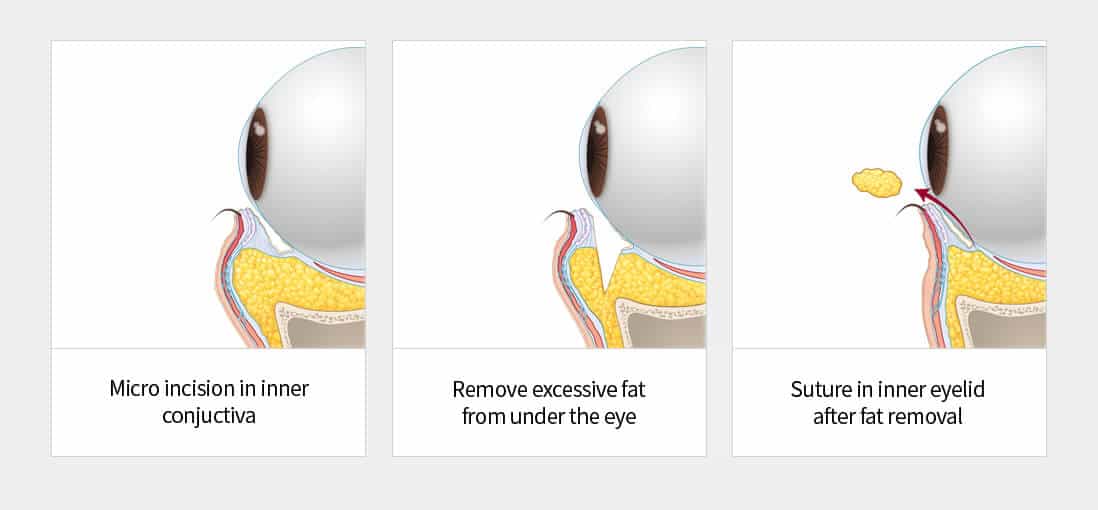 Transconjunctival incision involves incising the inner part of the lower eyelid and removing the excess fat pads under the skin without invading the deeper structures. This surgery is beneficial in that it avoids scarring of any visible skin, has less trauma of surrounding structures, and relatively less recovery time.
Incisional Eye Bag Removal

Incisional eye bag surgery also removes the excess fat pads under the eyes but is different in that it uses an incision hidden along the lower lash line instead of on the inner side. This gives a relatively tighter and less wrinkled appearance in the affected area. Incisional eye bag removal is also beneficial in removing excess sagging skin along with fat. It also is good for dealing with those who have tear trough depression.
Consider Eye Bag Removal Surgery For Droopy Eyebags
Regardless of age or gender, eye bags are uninvited guests that negatively affect the way you see yourself and appear in public. Eye bag removal surgery along with other methods of treatment are a great help to raise the self-esteem, confidence and appearance of the person suffering from them.
Therefore accurate knowledge of the causes and types of eye bags is important and helps the physician in choosing the most effective and appropriate treatment method.
About Dream Aesthetics and Plastic Surgery
Bespoke surgical for cosmetic or medical reasons is what Dream covers to bring out the beauty in every individual. Going beyond the aesthetics and working on physical anomalies are what we value the most in leading our patients to cherish self-improvement and confident lifestyles.
Derived from Associate Professor Vincent Yeow's long-standing experience performing plastic surgery in Singapore, our treatment plans deliver physical remodelling in our patients' favour. One of the notable remodellings is droopy eyelid correction. The ptosis surgery used for treatment eventually fixes drooping eyelids, improves vision and enhances appearance.
Most importantly, as a trustworthy plastic surgery and aesthetic clinic, we treasure positive and natural outcomes for each individual. We will ensure to deliver the beauty refinement of your dream without compromising your safety and privacy.
References
1.Freitag FM, Cestari TF. What causes dark circles under the eyes?. Journal of cosmetic dermatology. 2007 Sep;6(3):211-5.
2.Goel A. How to get rid of under eye bags.
3.Kim HS, Choi CW, Kim BR, Youn SW. Effectiveness of transconjunctival fat removal and resected fat grafting for lower eye bag and tear trough deformity. JAMA facial plastic surgery. 2019 Mar 1;21(2):118-24.
4.ZHENG XD, LIU DL, MAI Y. Laser lipolysis–A new technology for eye bag plasty. Chinese Journal of Aesthetic Medicine. 2013;2013(15):14.
5.Shetty R. Under eye infraorbital injection technique: the best value in facial rejuvenation. Journal of Cosmetic Dermatology. 2014 Mar;13(1):79-84.