More commonly known as Asian blepharoplasty, double eyelid surgery is on the rise in Singapore, China, Canada, South Korea, Taiwan, and other parts of East Asia. The procedure adds a skin fold in the eyelid for cosmetic, functional, and medical reasons.
Over the past decade, it has turned from a controversial practice to a common cosmetic procedure worldwide. Statistical data shows that every year, millions of people undergo a double eyelid operation to add skin folds to their eyelids – to correct vision problems, be happy, help them get a job, or simply because it's fashionable.
What Is Double Eyelid Surgery?
It is the most common type of cosmetic surgery in certain parts of East Asia. This procedure involves reshaping of the skin around the eyes to make the eye seem larger. The operation's primary purpose is to create a crease on the upper eyelid (i.e., "double eyelid").
Some of the common reasons you might want to have a double eyelid include:
Your eyelids are covering most of the eye and interfering with your vision
You want to make your eyes appear larger
You have one double and one single eyelid, and you would like them to match
You want to remove the scar due to an injury or previous eye surgery
You want to apply certain styles of makeup easily
Double eyelid surgery can be done through incisional and non-incisional techniques. It is an outpatient procedure, and you will have local anesthesia that makes your eyes sensitive to light and touch.
Plastic surgeons advise that you should not drive right after the procedure. The healing time can last up to two weeks, and it may take several weeks to heal completely.
Advantages Of Double Eyelid Surgery
Asian blepharoplasty can offer several benefits, ranging from the correction of vision problems to aesthetic enhancements. In some situations, it can even offer relief from headaches and migraines. Interestingly, this is one of the most popular and common plastic surgeries around the globe and has benefited thousands of men and women.
Everyone's eyelid anatomy is unique, so no two blepharoplasties ever conducted have produced the same result. During your initial consultations, you will be able to figure out how this procedure can benefit you specifically – depending on the eyelid condition and the aesthetic preferences you have.
Read on to find some of the top benefits of double eyelid surgery include.
Provide a more youthful appearance
The ultimate goal of eyelid surgery is to make your eyes look bigger. It requires the removal of the excess skin and fat around the eye. In the non-incisional procedure, they make tiny slits in the upper eyelid, pass a thread through these slits, and stitch skin onto the muscles to create a double eyelid crease.
Due to bigger eyes and improved eye symmetry and facial harmony, patients typically experience a more youthful and aesthetic appearance following the procedure.
Add a skin fold to the upper eyelid
Asian blepharoplasty is intended to make a new crease on the upper eyelid. More than 40% of all Asian people with optimum vision fields don't have a natural fold on the upper eyelid, so they would like to have it for aesthetic or fashion reasons.
Many individuals may find that they can take on limited make up looks with monolids. Having double eyelids opens up a whole lot more makeup styles or eases the time spent on daily makeup applications.
Can correct vision problems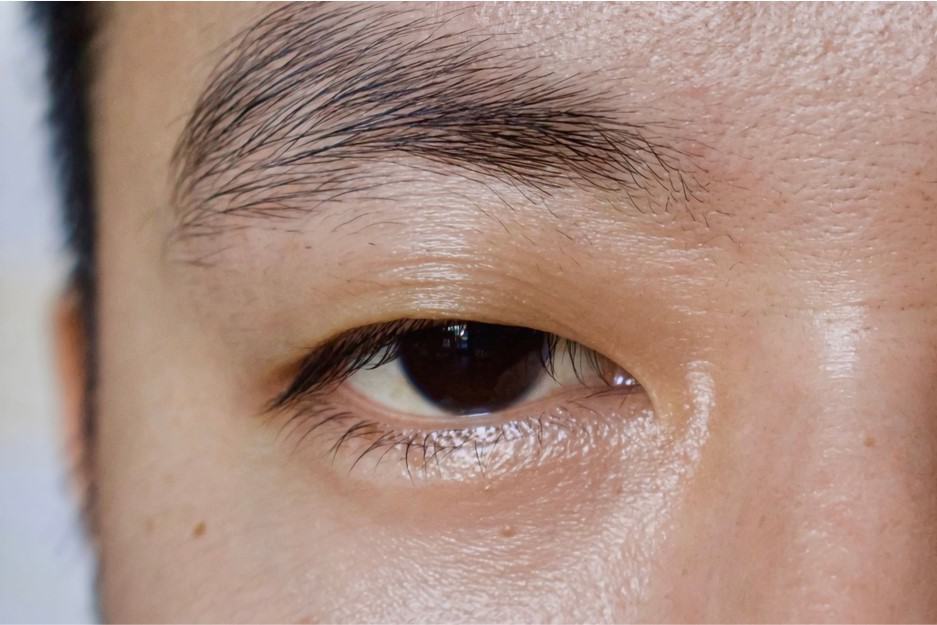 With advancing age, the muscles (Levator muscles) that lift the upper eyelid and eyebrows become weak. The change is gradual – takes years to develop – so most patients don't notice these senile changes as they creep upon them.
The appearance of wrinkles and fine lines on the forehead is one of the first and the common signs of weak upper eyelid muscles. When these muscles lose elasticity, the patients are unable to lift the droopy brow.
Furthermore, excess fat and skin also makes the condition worse and can start affecting the vision. This condition usually requires a combination of Ptosis correction and Double Eyelid Surgery.
By removing excess skin and fat, and tightening the loose muscles, the double eyelid surgery with ptosis correction enhances the eye symmetry and helps the patients improve their vision.
Relieve eye discomfort associated with inward turning of the eyelashes
Trichiasis is a severe eye condition characterized by inward growing eyelashes. It is one of the most debilitating eyelid conditions that causes troublesome symptoms such as blurry vision, double vision, excessive production of tears, dryness of the eyes, and pain and redness of the eyes due to continuous rubbing of the lashes.
Although removing inward growing lashes under the slit lamp is a useful treatment option for trichiasis, it is not permanent and only helps relieve symptoms for 4-6 weeks. On the other hand, blepharoplasty is one of the best treatment options available for this condition.
Both forms of double eyelid surgery in Singapore help retract the eyelashes by removing or stitching extra skin on the eyelid and thus preventing the eyelashes from reaching the eye – relieving all the symptoms.
Removes excess skin and bulging fat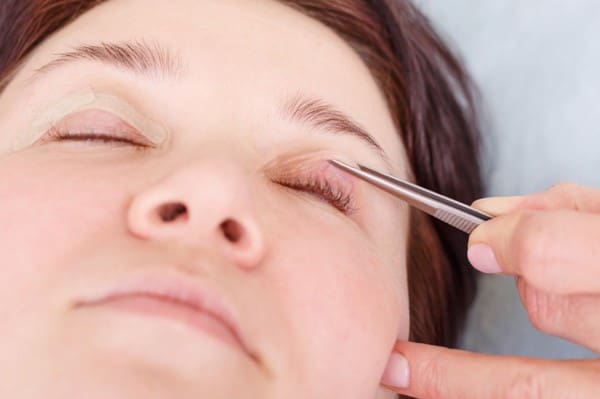 As already discussed in the article, Asian blepharoplasty is an effective procedure to smooth the eyelid contour.
The skin becomes paper thin with advancing age, causing bulging of fat and restraining the ligaments. These create bulges and creases around the eye and contribute to an aging look by causing alterations in the eyelid contour. Double eyelid surgery helps smooth the eyelid contour by removing the excess skin, redistributing fat, and tightening weak ligaments.
Address asymmetry of the eyelids
Some people experience asymmetry of the eyelids, i.e., their one eye doesn't have a clear eyelid crease compared to the other eye. In most of the cases, it is due to genetic predisposition, while others may occur secondary to an injury, traumatic event, or as a complication of a previous eyelid procedure. It leads to unevenness in the eye structure, causes asymmetry of the eyelids, and low self-esteem.
Double eyelid surgery is an ideal procedure for such patients. It helps boost their confidence and restores eye symmetry by creating a similar eyelid crease on the affected eye.
Learn more about double eyelid surgery through a consultation
Asian blepharoplasty is a popular cosmetic procedure that creates double creases or skin folds on the eyelids. The procedure is performed to improve the vision, remove the excess skin and fat in the elderly, or as a matter of aesthetic preference.
Before opting for the procedure, make sure to consult with your plastic surgeon and eye specialist about the pros and possible complications of the procedure. Overall, the success rate of Asian blepharoplasty is more than 95%, and it is one of the safest and most effective cosmetic procedures.
About Dream Aesthetics and Plastic Surgery
Bespoke surgical for cosmetic or medical reasons is what Dream covers to bring out the beauty in every individual. Going beyond the aesthetics and working on physical anomalies are what we value the most in leading our patients to cherish self-improvement and confident lifestyles.
Derived from Associate Professor Vincent Yeow's long-standing experience performing plastic surgery in Singapore, our treatment plans deliver physical remodelling in our patients' favour. One of the notable remodellings is droopy eyelid correction. The ptosis surgery used for treatment eventually fixes drooping eyelids, improves vision and enhances appearance.
Most importantly, as a trustworthy plastic surgery and aesthetic clinic, we treasure positive and natural outcomes for each individual. We will ensure to deliver the beauty refinement of your dream without compromising your safety and privacy.