Monolids, tapered as well as parallel eyelids are the most common types of eyelids we see on Asians. If you thought that there are only three types of eyelids, well, think again!
Did you know that there are actually 5 different types of eyelids among Asians? Well, for those who need a little guidance, here's a simple guide to determine the type of eyelid you have.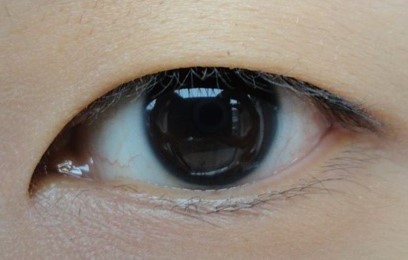 MONOLIDS
For starters, the monolid, commonly referred to as the 'single eyelid', is characterized by the lack of a prominent crease separating the eyelid into two parts. Some of the celebrities who rock this type of eyelid include Hong Kong pop singer Sandy Lam as well as So-Hee from Wonder Girls.
Generally, many East Asians tend to have monolids. If you have been blessed with monolids but would prefer to have double eyelids, you may consider using eyelid tapes or glue to simulate various types of eyelids (shown below) before deciding on one that harmonises best with your facial features.
TAPERED EYELID
The tapered eyelid crease runs parallel to your upper lash line and tapers off by merging at the inner corners of your eyes. This is perfect for those who like an innocent, doe-eyed look.
Some tapered eyelid beauties include Singapore actress Fann Wong and South Korean Star Sandara Park of 2NE1.
PARALLEL EYELID
The latest eyelid trend in Korea is the parallel eyelid. This type of eyelid, as its name suggests, runs in parallel above your upper lash line without meeting at the corners of your eyes like a 'floating' crease. Broadly speaking, many consider this as the 'ideal' type of eyelid as it gives the impression that one has bigger and brighter looking eyes.
Celebrities with natural parallel eyelids include China Actress Fan Bing Bing as well as British Actress Emma Watson. By and large, parallel folds are more common among Caucasians than Asians.
HOODED EYELIDS
On to the eyelids that are less common among Asians: the hooded eyelids! Hooded eyes highlight an extra layer of skin that droops over the crease on the outer corners of the eye which causes them to appear smaller and sometimes, sleepier. For some, it is a feature that runs in the family, while for others, it is brought on by age as the skin begins to droop.
Ladies with thick hooded eyes know all too well the struggle of smudged eye makeup. The simple solution is to get a smudge-proof eyeliner or to tight-line the lash line. Some celebrities with hooded eyes include Jennifer Lawrence, Blake Lively, and Anne Hathaway. Now who says there aren't any hooded-eye beauties?

LATERAL FLARE
You may not have heard of the lateral flare, but this type of eyelid showcases a crease with its tail portion raised slightly upwards rather than running in parallel to the eyelid's edge. The lateral flare creases are less common among Asians and those who have them tend to give off a more flirtatious look.
With all that has been mentioned, it is crucial to note that there isn't a perfect type of eyelid but there would be one that suits the shape of your eyes. While many use eyelid tapes and glues for temporary enhancements, one may want to consider a double eyelid procedure for a permanent fix.
The procedure only takes 30 minutes to complete. It can alter hooded eyelids, enhance existing double eyelid creases or create one if one doesn't exist. To find out more, give us a call at +65 6871 8888 or make an appointment at our clinic to speak with our medical consultants.
About Dream Aesthetics and Plastic Surgery
Bespoke surgical for cosmetic or medical reasons is what Dream covers to bring out the beauty in every individual. Going beyond the aesthetics and working on physical anomalies are what we value the most in leading our patients to cherish self-improvement and confident lifestyles.
Derived from Associate Professor Vincent Yeow's long-standing experience performing plastic surgery in Singapore, our treatment plans deliver physical remodelling in our patients' favour. One of the notable remodellings is droopy eyelid correction. The ptosis surgery used for treatment eventually fixes drooping eyelids, improves vision and enhances appearance.
Most importantly, as a trustworthy plastic surgery and aesthetic clinic, we treasure positive and natural outcomes for each individual. We will ensure to deliver the beauty refinement of your dream without compromising your safety and privacy.