Face fat grafting is one of the popular aesthetic procedures people tend to undergo to reduce and mask the signs of facial aging. Besides masking wrinkles and frown lines, it also helps restore lost fat volume and fill hollow cheeks and droopy eyebrows.
According to recent data[1] published by the American Society of Plastic Surgeons, the trend of cosmetic procedures is on the rise as 2019 sees quarter a million more people getting minimally-invasive procedures than the previous year. This also include increases in facial fat grafting that was up 4% from 2015.
With refinements in the fat extraction and purification techniques, face fat grafting has become a procedure of choice for several problems on top of addressing facial rejuvenation and anti-aging concerns. Other possible treatment areas using fat grafting include lip augmentation, facial scarring improvements, and facial rhytids (difficult-to-address facial areas, including the glabellar furrows and nasolabial fold).
What Is Face Fat Grafting?
Transfer of fat from any part of the body to the face is commonly known as face fat grafting. It is a minimally-invasive and natural way to acquire several age-defying benefits and to restore the appearance of a more youthful face. It starts with the gentle removal of the fatty tissue from any fat abundant part of your body. Then comes the fat purification process, which removes any blood, bio-waste and other liquids, leaving only pure, undamaged fat cells for grafting. Finally, the fat is injected into areas that requires volumizing or parts of the face with wrinkles or creases to reverse the signs of aging.
Face fat grafting in Singapore is a common anti-aging procedure that takes about 80 to 90 minutes to complete and is done under local anesthesia or sedation. It is considered as a day-surgery procedure and does not require hospitalization.
Facial Aging And Its Effects
Facial aging affects the appearance of each individuals's facial features differently. The most prominent effects of aging may be observes on the surface of the skin, but they are often interrelated with other underlying changes to the fat, muscles and bones as well. Facial fat and collagen thins with age due to your own biological aging clock or it can also be related to external factors such as smoking, binge drinking, and gravity pull. Muscle shrinkage and bone reabsorption also contributes to loss of volume on the face which leads to signs of aging.
Apart from genetics, other factors that influence facial skin changes include;
Dietary preferences
Skin type
Facial movement
Sun exposure
Routine skincare
Lifestyle
Stress management
The most common facial aging signs include wrinkles, frown lines, thick nasolabial folds, and drooping eyebrows. The face changes from a more spherical or heart shape to a rectangular shape – with much less volume. Furthermore, the loss of elasticity and depletion of collagen also adversely impacts the skin quality. Many people, especially after 40, turn to aesthetic procedures like face fat grafting to slow these changes, mask aging lines, and regain a more youthful appearance.
Benefits Of Fat Grafting To The Face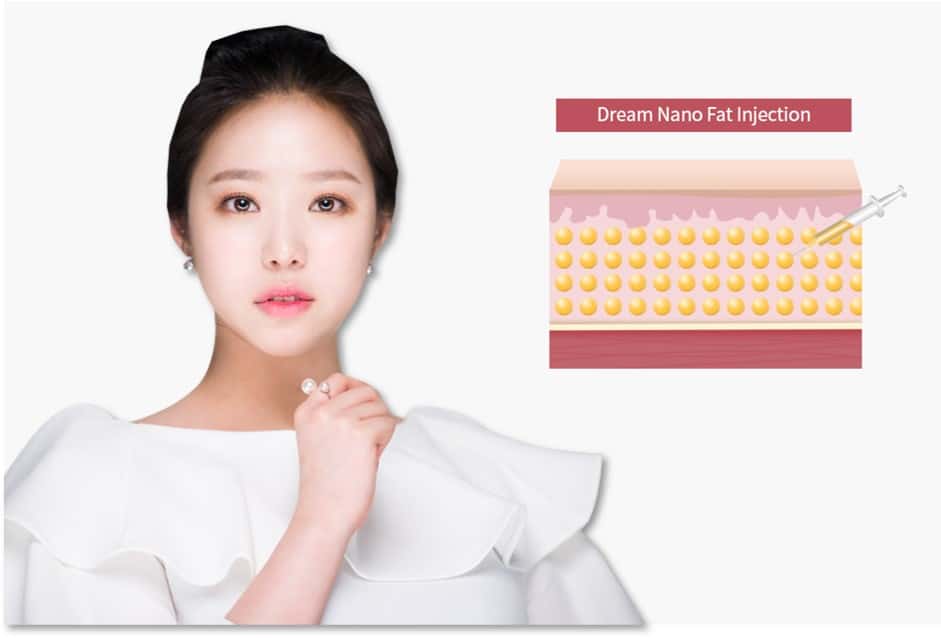 The following are some of the most common benefits of face fat grafting.
Improves The Quality Of The Skin[2]
Many skin-rejuvenation procedures involve lasers, invasive surgeries or other invasive techniques. With face fat grafting, patients can enjoy a minimally-invasive technique to achieve fuller, younger-looking skin. This procedure involves the use of injections of their fat. Unlike lasers and invasive surgeries, the fat harvested and purified in the first steps contains growth factors, which improve the quality of the skin and contribute to long-term facial rejuvenation.
Works Like A Natural Filler To Plump Hollow Areas
Fat transfer is one of the best volume-restoration procedures for people experiencing significant resorption of facial fat as they age. It is used to add volume and provide a more substantial base to the hollow cheeks and eyelids. Transferring the fat to the dependent parts helps modify the framework of the face and works as a natural filler to plump up the skin.
Improve Facial Contours [3]
After harvesting and purifying the fat, it is injected into the target area using a microneedle. The fat can help improve facial contours by reshaping the chin, fill hollow areas beneath the eyes, enhance the lips, and restore lost volume in the cheeks.
The fat improves projection and softens certain facial features. This gently alters a person's looks to make them younger and more attractive.
Produces Long-lasting Results [4]
Hyaluronic-based dermal fillers tend to be a less expensive and quicker way to alter facial features or achieve skin rejuvenation results. However, the results are temporary and usually last only a few months to a year. The reason why patients need multiple filling sessions to maintain the desired results.
Face fat grafting produces sustainable results that last longer than fillers. Fat tissues that survives the grafting remains in that area. This procedure will pay off in a natural-looking appearance and long-lasting savings.
Reduce The Chances Of Allergic Reactions [5]
Injectable fillers often contain various chemicals that might trigger an allergic reaction. However, autologous fat grafting utilizes the patients' fat to produce rejuvenation effects. Since the tissues are biocompatible to the body, it significantly reduces the chances of an allergic reaction.
Reduce Fat In Other Areas
Fat grafting has double benefits – it helps restore facial volume as well as reduce fat in other parts of the body. Liposuction techniques are used to harvest fat from fat-rich parts of the body. It uses tiny incisions to extract stubborn fat from body areas such as the abdomen, buttocks, hips, and thighs. While one area of the body is being contoured, the byproduct from liposuction is used to rejuvenate another area, killing two birds with one stone.
How Does Face Fat Grafting Work?
Using a liposuction technique, the fat is removed from the donor, fat-rich area of the body. The harvested fatty tissue is passed through a centrifugal machine and purified (blood and other fluids are removed). The purified fat is then injected into the target facial parts using micro syringes. New blood vessels sprout in the grafted area and provide support (nutrients) for the transplanted fat. There will be no or minimal allergic reaction in the form of mild swelling and bruising.
The recovery time for fat transfer varies from patient to patient. However, plastic surgeons recommend that you should arrange to take 10 to 14 days off from work and other social activities. The initial swelling should gradually subside and may take a few weeks before the final results are apparent. Following the procedure, swelling and other surgery signs should be fully subsided by about five to six months.
Is A Lot Of Fat Required To See Good Results?
To see the optimal results, a certain level of fat volume is required. Your surgeon will be able to assess the amount of fat during your initial consultation. Large amounts of fat are not required to get the best results, but it is a golden opportunity to remove stubborn/unwanted fat from your body parts if you have some.
Am I The Right Candidate For Face Fat Grafting?
For each facial grafting procedure, there are different requirements, and those will be assessed during your initial consultation. In general, the basic requirements for face fat grating include;
You should be healthy and active
You should have realistic expectations about the results
You must have adequate fat to harvest
You must be committed to healthy lifestyle choices.
Conclusion
There are several cosmetic options to achieve younger-looking skin. However, many procedures are either highly invasive (such as surgeries) or carry a higher risk of an allergic reaction or rejection (such as dermal fillers or facial implants). With face fat grafting, you can achieve fuller, rejuvenated skin with a few injections using your own fat. Statistical data show that fat grafting has a speedier recovery with minimal chance of allergic reactions, infections, or significant downtime.
About Dream Aesthetics and Plastic Surgery
Bespoke surgical for cosmetic or medical reasons is what Dream covers to bring out the beauty in every individual. Going beyond the aesthetics and working on physical anomalies are what we value the most in leading our patients to cherish self-improvement and confident lifestyles.
Derived from Associate Professor Vincent Yeow's long-standing experience performing plastic surgery in Singapore, our treatment plans deliver physical remodelling in our patients' favour. One of the notable remodellings is droopy eyelid correction. The ptosis surgery used for treatment eventually fixes drooping eyelids, improves vision and enhances appearance.
Most importantly, as a trustworthy plastic surgery and aesthetic clinic, we treasure positive and natural outcomes for each individual. We will ensure to deliver the beauty refinement of your dream without compromising your safety and privacy.
References
1. American Society of Plastic Surgeons. (2017, March 1). New plastic surgery statistics reveal focus on face and fat: More patients using their own fat to sculpt. ScienceDaily. Retrieved October 1, 2020 from sciencedaily.com/releases/2017/03/170301084936.html
2. van Dongen JA, Langeveld M, van de Lande LS, Harmsen MC, Stevens HP, van der Lei B. The Effects of Facial Lipografting on Skin Quality: A Systematic Review. Plast Reconstr Surg. 2019 Nov;144(5):784e-797e. doi: 10.1097/PRS.0000000000006147. PMID: 31688753.
3. Xie Y, Zheng DN, Li QF, Gu B, Liu K, Shen GX, Pu LL. An integrated fat grafting technique for cosmetic facial contouring. J Plast Reconstr Aesthet Surg. 2010 Feb;63(2):270-6. doi: 10.1016/j.bjps.2008.11.016. Epub 2008 Dec 13. PMID: 19071070.
4. Fontdevila J, Serra-Renom JM, Raigosa M, Berenguer J, Guisantes E, Prades E, Benito-Ruiz J, Martinez E. Assessing the long-term viability of facial fat grafts: an objective measure using computed tomography. Aesthet Surg J. 2008 Jul-Aug;28(4):380-6. doi: 10.1016/j.asj.2008.05.002. PMID: 19083550.
5. Simonacci, Francesco et al. "Procedure, applications, and outcomes of autologous fat grafting." Annals of medicine and surgery (2012) 20 49-60. 27 Jun. 2017, doi:10.1016/j.amsu.2017.06.059