Every face is unique and everyone has their own aspirations and definition of beauty. If you always wanted a lean and sculpted face, here are 5 tips for you.
 LOW SODIUM DIET
If you want a slim and sculpted face, the first thing you have to do is to bid goodbye to fast food, processed meals, chips and any other foods with high sodium content. This is because salt causes your body to retain water, and this leads to facial bloating.
 FACIAL MASSAGE
Puffy face? Have you tried massaging your face gently upwards with a spoon? Using a spoon to massage your face helps you to achieve a slimmer visage by getting rid of accumulated toxins and enhancing overall circulation by draining the lymph nodes.
This is not scientifically proven but you may see results instantly or the next day! That being said, this is a temporary solution that helps to get rid of bloating effectively. Regular massage keeps your skin looking young as it gets rid of toxins and encourages oxygen-rich blood flow to your skin cells, improving skin vitality for healthy glowing skin.
 DRINK WATER
Drinking water, as simple as it seems, effectively flush out toxins and waste from our bodies. Drinking lots of water not only keeps you well hydrated, it also keeps you full; so you have one less reason to reach out for that afternoon snack! In a nut shell, it is essential to drink 8 glasses of water in a day. Remember that magic number!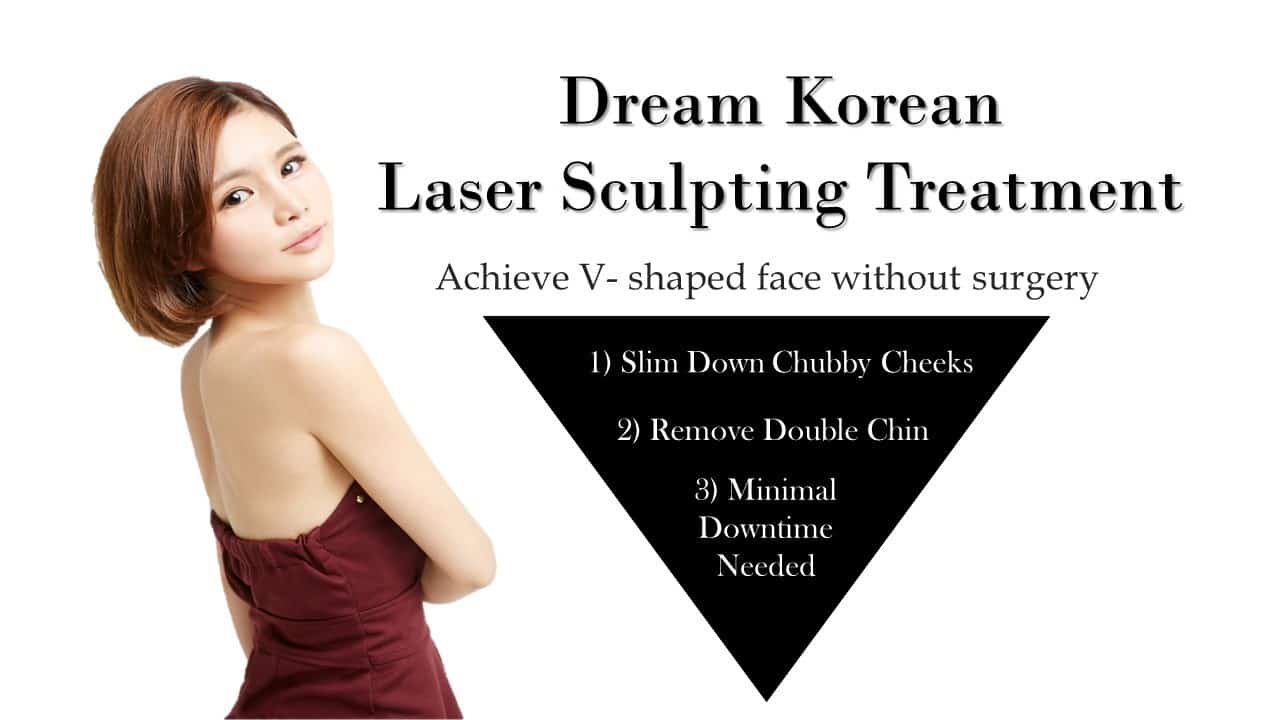 SCULPTING TREATMENT
Tried the above three but it just didn't work for you? Wish you could get rid of all of the fats on your face at once? Now you can. With The Korean Laser Sculpting Treatment here at Dream, this is a revolutionary body and face contouring treatment developed to safely melt excess fats from targeted regions while it simultaneously firms, tones and tightens the skin.
The best part? The procedure takes less than an hour and it has minimal downtime. You probably need just one treatment to get the sculpted face you ever dreamt of.
 THREAD LIFT
Alternatively, if sagging skin is getting in the way and preventing you from getting that sculpted look, you could also give the latest facial sculpting treatment- The Korean MEGA V-Lift a try! This treatment creates well-defined v-line and lifts the skin using 100% dissolvable threads devised in Korea. The idea is to create long collagen strands of your own that acts like suspension cables to hold your facial tissue up for a natural and well defined v-line.
The procedure only takes one hour and results can last for up to 3 years or more. Well, there could be lots of other ways to sculpt your face. Whether you achieve your beauty goal using make-up, skin care, or treatment options, each has its unique benefits to bring your natural beauty to higher level. In the pursuit of beauty, we always believe loving yourself matters most, and is the key to make a person truly beautiful. Stay beautiful ladies!
About Dream Aesthetics and Plastic Surgery
Bespoke surgical for cosmetic or medical reasons is what Dream covers to bring out the beauty in every individual. Going beyond the aesthetics and working on physical anomalies are what we value the most in leading our patients to cherish self-improvement and confident lifestyles.
Derived from Associate Professor Vincent Yeow's long-standing experience performing plastic surgery in Singapore, our treatment plans deliver physical remodelling in our patients' favour. One of the notable remodellings is droopy eyelid correction. The ptosis surgery used for treatment eventually fixes drooping eyelids, improves vision and enhances appearance.
Most importantly, as a trustworthy plastic surgery and aesthetic clinic, we treasure positive and natural outcomes for each individual. We will ensure to deliver the beauty refinement of your dream without compromising your safety and privacy.