Acne scars, unwanted hair, hyperpigmented skin, and many other cosmetic conditions were previously untreatable. There is no wrong in wishing to look a certain way, but this was either not possible or too risky as the person had to be exposed to high-radiation waves.
Low-level laser therapy was the first type of laser treatment that came out as a noninvasive procedure with the lowest side effects in 1967 after it was discovered by Endre Mester. Further theoretical work and experiments in this field led to the invention of multiple types of lasers that became popular for aesthetic purposes.
Laser treatment in Singapore gained fame after its popularity among the celebrities which people idealize like Kim Kardashian West, Victoria Beckham, etc. People were astonished when they realized that laser therapies provide long-term solutions and are no longer dependent on old, conventional methods.
How Does Laser Treatment Work?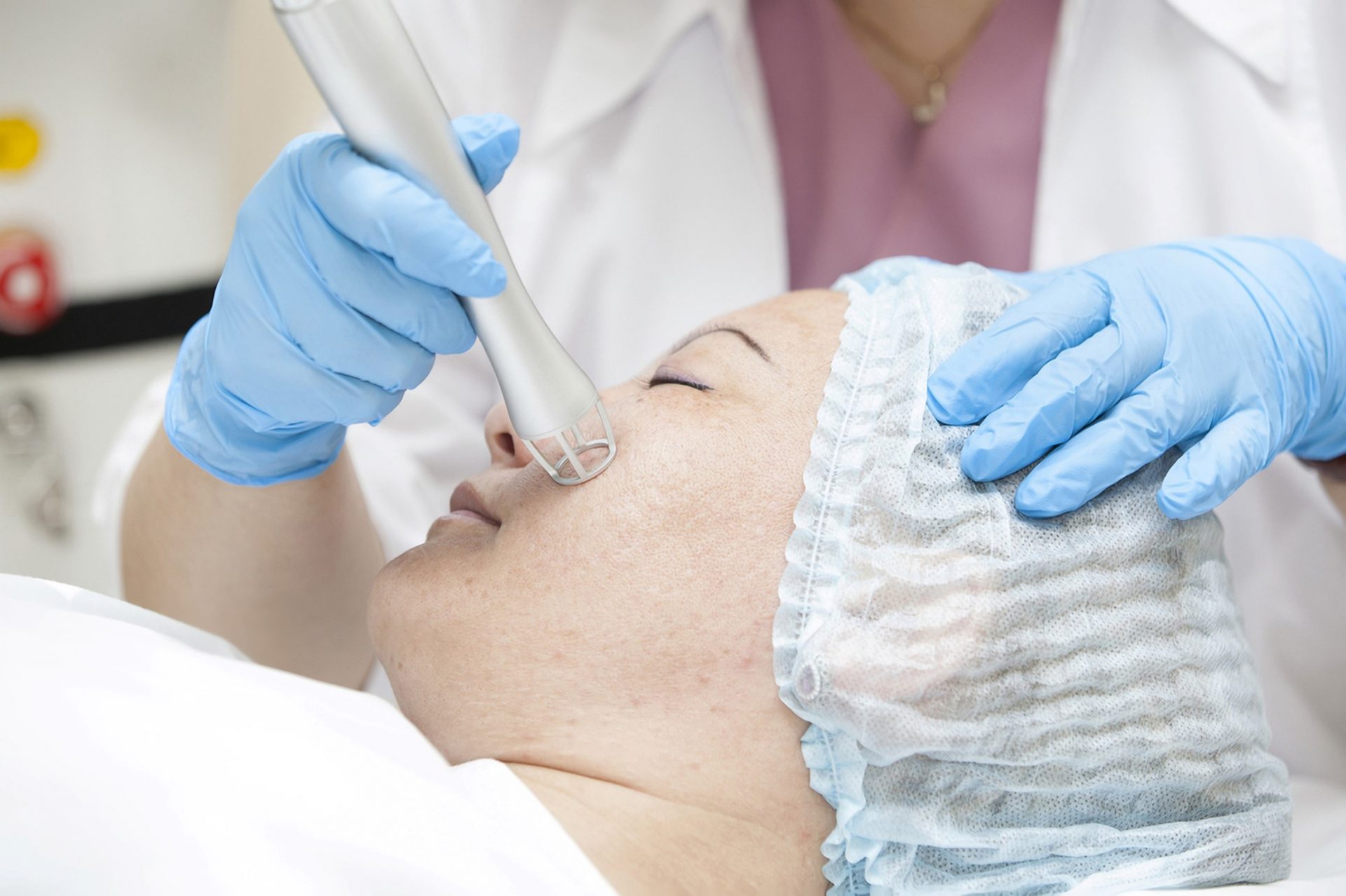 Our skin gets its pigmentation from the deposition of the pigment molecule melanin. It gives the skin its original color, which is different for every individual and entirely depends on the concentration of melanin in skin cells. Pigmentation laser treatment targets these melanin particles by destroying them or the cells containing them through the heat generated from the light beam.
Laser treatment involves the use of a laser device that projects an intensely narrow beam of radiation. It is produced by stimulating molecules and atoms to produce and amplify the light of different particular wavelengths.
Various types of laser and laser devices are used for treatment purposes, such as Pigmentation laser treatment which involves the use of laser over the targeted area to break down pigments and give a lighter skin tone. Some of the types are stated below.
Types Of Lasers Used In Laser Treatment Singapore
Laser treatment for facial rejuvenation and cosmetic procedures has been divided into two broad terms, which are Ablative and Non-Ablative lasers.
Ablative Lasers
Ablative lasers are targeted on the superficial epidermal layer, commonly known as the outer layer of skin. This vaporizes the skin, which ultimately heals and reconstructs with increased collagen production that helps in treating fine lines, acne scars, and dark skin. After the laser treatment, it requires aftercare for at least two weeks before the skin completely healed.
Fractional Carbon Dioxide (CO2) Laser
A beam of carbon dioxide (CO2) is projected onto the skin, replaces the old skin cells with new ones, and increases the production of new cells. The CO2 also generates heat which increases the production of natural collagen in the skin, which subsequently helps in giving a young, glowing skin.
Dermatologists highly recommend the CO2 laser for treating with precision and safety. The skin becomes smoother and acne scars are eliminated.
CO2 Laser Treatment can help with the following concerns:
Skin lesions
Warts
Wrinkles and fine lines
Acne scars
Skin damage due to harmful rays of the sun
Saggy skin
Open pores
Hyper-pigmentation and blemishes
Surgical scars
Fractional Erbium Laser
It is also known as the "Er: YAG" Laser because it uses Erbium-doped Yttrium Aluminium Garnet as a medium for producing light. It acts on the skin's epidermal layer by removing it and replacing it with a new layer from below. With increased collagen production and resurfacing of the skin, it has an anti-aging effect that gives a natural, fresh-looking skin.
Theoretical studies prove the clinical efficacy of Fractional Erbium Laser in treating variable aesthetic conditions. It has few side effects, is thus more efficient and requires less recovery time than fractional CO2 laser.
It helps with the following issues:
Acne scars
Uneven skin tone
Damaged skin due to UV lights
Altered skin texture
Superficial wrinkles
Skin laxity
Age-related blemishes
Open pores
Non-Ablative Lasers
The non-ablative laser does not harm or injure the skin cells on the surface but heats the tissue in the dermis layer. This increases collagen production in the skin, which ultimately smoothen the skin and eliminates the defect causes due to age or damage of skin cells. It targets only the deeper layers of the skin in the area it is applied to but does not provide immediate results. The treatment needs multiple sessions to provide effective results but offers a safer therapy with little to no downtime.
Q-Switched laser
The Q-Switched laser produces light energy through a crystal rode made of Nd: YAG or Neodymium-doped Yttrium Aluminum Garnet material that greatly owes to the versatility of this laser treatment. The non-invasive laser produces high-intensity beams within billionths of a second, which are concentrated into brief, fast impulses.
It mainly acts on the pigments present in the skin. Its long wavelengths penetrate deeper into the skin, which is beneficial for removing unwanted pigments present in the skin.
The following concerns can be dealt with Q-Switched laser:
Unwanted tattoo
Brown spots
Freckles
Discolored skin
Sunspots
Birthmarks
Darker skin tone
Long Pulsed Laser
The Long Pulsed Laser or Nd: YAG laser targets the superficial and deeper skin layer by converting the light energy to heat in the skin tissues. It uses a near-infrared wavelength which has been termed as the safest and most effective option for treating vascular lesions of the skin like hemangiomas, spider veins, varicose veins, etc. The laser also helps in skin resurfacing.
The role of a long-pulsed laser has been studied extensively through research before it was finally approved by the dermatologist to be used in the clinical setting.
It can be used for the treatment of:
Vascular lesions in the skin
Unwanted hair or facial hirsutism
Acne scars
Open pores
Loose skin
Lesions of rosacea
Pico Laser Treatment
Pico Laser which projects ultra-short rays in picoseconds on the subjected area, which destroys the skin's pigment, which is then absorbed into the lymphatic system and eventually excreted out of the body. The wavelength of 755nm only targets a fractional column of skin, protecting the rest from unwanted side effects. It also stimulates elastin and collagen's natural production in the skin that gives smooth, fresh, glowing skin.
Pico laser treatment is widely used to remove darker skin pigmentation, which tones down the skin color and removes discolored spots. Moreover, it removes tattoo marks, acne scars, and any genetic discoloration of the skin.
What To Expect From Laser Treatment Singapore?
Before the treatment, it is suggested to have a proper consultation session with the doctor to evaluate the condition of your skin and determine the best treatment option for you. The doctor may also give you a proper skincare routine to follow before and after the treatment.
During the session, the physician gives you eye protection shield to protect them from the laser light. As the treatment starts, you may feel a slight pricking or snapping sensation as the laser beam hits your skin. Each laser treatment usually takes around 10 mins.
After the procedure, the doctor would recommend avoiding unwanted exposure to the sun and using adequate amounts of sunscreen whenever going out. Depending on the pigment concern, follow up sessions spaced 1 month apart may be required to achieve optimal results.
Cost Of Laser Treatment Singapore
The price of laser treatment depends on the type of laser used and the problem being addressed. On average, a single session costs $200 – $600. Depending on the nature of the pigmentation concern, a number of sessions may be required to lighten them effectively.
Endnote
All the information mentioned above will help you understand what Laser treatment in Singapore is and why it is widely accepted, especially among Asians. If you are considering laser treatment for your skin concerns, it is important to seek a medical professional's help. Different types of pigmentation responds different to laser treatment, hence, a personalized treatment plan will help to prevent any adverse effects which may happen from laser treatments.
About Dream Aesthetics and Plastic Surgery
Bespoke surgical for cosmetic or medical reasons is what Dream covers to bring out the beauty in every individual. Going beyond the aesthetics and working on physical anomalies are what we value the most in leading our patients to cherish self-improvement and confident lifestyles.
Derived from Associate Professor Vincent Yeow's long-standing experience performing plastic surgery in Singapore, our treatment plans deliver physical remodelling in our patients' favour. One of the notable remodellings is droopy eyelid correction. The ptosis surgery used for treatment eventually fixes drooping eyelids, improves vision and enhances appearance.
Most importantly, as a trustworthy plastic surgery and aesthetic clinic, we treasure positive and natural outcomes for each individual. We will ensure to deliver the beauty refinement of your dream without compromising your safety and privacy.
References:
1.Gianfaldoni, S., Tchernev, G., Wollina, U., Fioranelli, M., Roccia, M. G., Gianfaldoni, R., & Lotti, T. (2017). An Overview of Laser in Dermatology: The Past, the Present and … the Future (?). Open access Macedonian journal of medical sciences, 5(4), 526–530. https://doi.org/10.3889/oamjms.2017.130
2.Lasers in dermatology. (n.d.).  https://dermnetnz.org/topics/lasers-in-dermatology/