Breast augmentation is not a novel concept anymore and is increasingly accepted in today's society. Since small breasts are a common concern for Southeast Asian women, bust enhancement surgery is one hot topic among young girls in Singapore. Out of all the different options you have for breast augmentation in Singapore, the Motiva breast implant has topped the list in recent years as one of the preferred implants for enhancement.
Motiva has been developed by embracing new technology developments. The natural appearance combined with high durability, and fewer complications are some of the features which raise Motiva's popularity towards its peak. So let us have a detailed look at what makes the Motiva breast implants this special!
What Is The Structure Of Motiva Breast Implants?
Motiva breast implant has a layered structure and each of these layers has its specific function. A highly cohesive Silicone gel occupies the core of the implant. This Silicone gel provides the optimum elasticity with a certain level of firmness that helps the Motiva implants to move and behave similarly to natural breasts.
What Are The Special Features Of Motiva Breast Implants
Motiva breast implant has secured its place on the top among breast augmentation in Singapore due to its extraordinary features. Firstly, the medically approved Silicone cohesive gel not only helps to mimic the appearance of the natural breasts but also adheres to the body movements quite naturally.
Secondly, the probability of complications is less with Motiva breast implants compared to the other options. For example, capsular contracture that leads to deformities is less likely to take place with Motiva implants. This is achieved using the smooth outer surface. Since it is smooth, it provokes less inflammation in the surrounding tissue. Therefore, less tissue damage will occur leading to less fibrosis.
Usually, the outer surface of the implant is made rough so that the implant will be attached properly to the surrounding tissue. This is important to prevent the displacement of the implant with time. Even though the surface of Motiva implants is smooth it is created in such a way to adhere properly to the surrounding tissue to fulfill the above purpose. According to the experts, the risk of cancer (breast implant-associated anaplastic large cell lymphoma) is also lower with Motiva breast implants.
Thirdly, the inclusion of an RFID microchip is a feature unique to Motiva breast implants. This FDA-approved technology is named "Q inside" and gives a traceable serial number to the implant and contains all the information about the particular implant such as the size, type, and model. It is particularly useful for future health checks or if you wish to consider changing implants in the future. This microchip is an optional feature, yet its importance becomes apparent should complications occur many years after the procedure. This function is beneficial for your plastic surgeon to retrieve records so they can deal with the condition more efficiently.
Fourthly, Motiva implants have kept their trust with the customer by providing them with a warranty period. There is a standard type of warranty that is given for every patient, free of charge. Moreover, one could get an implant with an extended warranty by paying for that extra period. This warranty is applicable for most of the common complications with the usual breast implants like capsular contracture and rupture. You could get a replacement surgery done for free if such a complication occurs. Yet it is important to remind again that these things are less likely to happen with Motiva implants!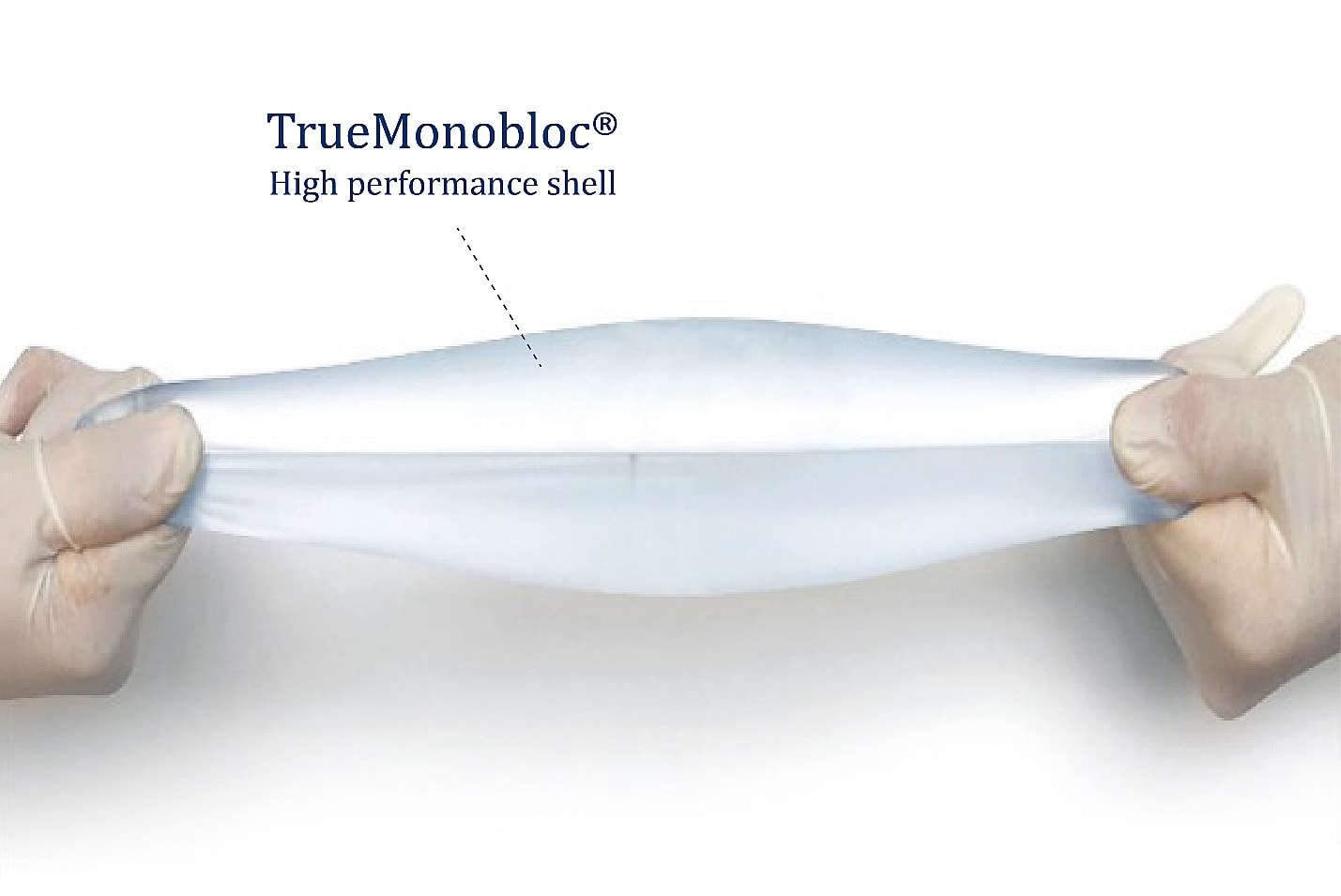 Fifthly, the Motiva TrueMonobloc implant contains the whole shell as one solid structure. This feature helps the surgeon to do the implantation quite easily using a shorter incision which will leave a smaller scar than usual.
Sixth, the Motiva breast implants have radiopaque markings which are visible through x-ray imaging. This is beneficial for your breast surgeon in Singapore for the yearly post-surgical follow-up to see whether the implant is in the correct position.
What Are

The Different Types Of Breast Implants Available In Motiva?
There are two types of Motiva breast implants available in Singapore. They are namely, "round" and "ergonomix". In this article, our main focus is ergonomix breast implants in Singapore. These ergonomix breast implants are described as a more modified version of the "teardrop" implants. The unique property is that its shape differs slightly and moves accordingly with the body posture. It takes after a teardrop shape when the body is in an upright position, revealing a slightly heavier bottom between the nipple and the lower breast crease and a gentle sloping silhouette towards the upper part of the chest. When the body is in a laying down position, the silicone gel spreads around the implant evenly, resulting in a rounded appearance. This naturally intuitive adjustment to the body posture creates a natural-looking breast.
Within the ergonomix implant range, there are a variety of implant types. They differ according to shape, size, base, and projection. For example, when it comes to "projection", there are four types: mini, demi, and full projection. The amount of projection increases respectively and are suited for different types of breast shape. Therefore, the plastic surgeon needs to assess your body proportion, chest width, skin elasticity, and your desired results before selecting the appropriate implant type for the procedure.
How Long Will A Motiva Breast Implant Last?
Like any other breast implant, Motiva breast implants are made to last. Averagely, it lasts about ten years but most go beyond that and may not require a replacement as long as the implants do not pose any health issues. Rupture or displacement of the implant and capsular contracture are some common causes of failure of any breast implant. Yet the good news here is that most of these causes are covered under the warranty given by Motiva breast implants.
Conclusion
Motiva breast implants have a specific layered structure and are filled with high-quality Silicone cohesive gel. This gives it a heap of extraordinary features such as a near-natural look, fewer complications, and smaller scar formation. The inclusion of a microchip and radiopaque markings also add up to this list of specificities. Motiva ergonomix type has this unique ability to get adjusted to the body movement. Along with the help of your consultant, you have the opportunity to customize the implant into the optimum structure that suits you. On average, Motiva breast implants may last about a decade but most may last longer.
References
1. Sforza M, Hammond DC, Botti G, Hedén P, Chacón Quirós M, Munhoz AM, Kinney BM, Corduff N. Expert Consensus on the Use of a New Bioengineered, Cell-Friendly, Smooth Surface Breast Implant. Aesthet Surg J. 2019 Apr 8;39(Suppl_3):S95-S102. doi: 10.1093/asj/sjz054. Erratum in: Aesthet Surg J. 2019 May 08;: PMID: 30958549; PMCID: PMC6460429. https://www.ncbi.nlm.nih.gov/pmc/articles/PMC6460429/#!po=0.961538
About Dream Aesthetics and Plastic Surgery
Bespoke surgical for cosmetic or medical reasons is what Dream covers to bring out the beauty in every individual. Going beyond the aesthetics and working on physical anomalies are what we value the most in leading our patients to cherish self-improvement and confident lifestyles.
Derived from Associate Professor Vincent Yeow's long-standing experience performing plastic surgery in Singapore, our treatment plans deliver physical remodelling in our patients' favour. One of the notable remodellings is droopy eyelid correction. The ptosis surgery used for treatment eventually fixes drooping eyelids, improves vision and enhances appearance.
Most importantly, as a trustworthy plastic surgery and aesthetic clinic, we treasure positive and natural outcomes for each individual. We will ensure to deliver the beauty refinement of your dream without compromising your safety and privacy.