Are you anxious about the puffiness under your eyes? Do you want to get rid of this swelling but wonder, 'Can eye bags be removed without surgery?' You need not worry, as there are numerous cosmetic options available for eye bag treatment without surgery that can be considered.
People resort to home remedies, for example, cold compresses, that do help to curtail the appearance of bags under the eyes to some extent. However, if you are looking for a persistent solution, other therapies might work for you.
In this article, we'll share more about eye bag removal without surgery. But first, let's discuss the causes and symptoms of under-eye puffiness.
What Causes Under-Eye Bags?
The development of eye bags occurs because of the weakening of specific tissues and muscles around your lower eyelids. The fat tissue that typically supports the eyes then fills the lower eyelids' space, leading to a puffy appearance. Moreover, accumulation of the fluid in your under-eyelid area adds to the swelling.
Treatment of under-eye puffiness is regarded as a cosmetic procedure because they rarely depict a severe pre-existing medical concern. Those that do are the true eye bags that can result from underlying health conditions like sinusitis, thyroid and kidney malfunction, sleep and hormonal disturbances, and some allergies.
For true eye bags, individuals need to consider the diagnosis and treatment of the root cause first, before opting for a superficial cosmetic procedure.
On the other hand, occasional eye bag formation is a common sign as you age. However, it isn't always a sign of aging. Like dark circles, under-eye puffiness can occur due to a genetic tendency or as a result of some lifestyle habits.
Your diet can also play a vital role in fluid retention in the facial area as well as surrounding your eyes. Excessive stress can also lead to puffy eye bags. Whatever causes puffy eyelids, you should be familiar with potential treatment options.
If you fear surgery, yet want stable results, there are a plethora of non-surgical solutions available.
Symptoms Of Puffy Eye Bags
The symptoms of under-eye bags are not serious; however, they significantly impair your appearance and, thus, confidence. Mild swelling and saggy skin around your eye might not be very pleasing to look at, and they affect your overall self-confidence.
Eye bags might also be accompanied by dark circles that make you look dull, overworked, and sleep-deprived.
Non-Surgical Eye Bag Removal Procedures
There are several procedures available for eye bag removal without surgery. The common treatment options include the following:
Dermal Fillers
Monopolar Radio Frequency (RF)
High-intensity Focused Ultrasound (HIFU) Device
CO2 Laser Resurfacing
If the above treatments are unable to produce satisfactory results, there is one other eye bag removal treatment for consideration. The Scarless Eye Bag Removal treatment removes fat effectively and tightens skin around the eye area without the need for surgery. More details will be covered below.
Are The Results Of Non-Surgical Eye Bag Removal Treatment Permanent?
The results of plastic surgery can be remarkable, in terms of treatment outcomes. However, surgery might not suit everyone, particularly those with a busy schedule and those who are apprehensive about surgery.
However, a board-certified facial plastic surgeon can provide eye bag treatment without surgery.
Non-invasive aesthetic treatment procedures result in skin tightening around the eyes, but their results are less permanent. Thus, we can take on a middle ground; to a more popular, minimally invasive technique called the Scarless Eye Bag Treatment.
However, the key to optimal results is not to wait until your under-eye bags become too saggy, but to seek treatment early to prevent the need for surgery.
The Procedure And Recovery Time Of Scarless Eye Bag Removal
The Scarless Eye Bag Removal technique employs the use of a 600 micrometer (0.6 millimeters), needle-sized laser. The laser removes fat and water through an almost invisible entry point in the lower eyelid's inner part.
This procedure takes around 30 minutes and is completed under local anesthesia. It requires a shorter recovery time as compared to the incision eye bag removal technique. Some people might need the addition of filler injection or nano-fat grafting in their treatment plan.
Thus, you should seek professional advice from a board-certified plastic surgeon through a consultation.
Benefits Of Non-Surgical Eye Bag Removal
Opting for eye bag removal without surgery comes with a number of advantages. These include:
No use of knives or scalpels
No stitches needed
Does not leave any scars on your face
Effective removal of excess fat
Fine laser probe allows greater precision on small and delicate areas such as the lower eyelids
Minimal bruising and swelling, as well as less trauma to the skin
Faster recovery as compared to surgical eye bag removal techniques
Fast and safe procedure
Cost-effective technique
Minimal downtime with a possibility of returning to work within a few days
Possibility of being combined with facial fat grafting for optimal results
Provide visible and stable results
Cost Of Scarless Eye Bag Removal Treatment Singapore
Non-surgical eye bag removal costs may vary depending upon various factors, including the complexity of your case and the clinical setting's locality and expertise. However, the price of the procedure ranges from $1500-$2000 in Singapore.
Are You The Right Candidate For The Scarless Eye Bag Removal Procedure?
Although there is no age limit for Scarless Eye Bag Removal treatment, it is suitable for you if you have:
Less skin laxity
Mild bulging on the lower eyelids
Good skin elasticity
Fewer wrinkles and excess skin
The above criteria will ensure that one can achieve optimal results from the Scarless Eye Bag Removal treatment. Those with a more serious eye bag condition can still consider this over surgical procedures and will be able to enjoy improvements to the under-eye area. However, results may not be as ideal as compared to a surgical solution.
Consult A Board-Certified Plastic Surgeon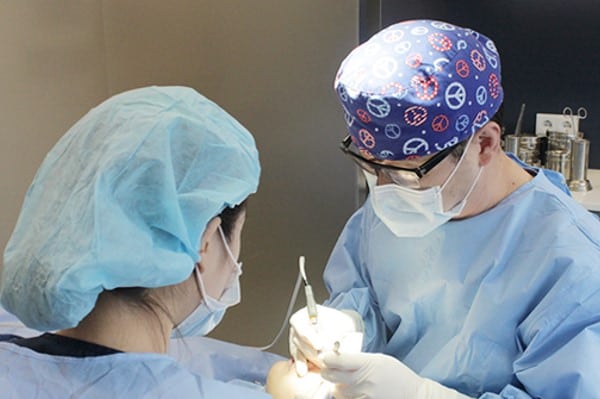 The aptness of the treatment procedure for you can be precisely advised in a proper medical consultation. Your certified plastic surgeon will guide you about the suitable treatment modality that will match your condition.
This will largely depend on your age, flabbiness of skin, fat volume, and other factors. Before opting for a procedure and booking a treatment session, it is crucial to undertake a consultation session with a board-certified plastic surgeon to discuss your case.
You can talk about your end-goal and expected treatment outcomes for informed guidance. Also, during your consultation, virtual simulation can be utilized to explore the types of surgical outcomes you can get from the Scarless Eye Bag Removal procedure.
About Dream Aesthetics and Plastic Surgery
Bespoke surgical for cosmetic or medical reasons is what Dream covers to bring out the beauty in every individual. Going beyond the aesthetics and working on physical anomalies are what we value the most in leading our patients to cherish self-improvement and confident lifestyles.
Derived from Associate Professor Vincent Yeow's long-standing experience performing plastic surgery in Singapore, our treatment plans deliver physical remodelling in our patients' favour. One of the notable remodellings is droopy eyelid correction. The ptosis surgery used for treatment eventually fixes drooping eyelids, improves vision and enhances appearance.
Most importantly, as a trustworthy plastic surgery and aesthetic clinic, we treasure positive and natural outcomes for each individual. We will ensure to deliver the beauty refinement of your dream without compromising your safety and privacy.