Whether it is for genetic reasons or otherwise, fat deposits accumulating around the arms are never welcoming. Many people find it really hard to get rid of those stubborn fat deposits that make their arms look flabby and ugly.
No matter what diet changes they make or how much effort they put into their workout routines, they are just unable to burn that fat. Fortunately, however, arm liposuction can help them tone their arms and achieve a slender, beautiful look.
What Is Liposuction?
It's a procedure used for sculpting and remodeling parts of the body by removing undesirable fat from specific areas. Arm liposuction is performed for removing fat deposits from the inner or outer side of a patient's upper arms. As a result, a more proportionate, firm, and slender outline of the arms is achieved.
Depending on the skin's natural elasticity and the amount of fat that has to be removed, the doctors may recommend an arm lift as well for removing any excess skin from the treated area.
Why Is Arm Liposuction Popular In Singapore?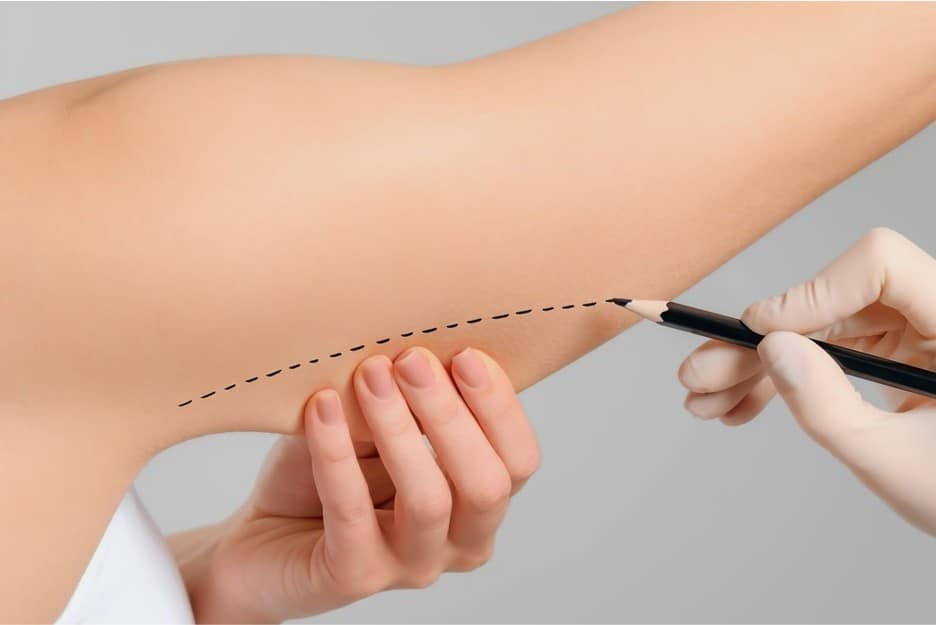 Singapore's warm tropical weather all year round is one of the main reasons for the popularity of short or sleeveless clothing and they are very unforgiving towards individuals with fat or flabby arms. Hence, arm liposuction in Singapore is typically performed for cosmetic purposes. However, it may also be used for treating a certain condition known as lymphedema.
Lymphedema causes a fluid – known as lymph –to accumulate in the arms and results in swelling. Normally, this fluid drains into the lymph nodes. Hence, lymphedema of the arms can occur after the lymph nodes are removed as part of the breast cancer treatment. In the long run, after the surgery, lymphedema can result in fat accumulation in the patient's subcutaneous tissue and liposuction can help effectively remove these fat deposits.
Who Can Undergo Arm Liposuction And Who Shouldn't?
Arm liposuction is not for everyone. It is recommended for individuals:
Over 18 years of age
Who have completed skin and bones growth
Who have good skin tone and elasticity
No major health issues
Who are 30% within your ideal weight
Arm liposuction is not appropriate for:
Pregnant or breastfeeding women
Individuals with general health issues
Individuals with skin infections or other skin issues
How Is Arm Liposuction Performed?
Arm liposuction is a regular cosmetic surgery procedure in which the surgeon makes an incision in the armpit crease, on the side, or near the patient's elbow. The exact point of the incision is chosen depending on the patient's body as well as the location of the fats for removal. After making the incision, the surgeon inserts a tube called cannula.
With the help of the cannula, the doctor places a special fluid through the incision and its volume is the same as that of the fat that has to be removed. Once the fat is broken down, it is removed using a high-pressure suction. The procedure does not affect the skin, nerves, blood vessels, or the muscle around the fat deposits.
It's pertinent to mention here that various techniques are used for arm liposuction allowing the surgeon to remove any excessive fat easily. Let's have a quick look at these:
1. Power-Assisted Liposuction
Traditional liposuction methods need the surgeon to put in a much more physical effort to break down fat deposits. This often results in more swelling, bruising, and eventually a longer recovery period. The Power-Assisted Liposuction makes the cannula vibrate gently and it makes a significant difference to the overall procedure. The surgeon has to apply less force as they perform liposuction, and this leads to less swelling and bruising. You can also expect faster recovery as well.
2. Tumescent Liposuction
Tumescent liposuction uses a solution which causes swelling in the subcutaneous fat layer to make it firm. As the fat layer becomes firm, it allows surgeons to have better control as they remove undesirable fat and reshape the curves of the patient.
Microcannulas are used in Tumescent liposuction and it's less likely for them to lead to any major skin irregularities after the surgery. With a magnified fat layer, it allows for more accurate fat removal, making sure that the cannula won't inadvertently get too close to the skin's undersurface to cause any irregularities.
3. Ultrasound-Assisted Liposuction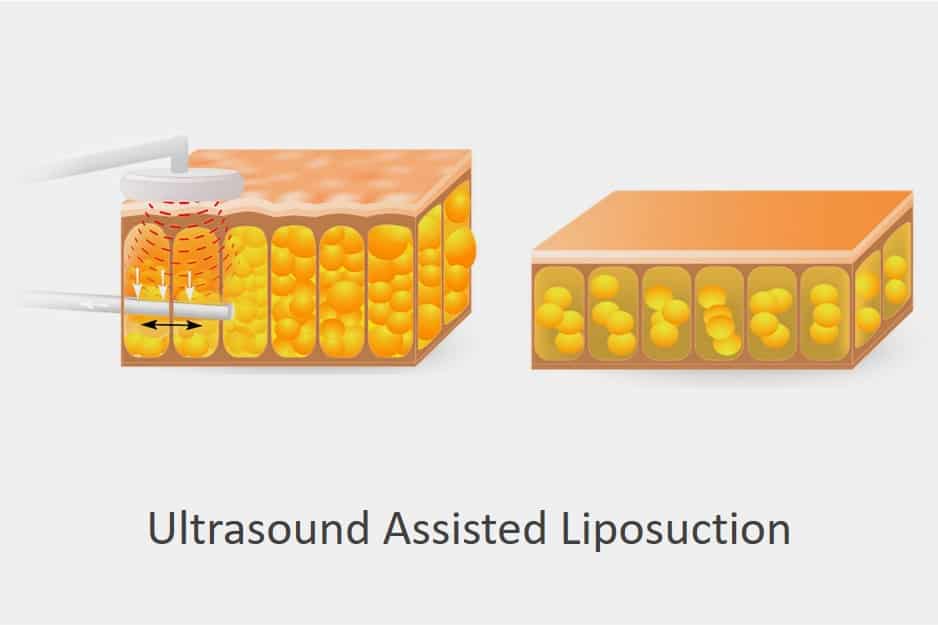 Often referred to as ultrasonic liposuction, this technique energizes the cannula with ultrasound. It causes any fat to melt away as soon as it gets in contact with the vibrating ultrasound probe. The vibrations created by the ultrasound actually burst the walls of the fat cells. This liquefies the fat and allows for easier suction and removal of fat from the body.
The ease of fat removal from this technique reduces fatigue for the surgeon and can lead to better results. It works best for the fibrous areas, like the male breast, back, or any areas that have undergone liposuction before.
What To Expect After Arm Liposuction?
After the procedure, some pain, bruising, and swelling are common. The surgeon usually prescribes medication for keeping the pain under control. Antibiotics are also given for reducing the infection risks.
The incisions may likely be left open after the surgery and temporary drains may be placed for promoting fluid drainage. It is recommended that the patients wear compression garments tight enough to help reduce swelling. This routine should be followed for several weeks after the procedure.
The patients are advised to rest for 7 to 10 days after the procedure. While some may choose to return to their desk job after 5 days if they feel physically comfortable to resume their routine activities, including exercise, in several weeks.
During initial recovery, some contour irregularities are common as remaining fat is settling down into a proper position and the skin is still adapting to its new contours. In cases where a larger amount of fat is removed, there is a limit on the skin's ability to contract and fit the new contour.
Hence, there may be some presence of loose skin after the final results have settled. If that is a concern, skin tightening treatments may be recommended to further improve the post-liposuction results.
Some Recovery Tips After Arm Liposuction
Recovery begins as soon as the effect of anesthesia goes away. The first couple of weeks after the arm liposuction surgery tend to be crucial in the recovery process. The quality of the results, however, depends mainly on how well the patients take care of themselves in the recovery period.
Small amount of blood may appear from the incisions of the procedure for the initial 2 to 3 days after the procedure. The incisions are covered with a special dressing so that any drips could be absorbed. It is advised to keep the area clean by changing dressing as and when necessary.
The patients must wear a compression garment on their arms as it helps to control swelling. It is recommended that patients continue to wear the compressions garment for, at least, 12 hours per day. Wearing compression garments on the arms as prescribed can help with quicker recovery after liposuction.
Prescribed antibiotics should be taken to avoid infection. Pain relievers should also be taken as prescribed and that can help manage your recovery process better.
Regular checkups are necessary, you may be advised to visit your plastic surgeon for wound dressing or removal of drains in certain cases.
Exercising the treated area right after the procedure would result in pain and can derail the healing process. Take things slowly and avoid heavy lifting. However, slow walks are permitted as it improves the circulation of blood in the body and can help to speed up healing.
If you are annoyed by your flabby arms, it's time to say goodbye to those undesirable fat deposits. Consult with our plastic surgeons today and undergo arm liposuction in Singapore. Our support teams will guide you every step through the procedure and will help make the decision easier providing all the guidance you need.
About Dream Aesthetics and Plastic Surgery
Bespoke surgical for cosmetic or medical reasons is what Dream covers to bring out the beauty in every individual. Going beyond the aesthetics and working on physical anomalies are what we value the most in leading our patients to cherish self-improvement and confident lifestyles.
Derived from Associate Professor Vincent Yeow's long-standing experience performing plastic surgery in Singapore, our treatment plans deliver physical remodelling in our patients' favour. One of the notable remodellings is droopy eyelid correction. The ptosis surgery used for treatment eventually fixes drooping eyelids, improves vision and enhances appearance.
Most importantly, as a trustworthy plastic surgery and aesthetic clinic, we treasure positive and natural outcomes for each individual. We will ensure to deliver the beauty refinement of your dream without compromising your safety and privacy.