Blepharoplasty is a type of surgical procedure that is becoming popular in Singapore. The term blepharoplasty describes surgery of the eye, where "blepharo" stands for eye and "plasty" stands for surgery. This surgery can enhance the appearance of your eyes, making your eyes more alert and bigger. It will also enhance the youthfulness of a person's look.
In this article, let's look into more details about double eyelid surgery in Singapore, as we do a full walk-through on upper eyelid blepharoplasty surgery.
Anatomy Of The Eyelid
Let's get a better understanding about the anatomy of our eyelids first. Your upper and lower eyelids consist of a dense fibrous tissue called the "tarus"
It consists of many elastin fibers which help in maintaining the shape of the eyelid.
Your eyelids also have tiny muscles attached to them. Contraction of the "orbicularis occuli" muscle will close your eyelids while contraction of the "Levator palpebrae superioris" muscle controls its opening movement.
The skin covers the outer surface of the eyelid while a membrane called the "Conjunctiva" covers the inner surface of the eyelid. The eyelashes, arising from the anterior eyelid margin, provide a protective covering to the eye.
What Is Double Eyelid Surgery
Double eyelid surgery, also known as blepharoplasty, helps create an eyelid crease that makes your eyes appear brighter and more defined.
Other than improving the beauty of the eye, upper eyelid surgery can help in correcting deformities in the eyes which are due to trauma or aging.
Many people believe that double eyelid surgery can make a drastic difference to one's appearance hence reducing the need for eye makeup.
Common Types Of Double Eyelid Surgery In Singapore
There are two main methods of double eyelid surgery: the incision method and the non-incision method. The type of surgery will be decided by your doctor to cater to your needs and preferences.
In incisional surgery, an incision is made along the eyelid, and the excess skin and fat are removed from the upper eyelid. Then, the incision is stitched with surgical-grade sutures, anchoring the skin to create a well defined eyelid crease.
In the non-incisional method, the surgeon will, under local anesthesia, make small slits along a few points on the eyelids and small sutures are then weaved across the designated path of the eyelid crease. It will create adhesion between underlying deep tissues and the eyelid skin, resulting in a double eyelid.
Suitable Candidates For Double Eyelid Surgery.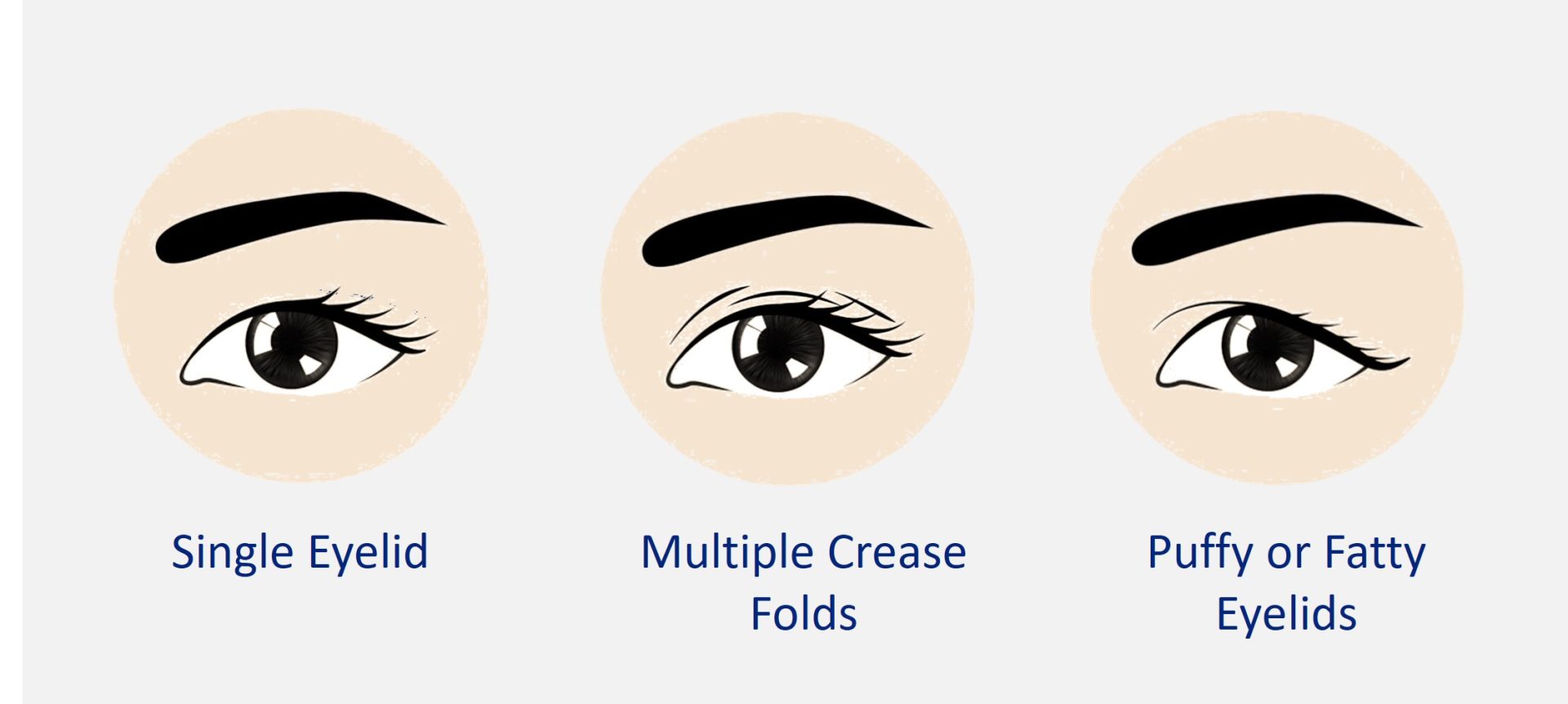 There are no specific age groups or special requirements to fulfill if you need double eyelid surgery.
It is suitable for;
Patients of any age group who wishes to create an eyelid crease
Patients with puffy eyelids due to extra fat pad
Patients who have a single eyelid
Patients who have multiple eye creases
Procedure Of Double Eyelid Surgery
Before the double eyelid surgery, your doctor will make exact measurements of your eyelid and make markings for the double eyelid you requested.
Step 1 – Anesthesia
In this step medications are administered to make you sedated. It is usually done via intravenous sedation. A local anesthetic agent is applied to your eyelids too.
Step 2 – Incision
According to your preference, either an incisional surgery or a non-incisional surgery will be carried out by the surgeon.
Step 3 – Recovery
Once the surgery is completed, you will be taken into a recovery room until the sedatives wear off.
Should You Be Concerned About Double Eyelid Surgery
The chances of developing complications following a double eyelid surgery are low when performed by a qualified plastic surgeon. However, it is still possible with any type of surgery. Some of the risks include infection, bleeding, and vision problems. But these are said to be rare complications of this procedure.
A good plastic surgeon will share the possible complications of the procedure before the surgery, as well as what you can achieve with this surgery. Understanding the outcomes of the procedure beforehand will help you to prepare for a better, faster recovery.
Post-Surgical Care And Downtime
The recovery time depends on the type of upper eyelid surgery technique that you have chosen. If you have opted for an incisional surgery, it takes more time compared to a non-incisional or minimally invasive surgery. Usually around 14 days for recovery. If you have undergone a non-incisional procedure, 7 to 10 days of rest will be sufficient.
Carefully following your doctor's instructions after surgery will help you have a smoother and speedier recovery. If you are wearing contact lenses, they should be avoided for the first 2 weeks after your double eyelid procedure. You should also prevent engaging in strenuous exercises as that may increase swelling. Post procedure wound care is also important to prevent infection. In order for the body to heal faster, take adequate rest and avoid overstraining your eyes. Resting your body will help you recover faster.
Cost Of Double Eyelid Surgery
The final cost for double eyelid surgery depends on many factors. This includes your surgeon's fees, anesthesiologists' fees, and the cost of the facility.
The price of an incisional surgery in Singapore will vary from $4500 to $6500. The price of a non-incisional surgery will be lower and will cost you around $3900 to $4500.
Your insurance company most probably will not cover the cost for this procedure as this is considered a cosmetic surgery.
How To Choose The Right Surgeon For Your Surgery
The risks and complications of upper eyelid surgery are associated with the skillset of your surgeon. In Singapore, registered plastic surgeons are allowed to perform upper eyelid surgeries according to the directives set by the Singapore Medical Council. Always choose a board-certified surgeon.
Takeaways
The upper eyelid blepharoplasty surgery is popular in Singapore. This surgery can improve the appearance of your eyes and make them look more alert and bigger.
Overall, the most important thing is to make yourself aware of the surgery techniques, recovery management, possible risks and cost of the surgery if you are considering it. Tips on doctor selection will help you select a suitable plastic surgeon in Singapore.
About Dream Aesthetics and Plastic Surgery
Bespoke surgical for cosmetic or medical reasons is what Dream covers to bring out the beauty in every individual. Going beyond the aesthetics and working on physical anomalies are what we value the most in leading our patients to cherish self-improvement and confident lifestyles.
Derived from Associate Professor Vincent Yeow's long-standing experience performing plastic surgery in Singapore, our treatment plans deliver physical remodelling in our patients' favour. One of the notable remodellings is droopy eyelid correction. The ptosis surgery used for treatment eventually fixes drooping eyelids, improves vision and enhances appearance.
Most importantly, as a trustworthy plastic surgery and aesthetic clinic, we treasure positive and natural outcomes for each individual. We will ensure to deliver the beauty refinement of your dream without compromising your safety and privacy.
References
1.Chee, E., & Choo, C. T. (2011). Asian blepharoplasty–An overview. Orbit, 30(1), 58-61.