Breast augmentation is a popular cosmetic surgery procedure that women seek today. Proportionate, perky, and shapely breasts are considered a sign of beauty and youthfulness in many societies. It is common for women with sagging, uneven, small or underdeveloped breasts to feel self-conscious about their body shape and overall appearance. Women who undergo procedures like a mastectomy are even more concerned about their looks and they wish to restore their original breast shape like before. Fortunately, one can undergo breast augmentation to achieve their desired breast shape and size. Breast enlargement can help enhance a woman's lifestyle in many ways. Whether it is the appearance and a more feminine feel one wants to achieve or they're looking to have symmetrical breasts that are proportionate to their body's figure, women can opt for breast implants to achieve the desired effects.
What Is Breast Augmentation?
Breast augmentation – also called augmentation mammoplasty – refers to a surgical procedure used for increasing breast size. The surgery involves placement of breast implants under the chest muscles or breast tissue.
Breast augmentation serves as a confidence booster for many women while for others it helps rebuild their breasts for different conditions.

7 Major Benefits of Breast Augmentation Surgery
Women undergoing breast augmentation can expect some major benefits. Let's have a look at some of them.
1. Improved Appearance
The most prominent benefit of breast augmentation is that it helps improve the appearance of the patient's breasts significantly. Even though most of us consider breast augmentation as a "breast enlargement" procedure, it's not just about creating larger breasts. Breast enlargement surgery can be helpful in improving:
Smaller, underdeveloped breasts
Uneven breasts
Poor cleavage
Breasts that lack projection
Breasts that lack proportion or have imbalanced appearance
In addition, men and women usually link voluminous breasts with beauty and femininity. Women with naturally small-sized breasts, or those who have undergone breast changes after pregnancy, tend to feel less attractive and less feminine. Getting breast implants can help them undergo a major transformation and feel more feminine than before.
2. Better Curves With Added Volume
Some women are born with naturally small breasts that look flatter and do not offer the desired curves to one's physique. Breast implants can be a great way of adding volume to breasts from the top and, therefore, they can help women achieve better curves with added volume. Whether an individual is interested in achieving a particular cup size, fill their favorite bikini tops, or simply wants to reveal curves in their everyday clothing, breast enlargement can give them the desired look. In fact, even younger women with dissatisfactory bra size go for breast implants to boost their self-esteem by creating a better body image overall.
Bariatric patients also go for breast augmentation after undergoing significant weight loss so that they could be able to restore the fullness and curves of their breasts. Reduced bra size comes as a natural outcome when women try to lose weight and look slimmer. Fortunately, the problem can be addressed effectively using breast implants. Implant placement may also be a good choice for breast lifts as they offer a more perky and youthful appearance.
3. Breasts That Are Naturally Asymmetrical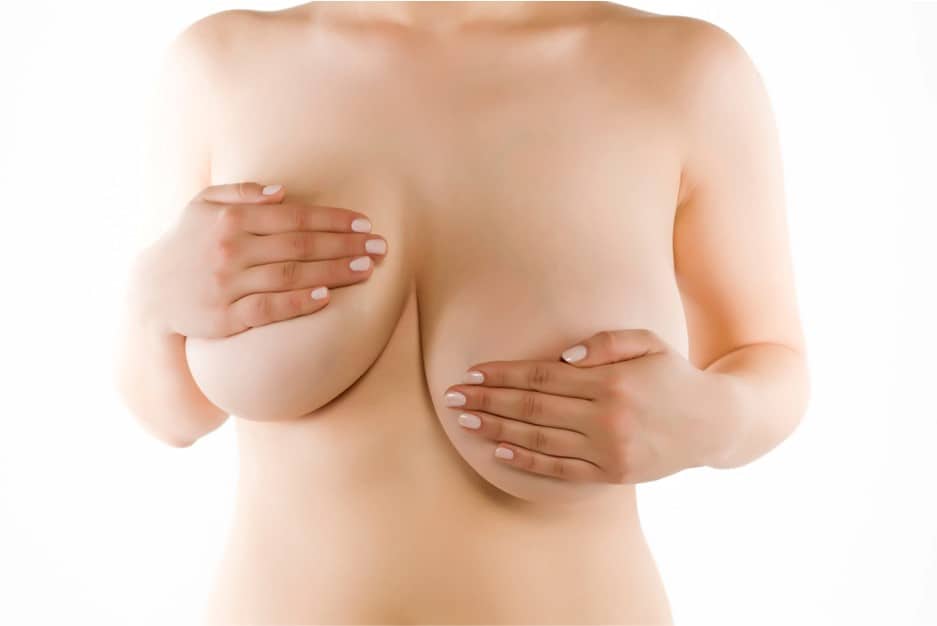 Women mostly have some level of breast asymmetry. However, sometimes, the difference in breast sizes is quite noticeable and one may even find it hard to find perfectly fitting bras or bathing suits. What's even more embarrassing is that this difference in breast size can be noticed easily through the clothing as well. With breast augmentation, the natural asymmetry in one's breasts can be balanced out. Plastic surgeons can work things around with their patients to choose a suitable breast implant shape, size, and profile for each breast as needed. As a result, they make both the breasts look and feel the same in size and shape, giving them a more symmetrical appearance.
4. Breast Restoration After Pregnancy Or Aging
Women face many changes in their body during and after pregnancy and it affects their breasts too. It is common for mothers to have sagging breasts after pregnancy and breastfeeding. Decreased breast volume is also experienced, especially, by the breastfeeding mothers. Besides, women can experience similar changes in their breasts as they age. Breast augmentation can be a great option for restoring lost volume and making the breasts look perkier and more youthful
5. Breast Rebuilding After Mastectomy
Breast cancer can be really hard to deal with, both emotionally and physically. Even though mastectomy's can be a life-saving procedure, it can leave the patients with drastic changes in their body and appearance. Breast reconstruction after mastectomy can help restore the patient's breasts and make them start feeling better about themselves. In this case, the breasts can be restored using silicone breast implants or by using the patient's own body tissue.
6. Breast Augmentation Has Fewer Risks
Today, breast augmentation is not like what it used to be a couple of decades ago and there are fewer risks involved. In fact, if it is done by an experienced plastic surgeon it helps to lower the risk significantly. The average lifespan of a modern silicone implant is expected to be around 16 years. So, one can expect no complications if the procedure is done right the first time.
So if you finally decide to get a breast lift, look for one of the most professional surgeons for breast augmentation in Singapore. Such as dream aesthetics. With over 21 years of expertise in plastic surgery, Dream is one of the tenured plastic surgery clinics in Singapore.
7. Multiple Procedures And Implant Options
There are several treatment options available for breast enlargement surgery in Singapore today. If a major change in size and shape of the breasts is required, one can opt for breast implants placement in Singapore.
However, if more natural and slight improvements are desired, fat grafting breast augmentation could be a more viable choice. During the fat grafting procedure, the surgeon extracts fat from different body parts of the patient and then injects it into the breasts as desired.
For breast augmentation using breast implants, the surgeon works with the patient to find the right kind of implant for their specific case. They can choose from the following types of breast implants.
Saline Implants: They are filled with sterile salt water. They have long been used for breast augmentation surgeries and are considered safer because even if an implant ruptures, the salt water will mostly be reabsorbed into the body. However, these implants have become obsolete, especially in Singapore, and are not a preferred choice. Instead, gummy bear implants, also known as form-stable implants, are used most commonly today.
Silicone Gel Implants: Silicone gel implants often give a more natural feel as they imitate the breast tissue. The newer silicone implants are called cohesive gel implants or form-stable implants. They are usually thicker and can keep the shape intact even if their shell is broken somehow. These implants are firmer as compared to regular silicone implants and are not as likely to rupture as older silicone implant types.
Some General And Unexpected Benefits Of Breast Augmentation
Besides all the major benefits of breast enlargement in Singapore that are listed above, one can expect some general benefits as well. Following are the benefits that come as a byproduct of getting in better shape and having more feminine looks.
1. Confidence Boost
Many women only go for breast augmentation in Singapore to feel better about themselves and their body shape. Once the procedure is done, they can stop worrying about their perceived imperfection and start feeling complete and better about themselves. This feeling of completeness, itself, is a confidence booster and can have a major positive effect on one's life.
2. Better Sex Life
According to a survey from RealSelf.com, breast augmentation surgery is connected to a better sex life. Around 61% of the surveyed subjects were reported to have sex more regularly after the breast augmentation surgery while 71% of them reported more satisfaction during sex.
There can be several reasons for this connection between breast augmentation and improved sex life of the patients. After undergoing the surgery, women tend to feel more confident about their looks and appearance and this confidence usually translates into more self-assertiveness in the bed. They also become more attractive and desirable to their partners.
3. Shopping For Clothes Becomes Easier And Fun
Not having a perfect breast size often creates the most unexpected problems for women and one of them is not finding perfect clothing that fits their chest. This can easily translate into an embarrassing and stressful shopping experience.
When a woman undergoes breast augmentation in Singapore and their breast fit perfectly into the standard clothing size, they can have a fun shopping experience without having to worry about finding a perfect fit.
Is It Safe To Use Breast Implants?
Implants don't last for a lifetime and have to be replaced some time in future. The life span of breast implants usually varies from one patient to another. Normally, however, they can last anywhere between 10 to 20 years. So, younger patients might need to get them replaced several times in their lifetime.
Implants are unlikely to rupture due to routine activities performed by the patient. However, they might rupture if the patient sustains a serious chest injury. The implant size is not affected much due to weight gain or weight loss. Breast implants, generally, don't affect a woman's breastfeeding ability and won't affect the babies either.
Breast augmentation in Singapore is safe and offers some major benefits to the patients. Women can start feeling more confident about their appearance after the surgery and can get their feminine vibe back. One should consult with their plastic surgeon and undergo breast enlargement in Singapore to enhance their body image.
Consult Us To Learn More About Breast Augmentation
Whether it is for an enhanced look or to feel more confident, our resident plastic surgeon A/Prof Vincent Yeow is glad to speak with you to better understand your concerns. Breast augmentation or implants might not always be the answer, so it's advisable to speak with a professional for the best options available to you.
About Dream Aesthetics and Plastic Surgery
Bespoke surgical for cosmetic or medical reasons is what Dream covers to bring out the beauty in every individual. Going beyond the aesthetics and working on physical anomalies are what we value the most in leading our patients to cherish self-improvement and confident lifestyles.
Derived from Associate Professor Vincent Yeow's long-standing experience performing plastic surgery in Singapore, our treatment plans deliver physical remodelling in our patients' favour. One of the notable remodellings is droopy eyelid correction. The ptosis surgery used for treatment eventually fixes drooping eyelids, improves vision and enhances appearance.
Most importantly, as a trustworthy plastic surgery and aesthetic clinic, we treasure positive and natural outcomes for each individual. We will ensure to deliver the beauty refinement of your dream without compromising your safety and privacy.