What Causes Dark Circles?
A variety of genetic, environment, and lifestyle factors can cause dark circles under the eyes. Some people are genetically predisposed to have less fat under their eyes, resulting in a hollow tear trough that gives the appearance of dark circles. Other factors that can increase the chance of developing dark circles are sun exposure, dehydration, allergies, illness, and lack of sleep. This is why staying properly hydrated, getting enough sleep and maintaining healthy lifestyle habits is important to maintain a youthful look.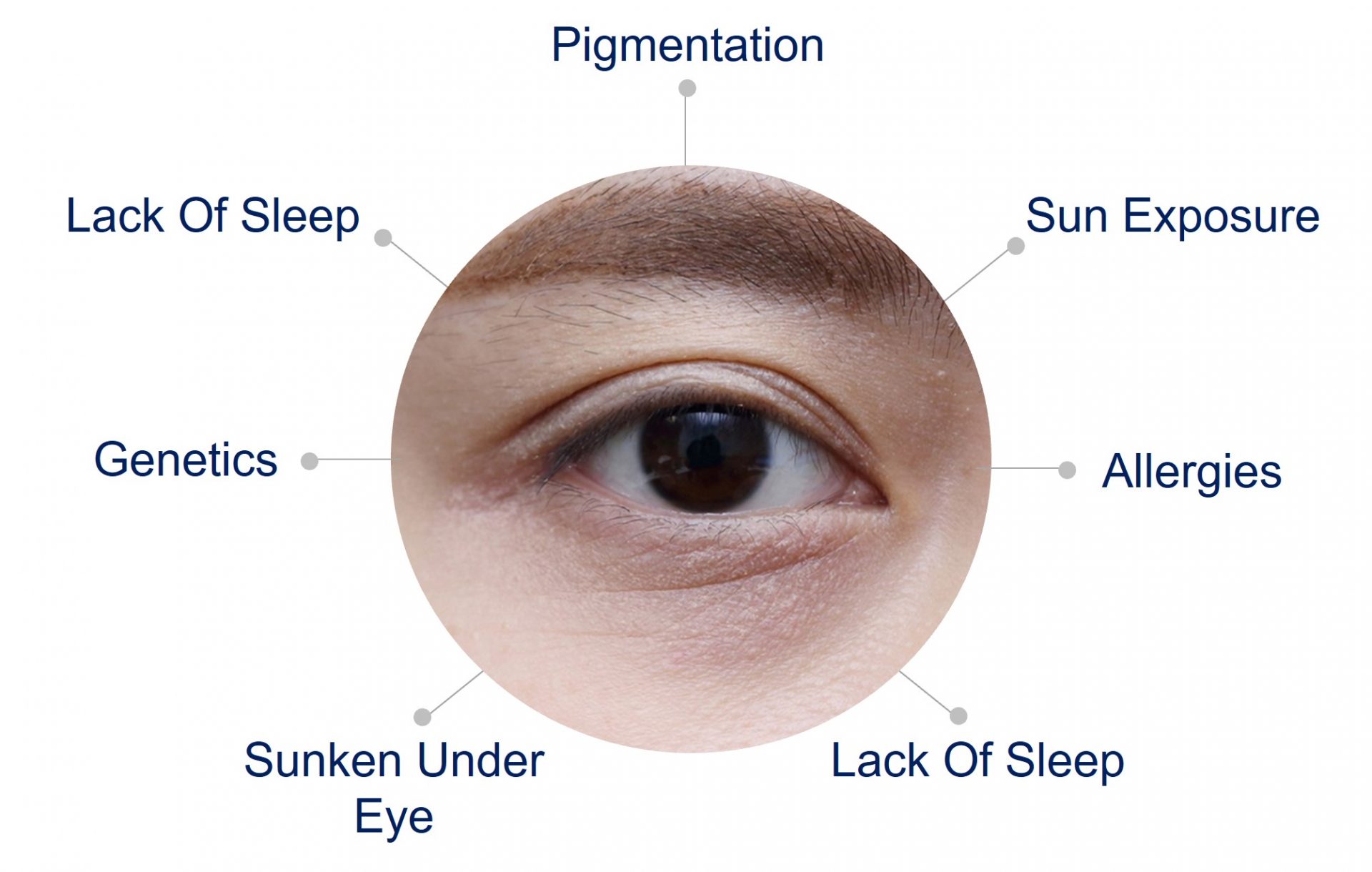 All this is also aggravated by ageing. As we grow older, our facial skin loses volume and becomes looser. The muscles around our eyes weaken. This results in the drooping of the skin under our eyes and the appearance of eye bags and dark circles.
Various topical treatment options are available for dark circle treatment. If those options have failed or shown limited success in solving the problem, one might consider dermal filler injections.
What Are Dermal Fillers?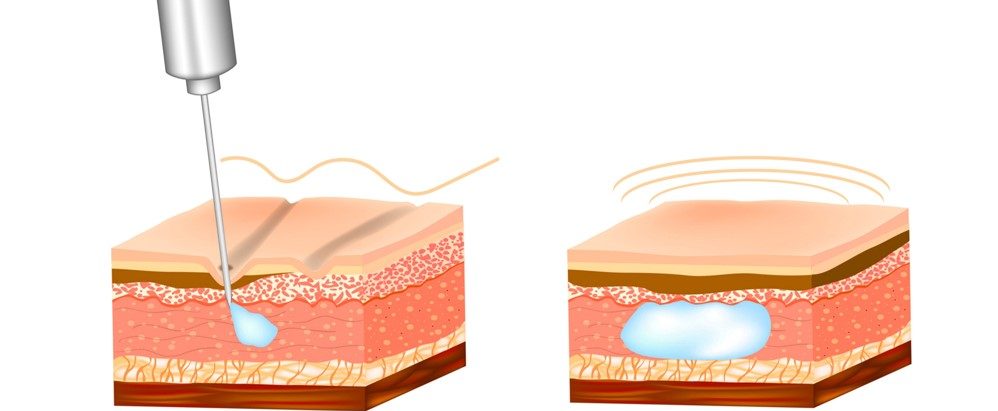 As the name suggests, dermal fillers are gel-like substances made of mainly hyaluronic acid that are injected into your skin with an aim of improving your aesthetic appeal. While dermal fillers are mainly used to alter the contours of your facial features to achieve the ideal structure, they are also used in filling facial acne scars or overall skin rejuvenation.
How Do Dermal Filler Injections Work On Dark Circles?
Under-eye dermal filler injections work the same way as regular dermal fillers in general. They add volume and simulate the appearance of a fuller, plumper under-eye area. Some of the benefits include:
Reduce sunken appearance of under eye area and unwanted shadows
Plump lines and wrinkles
Smoothen skin to improve light reflecting off the skin's surface
Conceal tear trough deformities and improve the appearance of eye bags
What To Expect For Dermal Filler Injection
Consultation
Before the procedure, the patient has a consultation with the doctor to discuss their problems and what they hope to achieve. Depending on the skin type and the patient's objectives, the type of filler and injection technique is determined. For people with thin skin, a softer filer may be used to prevent lumpiness or nodules. In other circumstances, doctors may recommend other filler options.
Any allergies must be disclosed or identified at this point. The doctor may also advise you to avoid certain things, such as alcohol and blood thinning agents such as aspirins for a certain number of days before the procedure.
The Procedure
The procedure itself takes about 20 to 30 minutes. A topical numbing agent or an ice bar may be applied to numb the area before the injection. After the injections are administered, the area will be gently massaged to smooth out the contents of the injection to prevent lumps and irregularities. After the treatment, the patient will be able to resume their activities. It is usually recommended to avoid workouts or facial massages for the initial week after dermal filler injection. In case of any swelling or bruising, patients can apply ice packs to help dissipate the side effects.
The Results
Results from filler treatment are immediate and it takes around 2 weeks to settle. The filler can last anywhere between six months and one year depending on the type of filler used. After this period, repeated treatment will be required to maintain the results.
Are All Dermal Fillers The Same?
Dermal fillers can be permanent or temporary depending upon the nature of the material used. Although permanent fillers are a cost-effective alternative, any side effects that occur from permanent dermal fillers are also usually permanent. Therefore, temporary dermal fillers such as hyaluronic acid fillers lasting 6-18 months are preferred over permanent fillers.
Are Dermal Fillers Safe To Inject Under The Eye?
Dermal fillers are generally considered to be a safe cosmetic enhancement procedure but a in depth understanding of the skin and vascular anatomy is needed prior to injecting any filler in the undereye area. This is because the area under the eye is highly vascularized with many blood vessels. If an inexperienced aesthetician accidentally injects the dermal filler into a blood vessel, this can occlude blood flow to the eye and can even result in blindness.
Apart from this, another side effect of under eye filler is formation of nodules under the eye which can result in irregularities of the skin contour. However, this issue can be easily resolved if you have used a temporary HA filler as they can be dissolved by an enzyme called hyaluronidase.
What Can I Expect After An Under Eye Filler?
After getting an under eye dermal filler, you may notice some mild temporary side effects such as bruising, swelling, redness and soreness. You need not be alarmed by these as they are perfectly normal and will eventually subside on their own. If you have recently taken certain medications such as aspirin, bruising may be more severe and last longer. Therefore, it is best to consult your medical doctor regarding safe practices to be followed before and after getting a dermal filler treatment.
How Long Will Under Eye Fillers Last?
The life expectancy of a dermal filler depends mainly on the material used to fill your under eye. Most medical doctors advise their clients to get Hyaluronic Acid fillers to resolve their under eye dark shadow issue. On average, these types of dermal fillers can last between 6 to 12 months. After this period, you may need to get some top ups for maintenance.
Who Should I Visit To Get Under Eye Dermal Fillers?
We highly recommend that you only get this procedure done by a board-certified plastic surgeons or experienced medical doctors. The risks associated with a botched under eye filler procedure are far too serious to be neglected and can lead to irreversible permanent damage.
Conclusion
Dermal fillers are an instantaneous, easy fix to correct under eye dark shadows. Most medical doctors are familiar with this procedure as it is one of the most commonly sought-after application for addressing dark circles and eye bags. The importance of getting under eye fillers from an experienced doctor cannot be stressed enough as the risks can far outweigh the benefits if you undergo this procedure from unskilled hands.
About Dream Aesthetics and Plastic Surgery
Bespoke surgical for cosmetic or medical reasons is what Dream covers to bring out the beauty in every individual. Going beyond the aesthetics and working on physical anomalies are what we value the most in leading our patients to cherish self-improvement and confident lifestyles.
Derived from Associate Professor Vincent Yeow's long-standing experience performing plastic surgery in Singapore, our treatment plans deliver physical remodelling in our patients' favour. One of the notable remodellings is droopy eyelid correction. The ptosis surgery used for treatment eventually fixes drooping eyelids, improves vision and enhances appearance.
Most importantly, as a trustworthy plastic surgery and aesthetic clinic, we treasure positive and natural outcomes for each individual. We will ensure to deliver the beauty refinement of your dream without compromising your safety and privacy.