Having the perfect skin, also known as "Glass Skin," has recently taken the world by storm. People all over Singapore are looking for ways to get rid of uneven skin tones, hyperpigmentation, and fine lines and wrinkles in a short span of time. Even though there is numerous treatment option currently available, Skin Booster therapy has emerged as a winner amongst all due to its benefits and results.
What Is Skin Booster?
Skin Boosters are a type of dermal fillers that are to be injected into the skin. However, unlike the traditionally used dermal fillers, which are injected beneath the skin to get rid of wrinkles and fine lines, Skin Booster treatment consists of microinjection, which is injected directly into the skin. The dermal fillers in the skin booster consist of special collagen-building contents that get immersed into the skin and results in overall improved skin quality. The Skin Booster injections help activate fibroblast in the skin, which helps promote healthy-looking and plump skin.
How Is Skin Booster Procedure Performed?
Skin Booster treatments can be performed in all ages and skin types. The mature skin types opt for skin booster procedures to get rid of their fine lines and wrinkles, while the younger age groups opt for the procedure to attain a dewy and glowing complexion.
The treatment is usually conducted using manual injections, which is also the preferred method by the majority of the doctors. These injections not only give superior results, they also facilitate precise and accurate administration of the skin boosters without any wastage. The slight discomfort caused by these injections can also be effectively managed by numbing cream application.
If an individual wants their entire face to be treated with skin booster therapy, the face is usually divided into three sections which include the upper face, middle face, and lower face region. Each division of the face is treated with approximately 1 ml of the dermal filler, which is incorporated into the skin through different number of injections in each division.
Moreover, a topical numbing agent is also applied before starting the procedure in order to facilitate a more comfortable experience.
What Are The Benefits Of Skin Booster Treatment?
1. Skin Booster For Glow
Skin Booster treatment is popularly used all over the world for its ability to promote a glowing and radiant complexion in a short span of time. The injected micro fillers activate elastin fibers formation in the papillary dermis, which results in smooth and glowing skin.
2. Skin Booster For Hydration
Most of the microinjections of the Skin Booster Treatments contain Hyaluronic acid, which is incorporated directly into the skin. Since Hyaluronic acid has the ability to draw 1000 times its own water weight along with retaining these water molecules, it helps promote skin hydration which lasts for a long time.
3. Skin Booster For Plumping
The Skin Booster containing Hyaluronic acid also helps promote volumizing of the skin and an overall plump texture. This is because the cross-linking of the bonds between hyaluronic acid molecules helps make them firm and thick, in turn promoting the skin-plumping effects observed with the treatment.
4. Skin Booster For Promoting Firmness
By promoting the replication of fibroblasts in the cells, the hyaluronic-based skin boosters promote skin firmness and help older individuals get rid of saggy and droopy skin. This also leads to visible lifting up the skin, similar to what is observed in Botox treatments.
5. Skin Booster Against Wrinkles
The ultra-fine nature of the dermal fillers included in the Skin Booster treatment allows them to be incorporated into the skin in such a way that it helps fill up any dynamic or static skin lines and wrinkles. Moreover, the multiple skin rejuvenation contents of the hyaluronic acid also help promote anti-aging and result in overall younger-looking skin.
6. Skin Boosters For Lightening
Skin Boosters treatment involves the use of dermal fillers composed of multiple anti-oxidants, micronutrients, chelating agents, and powerful skin brightening agents. This does not only allow an overall brightening of the skin but also helps an individual improve skin concerns such as uneven texture, skin patches, and hyperpigmentation seen around specific areas of the mouth.
7. Skin Boosters For Dark Circles
Skin Boosters can prove to be an effective treatment option for stubborn dark circles, especially when it is combined with tear trough fillers. Moreover, the two procedures may also complement each other and result in more efficient results as the tear trough fillers are seen to work best with healthy overlying skin. Plump and well-hydrated under eye area after skin booster appears smoother and brighter as well.
8. Skin Boosters For Acne Scars
Long-term acne scars can prove to be a great concern for any individuals suffering from them, especially teenage boys and girls who are undergoing puberty. Skin Boosters are found to be an effective treatment for improving persistent acne scars due to the multiple anti-inflammatories and anti-oxidant components incorporated into the dermal fillers. The Skin Booster treatment not only helps improve the appearance of acne scars but also improves the skin texture around these areas but promoting skin regenerations and overall thickening.
9. Skin Boosters For Skin Tightening
Skin Booster treatment incorporated with a small amount of botox can significantly reduce the pore size in individuals suffering from enlarged pores. This does not only promote an overall pore tightening effect but also helps soothe the skin and make the skin appear smoother.
Type of Skin Boosters To Choose From
1. Profhilo
The profhilo skin booster is mainly composed ofBDDE free hyaluronic acid, which is injected into the skin to improve its quality. This skin booster treatment which is administered through 5 point injection on each side of the face ensures bio remodeling of the skin, which in turn leads to fading of wrinkles and excess skin sagginess. These properties allow it to be used for almost all skin types, from the ages of 30 years and above.
2. Restylane Vital
Restylane Vital is one of the first skin boosters to ever be introduced into the market and contains dense and partially cross-linked hyaluronic acid. This skin booster treatment claims to return the youthful skin to adult patients, which is ensured by adding hyaluronic acid for deep hydration of the skin. These qualities make it ideal for individuals having dry skin or early signs of aging.
3. Teosyal Redensity I
Teosyal Redensity I skin booster treatment is rich in powerful antioxidants, eight amino acids, along with vitamins and minerals. Antioxidants like Glutathione allow this skin booster treatment to not only hydrate the skin but also promote its lightening. These qualities make the Teosyal Redensity booster ideal for those looking for dark circles remedies and overall skin brightening.
4. Juvederm Volite
What makes the Juvederm Volite Skin Booster treatment different from others is the quantity of 13mg/ml of hyaluronic acid per syringe, which allows a single visit instead of multiple sessions as seen with other treatments. The hyaluronic acid contained in the booster system allows long-term skin hydration, which is claimed to last for up to 9 months.
5. Rejuran Healer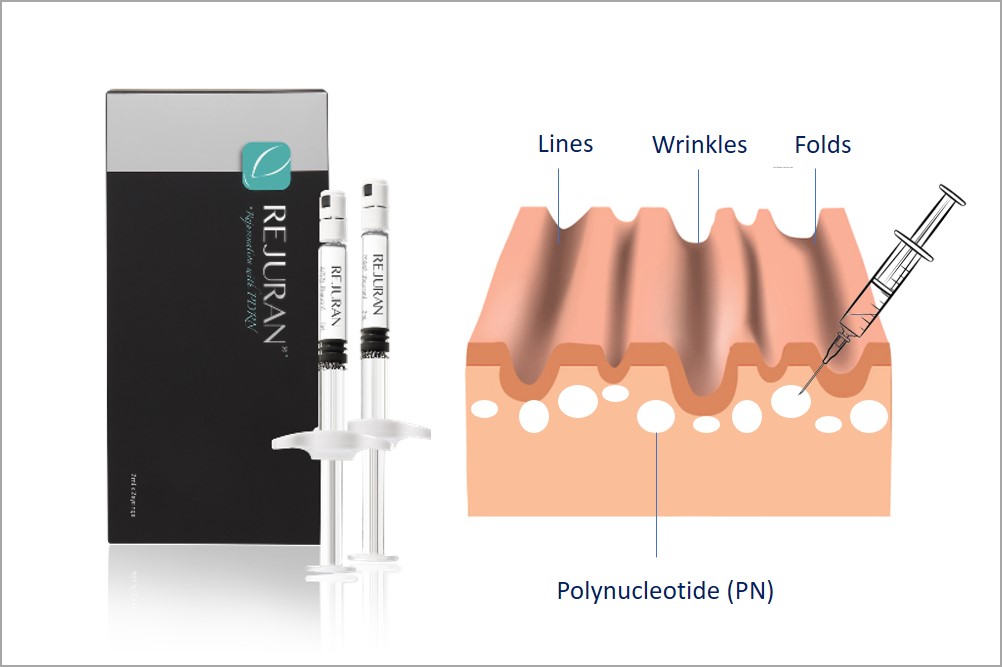 Rejuran Healer is a rich source of Polynucleotides (PNs), which are extracted from Salmon DNA fragments. These components allow the Rejuran healer to smoothen not only the appearance of wrinkles and fine lines but also reduce the overall pore size and repair damaged cells. These qualities make it ideal for damaged, rough, and acne-prone skin.
Is Skin Booster Procedure Considered Safe?
A major question people have about the skin booster treatment in Singapore is exactly how safe the procedure is for the general population and if there are any common adverse effects associated with it. Since the majority of Skin Boosters include Hyaluronic acid as the main ingredient, these treatments are generally considered safe for almost all skin types. This is because Hyaluronic acid is rarely associated with adverse effects on the skin, as it is a natural substance already present in the body.
How To Find The Right Skin Booster For You?
Each type of skin booster has unique benefits for different skin types; hence one must keep their skin type and problem areas in mind when choosing a skin booster treatment. Moreover, the components of the skin booster also play an important role in the type of effects the treatment will have on the skin and for how long it will last. The individual must consult the doctor before choosing a skin booster to allow the selection of the most appropriate treatment option for them.
About Dream Aesthetics and Plastic Surgery
Bespoke surgical for cosmetic or medical reasons is what Dream covers to bring out the beauty in every individual. Going beyond the aesthetics and working on physical anomalies are what we value the most in leading our patients to cherish self-improvement and confident lifestyles.
Derived from Associate Professor Vincent Yeow's long-standing experience performing plastic surgery in Singapore, our treatment plans deliver physical remodelling in our patients' favour. One of the notable remodellings is droopy eyelid correction. The ptosis surgery used for treatment eventually fixes drooping eyelids, improves vision and enhances appearance.
Most importantly, as a trustworthy plastic surgery and aesthetic clinic, we treasure positive and natural outcomes for each individual. We will ensure to deliver the beauty refinement of your dream without compromising your safety and privacy.