Larger breast size has always been desired by women, and every year more and more women are seen to get breast implants to attain this. The popularity of Breast Implants in Singapore can also be evaluated by the fact that in the United States, over a quarter million breast augmentation surgeries were done in 2018, and the numbers are increasing to date.
What Is Breast Augmentation?
Breast augmentation is a surgical procedure in which the breast size is increased. Augmentation can be done by placement of an implant, or less commonly, through the transfer of fat. Breast augmentation is one of the most common procedures performed by plastic surgeons around the world. With the creation of the implant called "gummy bear," silicone implants have gained popularity in the last five years. In the former times, women liked to get very large implants; however, with passing time, the desired breast size has slowly gotten smaller. In this day and age, women tend to seek to achieve more 'natural' breast sizes such as full B-cups or C-cups, rather than the previously popular size D or DD.
What Are The Different Types Of Breast Implants?
Mainly there are two types of breast implants, which include Saline Filled and Silicone Filled.
Saline Implants
Saline implants are filled with sterile saline, a mixture of sodium chloride in water. These implants are usually inserted empty in the breasts. After insertion of the implant, a small port is used by the doctor to add the amount of sterile saline that is required to inflate the implant to the desired cup size. The port is then removed, and the implant is sealed using the self-sealing tab at the port insertion site. Some saline implants are filled by the surgeon during surgery, while others are prefilled by the manufacturing company.
Silicone Implants
Silicone-filled implants contain an inner silicone gel which is filled in a Silicone case. (1) Since Silicone is a synthetic material, which is very similar in consistency to human fat, it does not cause inconvenience to the patient. The form-stable silicone implants are also referred to as Gummy Bear implants since they can withhold their shape even after the out implant shell is broken. In the event of an implant rupture, it minimizes the risk of liquid silicone migrating to other parts of the body.
What Are The Different Textures Of Breast Implants?
The outer shell of the implant may be smooth, textured, or might be nano-textured.
1. Smooth Breast Implants
The smooth breast implants are more mobile within the breast during activity, just like natural breasts. It is a good option for women who want breast implants that feel more similar to natural breast tissue.
2. Textured Breast Implants
Texturing is usually used in shaped implants, but some round implants are also textured. These implants are very unlikely to be repositioned as they are less mobile within the breast. Texturing helps in the prevention of rotation of shaped implants.
3. Nano-Textured Breast Implants
Nano textured breast implants Singapore is claimed to be more compatible with the body's own cell surfaces; hence they are less likely to cause complications after the procedure.
What Are The Different Types Of Breast Implant Shapes?
There are many varieties of implants available in varying degrees of projection, height, size, and shape. The selection of the implant is made according to the patient's need and body proportions. (2)
1. Round Breast Implants
Round implants are traditional breast implant designs that give the breasts a fuller, rounder look with enhanced cleavage. These implants are also less likely to cause differences in shape should they rotate out of place. They are ideal for patients who have some breast tissue and want to significantly increase the size of their breasts.
2. Teardrop-Shaped Breast Implants
Teardrop-shaped implants have a more natural look and feel. It fills the lower part of the breast more than the upper part, giving the breast a natural contour. These implants are more suitable for those with very small breasts.
Incision Types In Breast Implant Surgery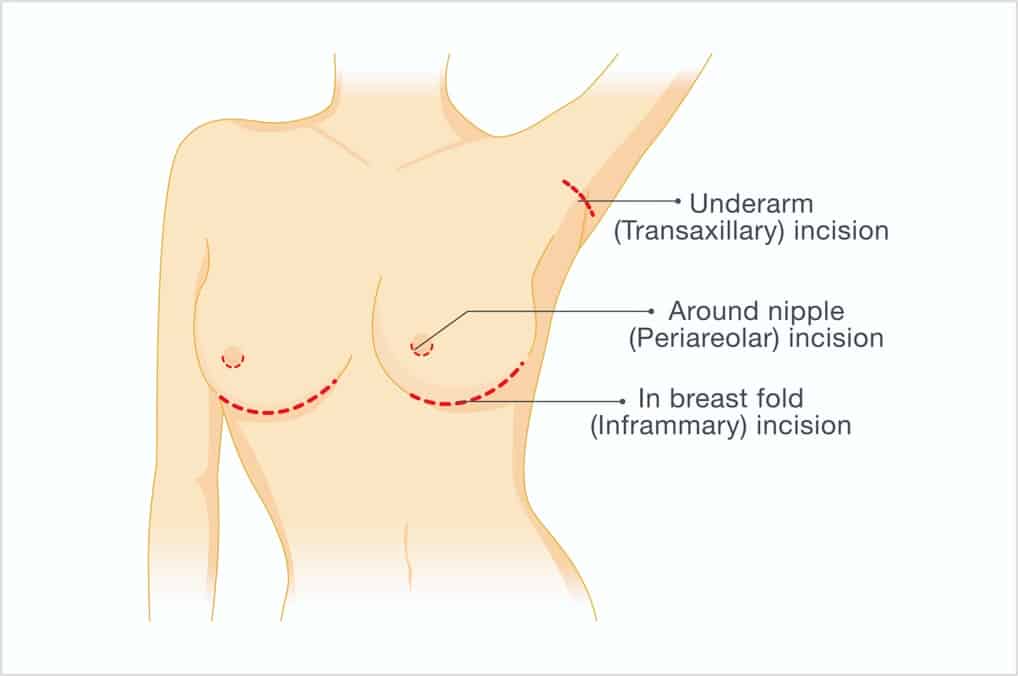 Breast augmentation in Singapore may be performed using different approaches. Some of the approaches include:
Inframammary
Periareolar
Transaxillary
Usually, the surgeon decides the approach they want to use. This decision depends on numerous factors such as the size of the implant, visibility of the incision, the surgeon's experience with that approach, the risks associated with the approach, the perceived surgical comfort level, the length of surgery, the length of recovery, and the combination of the augmentation with other breast surgeries. (3)
What To Expect For Recovery After Breast Implant Surgery?
Breast augmentation has outstanding results as compared to other cosmetic procedures. The rate of complications after breast augmentation depends on surgeon experience and is usually pretty low. Different surveys indicate that around 70-80% of patients who underwent breast augmentation were satisfied and felt that the outcome was within their expectations.
Those who are considering breast augmentation may also wish to understand more about managing post-surgery recovery. In general, breast augmentation downtime is around ten days, and full recovery can take up to 6 to 8 weeks in total. To warrant a smooth recovery, follow your surgeon's instructions, wear the recovery bra, and care for your incision sites as directed by your surgeon.
First 2 Weeks
For the first two weeks, patients are advised to avoid heavy limiting and heavy physical activities. They can continue their regular day-to-day light activities. Moreover, the patients are encouraged to wear their compression garments for as long as they can during this period as it not only helps take down the swelling but also provides ample support to the chest region.
At the 2-week mark, the surgeon checks in with the patients to see if the augmentation and incision wounds are healing well. If they are, patients will be allowed to go back to light exercising, such as brisk walking and light stretching.
Next 4 To 6 Weeks
At the four to six-week mark, a follow-up review may be necessary to check if the recovery process is close to completion. If everything is healing well, the patients can resume their physical activities like running and upper body exercises. They can also start wearing normal bras without wires.
What Affects Cost of Breast Implant Surgery?
The average cost of breast augmentation in Singapore ranges between $15000 to $20000. This includes the Surgeons fees, cost of Anaesthesia, the type of implant that is used, and the facilities used at the hospital.
Surgeon's Fees
The surgeons performing the Breast implant procedure are given a fee for their time and surgical skills that are needed to make the surgery.
Anaesthesia
The total costs for Breast Implant procedures also includes the cost of Anaesthesia, which is given to the patient to allow a pain-free and comfortable surgical experience. General anaesthesia required during the breast implant procedure and is managed by a professional anesthesiologist who is a specialized doctor responsible for the administration and maintenance of Anaesthesia levels during surgery. Moreover, the cost of anaesthesia is usually calculated by the hour, so those undergoing lengthy surgeries may be charged more than those with shorter surgeries.
Implant Type
The total cost of the Breast implant procedure may also vary with the type of Implant material used. Since Silicone implants are slightly more expensive than Saline implants, these may take the overall cost for the procedure a little higher. Certain implant brand is also more expensive by nature.
The Hospital Fees
Whether the breast implant surgery is conducted in a hospital or an outpatient facility, each of them will charge their own fees depending on the extent of use of their resources.
How To Select A Surgeon For Breast Implant Surgery?
The selection of a surgeon is a very important step in ensuring that you are in safe hands. After all, all surgeries carry some risk, and choosing a skilled plastic surgeon who is experienced in breast augmentation can minimize your exposure to the risk and complications associated with the procedure.
Apart from verifying the plastic surgeon's credentials, it is also good to research the surgeon's reputation and speak to patients who have undergone the procedure by the same surgeon. On top of all the research done, your consultation with the surgeon is also important. You should leave the doctor's office with:
A clear idea of your procedure plan
Knowing what to expect before and after the procedure
Feel comfortable with the surgeon and his or her manners
Cleared all your doubts and feel confident about undergoing the procedure with that surgeon
Understanding Breast Augmentation And Breast Implants
Breast augmentation is a procedure that has been gaining popularity in recent years. Breast enlargement can improve breasts that are too small are uneven, lack fullness, or have an imbalanced appearance or lack of proportion. Breast implants can help to enhance your bust line, correct asymmetry, improve breast shape and create a more balanced figure.
Learning as much as you can about the operation and finding a trusted plastic surgeon with whom you are comfortable is key to a successful breast augmentation experience. You should discuss with your surgeon and have a clear understanding to decide if breast augmentation will be ideal for you.
References:
1.Fardo D, Sequeira Campos M, Pensler JM. Breast Augmentation. [Updated 2020 Oct 3]. In: StatPearls [Internet]. Treasure Island (FL): StatPearls Publishing; 2021 Jan-. Available from: https://www.ncbi.nlm.nih.gov/books/NBK482206/
2.Ramachandran K. Breast augmentation. Indian J Plast Surg. 2008;41(Suppl): S41-S47.
3.Fanous N, Tawilé C, Brousseau VJ. Minimal inframammary incision for breast augmentation. Can J Plast Surg. 2008;16(1):14-17. doi:10.1177/229255030801600109